Big tech players are reaching further into commerce. From payments tech to new global marketplaces, we look at where Amazon, Facebook, and Google have placed their recent bets on retail.
The Covid-19 pandemic has driven shoppers increasingly online, diversifying how and where consumers choose to shop. Even before the pandemic, commerce was already becoming more diffuse, as shoppers shifted between stores and devices and looked to a broader array of shopping options, including marketplaces and social platforms. 
Big tech firms are looking to get a share of the action. In H2'20 alone, Facebook launched livestream shopping on Facebook and Instagram, while Google added new visual search features targeted at apparel shopping. Amazon, meanwhile, continued to enhance shopping on its main platform with the launch of Luxury Stores for designer brands, while also expanding its brick-and-mortar footprint via Amazon Fresh stores and introducing new checkout technologies (Amazon Dash Cart and Amazon One palm payment).
As they undertake these initiatives, tech giants are investing in and acquiring new capabilities to grow their reach in retail. Since 2015, Amazon, Facebook, and Google have made 133 equity investments and acquisitions in retail or retail-related spaces, including e-commerce platforms, e-commerce infrastructure companies, store technology companies, fulfillment and delivery services, and even devices with retail connections.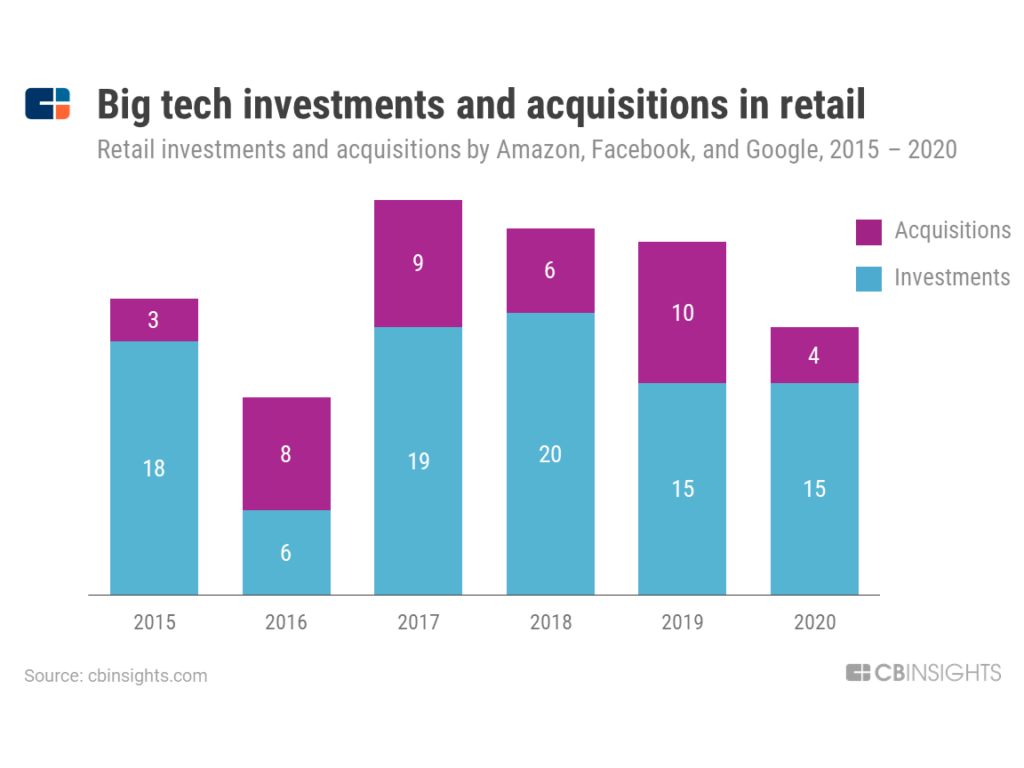 Broadly, these investments point to tech giants' ambitions to capture more information on consumer behavior, enhance personalization and engagement in shopping, expand reach into new markets, and speed up fulfillment and delivery. Below, we analyze retail investments and acquisitions by Amazon, Facebook, and Google to assess their priorities and get a read on where they're headed next.
Note: Our analysis includes GV (formerly Google Ventures) and Amazon Alexa Fund.
Where Amazon, Facebook, & Google are investing in retail
Since 2015, Amazon, Facebook, and Google have invested in 65 companies in retail or retail-adjacent fields.  
Please click to enlarge.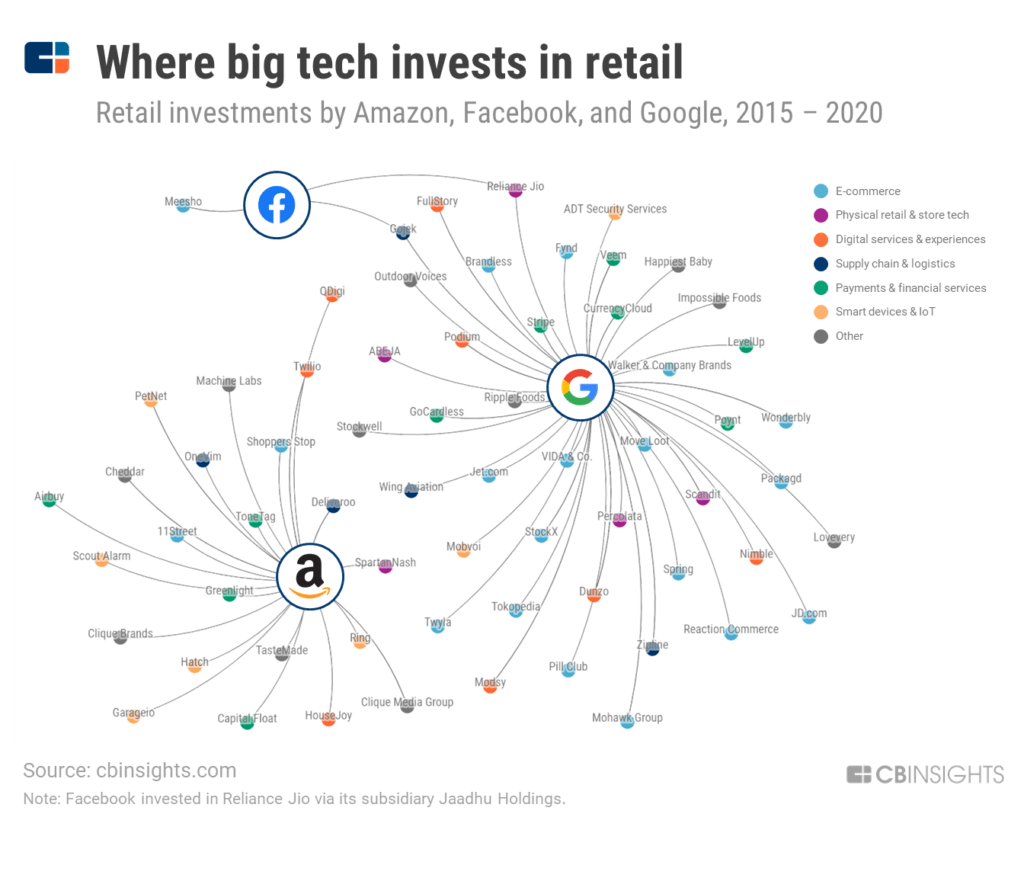 Amazon
Amazon's retail investments coalesce around fulfillment and delivery, as well as customer service. In recent years, the e-commerce giant has escalated its retail investments, which have helped it grow its global footprint and expand its exposure to new markets, consumers, and shares of spending.  
Global expansion into India, South Korea, and more 
Amazon has long been focused on India, where it has become a major player in e-commerce and aims to further expand its reach. From 2017 to 2018, Amazon invested in India-based retailer Shoppers Stop, payments company ToneTag, and financial services firm Capital Float (Amazon also invested in Capital Float in April 2020), and it continues to grow its presence across retail, payments, insurance, and more. 
In late 2019, Amazon attempted to acquire a minority stake in Future Retail, India's second-largest retailer. That deal has been hung up with regulators and has recently been entangled in legal action as India's telecom and consumer conglomerate Reliance Industries (via its subsidiary Reliance Retail) has attempted to buy Future Retail, which Amazon says goes against its agreements with Future Retail.
Beyond India, Amazon has invested in South Africa-based Airbuy, a payments company that lets users pay with its currency (called Airbucks) without submitting their banking information. Amazon also invested in UK-based food delivery giant Deliveroo three times since 2019, giving the retailer a foothold in restaurant delivery.
Finally, Amazon's November 2020 investment in South Korea-based e-commerce platform 11Street, a subsidiary of SK Telecom, reflects its more blunt efforts to buy into new markets. Amazon's products will now be available on 11Street directly, giving shoppers in South Korea quicker and easier access to Amazon.