In 2020, Facebook, Apple, Microsoft, Google, and Amazon collectively acquired over a dozen artificial intelligence startups to enhance existing products and enter new markets. We look at where the tech giants are making moves in AI.
In 2020, Facebook, Apple, Microsoft, Google, and Amazon (FAMGA) acquired a total of 13 artificial intelligence startups — with each tech giant acquiring at least one startup. 
Historically, many of FAMGA's prominent products and services have come out of acquisitions of AI companies — such as Apple's FaceID or Google's contributions to healthcare through DeepMind.
Recent acquisitions highlight both the growth strategy and product vision of these tech giants.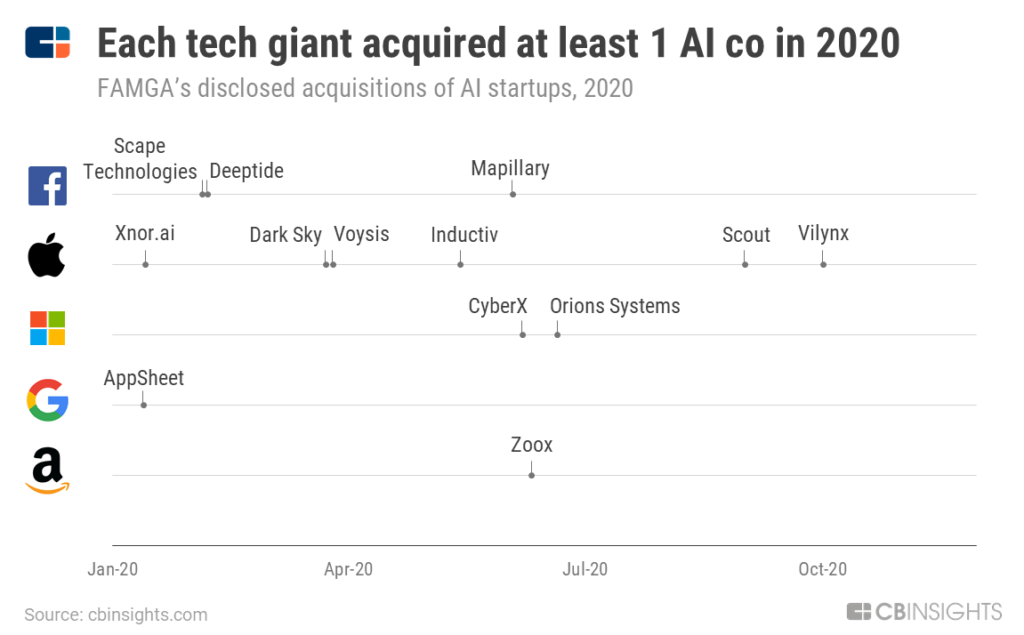 For example, Apple continues to acquire startups to improve existing core products, such as Siri. Meanwhile, Facebook may be using AI acquisitions to set the foundation for early-stage projects like its smart glasses technology. 
Below, we examine what recent acquisitions from each of the FAMGA companies tell us about big tech's future in AI. 
1. Facebook builds AI-powered mapping for AR/VR
Of the company's 3 AI acquisitions in 2020, two startups use machine learning (ML) and computer vision to develop mapping and positioning technology. 
In September 2019, Facebook's AR/VR team, Facebook Reality Labs, announced LiveMaps, an initiative to build a virtual representation of the physical world. According to Reality Labs, LiveMaps is "the core infrastructure that will underpin tomorrow's AR experiences."
Soon after, in February 2020, the social media giant acquired Scape Technologies, a London-based startup using computer vision software to parse through a database of photos and render 3D maps based on camera images. 
In June 2020, Facebook acquired Mapillary, a mapping company similarly powered by AI. The startup claims it has access to nearly 1.5B street-level images around the world, which it stitches together using computer vision to create up-to-date maps and street views. 
Live street-level mapping technology has a number of implications. For one, it can be used to create navigation tools like mapping apps for smartphones. It could also enable robots and autonomous vehicles to better navigate and interact with environments. 
In Facebook's case, however, the 2 mapping acquisitions will likely serve as building blocks for its AR/VR initiatives. 
In September 2020, Facebook CEO Mark Zuckerberg announced the giant's plans to release smart glasses in 2021. The first iteration won't have AR capabilities but is likely to be followed by AR-enabled versions.
Using virtual maps as the underlying core for AR/VR may enable Facebook to provide unique features, such as enabling digital billboards, enhancing tourism and travel, and helping people with vision impairments better navigate the world.
2. Apple focuses on Siri
While Apple has acquired AI startups across industries, most of the tech giant's 2020 AI acquisitions are positioned to enhance its virtual assistant, Siri. 
Apple was early to the voice tech space with its acquisition of Siri in 2010 for $250M. Since then, the virtual assistant has faced increased competition from Amazon Alexa, Google Assistant, and others. As a result, Apple continues to buy startups to improve Siri's language understanding and accuracy. 
According to a 2019 study conducted by Loup Ventures, Siri performs well in understanding basic commands but lags behind competitors in carrying out commerce-related queries, such as "Order me more paper towels."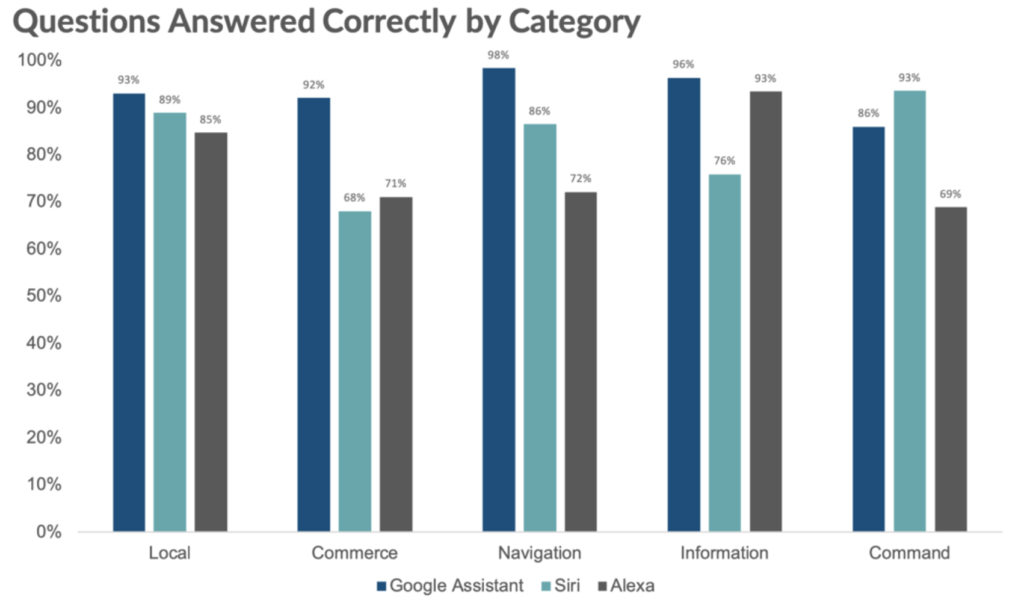 Source: Loup Ventures
In April 2020, Apple acquired Voysis to improve Siri's language understanding capabilities in online shopping.  
A month later, Apple bought Inductiv, a startup developing an AI platform to automatically identify and correct errors in datasets. Inductiv's engineering team is reportedly working on using AI to clean the data that powers and trains Siri in an effort to improve the virtual assistant's accuracy in language understanding with less manual lift in data cleaning.