Apple and Microsoft have been the most active big tech acquirers since the pandemic started.
The Covid-19 pandemic has changed how companies plan for the future, invest, and acquire. 
25 Industries & Technologies That Will Shape The Post-Virus World
Get the free download to learn how industries are using tech to reimagine nearly every facet of their operations.
Since the World Health Organization declared Covid-19 a global pandemic on March 11, many companies have shifted their strategies — those that can have used this time to try to get ahead of their competitors. 
FAMGA — Facebook, Apple, Microsoft, Google, and Amazon — is doubling down on this strategy. As consumers spend more time and money online than ever before, some of these big tech companies are rethinking their M&A and investment strategies. Indeed, the companies have largely turned to investments with an uptick in minority rounds, but have pulled back slightly on acquisitions. 
Below, we take a look at all of big tech's acquisitions since the start of the pandemic, and what it may mean for the companies. 
For a look at all of big tech's investments since the pandemic, check out this brief. 
Acquisition trends for big tech companies
The number of companies acquired by big tech is on the decline — FAMGA is on track to acquire 33 companies in 2020, down from 46 in 2019 and a high of 52 in 2017.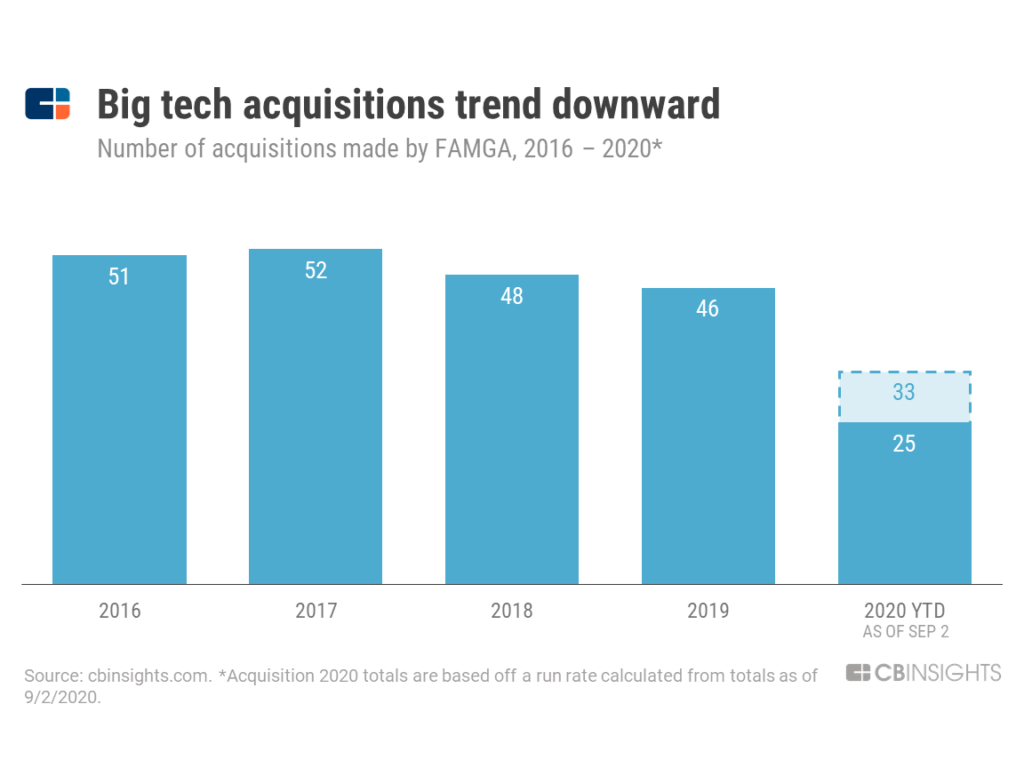 The decline may in part be due to the massive amount that big tech companies are spending on corporate minority rounds rather than outright purchasing companies — in Q3'20 alone, FAMGA has spent over $7.5B across 4 corporate minority rounds to companies like Reliance Jio, India's largest telecom operator, and electric vehicle company Rivian. 
The acquired companies span a variety of different sectors, from AR/VR to fintech to cloud to IoT. The wide range of targeted industries highlights how varied each big tech company's strategy is when approaching M&A transactions. 
The following business social graph highlights only acquisitions since the start of the pandemic (3/11/20) for each tech giant's standalone corporate entity. 
Please click to enlarge.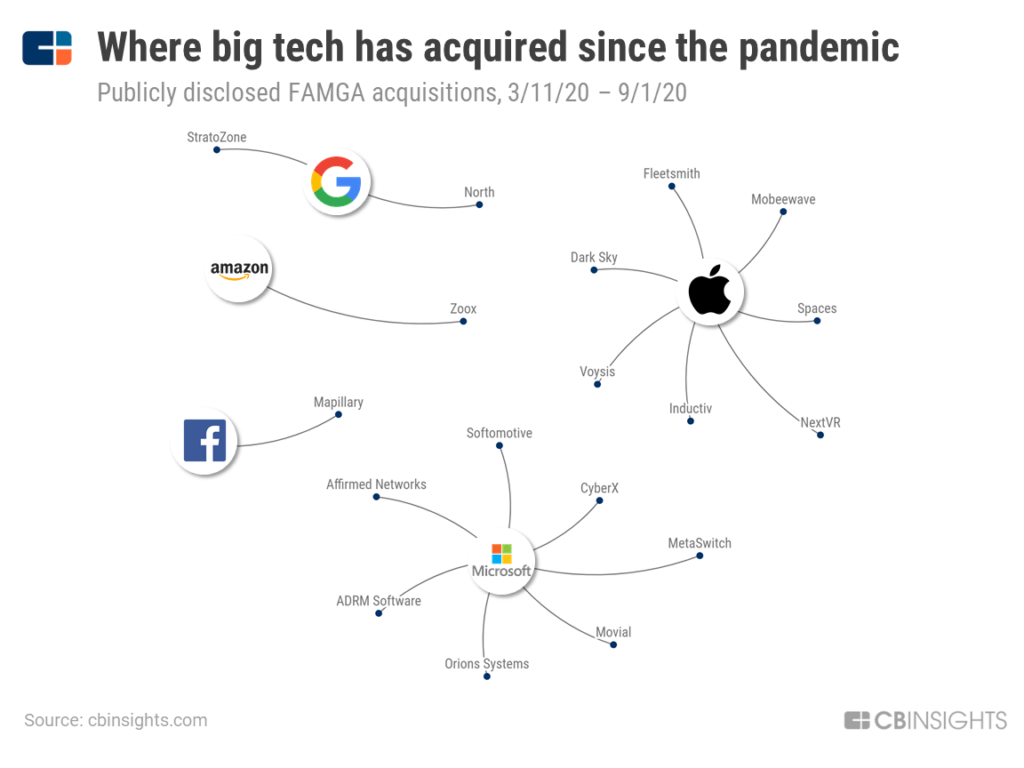 Apple & Microsoft are the most active acquirers
Apple and Microsoft tie for the most active big tech acquirers since the pandemic began, with 7 acquisitions each.  
Apple has purchased 8 companies this year and 7 since the start of the Covid-19 crisis, including weather app Dark Sky, speech recognition startup Voysis, and VR event streaming company NextVR. In August, Apple acquired Spaces, a startup focused on virtual reality experiences that recently added Zoom-based VR functionality to its product to help enhance the remote work era. The company spun out of DreamWorks Animation in 2016. 
Apple is reportedly taking advantage of compressed valuations due to the pandemic to buy companies cheaply. In fact, Q2'20 was in the top 5 quarters for Apple purchases on record, at 5 acquisitions.  
Microsoft has also made 7 purchases since the beginning of the pandemic. The tech giant's acquisitions have focused mainly on enterprise technology like cloud security or IT software development — for example, it acquired Massachusetts-based 5G cloud startup Affirmed Networks in March, IoT cybersecurity startup CyberX in June, and UK-based RPA provider Softomotive in May.
The rest of big tech deploys capital outside of acquisitions 
Unlike Apple and Microsoft, Amazon, Alphabet, and Facebook have only made 1-2 acquisitions since the start of the pandemic: 
Alphabet acquired cloud migration company

StratoZone

in August and smartglass startup

North

in June

Amazon purchased autonomous vehicle company

Zoox

for $1.2B in June

Facebook acquired digital mapping startup

Mapillary

for an undisclosed sum in June
Despite a lack of acquisitions since March, these 3 big tech companies have poured billions into corporate minority financings.
If you aren't already a client, sign up for a free trial to learn more about our platform.