Johnson & Johnson is the only big pharma company in the top three for both financing and M&A.
The pharmaceutical industry is undergoing a transformation.
While other industries like tech have shown increasing interest in healthcare, pharma companies that traditionally focus on drug development are exploring new verticals.
For example, big tech companies like Google and Amazon invested in sequencing and disease diagnosis company GRAIL, alongside pharma leaders including Merck and Johnson & Johnson Innovation.
Using CB Insights' Business Social Graph, we analyze where the top pharma companies are making their private market deals.
Our analysis includes the top 10 publicly traded pharma companies by market capitalization (as of 9/13/2018), along with associated venture arms. Scroll down for the full list.
PHarma makes bets across sectors
Since 2015, top pharma corporates have made 413 investments across 28 subsectors — ranging from drug development to e-commerce.
Across the board, Novartis leads the pack with 74 deals, followed by Johnson & Johnson (73 deals), Novo Nordisk (73), and Eli Lilly (72). Pfizer and Merck did 64 deals each.
The largest investments with big pharma participation were GRAIL's $914M Series B, followed by Immunocore's and Allogene Therapeutics' $320M and $300M Series A rounds, respectively.
Click to enlarge.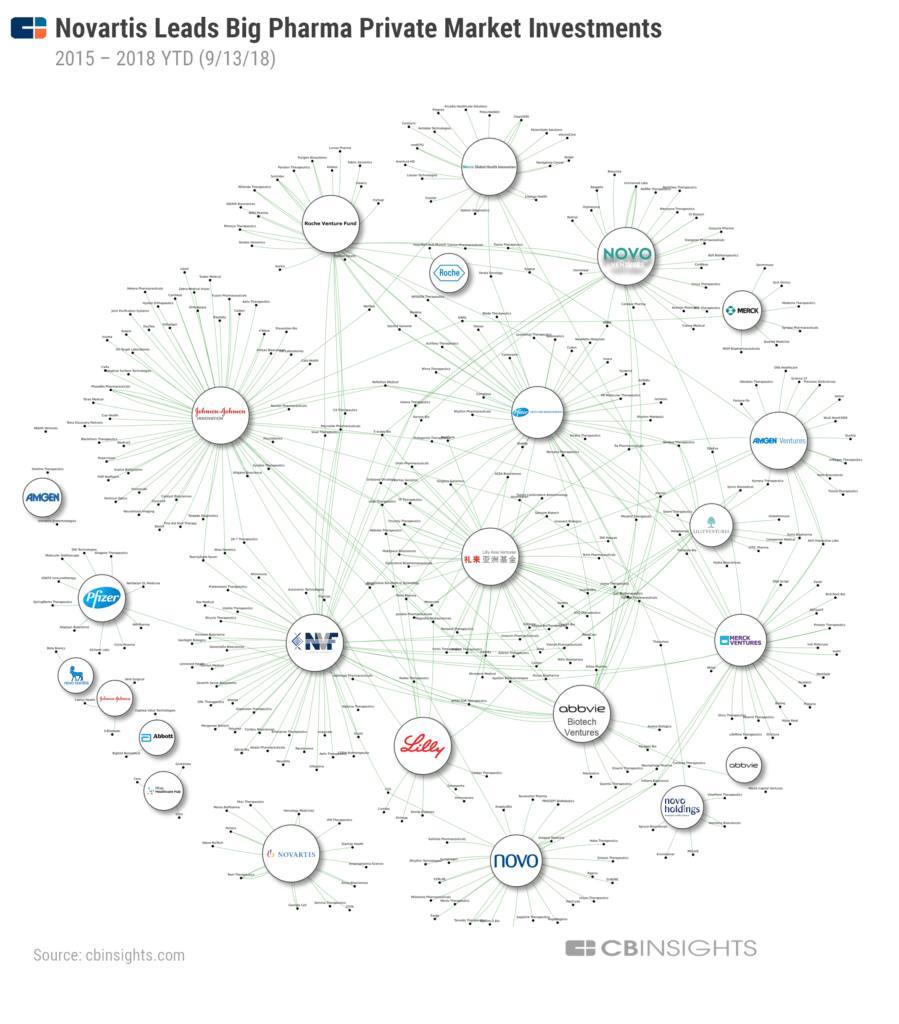 Unsurprisingly, the biotechnology sector saw the most deal activity, as it is both big pharma's primary sector of operation as well as the sector with the largest market size.
Note the below heatmap only shows sectors that have received three or more investments from Big Pharma companies since 2015. "Grand total" deals in below heatmap is higher than total deal count due to multiple investors participating in financing rounds. Market Size column data from CB Insights' Market Sizing Tool.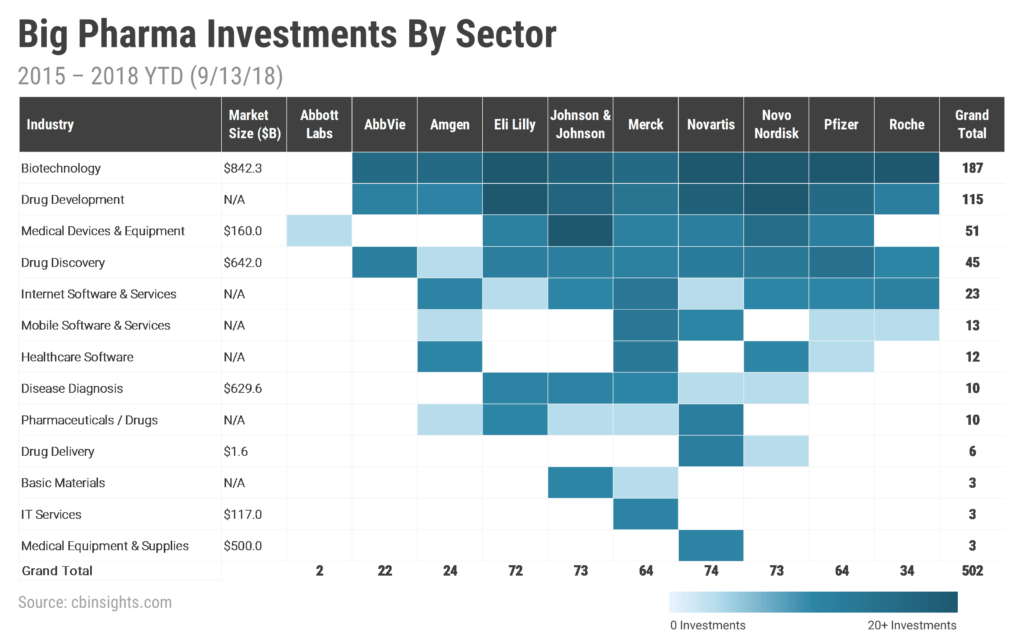 However, many companies are looking to expand into new areas.
Johnson & Johnson (J&J) leads in the device space
J&J accounts for 20 of 51 medical device investments among big pharma investors, 19 of which were through its venture arm — Johnson & Johnson Innovations.
Notable deals include those to RefleXion Medical, CVRx, and V-Wave. Outside of its venture arm, Johnson & Johnson has backed Verb Surgical, which creates robot-assisted surgical products.
Novartis targets drug delivery 
The company has invested in Rani Therapeutics, which is developing a new oral approach to the delivery of peptides, proteins and antibodies (previously only administered via injection).
Other pharmaceutical companies – AstraZeneca, GeneScience Pharmaceuticals, and Shire – have invested in the company's technology as well.
Through Novartis Ventures, the company has also invested in Oculis, which is developing drugs for eye diseases that can be delivered through eye drops.
Merck explores some unique subsectors
Beyond traditional areas of investment for pharma companies, Merck is placing its bets across a wide range of spaces.
It's the only company, for example, with investments in the chips and semiconductors space. In 2017, it invested in Wiliot and Peratech (through Merck Ventures), both of which have limited applications in healthcare.
Merck has also demonstrated the most interest in the mobile software & services space, accounting for 8 of 13 investments in the sector. Among the 8 investments are to diabetes company Livongo Health and hospital data company PatientSafe Solutions (both through its Global Health Innovation Arm).
Merck has also made investments to alternative meat company Mosa Meat and materials company Aveni.
AbbVie, J&J, and others co-invest across the space
A few startups received investment from multiple top pharma corporates. Examples include:
biotechnology is lead acquisition target
Among the 73 total acquisitions since 2015 by big pharma, biotechnology (23 deals), medical devices & equipment (13), and drug development (10) are the most frequent target industries.
Despite a general focus on biotechnology, traditional pharma, which relies on chemical synthesis of drugs, is still the fourth most common industry for acquisition targets. This is largely due to Pfizer making 5 of 8 acquisitions in the space, including Medivation, Hospira, and Anacor Pharmaceuticals.
Click to enlarge.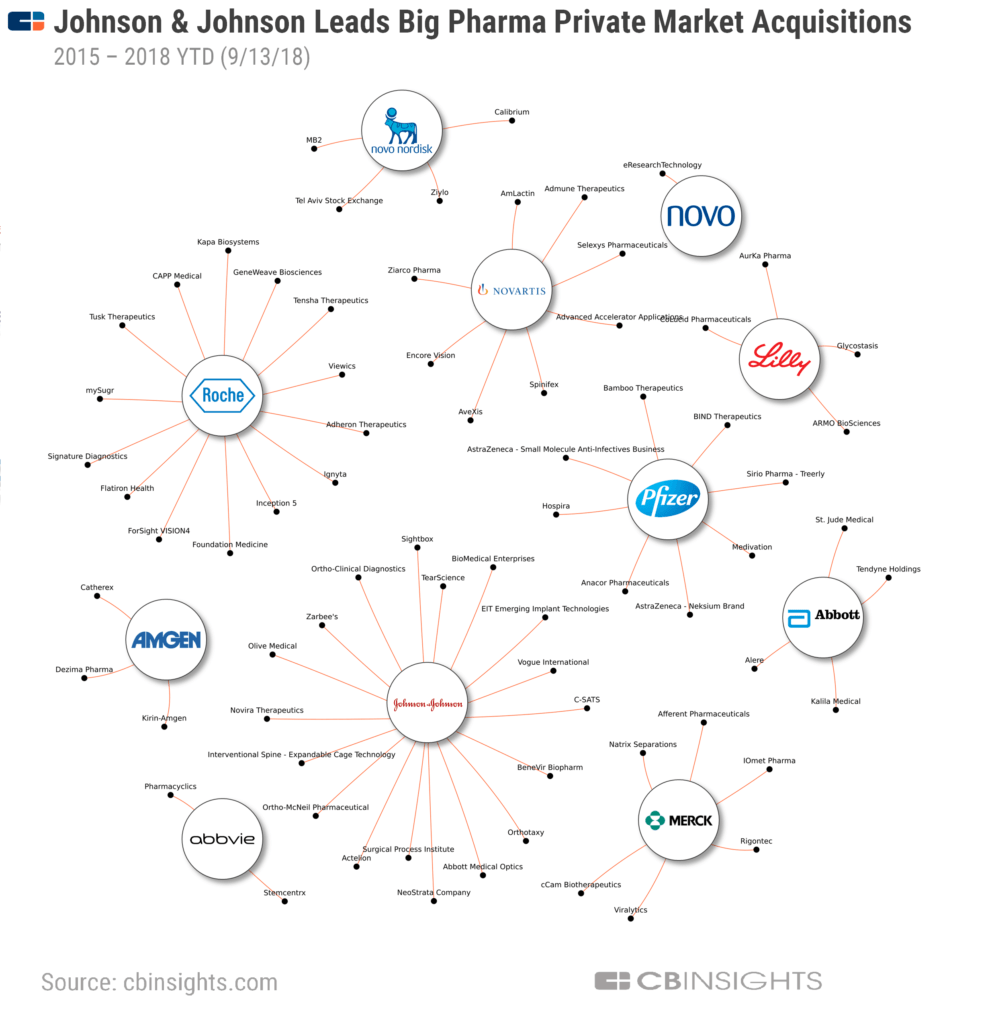 Of the corporates listed, Johnson & Johnson is the most acquisitive company, with 16 deals across the time period. Similar to its investment strategy, the company is focused on devices, which account for more than half of big pharma's 13 acquisitions in the sector.
J&J has made two device acquisitions so far in 2018: spinal fusion implant developer EIT Emerging Implant Technologies and robotic surgery assistance platform Orthotaxy.
The company also has the most diversified portfolio, with acquisitions across 7 different sectors (along with Roche), followed by Merck (5 different sectors), Novartis (4), and Pfizer (4).
---
Our analysis includes:
Abbott Laboratories, Abbott Ventures
AbbVie, AbbVie Ventures
Amgen, Amgen Ventures
Eli Lilly, Lilly Ventures, Lilly Asia Ventures
Johnson & Johnson (J&J), Johnson & Johnson Innovation
Merck & Co., Merck Ventures, Merck Global Health Innovation Fund, Merck Capital Ventures
Novartis, Novartis Venture Funds
Novo Nordisk, Novo Ventures, Novo Holdings, Novo A/S
Pfizer, Pfizer Venture Investments, Pfizer Healthcare Hub
Roche, Roche Venture Fund
If you aren't already a client, sign up for a free trial to learn more about our platform.