In 2018, there were a string of failures related to key Alzheimer's drug trials. We explore the pharma players that are still actively pursuing potential treatments and how they plan to leverage partnerships to advance their respective drug candidates.
Alzheimer's disease is among the top 10 leading causes of death in the US.
Nearly 5.7 million Americans are affected by the neuro-degenerative disease (NDD), and this number is projected to reach nearly 14 million by 2050.
Despite the growing numbers, we've seen many challenges arise in the quest to find promising drugs to treat and manage Alzheimer's. 
Several big pharma players, specifically, are having a tough time trying to attack the disease.
In January 2018, for example, Pfizer announced it was dropping its entire neurosciences division — including efforts in Alzheimer's. Other big pharma players such as Merck & AstraZeneca experienced failures of their respective Phase 3 clinical trials in the same year.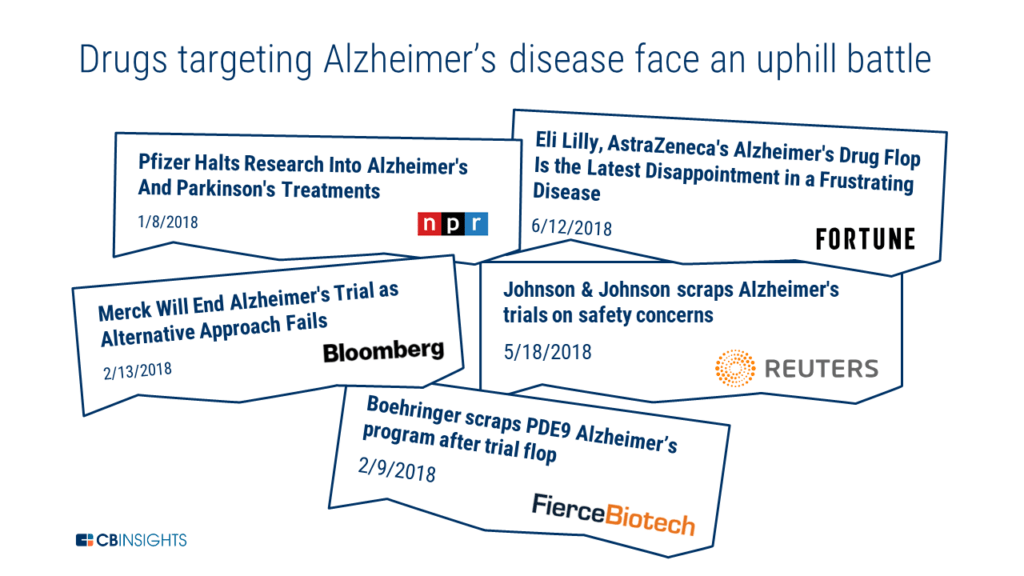 Despite the setbacks, many pharma companies are still looking to tackle Alzheimer's, using partnerships as a means to do so.
Last December, Eli Lilly and Swiss biotech company AC Immune announced a collaboration to develop drugs to target the tau protein — a key marker associated with Alzheimer's and other NDDs. AC Immune also has partnerships with Genentech (Roche), among others, to target this disease.
(Check out our new Business Relationships tool to see who else AC Immune partnering with. You can learn more about the tool here).
Using CB Insights data, we take a look at big pharma's recent progress in finding treatments for Alzheimer's — a disease that hasn't seen a significant breakthrough in over a decade.