From Daimler to DENSO, automakers and suppliers alike are tapping startups as they look to ramp up their capabilities in the connected car space.
Big automakers are competing to develop the most advanced connected car. 
Historically, auto incumbents have relied on partnerships with telecom and chip companies to bring connectivity infrastructure to their vehicles. For example, Ford partnered with Verizon to bring 4G LTE capabilities to its automobiles while Toyota has worked with NTT to introduce next-generation connectivity and computing to its fleet.
But in recent months, auto makers have looked more aggressively towards the private market for connected vehicle technology. In 2017, investment to connected car startups reached a new peak, surpassing $500M in annual financing.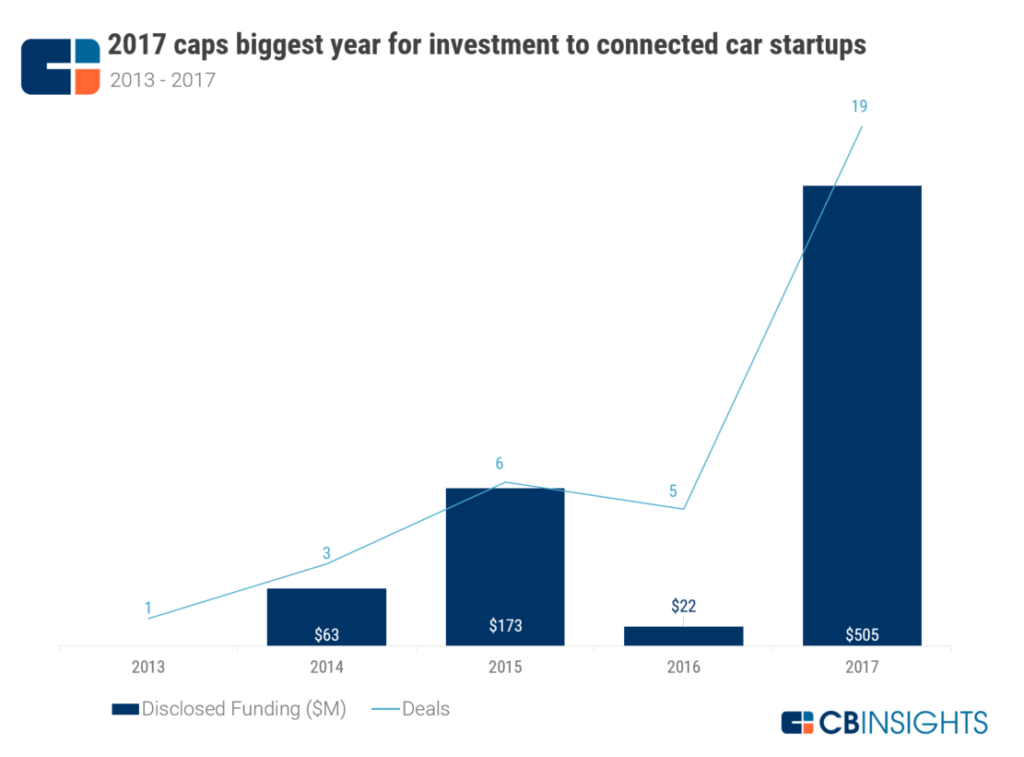 Investment to startups developing vehicle-to-everything (V2X) technology (allowing cars to communicate with other cars, pedestrian devices, and infrastructure) and fleet telematics software (allowing for real-time vehicle monitoring) accounted for 43% of funding dollars in 2017, more than any other category.
Track connected vehicle tech startups on our platform
Startups are building a connectivity ecosystem around both individual drivers and commercial vehicles at large. Look for Connected Vehicle Tech in the Collections tab.
Track Connected Vehicle Tech Startups
We used CB Insights' Business Social Graph (BSG) to map out private market investment in connected car tech from incumbent auto suppliers and OEMs.
We define connected vehicle technology as any technology that connects vehicles to an external network or enhances the driving experience through real-time diagnostic feeds, smart navigation features, or vehicle detection tools to prevent accidents.
Our analysis includes 18 incumbents that have backed or acquired at least one company since 2013. Scroll down for the full list.
BUSINESS SOCIAL GRAPH
Click to enlarge. Orange lines represent acquisitions. Green lines represent investments. Red outlines represent startups developing V2X technology and/or fleet telematics software.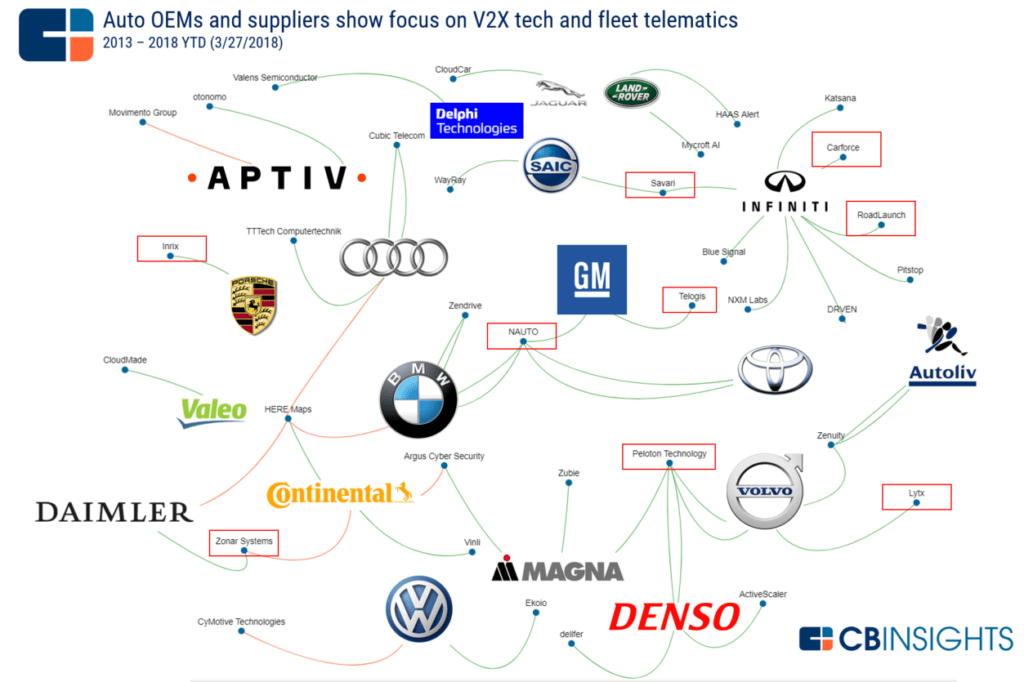 Key takeaways
Incumbents co-invest in V2X and fleet telematics startups
Much of the co-investment among auto incumbents has been dedicated to V2X and fleet telematics startups.
Nauto's $159M Series B round in July, the largest equity deal since 2012, saw participation from a variety of auto incumbents including BMW, General Motors, and Toyota. Nauto develops V2X technology that's currently used in connected cars to detect collisions and track driver behavior. The company plans to use this round of funding to develop V2X technology for autonomous vehicles.
A number of auto incumbents also co-invested in Peloton Technology, a fleet telematics startup developing V2X technology used in truck platooning. DENSO, Magna, and Volvo all participated in the company's $60M Series B round. The deal also saw participation from industrial (Lockheed Martin) and logistics (UPS) players.
Cybersecurity is a focus for auto suppliers
Cybersecurity startups focused on the connected car have also seen increasing levels of investment, particularly from automotive suppliers.
DENSO has invested in dellfer and ActiveScaler. Continental acquired Argus Cyber Security (which had also received prior funding from Magna) in November, and Aptiv acquired Movimento Group in January 2017.
Incumbent incubators invest in in-car diagnostics and infotainment
Both Jaguar Land Rover and Infiniti Motors (a subsidiary of Nissan) have set up tech incubators dedicated to the connected car.
Jaguar Land Rover has most recently invested in CloudCar (a diagnostics platform) and Mycroft AI (an AI-driven voice assistant). Infiniti has been most focused on diagnostics and infotainment startups, including DRVEN and RoadLaunch.
---
Our analysis includes:
Automakers
Audi/Audi Electronics Venture
BMW Group/BMW i Ventures
Daimler
General Motors/GM Ventures
INFINITI LAB/INFINITI LAB Toronto
Jaguar Land Rover/Jaguar Land Rover Tech Incubator
Porsche Automobil Holding
Toyota AI Ventures
Volkswagen/Volkswagen Ideation: Hub
Volvo Group Venture Capital
Auto Suppliers
Aptiv
Autoliv
Continental
Delphi Ventures
DENSO/DENSO International America
Magna/Magna International
SAIC/SAIC Capital
Valeo
If you aren't already a client, sign up for a free trial to learn more about our platform.