Beyond Meat's stock has been soaring since the company went public last month. We look at how much its top investors' shares are worth.
Plant-based burger company Beyond Meat went public on May 2 at a price of $25 per share — the top of its expected $23-$25 range.
A month later, the company is going strong, with shares trading at upwards of $100.
This bodes well for the company's top investors, whose massive shares have more than quadrupled in value.
Breakdown of top stakeholders
Using Beyond Meat's S-1 filing, we calculated how much its top investors' shares were worth at the time of IPO, based on a $25 share price.
Here's the breakdown of Beyond Meat's top investors, from its founder to key institutional investors.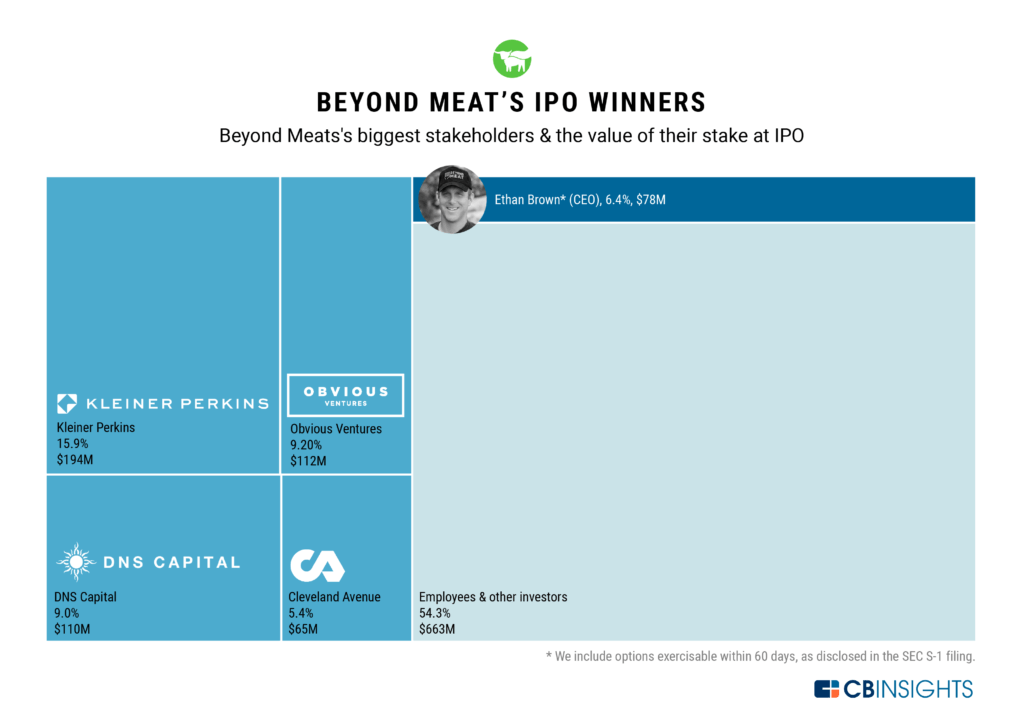 Kleiner Perkins is the top investor in the company, with 15.9% share — making its stake at the time of IPO worth nearly $200M. The VC firm is followed by Obvious Ventures at 9.2%, and DNS Capital at 9% (both roughly worth $110M at a $25 share price).
Cleveland Avenue, which has a 5.4% stake, is notably led by founder Don Thompson, the former President and CEO of McDonald's corporation. While the fast food chain has yet to offer a plant-based burger option on a large scale, it is widely rumored to be contemplating a partnership with Beyond Meat.
Finally, Beyond Meat founder Ethan Brown has a 6.4% stake in the company.
Since IPO, the value of these investors' stakes has ballooned, fueled by rumors such as the potential McDonald's partnership. At their highest prices, these stakes were worth more than 4x their value at IPO.
Investor
% stake
Value at IPO
($25, 5/2/19)
Highest value to date
($108.67, 6/3/19)
Current value 
($102.60, 6/5/19)
Kleiner Perkins
15.9%
$194M
$842M
$795M
Obvious Ventures
9.2%
$112M
$485M
$458M
DNS Capital
9.0%
$110M
$477M
$450M
Ethan Brown`
6.4%
$78M
$341M
$322M
Cleveland Ave
5.4%
$65M
$284M
$268M
Top institutional investors timeline
Beyond Meat's top institutional investors have largely overlapped in their funding strategies.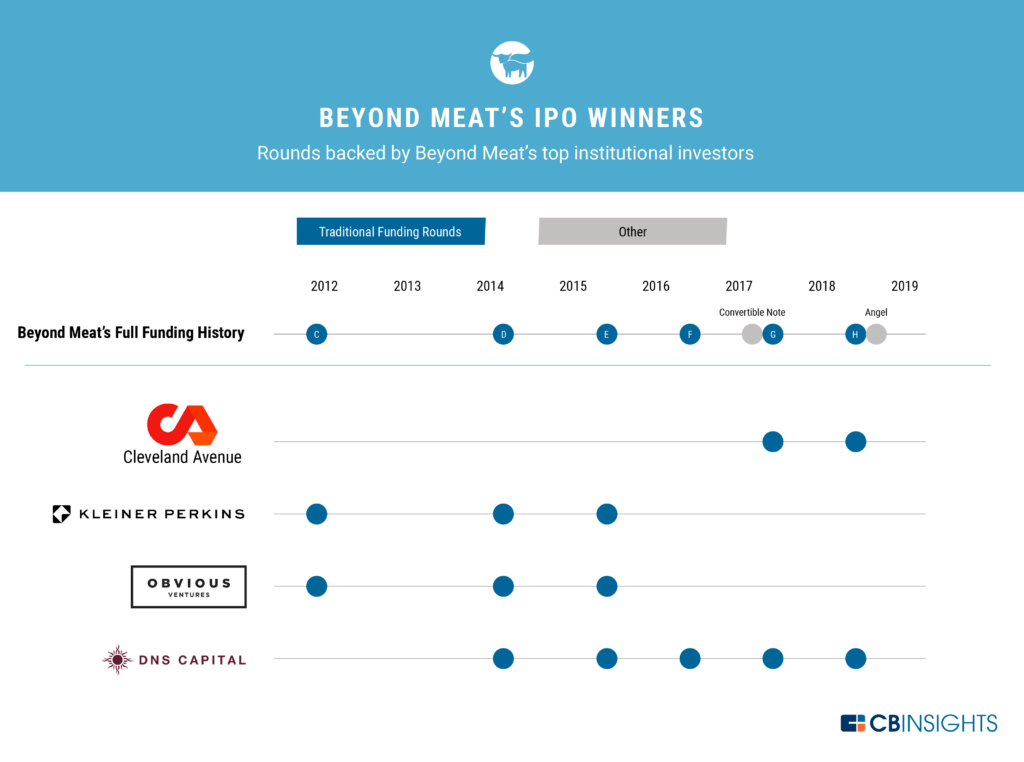 Of Beyond Meat's top institutional investors, DNS Capital is the latest but most frequent funder, investing in 5 equity rounds starting with the company's 2014 Series D.
Kleiner Perkins and Obvious Ventures have had the most similar strategies, with each backing Beyond Meat's Series C, D, and E rounds.
Finally, Cleveland Avenue was the latest featured investor to back the company, joining DNS to participate in Beyond Meat's 2017 Series G and 2018 Series H.
If you aren't already a client, sign up for a free trial to learn more about our platform.