Consumer desire for convenience and wellness benefits is driving innovation in the beverage industry. Here's what players in the space should pay attention to.
It's fall already and pumpkin spice season has officially arrived.
While the pumpkin spice flavor has been a seasonal success for years, this past summer was all about newcomers: hard seltzers.
It only took a couple of years for this low calorie sparkling drink to hit the headlines and become a $550M category globally, according to UBS.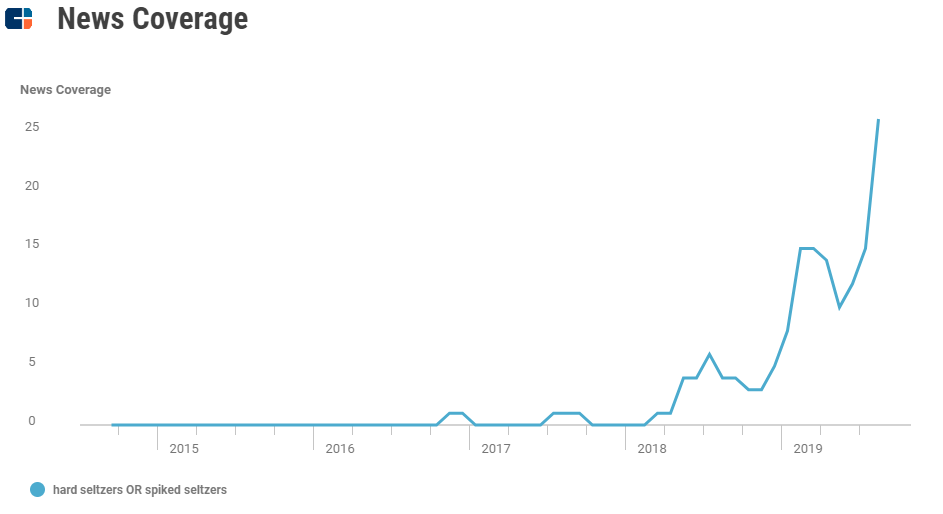 Disruption is now happening across the entire beverage aisle with startups leading the charge in categories such as cannabis-infused drinks or even water.
If some of this sounds familiar, it should — we recently discussed the expansion of the water category in this brief, as well as how startups are looking to disrupt the happy hour here.
But the sudden rise of the hard seltzer category should serve as a reminder that disruption is simply never over.
Social, functional, and convenient
The rise of hard seltzers should not come as a surprise: health, wellness, and convenience are key drivers behind recent beverage innovation.
More particularly, we've identified 3 themes that beverage players should pay attention to.
Social occasions — The line between alcoholic and non-alcoholic drinks is blurring with alcohol-free beverages targeting drinking occasions.
This includes alcohol-free spirits brands such as Seedlip — recently acquired by Diageo — as well as THC-infused beverages such as Cann, which is aimed at recreating the energizing buzz of alcohol without its negative effects.
Source: Cann's Instagram account
Emerging alcoholic beverages are borrowing from the soft drinks' playbook. Hard seltzer, for example, follows the rise of the naturally flavored sparkling water category like La Croix, and prominently features its low number of calories.
As alcoholic and non-alcoholic beverages continue to intertwine, expect established beverage companies to increasingly cross categories with the likes of Coca-Cola pushing into alcohol and vice versa. More on potential beverage giants consolidation here.
Functional ingredients — Beverages with health & wellness benefits are all the rage with a soaring number of brands offering drinks targeting specific needs such as skin health, digestion, or recovery.
Beverage startups are now also touting drinks that aim to manage stress and improve cognitive functions, like US-based Recess. The startup uses ingredients such as CBD and/or adaptogens — herbs, roots, and mushrooms said to help reduce stress.
Anticipate functional beverages to increasingly offer highly specific benefits such as post-yoga recovery or pre-flight jet lag prevention, and to enter new targeted distribution channels such as airports, gyms, or beauty retailers.
Look also for functional beverages to increasingly appear on fast-food restaurants' menu, following a similar adoption path to plant-based and lab-grown meat.
Convenient formats — Traditional beverage categories such as coffee, tea, and even wine are all experiencing sales growth through new formats making on-the-go consumption easier.
Ready-to-drink coffee from a bottle or a can has been increasingly popular in the past few years. Last June, Coca-Cola unveiled its first coffee product since it acquired Costa Coffee, with a range of ready-to-drink chilled canned coffee.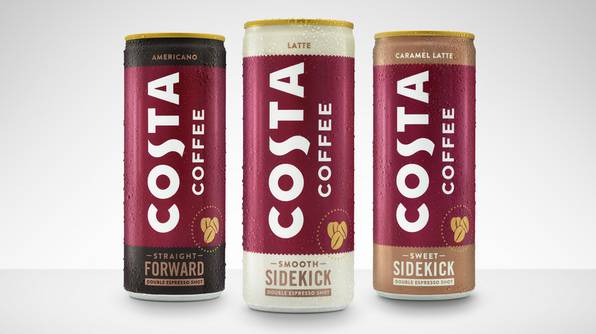 Source: Coca-Cola
Ready-to-drink canned wine is also gaining traction as illustrated by AB InBev's ZX Ventures' acquisition of the remaining stake in canned wine startup Babe Wine earlier this year.
Last but not least, instant powdered beverages are expanding beyond coffee into categories such as tea (e.g. Cusa Tea) or hydration-focused drinks (e.g. Hydrant), among others. This format does not only make it easier to store your favorite beverage, but also to carry it around.
Watch for these new formats to allow beverage categories to expand beyond their traditional shelf space into refrigerated spaces or cash register displays.
Want more?
CB Insights just published a 115+ Emerging Beverage Startups market map to help you visualize what the future of beverages may look like.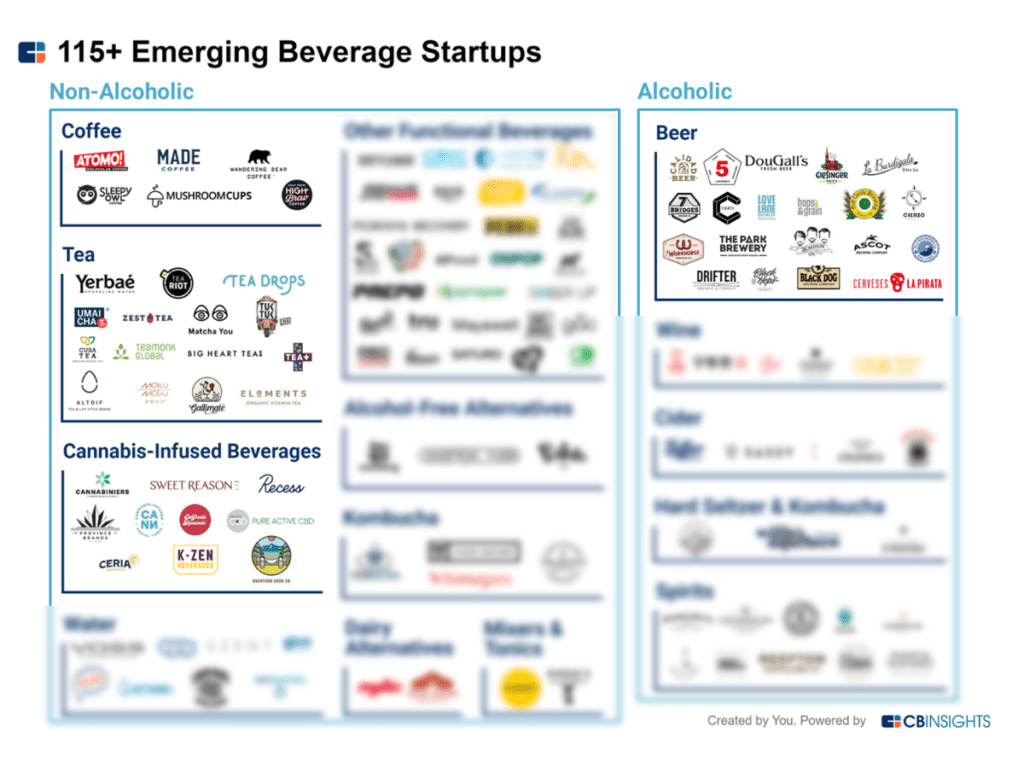 If you're a client, and you'd like to see the full market map and read the client-only brief, please click here.
If you aren't already a client, sign up for a free trial to learn more about our platform.