These venture bets on startups that "returned the fund," making firms and careers, were the result of research, strong convictions, and patient follow-through. Here are the stories behind the biggest VC home runs of all time.
In venture capital, returns follow the Pareto principle — 80% of the wins come from 20% of the deals.
Great venture capitalists invest knowing they're going to take a lot of losses in order to hit those wins.
Chris Dixon of venture firm Andreessen Horowitz, a CB Insights Smart Money VC, has referred to this as the "Babe Ruth effect," in reference to the legendary 1920s-era baseball player. Babe Ruth would strike out a lot, but also made slugging records.
VC firms funnel $62B to US-based companies in Q1'21
Dig into the latest trends in venture capital funding in the CB Insights and PwC MoneyTree Headline Report.
Likewise, VCs swing hard, and occasionally hit a home run. Those wins often make up for all the losses and then some — they "return the fund."
Please click to enlarge.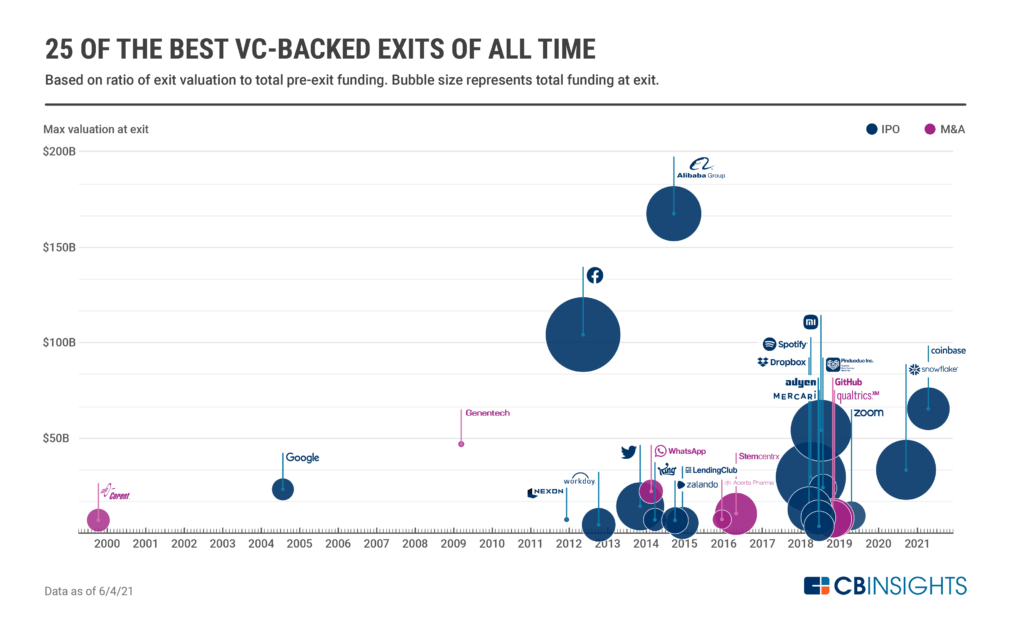 Fred Wilson of Union Square Ventures (USV), also a Smart Money VC, has written that, for USV, this translates to needing at least two $1B exits per fund:
"If you do the math around our goal of returning the fund with our high impact companies, you will notice that we need these companies to exit at a billion dollars or more. Exit is the important word. Getting valued at a billion or more does nothing for our model."
We analyzed 45 of the biggest VC hits of all time to learn more about what those home runs have in common.
To do so, we pulled data and information from web archives, books, S-1s, founder interviews, the CB Insights platform, and more.
For each company, we dove into the remarkable numbers they posted before their IPOs and acquisitions, the driving factors behind their growth, and the roles of their most significant investors. Below, we'll show you our analysis on each specific case.
Please click to enlarge.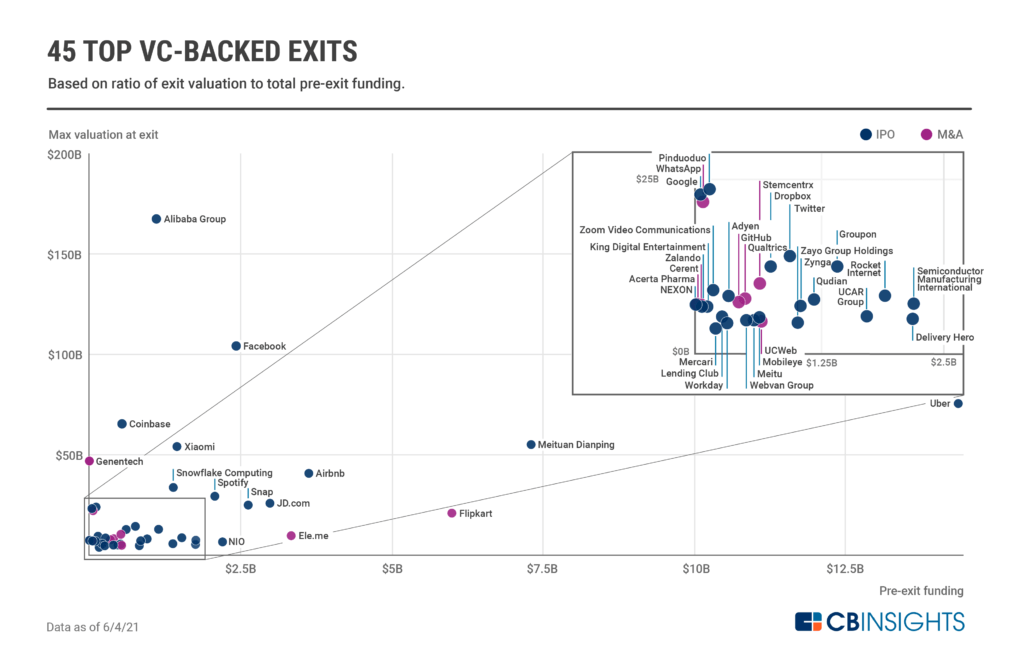 Note: Unless specifically stated, the "returns" discussed in the sections below are calculated based on the nominal value of the company at IPO or at acquisition. Earn-outs (such as those that apply to, for example, Stemcentrx) and lockups are not factored into those calculations.
Table of contents
1. WhatsApp
Facebook's $22B acquisition of WhatsApp in 2014 was the largest private acquisition of a VC-backed company ever at the time. It was also a big win for Sequoia Capital, the company's only venture investor, which turned its $60M investment into $3B.
Sequoia's success was built on its exclusive partnership with WhatsApp founders Brian Acton and Jan Koum.
Typically when early-stage investors put cash into a company, they want to bring on additional investors to drum up more buzz and validate their investment. Startups can end up with as many as five or six different VCs in their cap table. This is common enough that these rounds are often referred to as "party rounds."
WhatsApp and Sequoia Capital followed a different strategy: Sequoia was the sole investor in WhatsApp's $8M Series A round in 2011, which valued the company at $80M.
Sequoia was the sole investor in the subsequent Series B round as well.
WhatsApp's founders are known to be iconoclastic. For example, pretty early in the company's history, they wrote a manifesto against advertising and vowed they would never make money from placing ads in the service and mucking up users' experience with the app.
So it's not shocking that they chose to cultivate a single VC as an outside source of capital while raising only $60M of outside equity financing.
Sequoia, for its part, signaled its conviction in WhatsApp's bright future even as the app scaled to hundreds of millions of users with negligible revenue.
When firms invest with that kind of conviction, they get a large share of ownership — as opposed to when they join a deal with a crowded field of other VCs.
For example, by the time Twitter had raised $60M, it had brought in well over a dozen outside investors. At exit, lead Series A investor Union Square Ventures owned just 5.9% of Twitter.
WhatsApp vs. Twitter funding

| | | WhatsApp | Twitter |
| --- | --- | --- | --- |
| Series A | Amount raised | $8M | $5M |
| | # of investors | 1 | 8 |
| | Lead investor | Sequoia | USV |
| Series B | Amount raised | $52M | $15M |
| | # of investors | 1 | 6 |
| | Lead investor | Sequoia | Spark |
| Series C | Amount raised | N/A | $35M |
| | # of investors | N/A | 6 |
| | Lead investor | N/A | IVP |
In contrast, WhatsApp had expressed a desire to only work with a single firm from the beginning.
Sequoia's well-known trajectory as a Silicon Valley kingmaker and its deep pockets helped it beat out micro-VC fund Felicis Ventures and others for the deal. After an initial $8M investment in WhatsApp's Series A in April 2011, Sequoia put in an additional $52M in July 2013.
WhatsApp funding & valuation

| | | | |
| --- | --- | --- | --- |
| | Series A | Series B | Acquisition |
| Amount invested | $8M | $52M | N/A |
| Company valuation | $80M | $1.5B | $22B |
When Sequoia invested that additional $52M at a $1.5B valuation, WhatsApp was doing $20M in revenue — meaning Sequoia paid for its shares at an eye-popping 75x+ revenue multiple.
It paid off. By the time Facebook acquired WhatsApp for $22B, Sequoia had invested a total of $60M for around 18% ownership. Its share was worth more than $3B, a 50x return overall.
For Sequoia, the fact that WhatsApp was acquired by Facebook was a satisfying win for another reason.
Ten years prior, Mark Zuckerberg (egged on by Sean Parker, who held a grudge against partner Michael Moritz) had shown up deliberately late to a pitch meeting with Sequoia.
The meeting was meant as a prank — Zuckerberg never intended to let Sequoia invest. He arrived in his pajamas and presented a Letterman-inspired anti-pitch deck entitled "The Top Ten Reasons You Should Not Invest."
"I assume we really offended them and now I feel really bad about that," Zuckerberg later told journalist David Kirkpatrick.
Making $3B+ off selling WhatsApp back to Mark Zuckerberg surely took some of the sting off that memory. As well as not being invited to invest in another one of the top VC deals of all time — Facebook.
2. Facebook
Facebook's $16B IPO at a massive $104B valuation was a huge success for early investors Accel Partners and Breyer Capital. The firms led a $12.7M Series A into Facebook in 2005, taking a 15% stake in what was then called "Thefacebook."
At the time of the investment, the company had what was considered a sky-high $100M valuation.
It wouldn't be until almost exactly one year later that investors really started flocking to the early social media startup.
In 2006, amidst high user growth and revenue numbers, several firms took part in Facebook's Series B: Founders Fund, Interpublic Group, Meritech Capital Partners, and Greylock Partners backed the $27.5M round, which put Facebook's valuation at $418M.
Even after selling off $500M in shares in 2010, Accel's stake was worth $9B when Facebook went public in 2012, ultimately giving Accel Partners an enormous return on its investment. This bet made Accel's IX fund one of the best-performing venture capital funds ever.
It was also a bet that Peter Thiel, the very first investor in Facebook, missed out on.
Thiel became an outside board member with his $500K seed investment in Facebook in 2004. At the time, Facebook had what Thiel called "a very reasonable valuation" and about a million users.
Thiel saw Facebook's unprecedented popularity firsthand. He didn't invest again alongside Accel and Breyer simply because he felt the company was overvalued. When Facebook raised its subsequent Series A just 8 months after Thiel's initial investment, he (and much of Silicon Valley) felt that Accel had vastly overpaid.
Thiel made a classic misstep: he failed to perceive exponential growth.
For context, Facebook would turn out to actually look cheap at IPO in retrospect, when its IPO valuation to trailing revenue ratio is compared to that of later exits Twitter and Snap.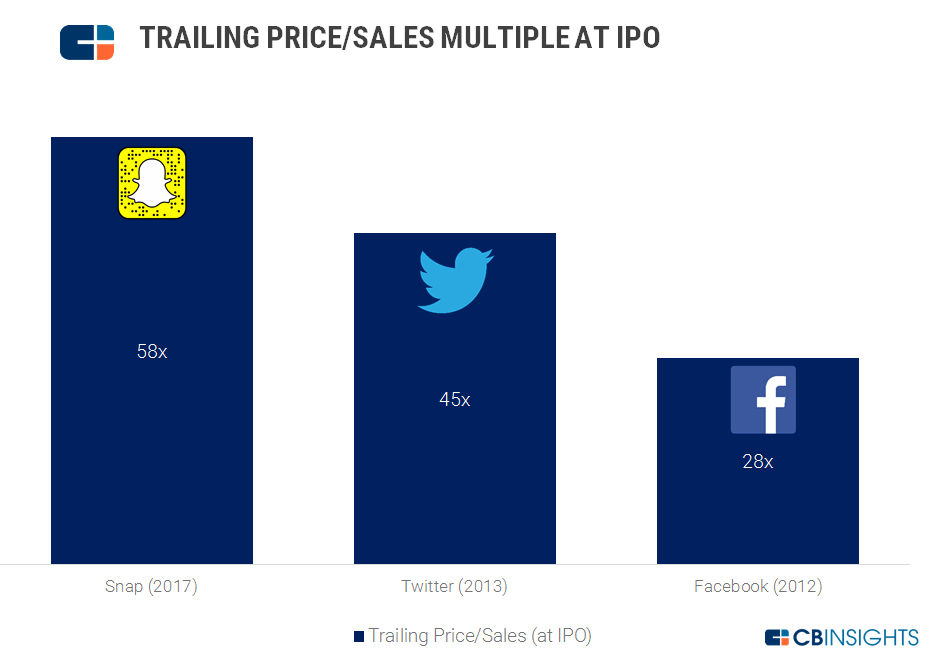 Thiel would later call missing out on the Facebook round his biggest mistake ever — and the one that taught him the most about how to think about a company that "looks" overvalued. As he later wrote,
"Our general life experience is pretty linear. We vastly underestimate exponential things. . . When you have an up round with a big increase in valuation, many or even most VCs tend to believe that the step up is too big and they will thus underprice it."
Today especially, it can be hard to see how Facebook was ever "overvalued." While Facebook's 2B+ active users is impressive, the company's early exponential growth is even more impressive.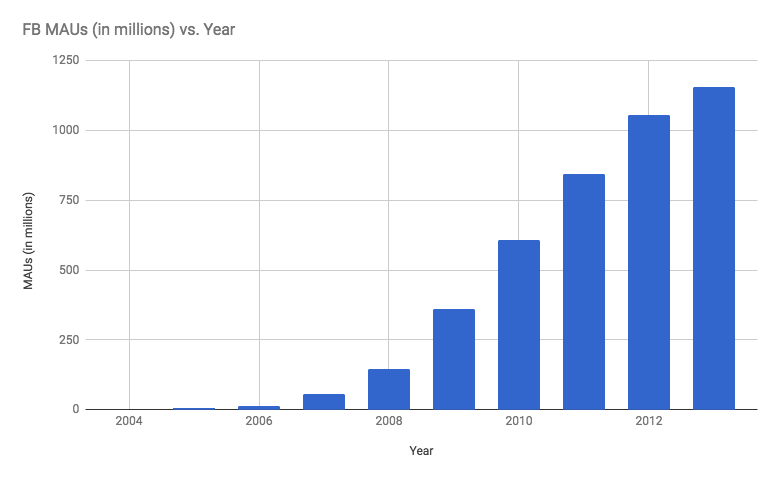 On the other hand, imagine looking at Facebook's monthly active user growth from the perspective of a potential investor in its Series C in 2006.
With the data points you had available then, Facebook did not look like a sure bet: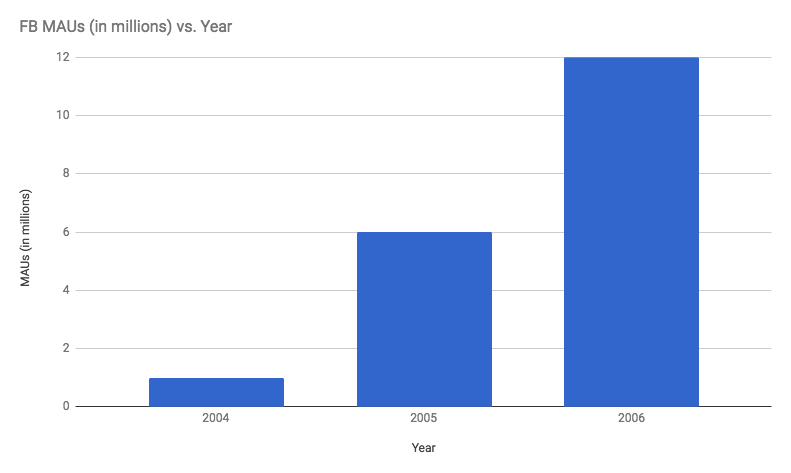 Facebook had about 12M users as of 2006, when it was still focused on the college market. Given that between 15M – 20M people attend college every fall, there was still a reasonable chance (at this point) that Facebook would remain in an academic niche and fizzle out when introduced to the wider world.
Investors had no way to know that people would stick around after graduating. They couldn't know it would catch on outside academia, and later, in other countries. That's why Accel and Breyer's investment at $100M seemed like an overvaluation to Thiel and others.
For Thiel, in hindsight it's clear Facebook's growth wasn't following a predictable, linear model. In fact, because it was actually growing exponentially, and the company was undervalued.
"Whenever a tech startup has a strong round led by a top-tier investor (Accel counts), it is generally still undervalued. The steeper the up round, the greater the undervaluation," Thiel later wrote.
Of course, Thiel is in part being provocative. It's also possible for there to be pricey rounds that don't shake out.
It comes down to conviction. An investor must have strong convictions about a company to follow on in the face of a steep valuation jump.
When you have strong convictions, you can do whatever you need to do to expose yourself to as much of the upside as possible — as Eric Lefkofsky did after he helped found Groupon.
3. Groupon
Groupon's IPO in 2011 was the biggest IPO by a US web company since Google had gone public in 2007. Groupon was valued at nearly $13B, and the IPO raised $700M.
At the end of Groupon's first day of trading, early investor New Enterprise Associates' 14.7% stake was worth about $2.5B. But the biggest winner from that IPO was Groupon's biggest shareholder, Eric Lefkofsky.
Lefkofsky had been involved in Groupon as a co-founder, chairman, investor, and biggest shareholder. He positioned himself on both sides of the Groupon deal through various privately owned investment vehicles and management roles. The way he did this was controversial. In the end, however, he owned 21.6% of the company. When Groupon went public in 2011, his share was worth $3.6B.
It all started when Lefkofsky helped get Groupon off the ground. He met Groupon co-founder Andrew Mason when Mason started working for Lefkofsky doing contract work. In 2006, Mason told Lefkofsky about his idea for a crowd-sourced voting site called The Point.
In 2007, Lefkofsky and Brad Keywell seeded The Point with $1M. By 2008, The Point was struggling. Lefkofsky noticed some users had used the platform to buy something together in a big group and get a discount. Seeing that this one-off use case could spin out into a much more successful business, Lefkofsky helped Mason pivot The Point into the company that we know as Groupon.
Groupon's subsequent rounds of funding saw the company bring on New Enterprise Associates (NEA) for its Series A, Accel for its Series B, DST for its Series C, and Greylock Partners, Andreessen Horowitz, Kleiner Perkins Caufield & Byers, and more for its $950M+ Series D. But none of those investors did as well as Lefkofsky at IPO.
| Round | Investors | Amount |
| --- | --- | --- |
| Angel | Eric Lefkofsky, Brad Keywell | $1M |
| Series A | NEA | $4.8M |
| Series B | NEA, Accel | $30M |
| Series C | Battery Ventures, Holtzbrinck Ventures, DST Global | $135M |
Lefkofsky amassed 21.6% of the company by the time of the IPO, 1.5x more than the second-largest investor NEA, and 2.8x what co-founder and CEO Andrew Mason received.
In his roles as co-founder, chairman, and earliest investor, Lefkofsky assumed the plurality of ownership in the company and saw astronomical returns.
| | |
| --- | --- |
| Shareholder | Ownership at IPO |
| Eric Lefkofsky | 21.6% |
| NEA | 14.7% |
| Samwer Brothers | 10.3% |
| Andrew Mason | 7.7% |
| Brad Keywell | 6.9% |
| Robert Solomon | 6.8% |
| Accel | 5.6% |
Lefkosky cashed out part of his stake early on. $120M of the $130M Series C round and $810M of the $950M+ Series D round went to stock redemptions for existing shareholders.
Lefkofsky received $386M of that amount via two of his investment vehicles, Green Media LLC and 600 West Partners II LLC. What's more, he only paid $546 in total for those shares, turning literally hundreds of dollars to hundreds of millions in pre-IPO redemptions — and later, billions at IPO.
Lefkofsky's position as both co-founder and investor may sound like an unusual strategy, but "playing for both sides" is actually a longstanding practice in Silicon Valley. In the 1990s, it was the model behind the huge success Kleiner Perkins Caufield & Byers had with the telecommunications company Cerent.
4. Cerent
When Cisco acquired Cerent in 1999, the $6.9B deal was the biggest acquisition ever for a tech company. And for Kleiner Perkins Caufield & Byers, which invested $8M in the company, it resulted in a huge multibillion-dollar payday.
Cerent sought investment from a few other firms for its Series C and D rounds — including Norwest Venture Partners, Integral Capital, Advanced Fibre Communication, TeleSoft Partners, and Kinetic Ventures. Meanwhile Cisco invested about $13M to acquire 8.2% of the company pre-acquisition.
No investor did better, however, than Kleiner Perkins Caufield & Byers, whose 30.8% stake became valued at about $2.1B after the stock switch.
Notably, Cerent itself was co-founded and led by Kleiner Perkins partner Vinod Khosla. In this, there were parallels to an earlier Kleiner Perkins home run, Genentech. Genentech was co-founded by Robert Swanson, who was also a former Kleiner Perkins partner.
Thanks to Kleiner Perkins' reputation and deal flow, Khosla knew the best engineers in Silicon Valley, and he had a keen awareness of what the market needed. The idea for Cerent practically walked into his office; he just needed to find the right people to execute on it.
It started with Raj Singh, who came to Kleiner Perkins Caufield & Byers in 1996 with an idea for a special Java-specific computer chip. Khosla, who'd invested in Singh's previous company NextGen, was merely "lukewarm" to the idea. But he had another idea he wanted to pitch to Singh.
"Mr. Khosla told me there was no money to be made in Java, but we talked about doing a [optical] hardware box," recalled Singh.
Khosla's view was that the sharp increase in internet traffic would create a market for a device that could handle large amounts of voice and data.
Khosla had been able to see, from his experience as a VC and from the various companies that came through the Kleiner office, that telecom networks were changing. There was an opportunity to provide a better solution to the problem of connectivity — something cheaper and more flexible that could respond to growing demand.
What Cerent's technology did was help connect long-haul communications lines and the local telephone and data network. This made it faster and easier for phone companies to transmit data.
And as the number of internet hosts increased, according to a study by the Internet Systems Consortium, the need for efficient optical network technology did, too.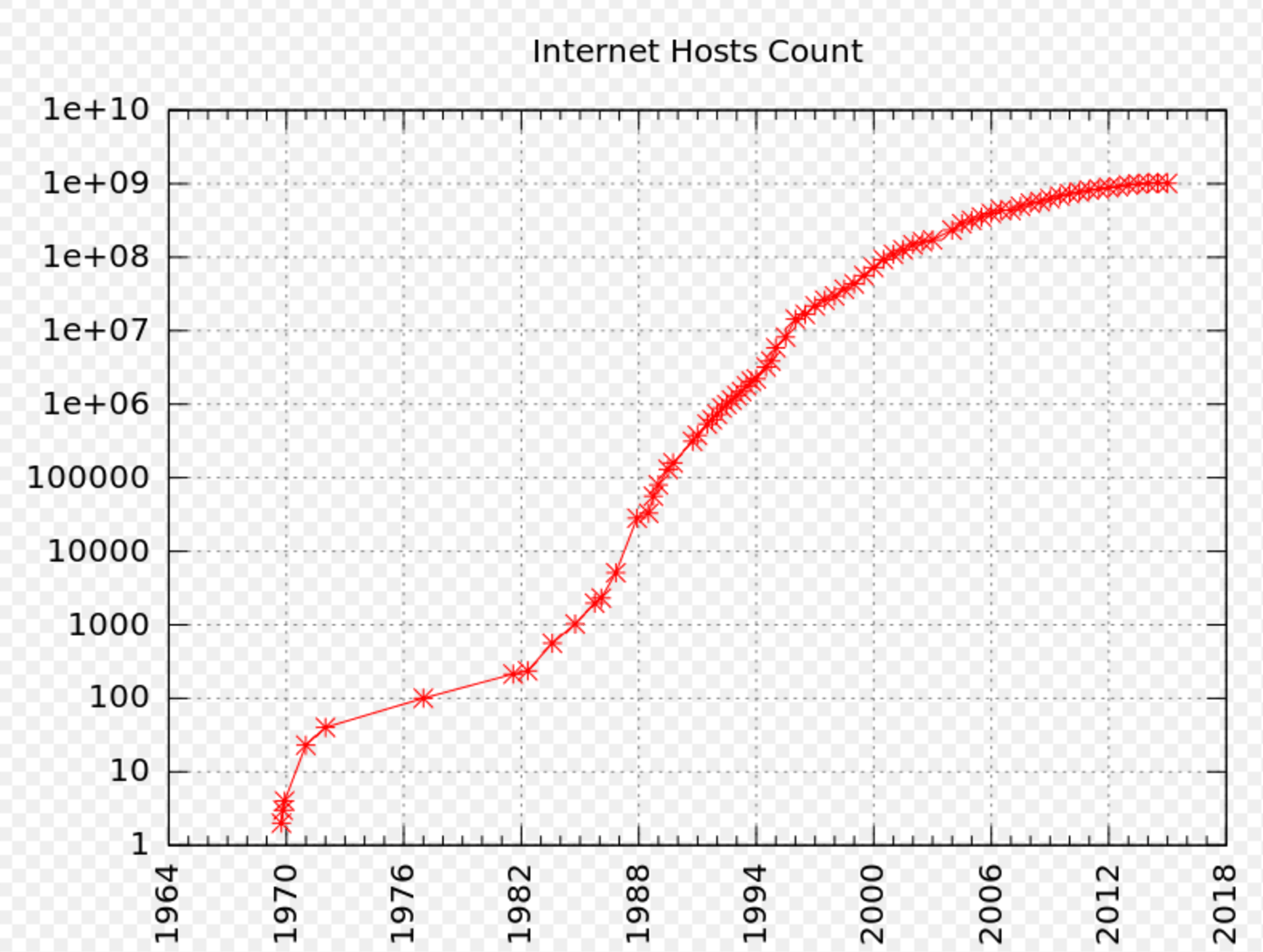 Kleiner Perkins' 1998 investment marked the beginning of an optical technology bubble, where company valuations skyrocketed and investments flowed. Singh and Khosla staffed out the rest of the company, and within two years, Cisco had purchased them for $6.9B.
As one analyst put it, "Everyone looked at Kleiner Perkins Caufield & Byers' $8M investment in Cerent, and its returns, and it was difficult not to hear the cha-ching!"
Both Lefkofsky (with Groupon) and Kleiner Perkins (with Cerent) were able to win so big in part because they had hands-on operational roles in their investments. By doing so, they were able to expose themselves to much of the upside of their own work.
5. Snap
When Snap Inc. went public in March of 2017 at a $25B valuation, it was the second-highest valuation at exit of any social media and messaging company since 1999.
At the time, the stake held by VC firm Benchmark Capital Partners became worth about $3.2B. The IPO also capped a highly productive series of deals for Lightspeed Venture Partners, whose investment of about $8M grew to be worth $2B.
Lightspeed Venture Partners made its first investment in Snap by backing a $480K seed round in May 2012. Nine months later, Benchmark invested $13.5M in the company's Series A, as the sole investor in the round. Notably, Benchmark's investment was led by partners Matt Cohler and Mitch Lasky, the latter of whom would become a mentor to Snap founder Evan Spiegel.
In part, Lasky was able to build this relationship because of a dispute between Spiegel and Lightspeed, which is not uncommon in the pressure-cooker world of early-stage startups, ambitious founders, and seasoned VCs.
Later, in a move reminiscent of Facebook, Snap's $60M Series B brought a bevy of new investors to the table — among them, General Catalyst, SV Angel, Tencent Holdings, Institutional Venture Partners, and SF Growth Fund. None would see returns as high as Benchmark or Lightspeed.
The key to Benchmark's success with Snapchat was the firm's ability to see beyond the app's public perception. Where others saw a fad, it saw a company.
As late as 2013, Snapchat was thought of as little more than an app for college students to send each other naked photos. When Bloomberg Businessweek did a feature story on the company early that year, the piece included a GIF "cover" showing racy photos that disappeared after a few seconds.
While the public and the media were underestimating what Snapchat would become, Mitch Lasky and Benchmark saw something very interesting going on. When they talked to people about the social media they used, they heard Snapchat mentioned in the same breath as companies like Facebook, Instagram, and Twitter.
After learning more about the company and its founder, Benchmark became convinced that this supposed "sexting" app had a bright future.
"At Benchmark we search for entrepreneurs who want to change the world, and Evan and Bobby certainly have that ambition," Lasky later wrote on his blog, "We believe that Snapchat can become one of the most important mobile companies in the world, and Snapchat's initial momentum — 60 million shared "snaps" per day, over 5 billion sent through the service to date — supports that belief."
"Snapchat's ramp reminded us of another mobile app Benchmark had the good fortune to back at an early stage: Instagram," he added.
For investors like Mark Suster at Upfront Ventures, the associations with illicit activity were too much to get over.
"I had just seen (maybe 6 months before) a project called TigerText," Suster later wrote on his blog. "It was a 'disappearing text app' where the founders told me that they named the company because the idea came from how Tiger Woods got caught cheating on his wife because all of his mistresses had evidence that he cheated because they saved text messages from him… That narrative was fresh in my head when I first had the discussion about Snapchat."
Suster didn't want to support any app that seemed like its primary audience was cheating husbands. He admits that this was a failure of imagination and a mistake.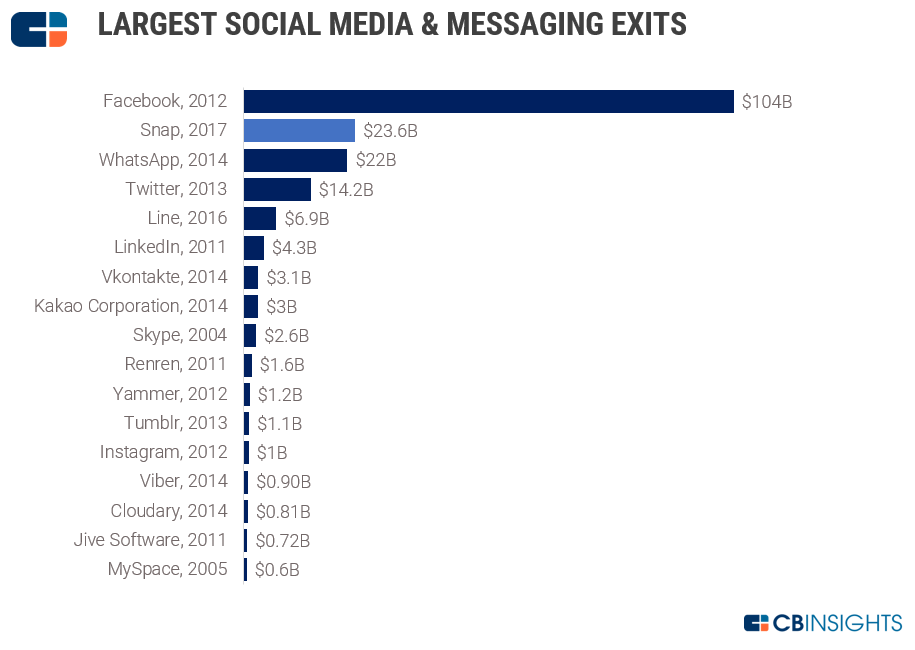 "People assume that porn is the first use-case for many new kinds of Internet services, and sometimes it is," Susan Etlinger at Altimeter Group told the New York Times. That doesn't necessarily mean, however, that it will be the only, or even primary, use case.
One of the first successes for Snapchat came when Spiegel realized that the app's usage levels were spiking at a small high school in Orange County every weekday between the hours of 8am and 3pm. Spiegel's mother had told his cousin, a student at the school, about the app. It had spread from there — the kids were using it, in Spiegel's words, as a "digital version of passing notes in class."
That was the app that Lasky and Benchmark invested in — not an app for sexting, but one that had undeniable virality and engagement levels even at an early stage.
As the examples of Benchmark with Snap and Accel with Facebook show, coming in early with a large offer and actively guiding an investment to success can be a great strategy.
As we see from the example of King Digital Entertainment, however, that kind of investment doesn't always take a linear path.
6. King Digital Entertainment
Activision's 2015 acquisition of King Digital Entertainment — the makers of Candy Crush Saga — helped grow the conglomerate company into the largest game network in the world, with over 500M users. The $5.9B acquisition price also made the deal a big success for Apax Partners, the buyout firm that owned 44.2% of King Digital at the time.
The previous year, King's 2014 IPO was hotly anticipated. King set out a plan to sell 22.2M shares at a total valuation of $7.6B. The company's valuation wound up closer to $7.1B, at $22 per share.
Index Ventures, which invested in King in 2005, cashed out shortly afterward, for a return of about $560M on its 8% stake.
Apax Partners also first invested in King Digital in 2005, when the company was still distressed from a point of near-bankruptcy in 2003. It was still 9 years away from its biggest cash cow game, Candy Crush Saga, and the venture capital market for consumer startups was still in a "hangover" from the bursting of the dot-com bubble a few years prior.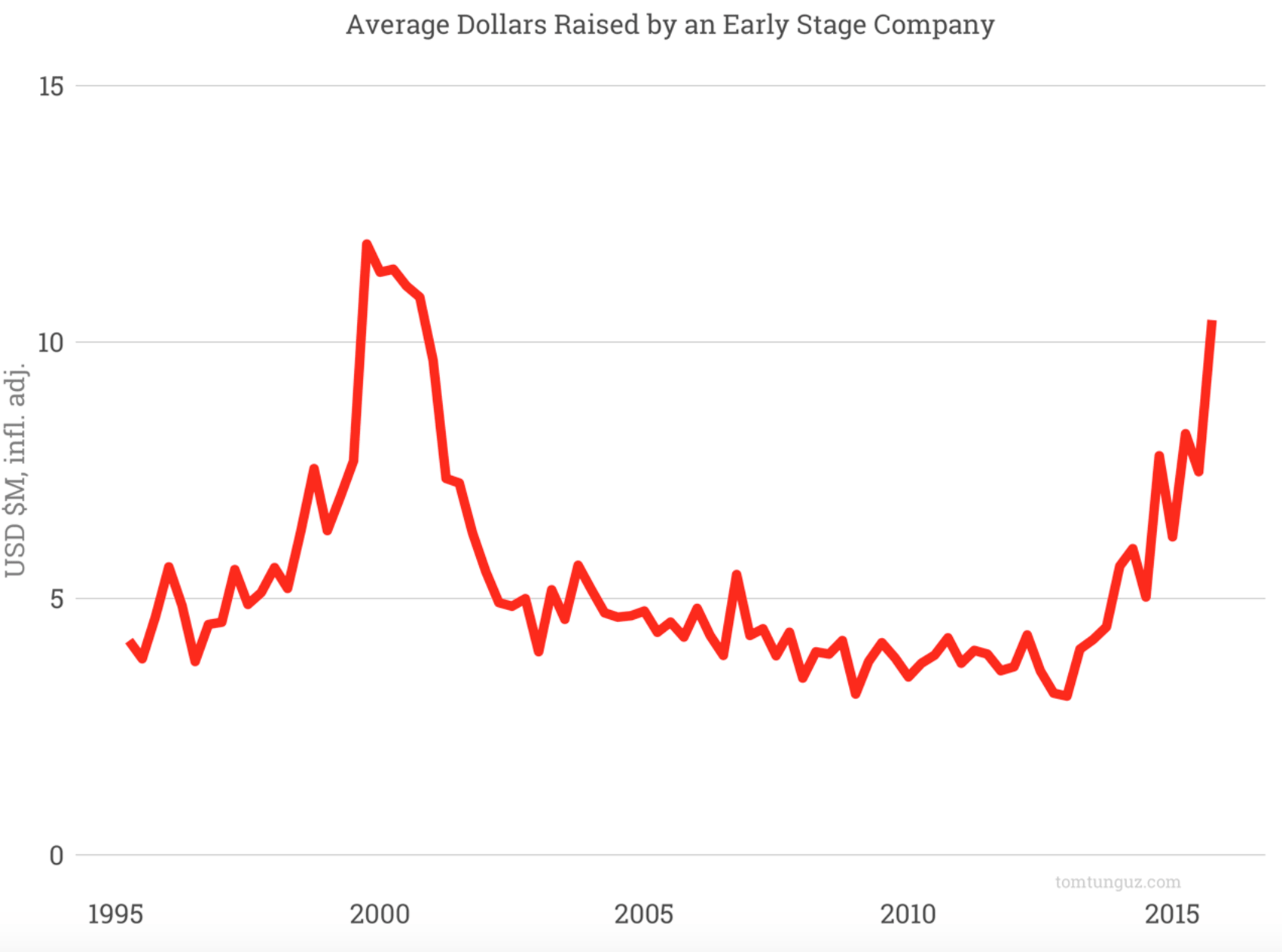 Due to a combination of these factors, Apax was able to take a huge stake of King Digital, paying around $36M for 45% ownership in the company.
King Digital's popularity skyrocketed when the company released Candy Crush Saga in 2012. The app had over 10M downloads by the end of the year. Within two years, it had 97M active daily users.
At the time of the company's IPO 2014, Apax's stake was worth about 100x what it paid in 2005. This made King Apax's most successful investment to date.
And King Digital's total MAUs kept growing: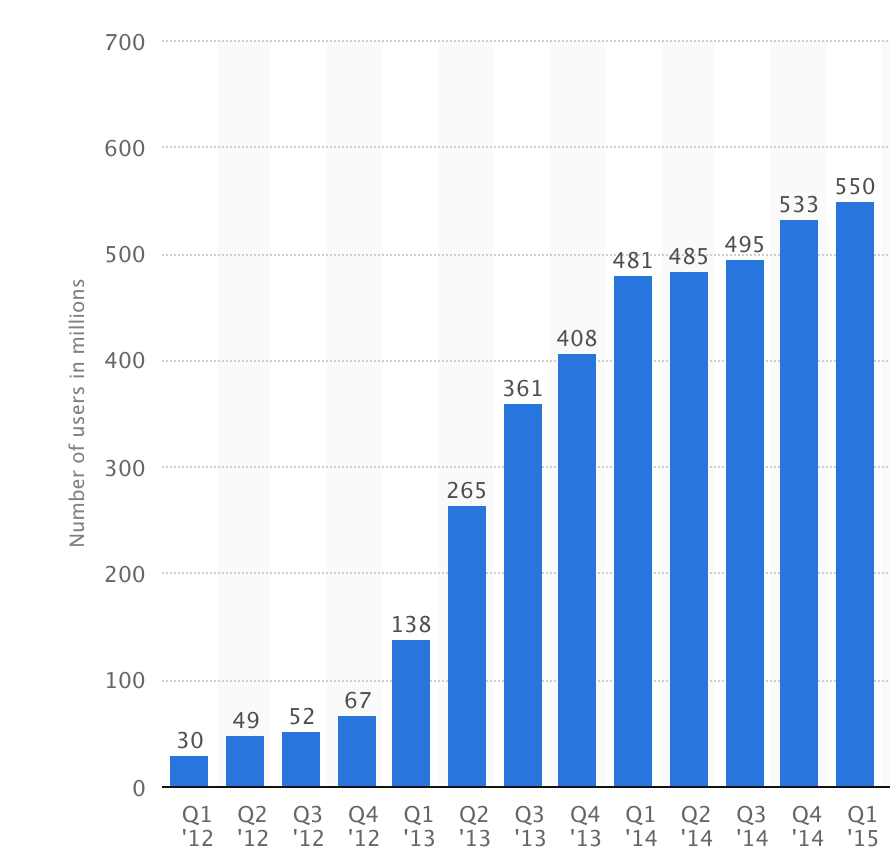 This growth caught the attention of Activision, a large game maker known for games like "Call of Duty" and "Guitar Hero." In 2015, Activision approached Apax to ask if the investor would consider selling its shares in publicly traded King.
However, Apax didn't just want to sell: the company saw the potential for a wholesale acquisition of publicly traded King, and its huge 44% stake allowed it to have a significant say in the deal. Apax brought King's chief executives into its conversation with Activision. The resulting deal happened at a premium to the price at which King had been trading.
Apax maximized the return on its investment by taking an active role in negotiating King's exit.
Alibaba's acquisition of UCWeb bears some similarities to this deal: one investor (Alibaba) grew its stake in the company over time and gained a lot of influence. The critical difference is that Alibaba didn't sell its investment; rather, this investor acquired the company themselves.
7. UCWeb
Alibaba's acquisition of mobile browser company UCWeb in 2014 was the largest-ever internet deal in China at the time. The deal valued UCWeb at around $4.7B — and additionally played a role in helping Alibaba find its feet in mobile and propel its valuation from $80B to $230B+, a 3x increase.
Prior to the deal, UCWeb CEO Yu Yongfu had famously proclaimed that, despite significant interest, UCWeb would never sell. It took years of effort by Alibaba founder and CEO Jack Ma to change that.
Over the course of 6 years, from 2008 to 2014, Alibaba built a relationship with UCWeb by strategically investing hundreds of millions of dollars and ultimately accumulating a 66% stake in the company. In the end, this relationship paid off in spades.
UCWeb's earliest VC investors were Morningside Ventures and Ceyuan Ventures, who collectively put $10M into the company in its Series A back in 2007.
At the time, UCWeb had already been working on mobile browsing for a few years, but was generating no revenue from various consumer mobile implementations.
In addition, UCWeb was white-labeling custom mobile browsers and doing consulting for Chinese telecommunications companies. Yongfu made the decision to sell the profitable B2B unit, to allow the company to focus more strictly on consumer technology.
To do that fully, UCWeb needed investment.
In 2008, Jack Ma and Yu Yongfu met for the first time. Alibaba first invested soon afterward, participating in the company's $12M Series B in 2009. In March 2013, Alibaba made another investment of about $506M in the company — and in December 2013, invested $180M more, in a deal that gave Alibaba a 66% stake in the company.
Rumors soon arose that Morningside wanted out, with Chinese search giant Baidu was looking to buy up its shares.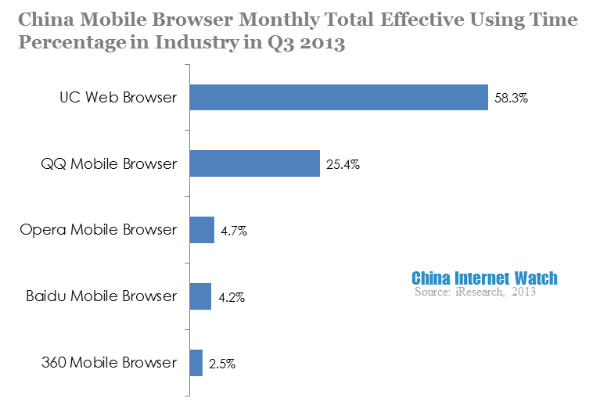 Yu Yongfu told the media that despite rumors, UCWeb had no interest in selling the business. He rejected the offer from Baidu that reportedly would have valued the company at about $800M, instead insisting that UCWeb would acquire other businesses.
Nevertheless, by 2014, Alibaba would come to own two-thirds of the mobile browsing company now considered "one of the last good acquisition targets" in China, and Ma had scored a board seat.
"Jack Ma has, of all people, one of the best high-level strategic views of the industry," Yongfu told The Next Web at the time. A few months later, Ma made an offer to buy the company outright, and two months after that, the deal was finalized.
When asked why he was selling now, after years of naysaying, Yongfu told reporters that he trusted Ma: "We share the same vision and the same dream together."
The acquisition was a strong strategic move for Alibaba, which at the time of its IPO had made it clear that the rise of mobile was something it needed to reckon with as a business. If it could not adapt, Alibaba would be overtaken by companies with stronger mobile offerings, such as Tencent (owner of WeChat) and Baidu.
The acquisition UCWeb was also especially powerful in cutting off a profitable line of business for Baidu, who had previously benefitted from being the default search engine on the UCWeb mobile browser.
Finally, the acquisition also seemed to help prove to investors in Alibaba's upcoming IPO that the company knew its own shortcomings and was working aggressively to shore them up. While the UCWeb acquisition wasn't the only factor at play, Alibaba's valuation did soar from $35B in 2012 to $168B in its 2014 IPO.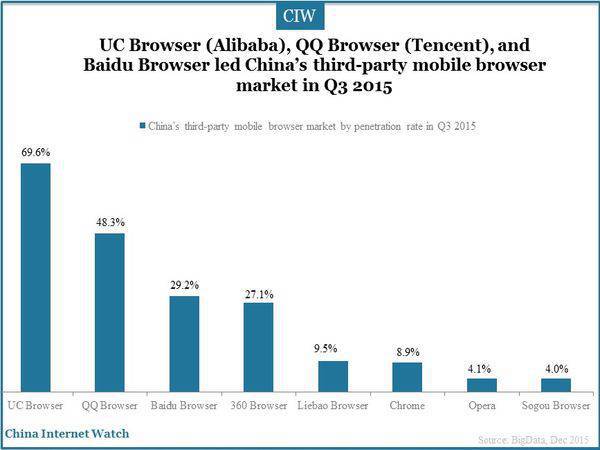 By 2015, UCWeb (now owned by Alibaba) was still on top of the mobile browsing market by a healthy margin.
The UCWeb acquisition was a multi-pronged success for Alibaba
Crucial to Alibaba's success in acquiring UCWeb was the fact that Jack Ma had become a trusted partner that had worked with the company for 6 years. This was someone who had believed in UCWeb from the beginning, and not just since the company gained traction. It was also someone who knew the work involved in building a company in an emerging market, and who had done it himself with Alibaba.
8. Alibaba
In 2014, Alibaba sold $22B of stock in what was, and still is, the biggest IPO on record. Fourteen years earlier in 2000, Japanese telecom giant SoftBank had invested $20M for 34% of Alibaba. While its IPO was initially valued at $167.6B, its public market debut gave Alibaba a market cap of $231B — and valued SoftBank's stake in the company at well over $60B.
Alibaba was pre-revenue and pre-business model when Softbank invested. Masayoshi Son, SoftBank's founder, made the decision to invest because he knew the internet was about to transform China, as it had already transformed Japan and the United States. He met with 20 prospective Chinese internet entrepreneurs in 1999, ultimately picking one to invest in. His name was Jack Ma.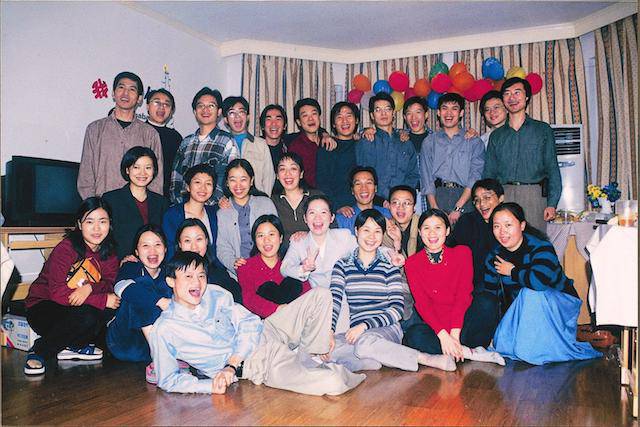 Alibaba in the early days. At bottom, founder and CEO Jack Ma. Source: Entrepreneur
"We didn't talk about revenue, we didn't even talk about a business model, we just talked about a shared vision," Ma would later say.
"I invested based on my sense of smell," said Son.
By 1999, Son and Softbank had already made two big investments in the internet. Both companies had been huge successes:
Yahoo!: Softbank invested $2M in Yahoo! in 1995. Three years later, Yahoo.com was the most popular starting point for internet sessions around the world, garnering 100M page views a day according to BBC news.
Yahoo! Japan: The Japanese spinoff of Yahoo! first went live in 1996. By the beginning of 2000, its stock was the first in Japan to ever trade for more than ¥100M per share.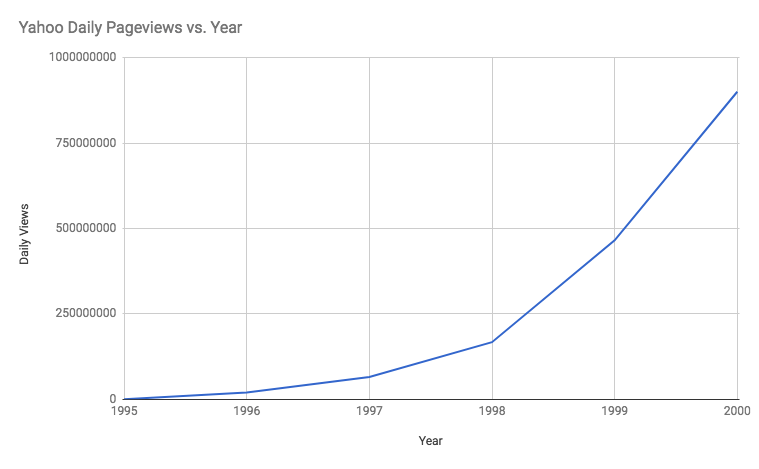 By 2000, Yahoo! was the effective "front door of the Internet" for most Americans. Son wanted to make sure he had an early stake in the Chinese internet.
When Ma and Son first met a few years prior to the investment in Alibaba, Yahoo! Japan was growing quickly. Ma, inspired, started working on his own web portal for the Chinese market.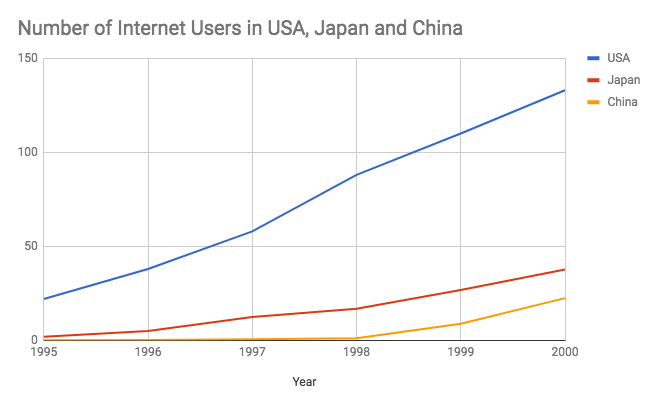 From 1999 to 2000, the internet-using population of China more than doubled from about 8.9M to 22.5M.
In 2000, Son rediscovered Alibaba during the above-mentioned scouting trip in China and officially put his support behind Ma's project.
Fourteen years later, Alibaba's IPO prospectus listed SoftBank as the biggest shareholder with a 34.1% stake. This made Son incredibly wealthy — today, he is Japan's richest man, with a net worth of $21.6B.
Forbes says that the dot-com crash in 2000 "wiped 99% off of SoftBank's market cap and close to 90%" off Son's net worth. Fortunately, his stake in Alibaba has done alright since then — today it would be worth $130B.
The value of the Alibaba stake allowed Son to keep taking out debt to finance Softbank's operations (and acquisitions), arguing that "SoftBank is a goose that eats debt in order to lay golden eggs."
Today, Softbank Group is arguably the world's biggest investor in private companies, thanks to its $93B Vision Fund (which is also backed by deep-pocketed investors like Saudi Arabia and Apple).
Alibaba rode the first wave of the growing Chinese e-commerce market. To onlookers, its success signaled huge market potential. Soon other entrepreneurs and other investors wanted a piece of the pie.
Some time later, the venture firm Capital Today put its support behind a new Chinese e-commerce company: JD.com.
9. JD.com
In 2006, the founder of the Chinese e-commerce company JD.com, Richard Liu, sought a $2M investment to shore up his company's finances. To do so, he turned to the Chinese private equity firm Capital Today. Instead, Capital Today decided to invest $10M. The decision to invest 5x as much as Liu was asking for proved to be a smart move.
When JD.com went public in 2014, that stake was worth $2.4B.
In the years following Capital Today's initial investment, Chinese e-commerce exploded — and many other firms began to take notice of JD.com.
Walmart participated in a $1.5B round to the company in 2011. Later, the retail giant sold its entire e-commerce operations in China to JD.com. By February 2017, Walmart's stake in JD.com reached 12%.
The Ontario Teachers' Pension Plan Board also invested, participating in a $400M private equity round in November 2012. After JD.com went public, the value of those holdings increased to $630M.
For its part, Capital Today succeeded by investing in a tiny upstart in a market that had just lost a giant incumbent. In 2006, eBay had just fled China, after competitor Taobao had taken over the market after a very expensive battle.
Following the Taobao vs. eBay battle was a decade of steady, 25%+ annual growth in the Chinese e-commerce industry, and a huge win for JD.com's investors.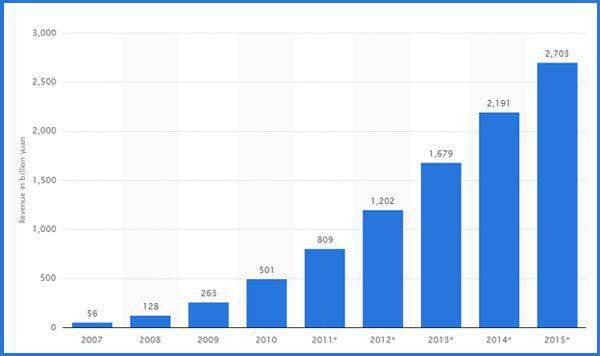 The growth of Chinese e-commerce from 2007 to 2015. Sales grew from 56B yuan to 500B yuan in just the four years starting from 2007. Source: Statista
By 2006, however, JD.com's money was running low as the company sought to gain its footing in the bruising local e-commerce market. Even so, JD.com's cash-strapped chairman and chief executive Richard Liu wanted to expand the company's offerings and build new software.
That was when he approached Capital Today, pitched his vision of a "full-service online retailer," with a focus on logistics, and asked for $2M.
Capital Today invested $10M, seeing that an internet giant-sized hole had just opened up in the Chinese e-commerce market. JD.com didn't need to destroy Alibaba and Taobao; it could take only a small percentage of the market and generate a huge return.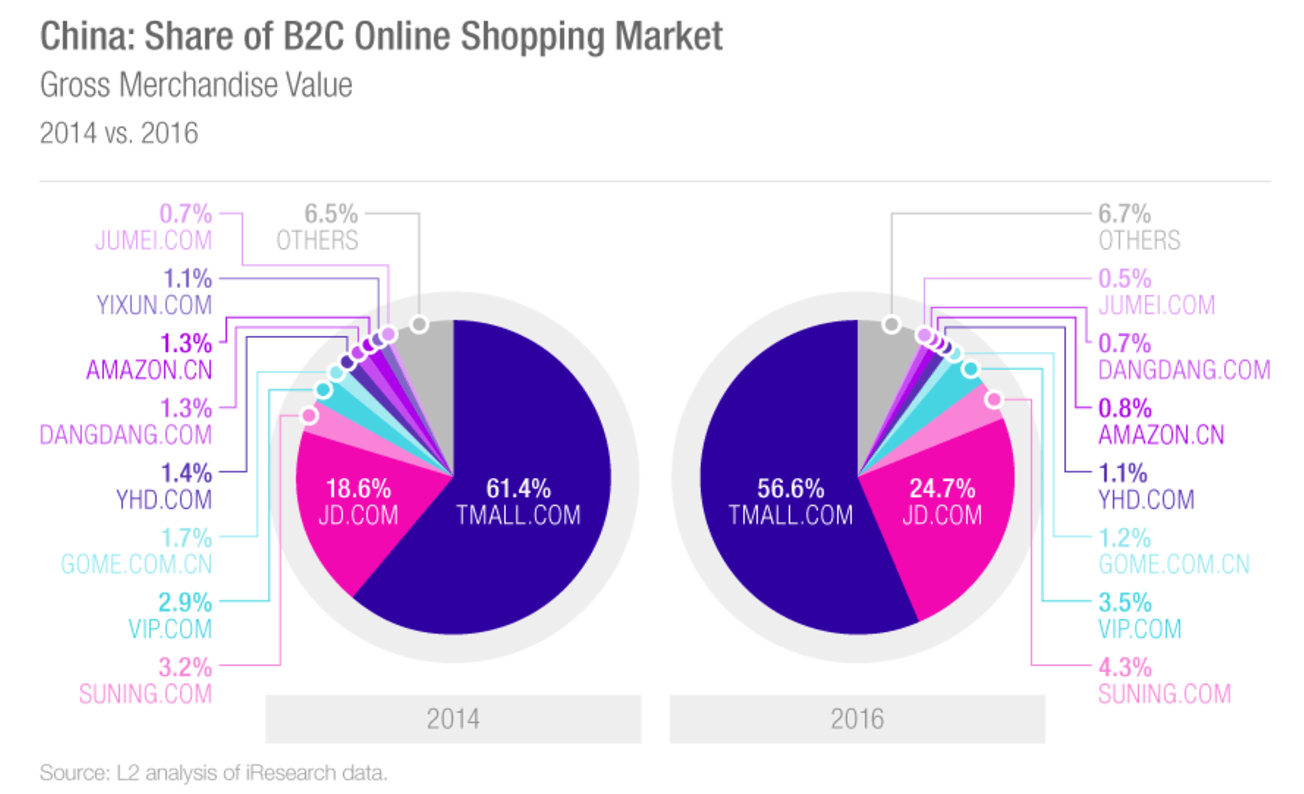 The investor's faith in the company and the market paid off. Today, JD.com continues to grow and take a greater share of the B2C online shopping market in China.
Though JD.com and Alibaba are still technically competitors, they are both growing and trying to capture different niches.
Of course, sometimes startups and investors stand to gain more if they sell to more dominant competitors.
This is what happened when Delivery Hero and Foodpanda butted heads. Delivery Hero won out, but the investors in Foodpanda got a nice consolation prize.
10. Delivery Hero
The European takeout service Delivery Hero went public in 2017 at a valuation of $5.1B. It was a big moment for one of Delivery Hero's former rivals and biggest investors, Rocket Internet, who acquired a 30% stake in the company two years prior, in 2015. That stake cost it around $560M, making for a nearly 3x paper return on its investment.
There were plenty of earlier investors in Delivery Hero, including Holtzbrinck and Team Europe as well as Point Nine Capital, WestTech Ventures, Kite Ventures, and ru-Net, among others.
Interestingly, "startup studio" Rocket Internet and Delivery Hero had been rivals once. Rocket had backed a company called Foodpanda that competed with Delivery Hero in the food takeout space.
Until the end of 2016, the two companies both focused on expansion, in different parts of the world:
Delivery Hero focused on markets in Europe, Latin America, and Asia
Foodpanda focused on markets in India, Mexico, Southeast Asia, Russia, and Brazil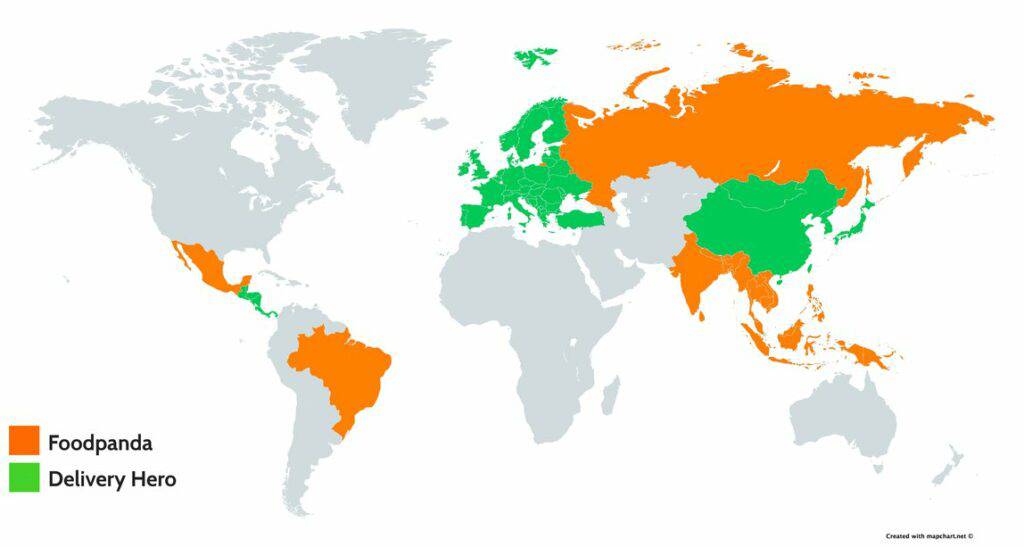 In late 2016, Rocket sold Foodpanda to Delivery Hero, its former rival. The sale was funded by issuing new shares of Delivery Hero to Rocket, increasing its stake to that of 37%. This later translated to a 7.5x return on its money by selling the struggling company to the stronger one.
Instead of competing with Delivery Hero in the crowded food delivery market, Foodpanda was able to join forces with the company — like Uber and Didi Chuxing did in China — to get a bigger win together.
The merger gave Delivery Hero a dominant worldwide position in the takeaway industry.
In 2017, Delivery Hero has seen growth across all regions, with revenue in Europe growing 44% in Q1'17. That success suggests a new model for international companies.
When you try to expand one company across the globe, it can set you up to fight a continual series of guerrilla battles with local competitors. You may have higher odds bringing together many smaller companies with tight, regional network effects.
Rocket — a publicly traded holding company in Germany run by the Samwer Brothers — has cloned US businesses across many categories and across the globe. The company has found success by thinking about the bigger strategic picture and being able to concede defeat in one battle in pursuit of maximizing returns where it counts, simply in terms of dollars invested. Not from an ego boost that might come from "winning a market."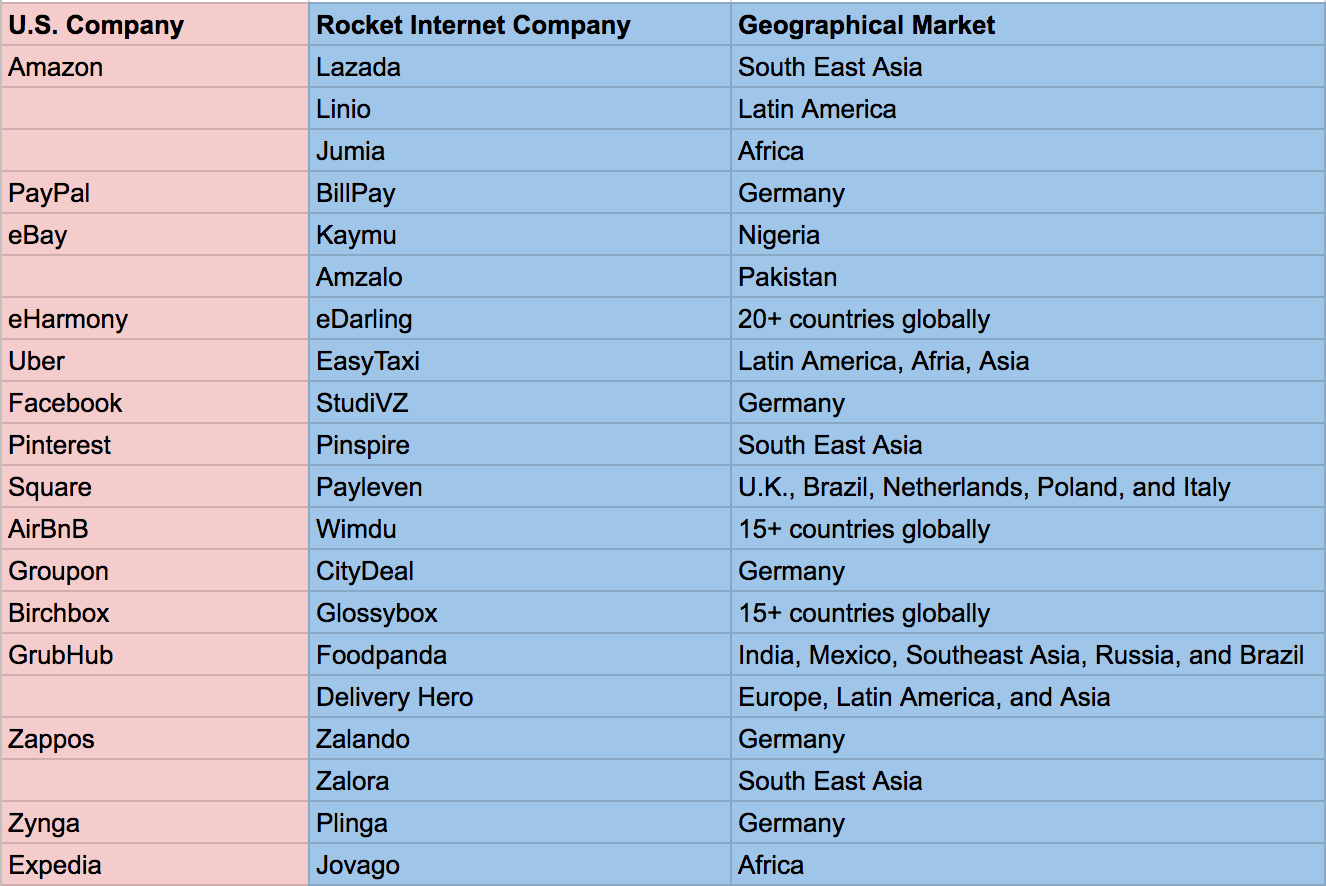 This approach has let Rocket Internet achieve huge returns even in spaces where it's lost market share to competitors. As tech entrepreneurship takes hold across China, India, and the rest of Asia, in addition to Europe, Rocket Internet has seen big wins balance out its losses.
Consolidation across different regions and countries can generate big wins for companies, as well as offering more value to customers. This is exactly what Zayo did with another niche but burgeoning market: local fiber optics providers.
11. Zayo
The American fiber carrier Zayo's IPO in 2014 represented a huge turnaround for the fiber optics industry. The company exited at a valuation of $4.5B — an encouraging public offering in an industry that had been lagging in the previous decade. That made lead investor Columbia Capital's stake in 11.4% of the company about $500M.
Zayo's primary value proposition was how well the company was able to aggregate the offerings of different fiber providers. At the time, the American fiber optics market was made up of regional players. Many had their growth stunted by the 2000s dot-com boom and bust. They were fragmented and mostly undifferentiated.
Zayo came in and began consolidating the industry. It raised aggressively to acquire other fiber network and infrastructure companies, buying a total of 32 companies by the time of its IPO.
More than five firms invested in Zayo's $225M Series A in 2007, and among them were Oak Investment Partners, Battery Ventures, and Columbia Capital. This was just as the optical networking market was beginning to recover from a post dot-com slump. The need for bandwidth (from corporations and homes alike) was increasing rapidly, but most of the companies building out that bandwidth infrastructure were small, straggling, and local.
This created what Zayo called "fiber orphans" — regional fiber networks, disconnected from their neighbors, that couldn't offer value across their borders. Zayo set out to buy and unite them.
Zayo could take advantage of low prices on companies that had been overbuilt and needed to sell, while remaining confident that there would be a need for its services in the years to come.
Bandwidth needs historically have grown at anywhere from 50% to 100% annually, after all, for many organizations.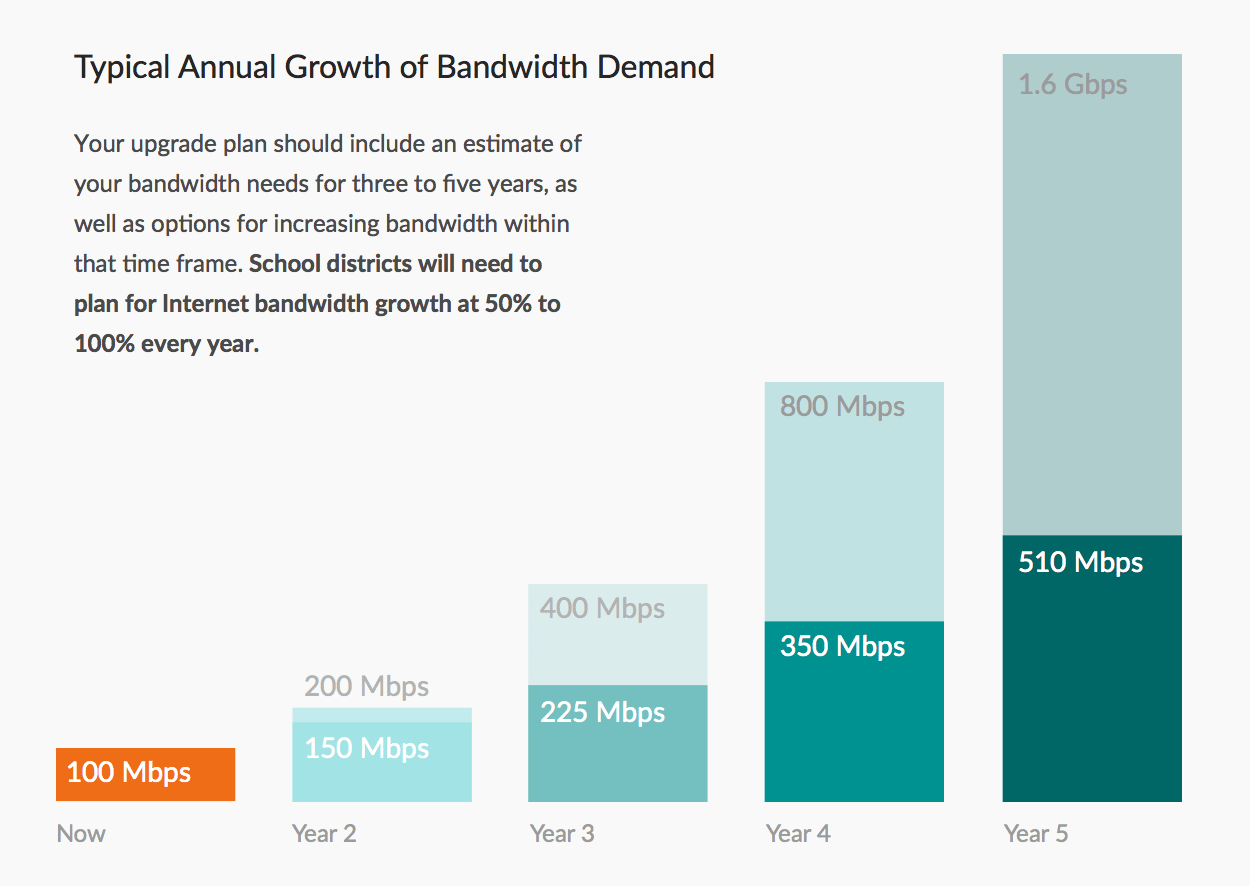 Zayo capitalized on geographic opportunity. It identified a fragmented space and saw that companies were offering similar services. Then it consolidated those efforts and collected the returns.
Sometimes it pays to enter a crowded space, if a company has the means to buy up weak players, expand, and execute better than the companies that are already there.
In another part of the world, Mobileye and its investors were able to make history by recognizing another type of geographic opportunity. But instead of consolidating a crowded space, it started building where no one else was looking.
12. Mobileye
Mobileye was one of the first companies to recognize the future in autonomous driving. The company started building self-driving car technology 10 years before Google launched its self-driving efforts in 2009. Mobileye went public in 2014 at a $5.3B valuation.
In 2017, amid mounting pressure from companies like Google and Uber, some predicted the company's share price would soon correct — instead, it was acquired by Intel for $15.3B.
The company's backers included several Israeli investors. In 2003, Mobileye raised $15M from various Israeli entrepreneurs and VCs, including FIBI Holding, Motorola Solutions Venture Capital, Colmobil Group, Lev Levayev, Delek Motors, Solid Investment Bank, Eldan, and Ari Steimatzky.
Colmobil was the only shareholder not to sell any shares after IPO — its 7.2% stake became worth about $1B at acquisition.
The company's biggest US financial investor, Goldman Sachs, put about $100M into the company back in 2007, instantly giving some early investors in the company a tenfold return. Goldman then took an approximately 12.3% stake and sold nearly all of it when the company went public.
Despite coming to Mobileye significantly later than many of its Israeli VC counterparts, Goldman was still able to make a 10x return on its investment. And it did so by going outside the traditional hubs of startup investing and making a bold bet.
Historically, Jerusalem hasn't been much of a hub of startup or venture activity— even within Israel. Even today, Tel Aviv is considered the "real" place to build a startup in Israel.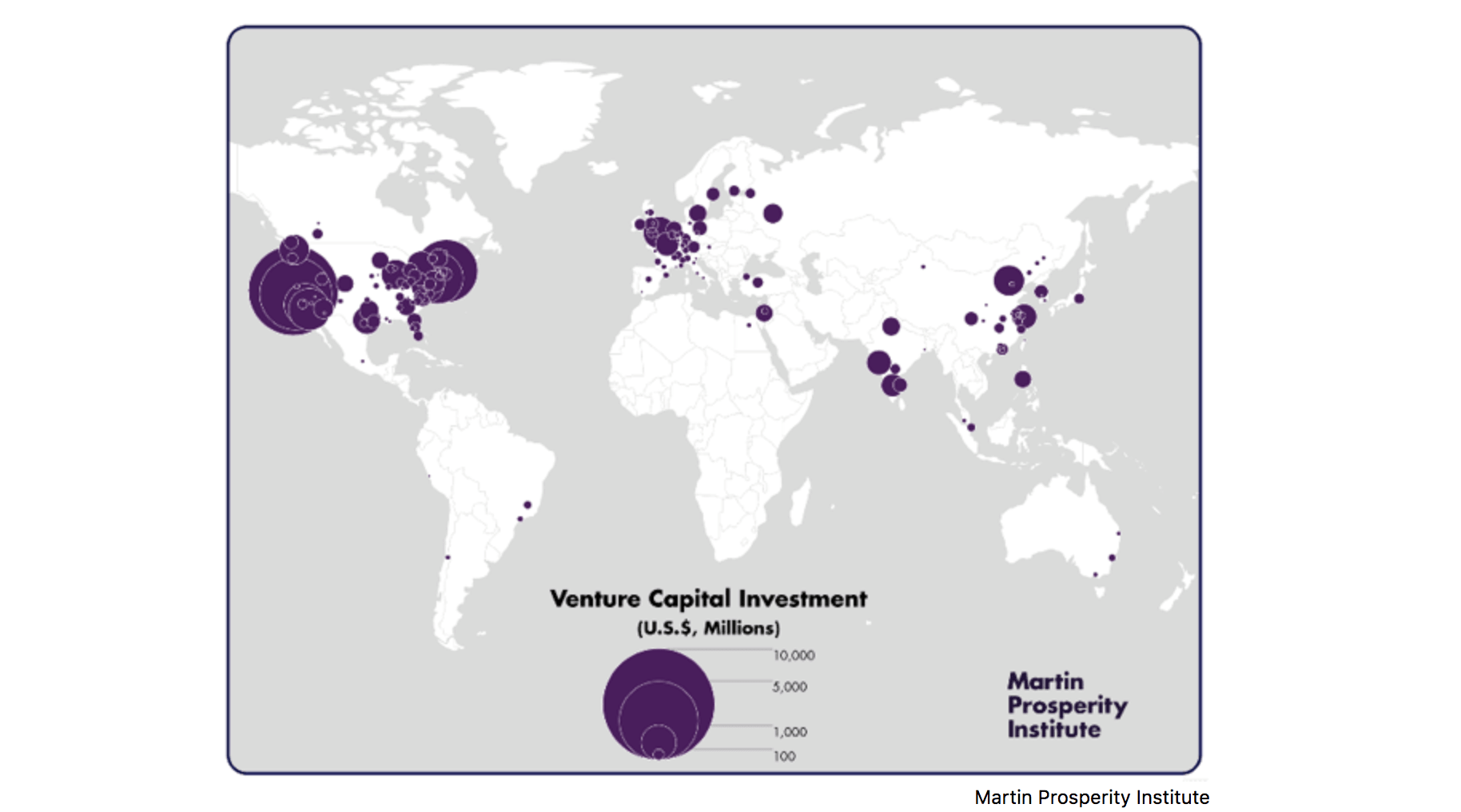 Mobileye, however, began its life in Jerusalem. Despite its reputation relative to Tel Aviv, the city of Jerusalem was actually a highly fertile place for a high-tech company like Mobileye to emerge from back in 2007.
Jerusalem is home to Hebrew University, one of the top-ranked universities for math and computer science in the world. It has a highly skilled immigration population from Russia and elsewhere, which gave Mobileye a natural pool of talented engineers to pull early employees from.
And it was a professor at the School of Computer Science and Engineering who would go on to start the company: Amnon Shashua, who also studied machine learning at the university, would co-found and serve as CTO of the $15.3B company. Ziv Aviram, his co-founder, studied industrial engineering and management and was known for leading Israeli retail companies.
"During that period, Jerusalem had more resources than anywhere else in Israel – academia, a high-quality population, more funds and multinational corporations such as Teva and Intel. It was fertile ground for the high-tech and startup industry," Israeli entrepreneur Elie Wurtman told Haaretz in 2016.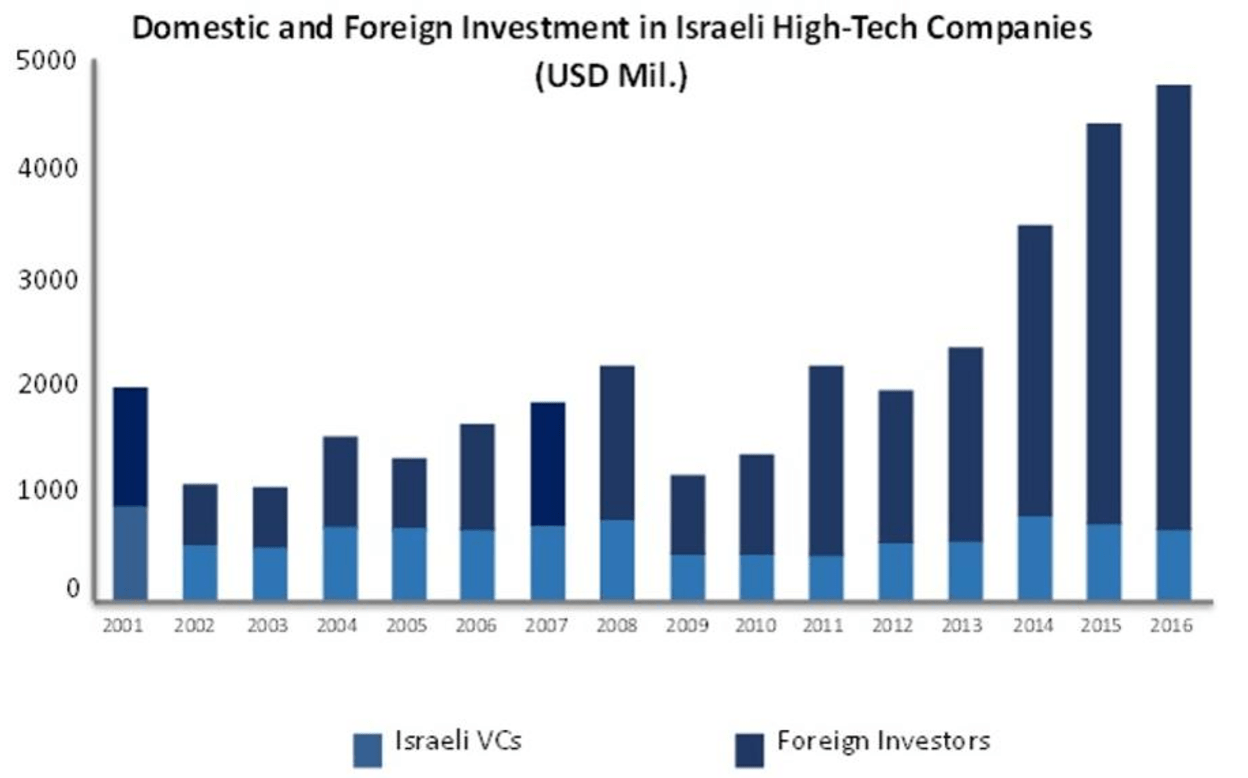 Tel Aviv may be the traditional "tech center" of Israel, but there were always good reasons for discriminating VCs to look to Jerusalem as well — the lower rents, easy access to a top university in Hebrew University, a highly skilled immigrant population, as well as government tax incentives.
Entrepreneur Magazine named it as one of the top 5 places outside Silicon Valley to start a company in 2015.
But geopolitical and economic circumstances made it difficult for Mobileye to raise traditional venture backing. Mobileye was founded in 1999, right before the Palestinian uprising from 2000 – 2005 and the bursting of the dot-com bubble in 2002.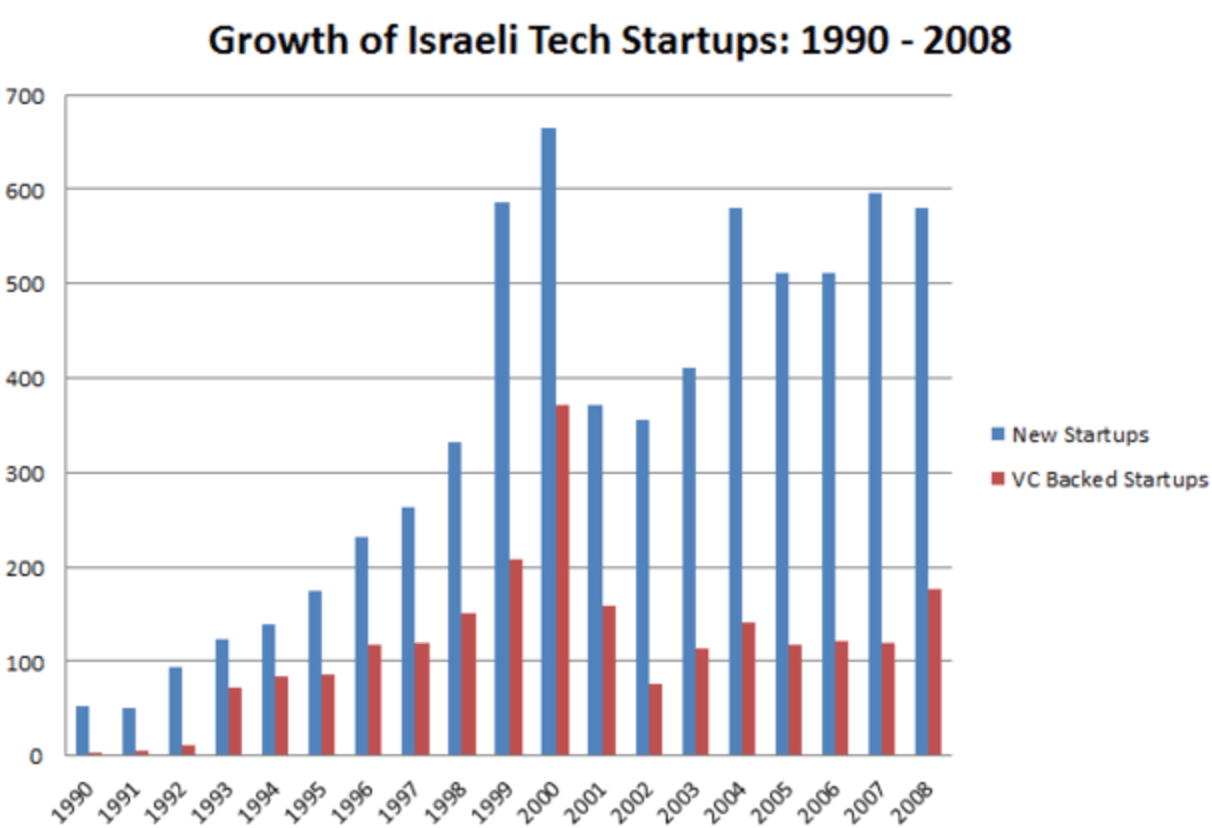 Mobileye weathered the harsh startup climate, and by 2013, had a $1.5B valuation.
Today, Jerusalem's startup scene is growing quickly, and Mobileye's IPO and subsequent sale to Intel will only accelerate it, as it is leaving billions in the pocket of founders and employees.
As has happened in countless fledgling startup hubs around the world, those fortunate employees — restless, experienced, and hungry — now have the dry powder to go start their own companies and make their own investments.
Companies with experienced founders already have a leg up. And as Semiconductor Manufacturing International (SMIC) has shown, when those founders have a chance to thrive in a needy market, they can knock it out of the park.
13. Semiconductor Manufacturing International
Dick Kramlich's partners at New Enterprise Associates told him he was crazy when he recommended they invest $100M into Semiconductor Manufacturing International (SMIC), a Chinese semiconductor chip maker.
After SMIC raised $1.7B in its 2004 IPO, however, the deal made NEA many multiples in returns.
Kramlich and NEA got those returns by investing in the Chinese technology market when no other Silicon Valley VCs were taking it seriously.
In 2003, SMIC raised a $630M Series C that included NEA, Oak Investment Partners and Walden International, in addition to a lineup of mainly international firms: Vertex Ventures Israel, Temasek Holdings, H&Q Asia Pacific, Beida Microelectronics Investment, and Shanghai Industrial Holdings.
At the time, China had just recently opened its semiconductor industry to foreign investment, and most US investors had no idea what to expect. It was uncharted territory. There were no definite models to reference and plenty of what Kramlich's partners called "geopolitical risks."
Kramlich, however, insisted SMIC was a worthwhile investment.
First, there was China's growth rate to consider. Even as it slowed down during the late 1990s, it held steady at about 7% or 8%. The US, for reference, grows at an average of about 3.22% per year.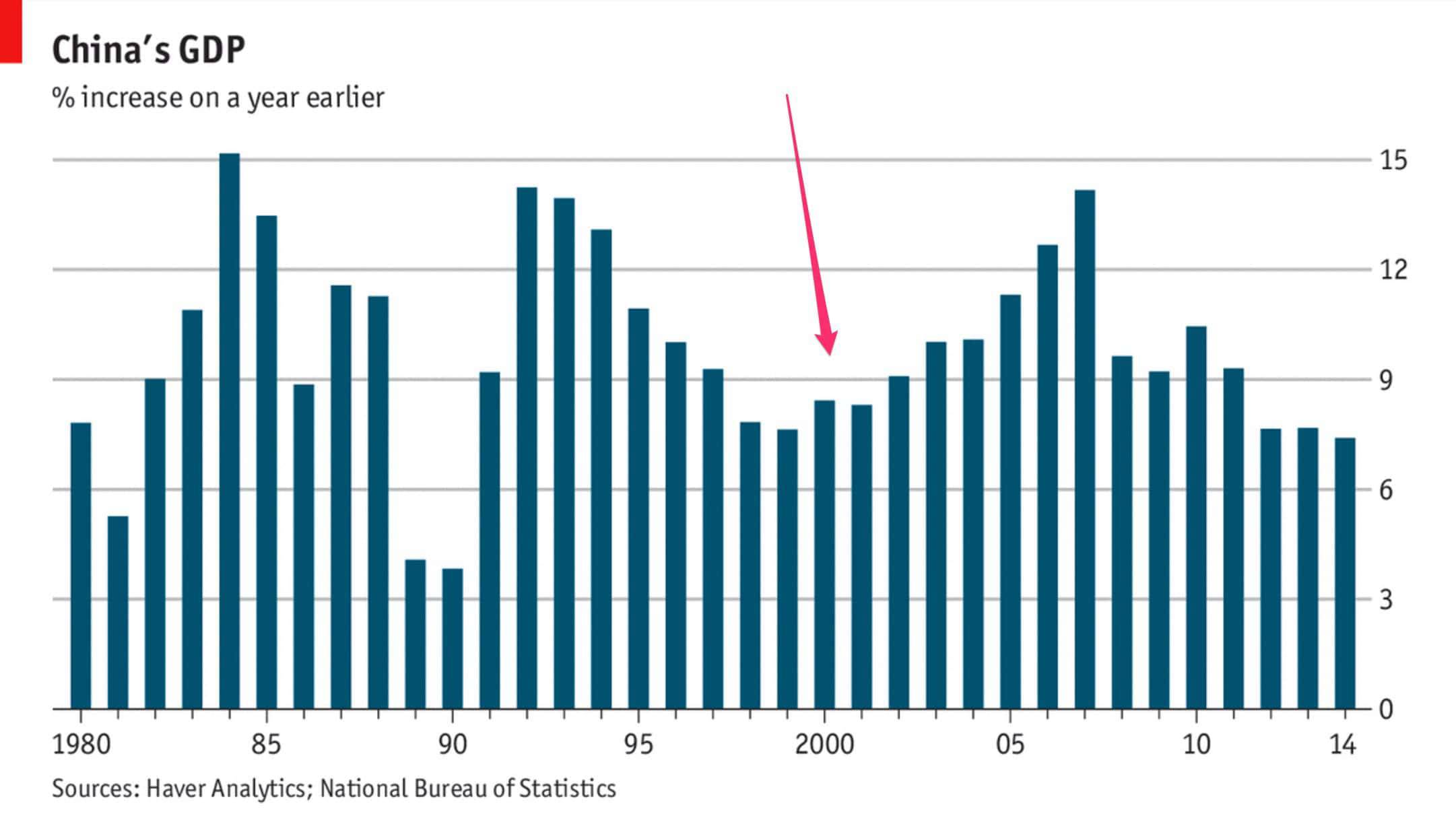 Second, China was (at the time) consuming more semiconductors than any other country on earth. Its rate of semiconductor consumption was growing at 24.8% per year compared to a worldwide average of 3.8%.
Third, the team behind SMIC was made of semiconductor industry veterans from other Asian countries. They'd already built successful semiconductor businesses in Korea and elsewhere, and now it was finally possible to invest in them. The stars were aligned:
A highly experienced team of semiconductor veterans
The biggest and fastest-growing semiconductor market in the world
An economy that was about to enter a period of 9%-13% growth lasting almost a decade
Kramlich and NEA saw this when they flew over to China for due diligence in 2002. Soon after, NEA signed for a $90M investment. Then, in 2003, the firm invested another $30M, for a total of $120M before SMIC's IPO.
By 2007, NEA had invested about $300M overall in bets on Chinese companies.
NEA's success goes to show that the biggest opportunities are often found in risky places. When other investors are scared, that's precisely when you should be doing your research and preparing your own move.
Knowledge of a local market's nuances is precisely what led Sinovation Ventures to our next big VC deal — Meitu.
14. Meitu
The 2016 IPO of Meitu, a Chinese photo editing app, was the largest IPO in Hong Kong in over a decade. The company was valued at $4.9B and raised $630M in the public offering. This marked a milestone for the Chinese technology market — and for early investor Sinovation Ventures, which saw up to 40x returns on its investments in the app.
Sinovation led the company's Series A in 2013. In 2014, the investor was joined by Qiming Venture Partners in Meitu's $10M Series B round.
What made Meitu a strong investment was that it wasn't just a copycat. Investor fear of missing out (FOMO) tends to drive over-investment in "me-too" ideas in other markets. Having missed successes like Groupon in the US, investors will go hunting for a perfect copy overseas. These overseas investors tend to miss the local nuance around what it takes to make a product sticky and successful.
Meitu wasn't simply a photo editing or "face-tuning" app. Meitu rode in the very unique slipstream of two huge forces in Chinese culture.
First, there was mobile. Right around the launch of the Meitu mobile app, smartphone usage in China started to grow exponentially. That gave the app an organic engine for growth.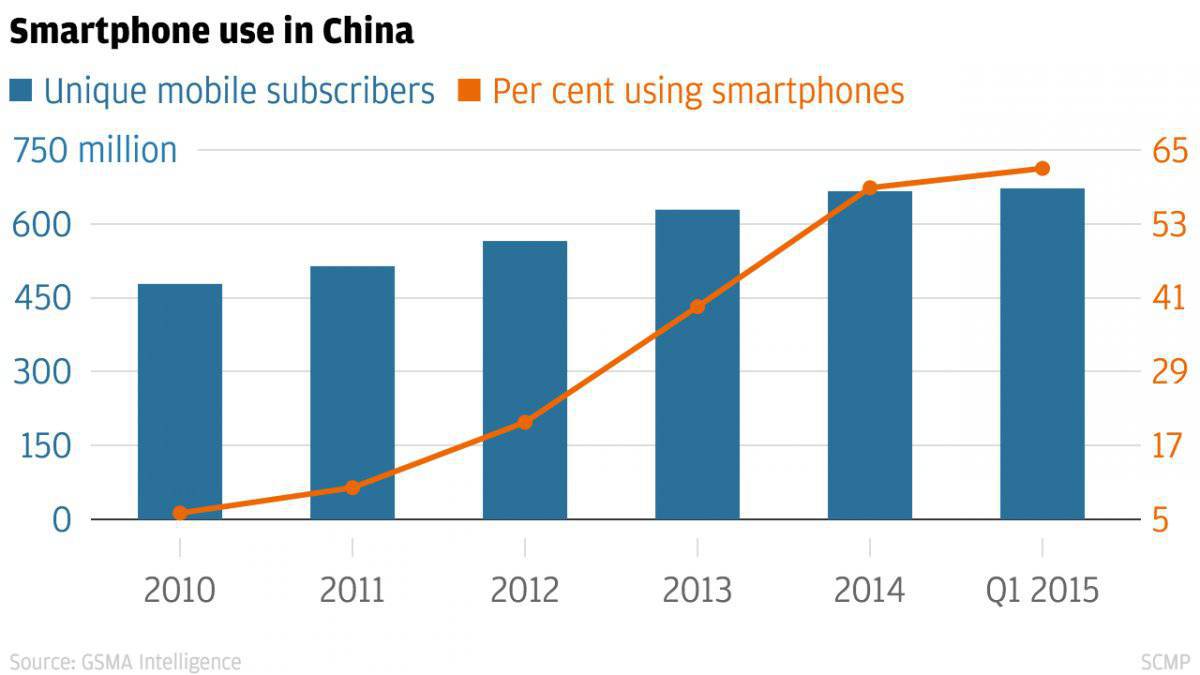 Second, there was a growing obsession with beauty. Around the time Meitu launched, China had a very low plastic surgery procedure per capita rate compared to its neighbors. By 2014, 7M Chinese people were traveling outside the country to get work done.
Investor funding helped Meitu to expand on the back of photo retouching. It now has 20+ products.
Meitu Inc's six flagship apps are Meitu, BeautyCam, Meipai, Beauty Plus, SelfieCity, and MakeupPlus. They routinely fill the leaderboard in the Chinese app store.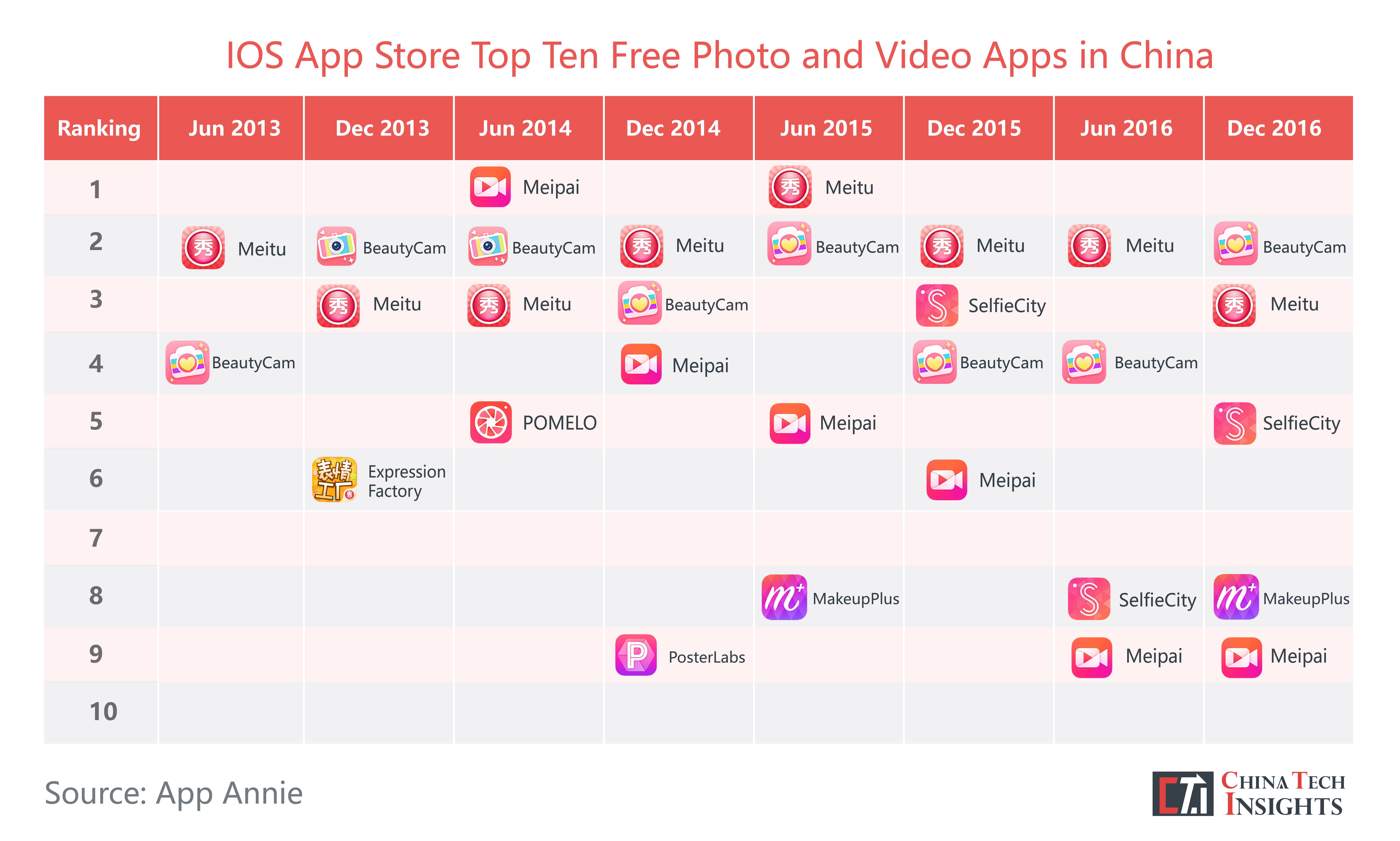 As of October 2016, China Tech Insights reported that there were 456M users across all of Meitu, Inc.'s apps. There are significant users bases spanning several countries in Asia, including China, India, Indonesia, Japan, Malaysia, and Thailand.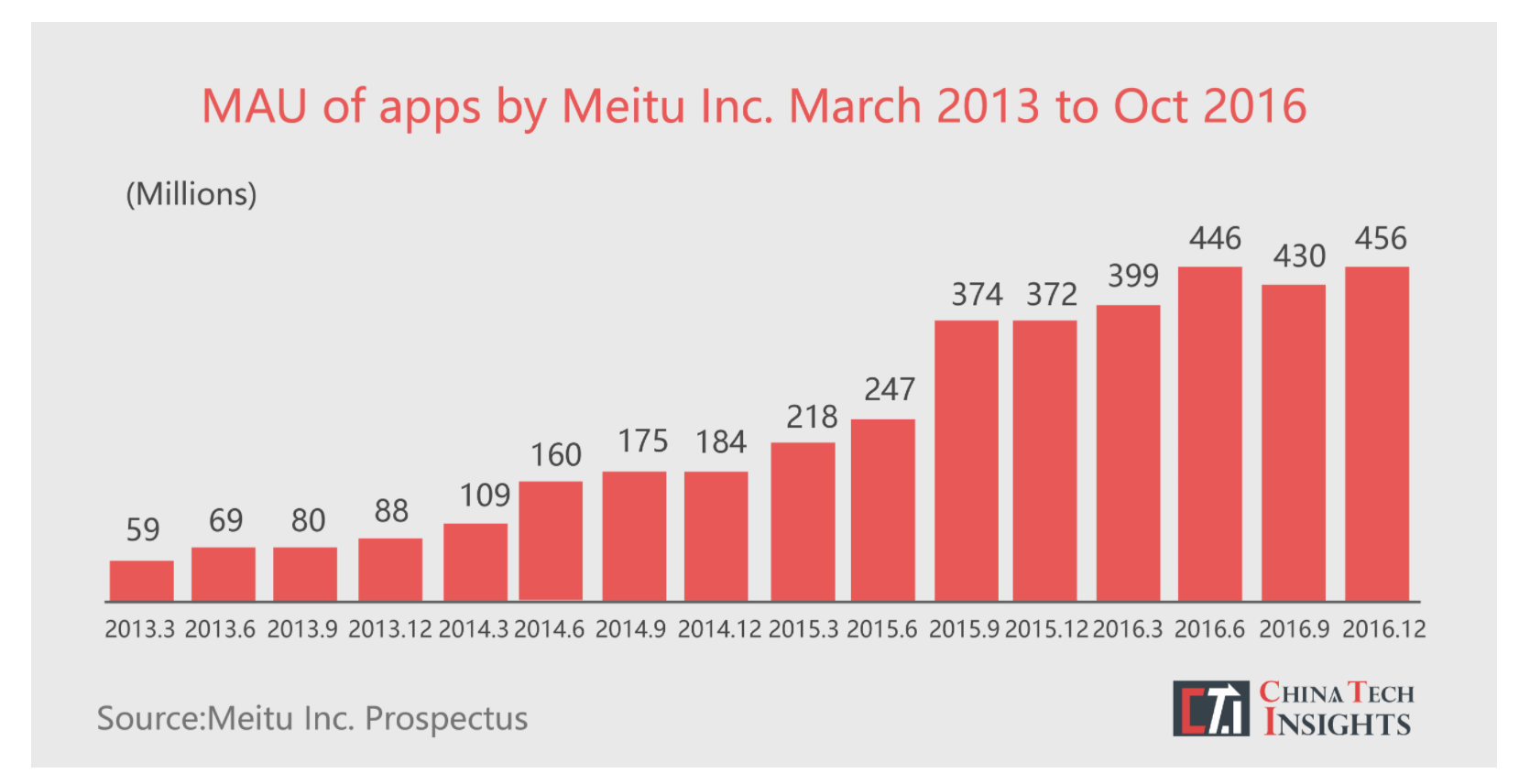 The lesson here is to look at local markets and understand what will make a certain product sticky. Copycat companies only understand the idea for the company — context-specific companies can actually nail the execution.
With both Meitu and Semiconductor Manufacturing International, we saw context-specific companies that grew fast amidst bigger macroeconomic shifts in China. Whether it was opening up to foreign investment or the growth of smartphones, these companies rode larger waves to success.
Riding big waves is how many of the biggest companies on this list got to where they are. Those waves aren't always visible from the outset, though, and they're not without their abrupt breaks.
In 2000, the entire market for internet startups suffered in the dot-com crash. If you'd invested in Google's Series A, the value of your investment would have taken a nosedive. It would have taken a lot of confidence in the underlying technology to stay with the company, but for the VC firms that had it, staying on meant a huge return.
15. Google
In 1999, Google raised a Series B round of $12.5M each from Kleiner Perkins Caufield & Byers and Sequoia Capital. A year after Google's IPO in 2004, those investors' stakes were worth about $4.3B each — a 300x return.
It took real conviction in the potential of Google to get Kleiner and Sequoia through the market turmoil that came between initial investment and IPO.
Between 1999 and 2004, $1.8T in market value was lost in the crash — NASDAQ lost half of its entire value in 2001 alone.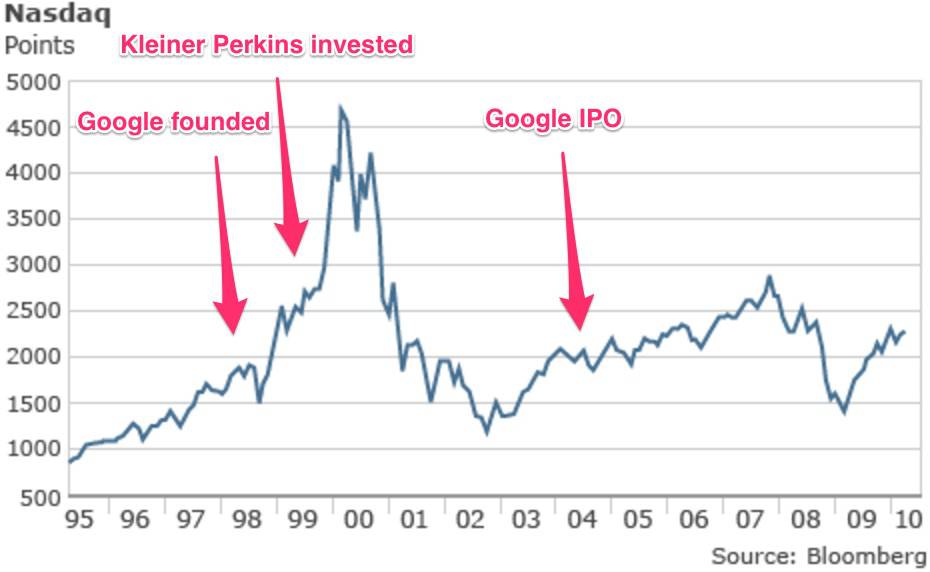 Kleiner invested in Google in 1999 and the company would launch its initial offering in 2004. During that time, the Nasdaq index reached peak height and then fell sharply.
Kleiner Perkins and Sequoia held on through the turbulence, and even through Google's IPO, when tech stocks were worth a quarter of what they'd been worth.
By 2004, Google had grown into a company that was worth $23B — absolutely astronomical at the time.
Part of the terms of the Series A investments for both Kleiner Perkins and Sequoia was that Google co-founders Larry Page and Sergey Brin bring in an external CEO to run the company.
When Page and Brin tried to backtrack on hiring a CEO for "adult supervision," Kleiner Perkins partner John Doerr almost backed out and sold off his firm's shares. But ultimately, Doerr chose to stick around, and instead convinced Page and Brin they needed a CEO — by asking if he could introduce them to successful CEOs to understand what the job demanded.
After meeting Steve Jobs, Andy Grove, Scott Cook, and Jeff Bezos, the Google co-founders decided that they also wanted to hire an external CEO. Doerr introduced them to Eric Schmidt, and in 2001 Schmidt was hired as Google's first external CEO.
Under Schmidt, revenue grew to $1.42B by the time of the IPO and to over $30B by the time Page replaced Schmidt as CEO in 2011.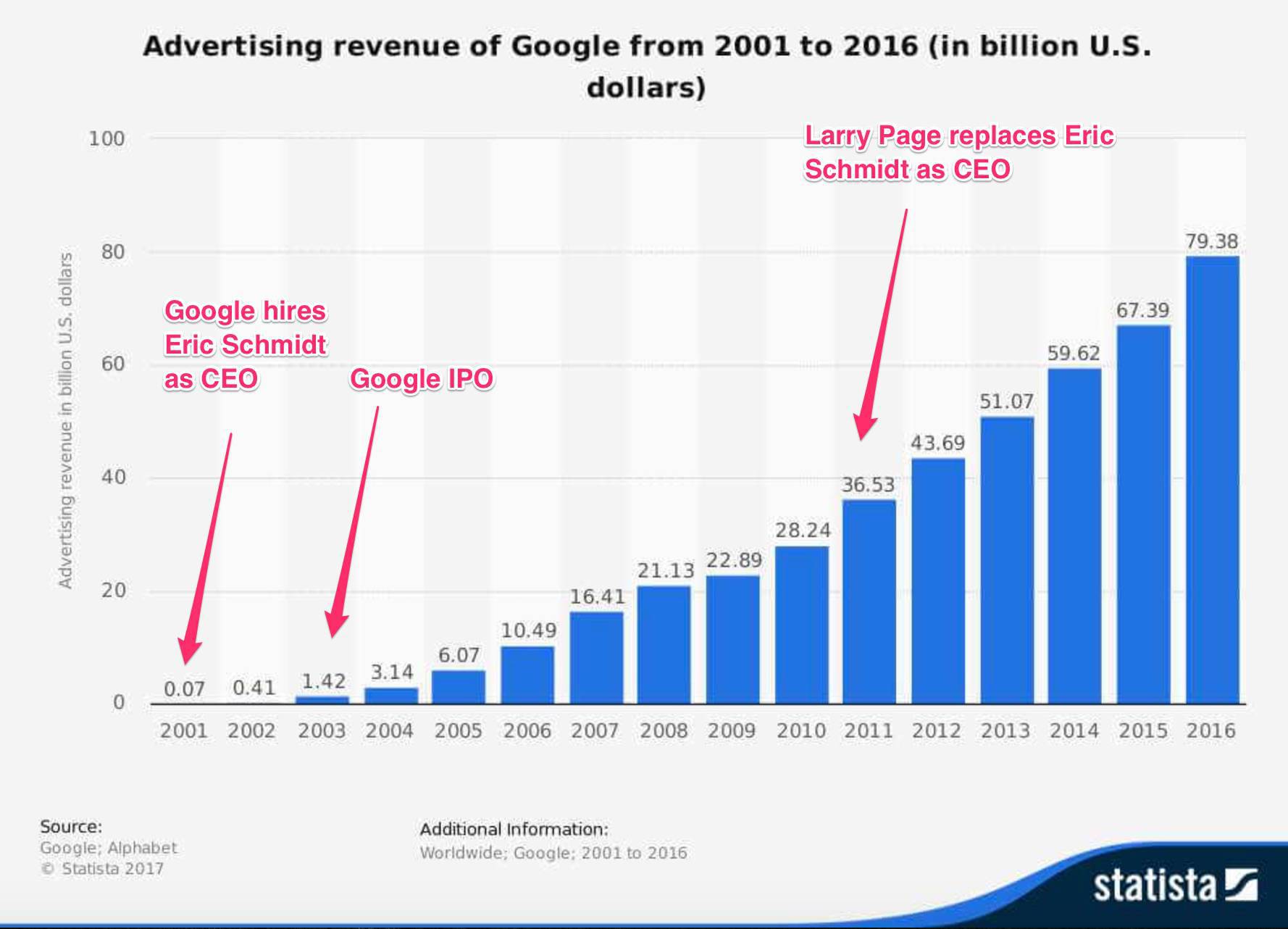 In later years, founders of other startups began rebelling against getting replaced by professional CEOs and executives. But it was critical that Doerr convinced two incredibly independent founders to bring in an experienced hand. Ultimately, Schmidt's insight was absolutely essential in navigating the company through the dot-com crash, the most traumatic time in the internet's history, as well as subsequent growing pains.
Investors like Doerr at Kleiner Perkins invest in theses. They don't just believe that certain companies are going to be successful — they've developed specific beliefs about why those companies will succeed, and this helps them hang on when others might get out.
These principles have also been particularly important to Union Square Ventures in many of its investments. It beat out several other companies for an early investment in Twitter — all because the Twitter founders believed in USV's investment philosophy.
16. Twitter
Twitter's IPO raised $1.8B in 2013, valuing the company at about $14.2B. And thanks to a Series A investment, Union Square Ventures' share of Twitter was valued at $863M.
While many different VCs (CRV, Kleiner Perkins, Benchmark, Insight Venture Partners) would join the later funding rounds for the early social media network, USV was able to get in early, leading the company's $5M Series A in 2007.
USV beat out four other VC firms for the opportunity to invest largely because of its investment thesis. Founders Fred Wilson and Brad Burnham first decided in 2003 that their firm would "have a thesis, stick to it, and evolve it." They would strictly set out how each fund's money was spent — no money would be put in a company or sector that didn't fit the thesis. And, importantly, they would write about it publicly.
USV's early blog contained its partners' takes on all kinds of companies and where the internet might be going. When the young USV analyst Charlie O'Donnell got obsessed with Twitter while attending SXSW in 2006, the rest of the firm did too, and Wilson ended up writing a post about it.
Meanwhile, Twitter was suddenly explosively popular and its infrastructure couldn't handle it. The company had about 250,000 active users and a growing reputation as one of the most unique social networks out there. Presidential candidate John Edwards was tweeting from the campaign trail, and there were fake Bill Clinton and Darth Vader accounts. Local police stations and fire stations were tweeting.
But the service kept on buckling under the strain. The Twitter "fail whale" screen, featuring a whale held aloft by blue songbirds, appeared whenever the network was out of commission. The screen became well-known as a sign that Twitter was having serious scaling problems.
The Twitter team needed to raise money to hire engineers and fix their infrastructure. Co-founders Jack Dorsey and Ev Williams knew they were going to go with USV, because they'd already read about USV's vision for Twitter on Wilson's blog, AVC.
In April 2007, Wilson wrote a post where said he saw Twitter as the "status broadcasting system of the internet." The web doesn't have one yet, he wrote, and so Twitter "is going to be it." It would thereby join companies like Amazon, eBay, and Facebook as one of the crucial services across the modern web stack.
Since they were in agreement on the central thesis, they could also agree that both revenue, and a business model, could be figured out later.
Wilson had already written about figuring out a business model "along the way" when he blogged about USV's investment in del.icio.us. He later used some of the same language to explain the firm's investment in Twitter:
"As we stated when we made our investment in Delicious, the question everyone asks is 'What is the business model?' To be completely and totally honest, we don't yet know. The capital we are investing will go to making Twitter a better, more reliable and robust service. That's where the focus needs to be right now. We'll have plenty of time to figure out the business model and there are many options to choose from."
Many VCs had already pulled out of potential deals into Twitter, citing the lack of revenue and lack of any plan to get to revenue. Negotiations for a possible acquisition by Yahoo! fell apart over the meager offer made — $12M — and so the need to fix the service's uptime problems eventually brought Dorsey and company around to USV.
USV understood Twitter's desires so well that when Dorsey defended the idea of Twitter during those acquisition talks with Yahoo!, he used Wilson's own language to do it. From Hatching Twitter:
"I see Twitter as a utility," Jack said in one meeting with Yahoo!. "A broadcasting system for the Internet." Then he began to describe his vision for Twitter, noting that it was "like electricity."
While Twitter confused Yahoo! and most VCs, it did not confuse USV. The firm made that abundantly clear on its blog, and when Twitter wanted to raise money, it came knocking.
Founders don't have an indefinite amount of time to raise money. To the extent that a VC can make its underlying beliefs about the future and its investing thesis clear, it can encourage deal flow from a stronger, more self-selecting group of founders who are confident they're teaming up with the right investor.
But a thesis doesn't just help founders find you, it works the other way as well, as a lens that helps firms spot opportunities. For USV, it helps the firm find companies that the investors believe are growing along successful trajectories. Zynga — and its historically massive IPO — is the perfect case in point.
17. Zynga
Zynga's $7B IPO in 2011 made social gaming history — and was an important moment for Union Square Ventures, a Zynga investor, which owned a 5.1% stake worth $285.1M when the company went public.
USV's success with Twitter was about identifying a nascent network and recognizing that powerful and fast-growing networks like Facebook could create equally, if not more profitable companies that grew atop their platforms.
Zynga was less than a year old when USV led its $10M Series A round in 2008. It was joined on the deal by Avalon Ventures, Foundry Group, and Clarium Capital, as well as by angels like Reid Hoffman and Peter Thiel, among others.
At this point, it was still early for the "platform era." The idea of building on top of existing social networks wasn't a no brainer.
But as USV partner Fred Wilson explained, Zynga's aim to create web-based games on top of social networks was an untapped opportunity. He believed the company could quickly scale the game based on the network effects of existing social platforms.
This idea grew out of USV's investing thesis: Invest in large networks of engaged users, differentiated by user experience, and defensible through network effects (the fact that networks become exponentially more valuable and unassailable as they grow larger).
"Building a game network on top of the social web is a big idea," wrote Fred Wilson of USV. "It starts with great games, both real-time like poker and blackjack and turn-based like Scramble. But the most important thing is to plug into the APIs of the various social networks so that you can easily find out which of your friends are online and ready to play with you. Doing both well is hard and to date, no company other than Zynga Game Network has done that with multiple games on multiple networks."
Zynga was in a good position to scale up its network by using data on consumer behavior to increase user engagement. Andrew Trader, one of the founding members of the Zynga team, says that the company's focus on metrics is its most important corporate value.
Notably, Zynga pioneered event-based analytics to innovate and add sticky features and mechanics to its games. It also built its own internal analytics platform called ZTrack to do the heavy-duty analysis. In addition, it created models for analyzing the performance of games and features before they launched, so that it could use the behavioral data it gathered during gameplay to begin iterating immediately.
Zynga's platform across multiple games meant it could collect user behavior across several different interfaces and encourage users to move from one game to another based on the features and behaviors that were most engaging.
Then, it used this data to inform how it monetized customers' actions in games. Since many Zynga games are free-to-play and involve the purchase of virtual goods with real money, it was incredibly important for the company to figure out what game events and features users would pay to gain access to. It figured this out early by analyzing user data. This helped it to rapidly grow its revenue from virtual goods.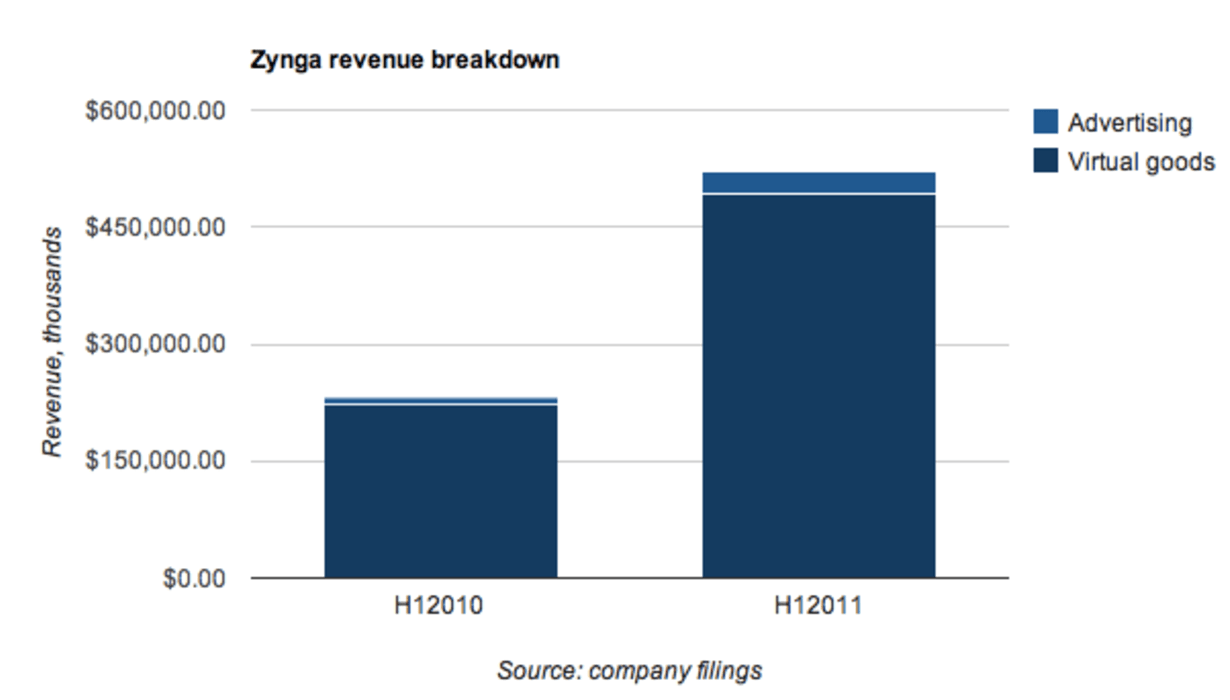 Zynga could echo the growth of Facebook and build a large, engaged network of its own. TechCrunch reported that Zynga had 1.6M daily active users on Facebook in 2008 and was cash flow positive. This is when other companies and investors started paying attention. This led to a $29M Series B led by Kleiner Perkins and Institutional Venture Partners. USV contributed again in this round.
Before Zynga went public, USV made $26M in share sales. Then it struck gold again in the $7B IPO, making for a 75 to 80x return on its money.
With Zynga, USV was one of the earliest investors and most steadfast believers in Zynga CEO and founder Mark Pincus. In comparison, USV's investment in Lending Club came late. But its decision to invest in a later round with Lending Club provides a model for how a thesis-driven firm must sometimes rewrite its own rulebook.
18. Lending Club
When the marketplace lending startup Lending Club went public in 2014, its IPO was 20x oversubscribed and its stock jumped 56% during its first day of trading.
At the time of its exit, Lending Club had amassed many prominent backers. But it also had one investor that you might not have expected to see — not because this investor didn't invest in networked consumer startups, but because it normally wouldn't start investing in a company past the Series A round: Union Square Ventures.
Lending Club raised its $10.3M Series A in 2007 from Norwest Venture Partners and Canaan Partners. It added Morgenthaler Ventures for its $12M Series B two years later, and Foundation Capital for its $24.5M Series C a year after that. It wasn't until Lending Club's $25M Series D in 2011 that Union Square Ventures invested.
By the time of its IPO, Lending Club's $5.4B valuation translated to a $400M+ return for Union Square Ventures.
USV's investment in Lending Club is remarkable because it was one of the first times that Union Square Ventures had invested in a late-stage company without having participated in earlier rounds of fundraising.
Previously, it'd limited themselves from considering these companies. It'd held strong beliefs about investing early and maintaining a large percentage of ownership. A late-stage investment obviously didn't allow this.
USV had been aware of Lending Club since it was first founded. It'd built an online, peer-to-peer lending platform. Investors could come on Lending Club and lend out money, collecting on the interest, while borrowers could get a loan at a lower interest rate than they would from a bank.
It were interested in the idea of peer-to-peer lending, but initially, chose not to invest in the company. The service only seemed to be attracting risky borrowers. Lenders were losing money. There didn't seem to be anything special that was keeping users around.
But later, Lending Club made changes to its business model that brought the company in line with USV's thesis focused on network effects. It also opened the door for real growth for Lending Club. In 2011, Fred Wilson and his team decided to invest.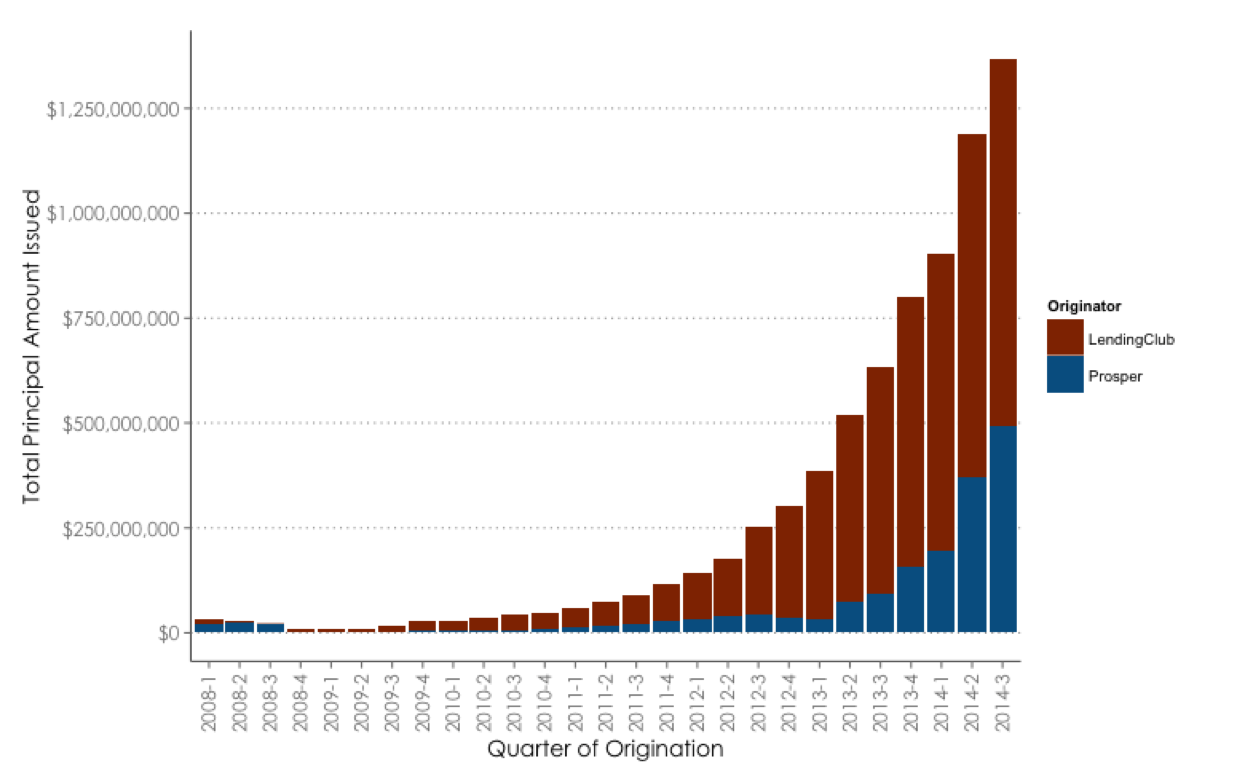 When Lending Club changed the rules on how it vetted new borrowers and lowered its overall approval rate on new loans to just 10%, it seemed to open the doors to virtuous cycles. Its investors started to see far better returns. Usage started to grow. Suddenly, there were real network effects to Lending Club. With more good borrowers, you'd get more good lenders, and the two would, in theory, grow in parallel. USV's well-known thesis began to ring true for Lending Club:
Large networks of engaged users, differentiated through user experience, and defensible through network effects.
USV invested in Lending Club from the Opportunity Fund, which had been set up earlier that year. In a blog post, USV explained that its Opportunity Fund would allow it to invest more in its current portfolio companies in later rounds, and to invest in the later rounds of companies that it'd been following but was unable to invest in sooner.
Most investors accustomed to investing at an early stage don't want to get in that late. It's a lot harder to get solid returns when the first time you invest in a company is during its Series D. But according to Wilson and his team's thesis —which Lending Club suddenly fit — it was still the early stages for Lending Club's network-fueled growth. It would be very much worth the premium to get in.
From the time of USV's investment in 2011 to the time of Lending Club's IPO in 2014, Lending Club scaled up its lending rate from $20M/month in originations to $500M/month. In its IPO, it raised $870M.
Recently, USV invested in other marketplace lenders by backing a new credit startup called Upgrade. It's another venture from Lending Club founder Renaud Laplanche. Earlier this year in 2017, USV led Upgrade's $60M Series A funding round. In a blog post, USV called Upgrade "Lending Club 2.0" and said it was excited to continue investing in the marketplace lending model.
USV's thesis has always stayed the same. But a change in circumstances — the company's direction and the market's maturity — allowed USV to see Lending Club in a new light. By the time it invested in 2011, it knew it was making an investment that it had conviction about.
The firmness of conviction may sound like a hard-to-quantify feeling, and it is. But it's crucial. Conviction helps investors to lean in, and in turn gives more support to growing companies. In fact, investor conviction was essential to fueling another company on our list — Genentech.
19. Genentech
Genentech, a biotech company founded in 1976, made global headlines when it was acquired by Swiss healthcare company Roche in 2009 for $46.8B. As the company's very first investor, Kleiner Perkins Caufield & Byers received what now-deceased founding partner Tom Perkins once called "one of the largest payoffs in history."
Through his relentless effort to make Genentech a success, Perkins himself created a new mold for the entrepreneurial venture capitalist.
In 1976, when Perkins led the firm's investment in Genentech, there was barely any "biotech" industry to speak of. With no expertise in the subject himself, Perkins had to teach himself the basics. Then he had to vet and doggedly nurture one of the most unusual companies to ever hit Silicon Valley.
All along, he considered it highly likely the investment would be a total loss for the firm. And yet, in the end, he felt it had gone perfectly: "I honestly think that if we had to do it all over again, we'd do it the same way," he said, "I don't think we made a single strategic error."
In the mid-1970s, there was skepticism in both the scientific and VC communities on the commercial feasibility of genetic engineering, Genentech's main focus. Today, there is no such skepticism. And the wider biotech sector drives hundreds of billions of dollars in revenue every year.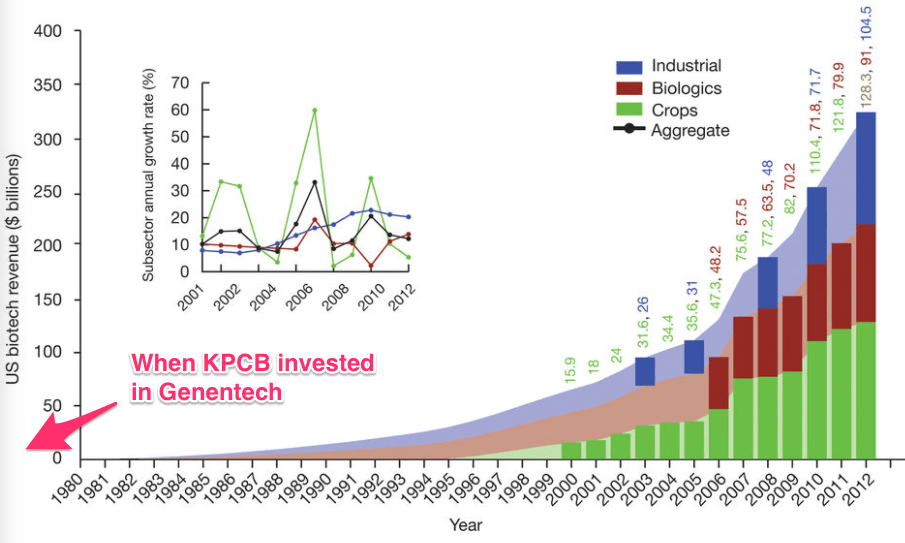 Perkins saw market potential for an emerging scientific field. And instead of relying on validation from other investors or companies, Perkins proactively sought out scientific advice from specialized researchers and used that to inform his investment decisions.
In doing this, he was able to help facilitate the growth of a company that everyone wrote off.
Genentech was started in 1976 by Herbert Boyer, PhD, and Robert Swanson, a venture capitalist and former investor at Kleiner Perkins. Both believed the new technology of recombinant DNA could be used in a mass-market therapy. But common scientific and business opinion at this time said this technology was 10 to 15 years away.
Boyer and Swanson began working together in April and funded their project with $500 each. After living on unemployment and a shoestring for a few months, they sought out investment capital. The two brought an 8-page business proposal to Swanson's former boss, Tom Perkins.
According to an article from the Wharton School, Perkins did his research before making what might have seemed like a crackpot investment. He identified two technical questions that he felt underpinned the potential success of the company. Then he submitted these questions out to specialized researchers, and didn't commit his $250K investment until he received positive results.
That began a long history between Perkins and Genentech. Perkins eventually went on to serve as Genentech's chairman. The New York Times reports that he has called Genentech his favorite investment.
Media outlets like Fast Company have cited Perkins' investment in Genentech as evidence of the firm's "uncanny knack for signaling out the next big thing(s)." But this overlooks a key detail of the investment: the fact that Perkins nurtured the company's unlikely vision from the firm's very beginning and helped it to become the success that it was.
It also ignores Tom Perkins' own hands-on work as chairman of Genentech. Perkins was known as a pioneer in the movement for VCs to take larger hands-on management roles in their portfolio companies. According to the Financial Times, Perkins' other founding partners at KPCB, Frank Caufield and Brook Byers, said: "He defined what we know of today as entrepreneurial venture capital by going beyond just funding to helping entrepreneurs realize their visions with operating expertise."
One thing that hasn't changed since Kleiner's investment in Genentech is the general reluctance, among many Sand Hill Road VCs, to invest in biotech. Unless, that is, the entrepreneurs involved can make their biotech company look like a software startup. That's exactly how Stemcentrx helped Founders Fund make its first biotech investment its biggest exit ever.
20. Stemcentrx
In April 2016, the drug company AbbVie paid $1.9B in cash and $3B in stock to buy Stemcentrx, a small biotech startup. About $1.7B of that was reported to go directly to the company's largest individual investor, Founders Fund, which invested about $200M in total into Stemcentrx. At the time of the AbbVie deal, the company reached a $10.2B valuation.
Stemcentrx also saw investment from a variety of other investors, many of whom (like Founders Fund) tend not to invest in biotech — among them Elon Musk and Sequoia Capital. Fidelity led the $250M Series G round in 2015.
For Founders Fund, however, this was one of the biggest investments the fund had ever made in a single company. That's all the more notable due to the fact that Founders Fund is famous for looking for investments in companies and industries other VCs deem too risky. Biotech is a notoriously risky industry, arguably more so than software.
In software, code is always broken for a reason. If you figure out the error, you can make it work again. With human biology, there's so much we simply don't know that your entire project could be doomed without your knowledge.
You can put out a minimal viable product of most any software product after a few months and start iterating based on customer feedback. In biotech, you get one shot to make your product work, and you can never fully eliminate the risk that it will simply fail in clinical trials. That's especially true in the development of cancer drugs, which are more difficult to test than others due to the scarcity of quality cell lines.
In 2013, a paper in Oral Oncology had to be retracted after it was discovered that the widely used line of cancer cells in the study had been entirely contaminated by HeLa cells. Those cells (known as HeLa because they originated, infamously, in the body of Henrietta Lacks) were used for experiments across the globe before they started proliferating and "taking over" other cells used to study disease.
All around the world, trials have had to be retracted and retraced after discovering contamination in the cancer cells being used for experiments.
For a VC who invests primarily in software, this kind of randomness presents a massive risk. A software startup relies only on code (deterministic, clear) and developing an audience. Over the long term, it can provide unmatched returns on capital. A biotech company can too, but it requires more capital upfront — and there's a high possibility that it will all turn to smoke even with a brilliant team and a brilliant idea.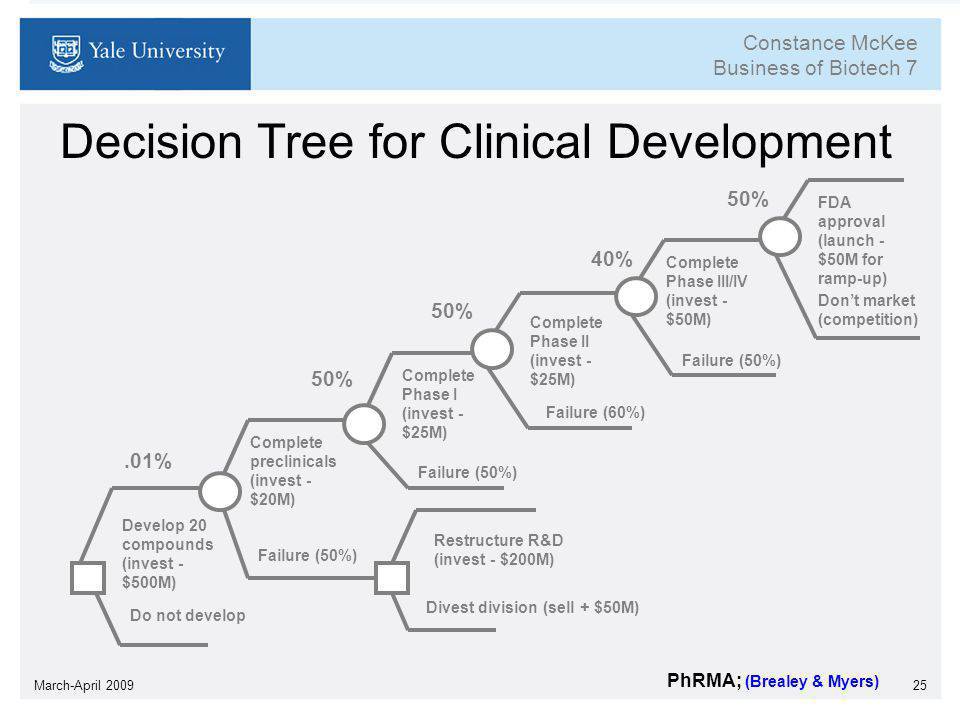 "You have to get through basic research, preclinical, Phase I, II, and III, and then marketing. So approaching it analytically, the question is how do you discount [the risk of failure at each step]. If you do half on each step, and there are six steps, that's 2 to the 6th, or 64. So something worth a billion at the end means you start at [a value of] $16 million.
"The thing I don't like about this as an investor is that the numbers are totally arbitrary. They are just made-up numbers. And our feeling with many biotechs is that people understate these probabilities. They say it's half, but maybe it's just one in 10. And even if just one of these steps is one in 10, you are really screwed. I would be very nervous to invest in a company where it gets pitched as a series of contingencies that 'this has to work, and this has to work, and this has to work.'" — Peter Thiel
In Stemcentrx, however, Founders Fund found "a biotech company that looked like a software company."
Stemcentrx did everything possible to get rid of those "probabilistic contingencies." It did things like graft cancer cells into live mice — more expensive than studying them in culture, but far more reliable. Studying cells in culture opens you up to risk that you're going to discover that you're working with already-mutated, contaminated cells (like HeLa) without even realizing it.
While it's more difficult and requires more work upfront to graft cancer into mice, it's far more likely to generate results that can be extrapolated to humans. Still not anywhere near perfect — but better. The key, for Founders Fund, was seeing that Stemcentrx was devoted to reducing contingencies.
Brian Singerman, who led the investment, outsourced some of the due diligence on Stemcentrx to various biotech experts to ensure Founders Fund wasn't being taken. He needed someone with experience to explain whether what Stemcentrx was doing could really be a success. When he did, they came back asking if they could invest in the company.
Founders Fund had started out with the same trepidations about biotech that every other investor in Silicon Valley had. It was able to overcome those trepidations by finding a biotech company that acted as if it was a Silicon Valley startup. It went hunting for de-risked investments in a land full of risk — and it found one.
While firms like Founders Fund tend to follow a strategy of finding great companies and allowing them to operate unimpeded, that's not the only path to success. With Workday, Greylock Partners was about as far from a hands-off partner as you could have. That's because the company was actually founded by a partner — one Aneel Bhusri.
21. Workday
Workday's $637M raise at IPO in 2012 was the highest priced venture-backed public offering since Facebook's. Unlike Facebook, however, which shrunk once exposed to the public markets, Workday's stock soared from a starting point of $28 per share to about $50 a share on its first day of trading. For Greylock Partners, that meant turning an investment of about $80M into over $700M for a total 9x return.
The confluence between company and VC was strong in this case. Workday co-founder Aneel Bhusri, who was also a senior partner at Greylock, had noticed a huge transformation emerging in consumer technology. He started Workday, in part, as a bet on the idea that the same transformation would be coming to enterprise technology.
Bhusri's main thesis was that it was becoming increasingly important to build applications with great user interfaces. There were so many options for software out there (and with the cloud, virtually limitless possibilities) that the user experience had to be good. Faced with the choice between a piece of software people wanted to use and one they didn't — other things being equal — hiring managers would choose the former.
"From the early days we thought of ourselves as a consumer internet technology company from the underlying technologies we used, and we build enterprise applications on top of that," he said. "I love to use the analogy that Amazon is a very complex order management system and has a nice user interface. There's no training manual for Amazon, why should there be a training manual for HR and Finance?"
In human resources and finance, you see many intra-organization users needing to access their tools at key points. They need to check their benefits at the end of the year. They need to update their personal information when they move. Since everyone needs to do these things, Bhusri realized, it should be simpler. The same way that products like Facebook and Amazon made previously complicated processes like communicating with friends or buying products off the web simple, Workday would make these HR processes simple.
It was a thesis bolstered by several high-profile B2C investments that Greylock made in the years leading up to the Workday. Previously, Greylock had focused its investments on companies building core internet infrastructure and B2B companies. It invested in companies innovating on semiconductor design, building out broadband networks, and the sort. Then came 2004, and the consumer internet was in full swing. Friendster was fighting MySpace for social network supremacy. The press was obsessed.
Greylock invested in LinkedIn, which raised its Series B in October 2004. It invested in Wink, which raised its Series A in January 2005; Vudu, which raised its in June; and Digg, which raised its in October. It invested in Facebook, which raised its Series B in April 2006. Each of these companies built products that led with easy to use and clean user interfaces. They were intuitive products that didn't require the user to "figure them out" the way so much pre-Web 2.0 technology did.
In the case of LinkedIn, it demonstrated that you could bring the style and ethos of the consumer internet to bear on the "professional" sphere. People would use a site that looked like Facebook at work if you told them it was for work. The key to adoption was making something people wanted to use.
At Greylock, Bhusri got this insider's view on just how these products generated growth — and he could apply these insights to Workday.
22. Rocket Internet
Copying business models of successful US startups and an aggressive operational style helped Rocket Internet build successful internet companies — from Zalando to FoodPanda — and create millions in revenue. But seven years after its formation, Rocket Internet's multi-billion dollar IPO was a disappointment. The company had failed to impress public market investors and convince them of its ability to create winners in the future.
Rocket Internet's 2014 IPO raised over $2B for the Berlin-based startup incubator, valuing the company at approximately $8.49B at the time of the offering.
With its public market debut, Rocket Internet was one of Germany's biggest tech IPOs since the early 2000s, but was still considered a disappointment. Shares fell nearly 13% to under $47 soon after trading started.
But Rocket had high hopes.
Shortly before the IPO, chief executive Oliver Samwer talked up Rocket's ambitious future claiming "Alibaba is the model," referring to the Chinese giant which had a $21.8B IPO earlier that year.
Rocket Internet reported the close of its first equity funding in 2013, 6 years after it was founded by Samwer and his two brothers in Berlin. This $500M deal included Access Industries, Holtzbrinck Ventures, and Kinnevik AB — which maintained an approximate 24% ownership stake in the company.
In less than two years, Rocket Internet had secured additional infusion of capital from corporate investors —  Philippine Long Distance Telephone Company (PLDTC) and United Internet — which diluted the founders' and early investors' ownership share. The Samwer brothers, through their investment arm Global Founders, still held over 50% of Rocket Internet, with Kinnevik and United Internet each controlling over 10% of the company prior to its IPO.
By August 2014, the company was valued at nearly $6B.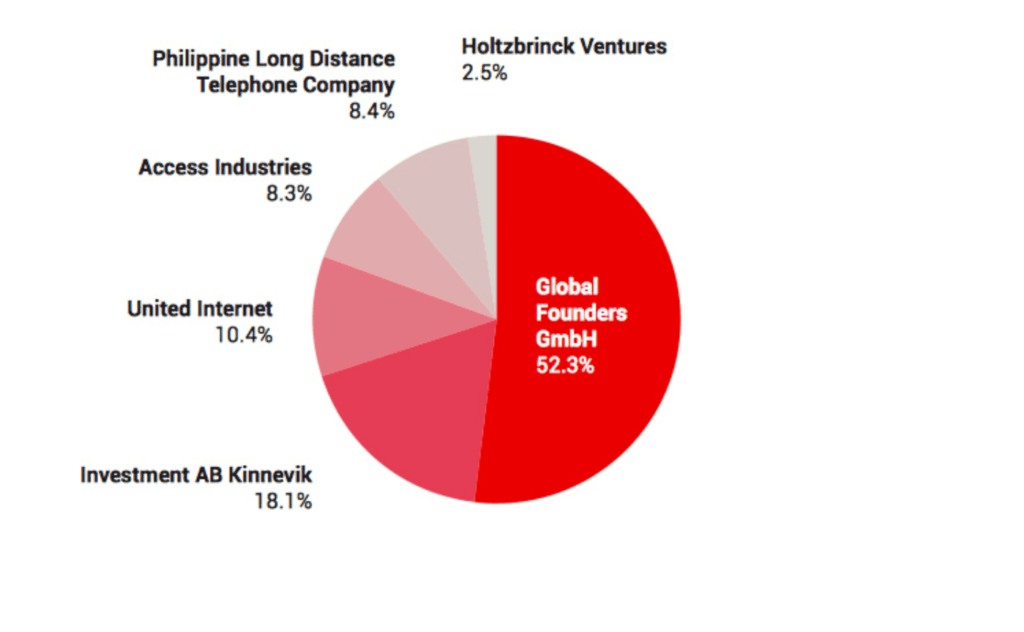 Rocket Internet's ownership at the time of IPO.
What did Rocket's value rest on? The company's entire promise was based on its ability to pick and develop winning startups. In its IPO prospectus, Rocket Internet classified 11 of its portfolio companies as "proven winners" and claimed 9 others to be "emerging stars."
The "proven winners," or the company's largest and most mature companies, featured e-commerce startups operating across the globe like Jabong (India), Lamoda (Russia), Linio (Mexico/LatAm), and Namshi (UAE), among others.
Rocket's early success and investor interest in the private market hasn't quite carried on to the public market as the stock has fallen dramatically since IPO. In June 2017, one of Rocket Internet's biggest early stakeholders —Kinnevik— sold the last of its stake in the company and called Rocket Internet "one of the best investments Kinnevik has made," which yielded an annual 90% internal rate of return and six times its invested capital.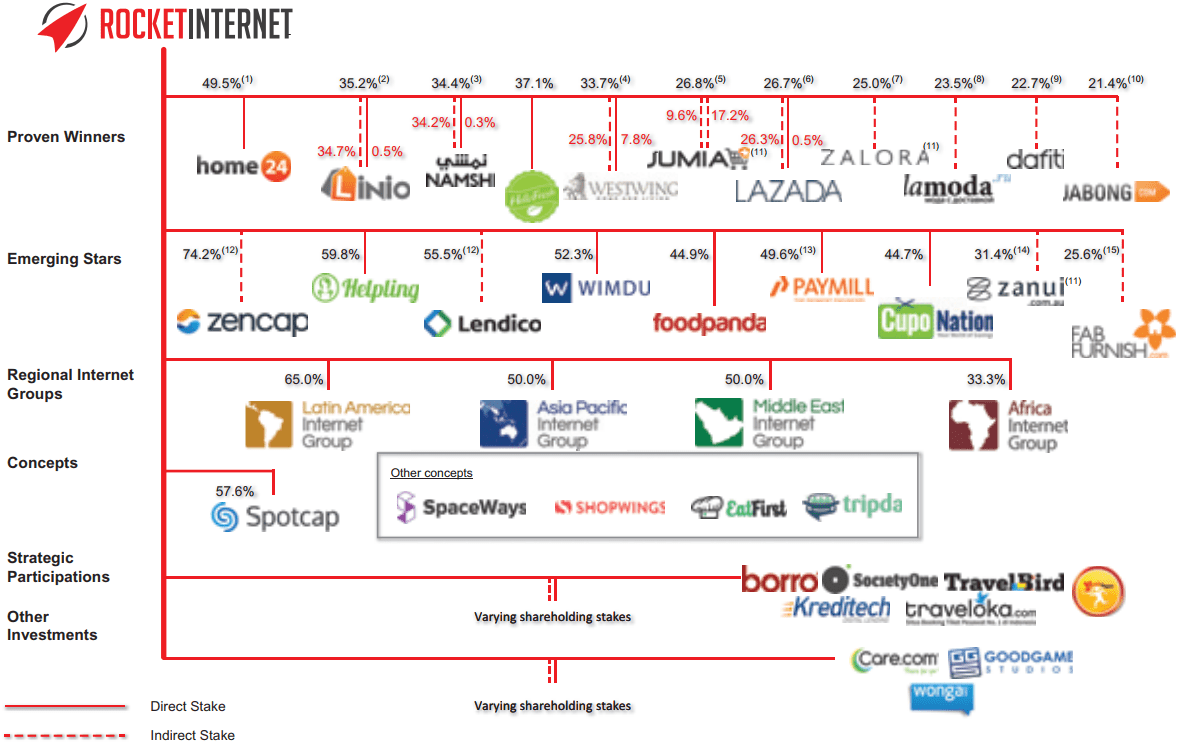 Rocket Internet's network of companies at the time of IPO.
23. Qudian
Late-stage investors are allowing tech startups to stay private longer, but Qudian's 2017 IPO (within four years of founding) is a story of a breakthrough product, rapid fund-raising rounds, and a crucial strategic partnership. Qudian capitalized on lack of regulation in the emerging Chinese alternative lending space to dominate market share and was quick to give returns to its private investors by way of an IPO.
Qudian (fka Qufenqi) raised $900M in its IPO on the New York Stock Exchange in October 2017 and was the biggest public listing for a Chinese fintech company in the United States. The listing was oversubscribed and was a particularly lucrative exit for its then 34 year-old CEO, Min Luo, who owned about a fifth of the company before it went public.
Founded in 2014, Qudian started as an e-commerce shopping site targeted towards university students and young professionals, enabling them to borrow money to buy goods and pay back the loans in monthly installments.
In the first half of 2017, Qudian's revolving credit model offers credit to 7M young Chinese consumers on a digital platform that is integrated with Alibaba's products. Luo has emphasized that the company targets young consumers — they are given credit for small items without having to go through the hassle of dealing with a bank (Qudian's average cash loan amount was about $136 in the same time period).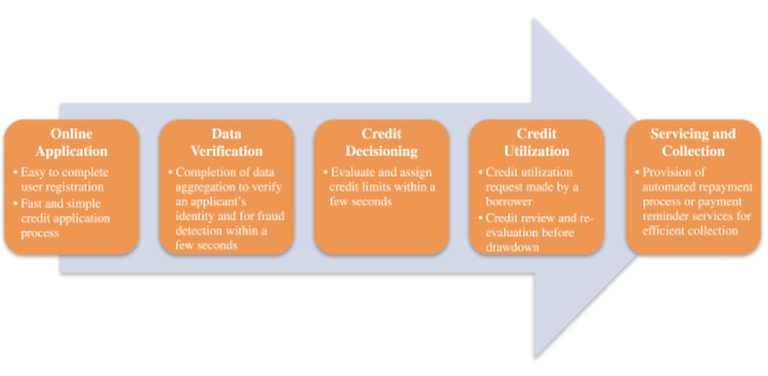 Qudian's Credit Approval and Servicing Process.
Qudian relies on alternative data sources like the applicant's e-commerce data, mobile phone records, and social media network to check for creditworthiness.
The company launched with backing from various China-based angel investors. Within 10 months, Qudian raised three rounds of funding from BlueRun Ventures and other investors. The Series B in August 2014 valued Qudian at over $162M, and a $100M Series C round that December led by BlueRun pushed the startup's valuation to $500M. Ant Financial participated in a $200M investment into Qudian in 2015, adding Qudian's alternative lending platform to its portfolio of fintech offerings.
The IPO gave Luo a net worth of at least $1.2B, according to the Bloomberg Billionaires Index.
Among Qudian's principal shareholders, Kunlun Worldwide held just under a 20% stake at the time of filing. Source Code Capital — which invested in its Series A through E rounds — held about 16%, and Ant Financial-owned API (Hong Kong) Investment Limited held 12.8% at the time of IPO.
Qudian's micro-lending service based on alternative data collection models was not heavily regulated until late 2017, when the Chinese government told authorities to put a pause on issuing new licenses. The expectation of growing government scrutiny wiped away Qudian shares' short-lived gain. From its $24 IPO price, its stock had dropped to nearly $13 by mid-December 2017.
In an attempt to diversify sources of revenue amidst looming regulatory threat to its core offering, Qudian launched its auto financing business in November 2017, known as Dabai Auto. The company established 175 off-line showrooms in shopping districts across China by the end of January 2018, and leased out over 4,800 cars as of March 10th.
Amidst fear of unfavorable regulation from the Chinese government, Qudian's stock struggles in the public market. The biggest backers like Guosheng Financial and Kunlun have sold a nominal stake during the IPO and Guosheng has even talked of the price drop as an opportunity to increase its stake in Qudian. In the Q4 2017 earnings call, CEO Luo announced that he would forgo his salary and any bonus until the company reached a market cap of $100B (Qudian's market cap was around $5B at the time).
24. Acerta Pharma
Secrecy, a stealthy drug development, and fund-raising history helped Acerta Pharma become a huge multibillion-dollar pharma exit.
AstraZeneca's majority stake (55%) in biotech firm Acerta Pharma for $4B was one of the biggest VC-backed exits of 2015. As part of the deal, AstraZeneca also had the option to sell the remaining 45% of Acerta Pharma (upon meeting certain regulatory conditions).
In all, the deal valued Acerta Pharma at over $7B.
The company began operations in 2013, aiming to deliver novel targeted therapies to patients with cancer. The company's lead investigational blood cancer drug — a Bruton Tyrosine kinase (BTK) inhibitor known as Acalabrutinib — posed a great opportunity to build its hematology/oncology pipeline.
Acalubrutinib's potential as a more potent and selective inhibitor (having fewer side-effects) than approved drugs meant huge potential for commercial success.
Among its financings, the company raised a Series B round from T. Rowe Price. This funding was also raised in much secrecy, with no press release. Part of keeping the news under wraps was that an incumbent company, Pharmacyclics, had a product that Acerta was aiming to disrupt.
The company's acquisition was a beneficial exit for Series A investors such as BioGeneration Ventures, Brabant Development Agency, Frazier Healthcare, OrbiMed Advisors, as well as Series B Investor T. Rowe Price.
AstraZeneca's big bet on Acerta Pharma seems to have paid off. In October 2017, the FDA granted accelerated approval of its Acalabrutinib drug — Calquence . This approval was considered especially important for adults with mantle cell lymphoma, a type of cancer that is often diagnosed at a later stage and has a high relapse rate.
25. Nexon
Nexon's $1.2B IPO on the Tokyo Stock Exchange in December 2011 was one of the biggest gaming exits at the time. Nexon is known for pioneering a play-for-free business model in which gamers only pay for virtual in-game goods, which become crucial to their progress in the game.
Nexon began operations in 1994 out of Seoul, South Korea, but later moved its headquarters to Tokyo. The company has grown into one of Asia's biggest game publishers, with titles like MapleStory, Mabinogi, Vindictus, Combat Arms, Dragon Nest, and Dungeon Fighter Online to its name.
In 2005, SoftBank Ventures Korea and Insight Venture Partners participated in the only known venture funding round to Nexon.
The company's IPO was one of two big gaming company exits in late 2011. San Francisco-based gaming company Zynga's IPO on the NASDAQ exchange was the other, valued at around $7B.
In the US, there was much more hype around Zynga's IPO due to the company's strong grasp on the US gaming market.
Since going public, Nexon's stock has increased by more than 230% — Zynga's has lost approximately 60% of its value.
Nexon's biggest advantage over Zynga was facilitating its own in-app purchases. Zynga used social media platforms like Facebook to sell in-app goods because it gave the company access to Facebook's rapidly growing userbase — but it cost up to 30% in transaction fees.
Nexon had already established its position as an independent game publisher before social media platforms took off in its core geographic markets of Japan, South Korea, and China.
26. Zalando
Sometimes companies that repeatedly return to the private market's funding well grow overstuffed with financing.
They delay going public and end up floundering because they are unable to tighten up operations enough to turn a profit. Eventually, investors sour on them.
But Zalando is the story of a company that raised hundreds of millions of dollars through equity and secondary share sales before IPO, and still succeeded.
At a $6.8B valuation, Zalando's October 2014 IPO is the biggest exit of a Rocket Internet portfolio company to date (see above for Rocket's own exit). Rocket Internet backed the e-commerce platform in 2008, the same year it launched.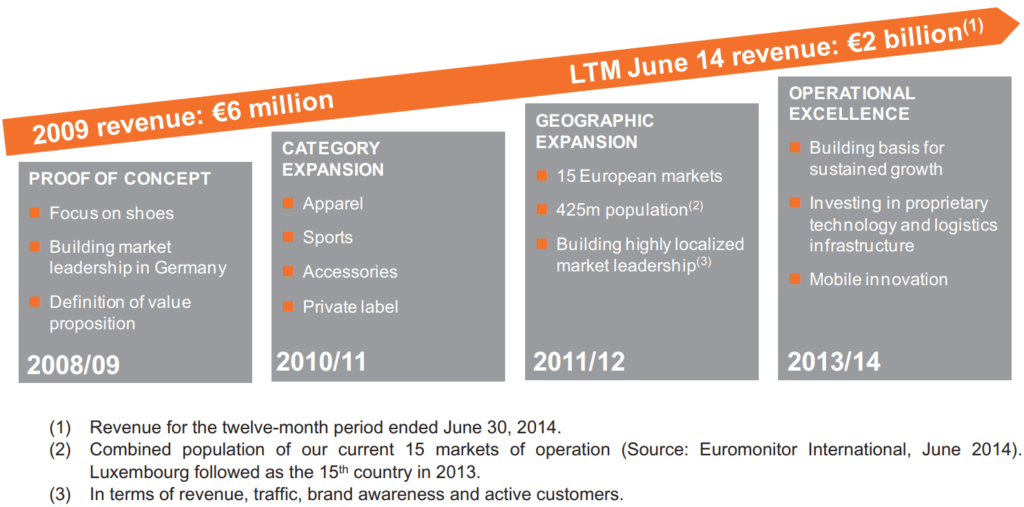 Zalando's company history. Source: IPO filing
Germany-based Zalando was launched with an initial focus on footwear, but has since expanded to apparel. Robert Gentz and David Schneider launched Zalando after a failed attempt at starting a social media platform for students in Latin America, followed by a brief stint working under the Samwer brothers.
Rocket Internet took a majority stake in the startup after a seed round financing in late 2008, where it co-invested with frequent collaborator Holtzbrinck Ventures.
Zalando grew rapidly in its core DACH region (Germany, Austria, and Switzerland), and in August 2010, it closed another round of investment from Holtzbrinck Ventures, Swedish investor Kinnevik, and Tengelmann at a valuation of $484M.
At the close of this round, Rocket Internet still held a huge stake (59%) and Holtzbrinck upped its ownership to 17%, while Tengelmann and the founders owned just over 10% each. Kinnevik held 3% of the company.
Zalando's expansion continued, but with it came a high burn-rate and a need to raise equity. In February 2012, Zalando raised an undisclosed amount from Yuri Milner's DST Global for a 4% stake. Later in the year, it raised debt and equity from a host of investment banking and PE firms including JPMorgan Chase, Quadrant Capital Advisors, CommerzBank, and others.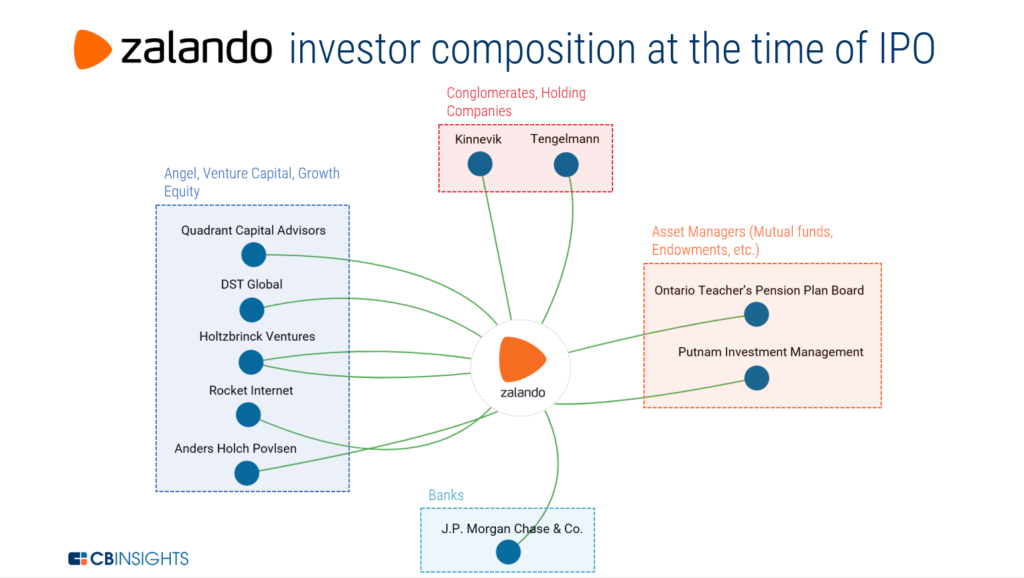 Involvement of late-stage investor DST Global initiated rumors of an impending IPO and raised doubts about Zalando's ability to perform in public markets. Zalando had been growing fast, but had yet to show an annual operating profit.
But doubts about Zalando's profit prospects didn't seem to affect its ability to raise funds. Over the next two years, Zalando went on to raise $650M in funding and multiplied its private market valuation tenfold to about $4.85B. In late 2012, Kinnevik followed on its earlier investment in Zalando with a $376M secondary market purchase at a valuation of $3.76B. Kinnevik reportedly had over 25% direct stake in Zalando after this deal.
Zalando turned a profit for the first time in 2014, when it reported first-half profits of $16M compared to a loss of more than $90M in the same period during the previous year.
Zalando and Rocket Internet both went public in the same week in October 2014, which was one of the biggest months ever for German tech startups, the Samwer brothers, and Kinnevik.
Zalando listed 11% of its shares on the Frankfurt stock exchange at a price of €21.50 ($27.28). Major shareholders like Kinnevik and others entered in the customary 180-day lockup period, which prohibited it from selling its stake in the public markets for 180 days from the first trading day.
Even as the threat of Amazon stealing market share seems likely, Zalando has performed well in its 3.5 years as a public company, with its stock up nearly 150% since IPO and a market cap of $14B+ as of March 2018.
27. Ucar Group
Chinese app-based chauffeured car service Ucar Group held its IPO in July 2016 on China's NEEQ exchange (AKA The New Third Board) at a $5.5B valuation. It was the biggest IPO of a Chinese tech company in 2016.
Ucar was launched in January 2015 by China's leading car rental group China Auto Rental (CAR Inc.). Unlike other ride-hailing services, Ucar uses its own professional vehicles and drivers.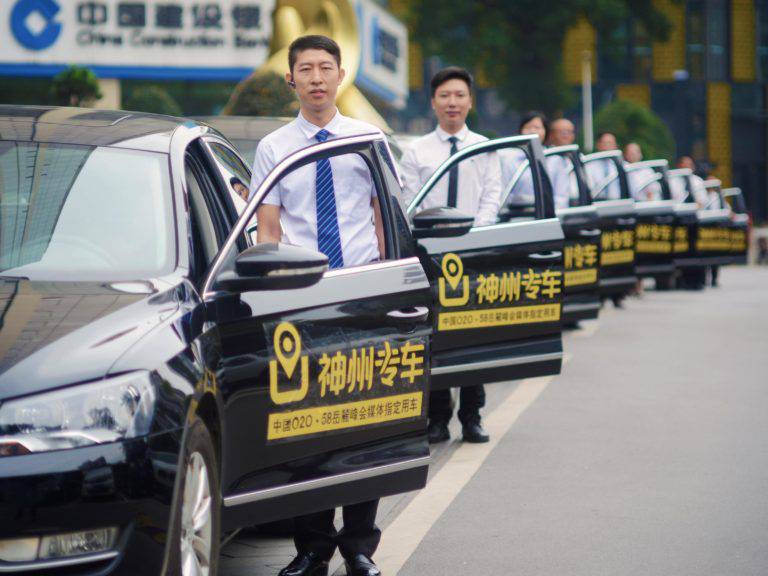 Ucar closed its $250M Series A round within 7 months of its launch, valuing the company at $1.25B. Ucar's partner CAR Inc. invested $125M in the round, and the other $125M came from Warburg Pincus and Beijing-based Legend Holdings.
At the time of this deal, Ucar was already covering 60 cities, largely enabled by its partnership with CAR Inc. CAR Inc.'s founder and CEO Charles Zhengyao Lu's family also controlled a majority of Ucar at the time.
Moving quickly, Ucar finalized access to additional funds in September 2015, closing a $550M Series B funding round at $3.55B valuation. Previous backers CAR Inc., Warburg Pincus, and Legend Holdings participated in the financing round, joined by Credit Suisse and others. This aggressive fundraising is telling of China's highly competitive on-demand car sharing market, where Ucar fell third behind Uber and Didi in terms of funding at the time.
In March 2016, tech giant Alibaba had reportedly invested $461M in Ucar for a 10% ownership stake. Alibaba already had stakes in Uber and Didi Kuaidi (formed by the merger of car-hailing rivals Didi Dache and Kuaidi Dache in China), so this investment was done without much media coverage.
In April 2016, Ucar's CEO Charles Lu confirmed that Alibaba had invested in the company, but said that the tech giant would be transferring its stake to affiliated funds Yunfeng Capital and Yunling Capital at the same price.
Ucar filed for a public listing in April 2016 and was suspected to be "very, very cash-strapped after the cutthroat competition with its rival Didi Chuxing and Uber," according to an analyst.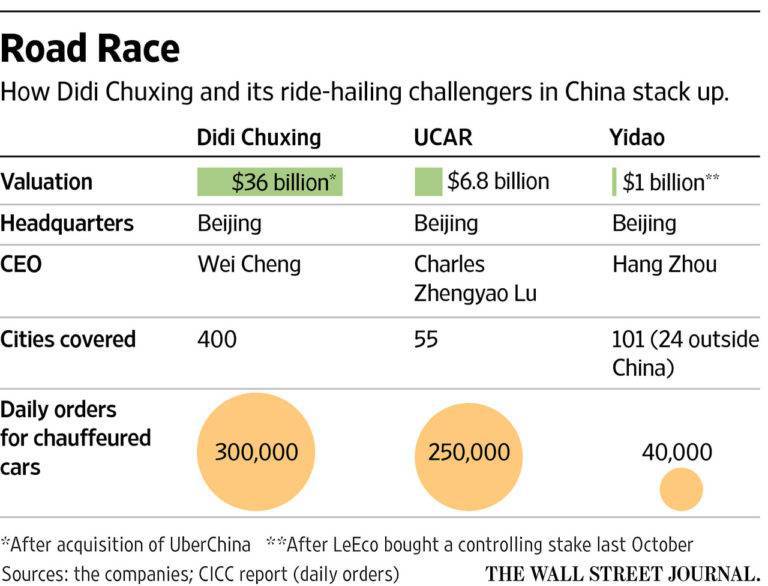 Chinese ride-hailing competitors as of August 2016. Source: WSJ
Ucar Group was listed for trading in July 2016.
This was a big exit for Warburg Pincus, having invested in both Series A and B round deals to Ucar Group. The New York-based private equity firm has participated in massive funding rounds in Asia tech in the last few years.
Almost one year after its IPO, Ucar received a $353M strategic investment from investor Piccamc, a joint venture set up by People's Insurance Company (Group) of China Ltd. and Germany's Munich Re Asset Management Co. China UnionPay and Shanghai Pudong Development Bank Co. also invested in Ucar earlier in 2017.
Even after Uber conceded in the Chinese market by merging its China operations with rival Didi Chuxing, Ucar continues to struggle to gain market share. Ucar has been supported largely by its strategic partner CAR Inc.'s dominance in the car rental space and additional private investments since its IPO.
28. Webvan
On its first day of public trading in November 1999, online grocery company Webvan closed at a market capitalization of $7.9B, with its stock price rising 65% above its initial offering price.
A darling of Silicon Valley, Webvan was able to attract almost $400M in funding from venture capital firms such as Sequoia Capital and Benchmark. However, Webvan's hefty warchest, backed by big-name investors, only served to underline its reputation as one of the biggest dot-com failures when it eventually filed for bankruptcy in 2001.
Despite this, Webvan's initial success is not a surprise.
The company's vision was bold — to leverage this new thing called the internet to allow people to order fresh groceries to their home at the touch of a button, tapping into a whole market of demand that was not possible just a few years prior. This was no doubt an attractive prospect to investors.
In an era where fast growth was prioritized above all else, Webvan rolled out beyond its home in the San Francisco Bay Area to cities such as Seattle, Chicago, and Atlanta, with an ultimate 26-city expansion plan.
However, the company's hyper growth masked its shaky foundation.
"[Webvan] committed the cardinal sin of retail, which is to expand into a new territory – in our case several territories – before we had demonstrated success in the first market." — Michael Moritz, Partner, Sequoia Capital
Webvan's leadership was not native to the grocery space.
Webvan was founded by Louis Borders (ironically the founder of defunct bookstore chain Borders). Neither its first CEO George Shaheen of Andersen Consulting, nor its second CEO Robert Swan, came directly from the grocery industry.
Given the unique perils of operating in the grocery business, one marked by excessively low margins, a fundamental understanding of pricing, demand, delivery costs, and profitability is critical to long-term success.
Moreover, according to Webvan's former head of technology, Peter Relan, the company geared itself toward the wrong target audience. Instead of catering to customers who could afford the higher cost of grocery delivery, Webvan marketed itself as a company offering "Whole Foods" quality food, and "Safeway" prices.
This put Webvan into a position where it was difficult to become profitable, since it essentially was promising lower prices despite the high cost it took to fulfill and deliver each order.
Beyond pricing, Webvan's decision to build its own fulfillment warehouses from scratch set the company back even further.
For a cost of up to $40M, Webvan would build a complex automated warehouse designed to fulfill its orders in any given region. This set up an even higher barrier to profitably than the company already faced.
As the company continued to grow beyond its means, it spent almost $800M, even signing a $1B contract with Bechtel to build several more automated warehouses.
However, when the market crashed in 2000, Webvan lost its ability to raise more capital. Given the inability of the company to operate profitability on its own, it was forced to file for bankruptcy and ceased operations.
Almost two decades later, businesses offering grocery delivery can take many cues from Webvan's ultimate failure.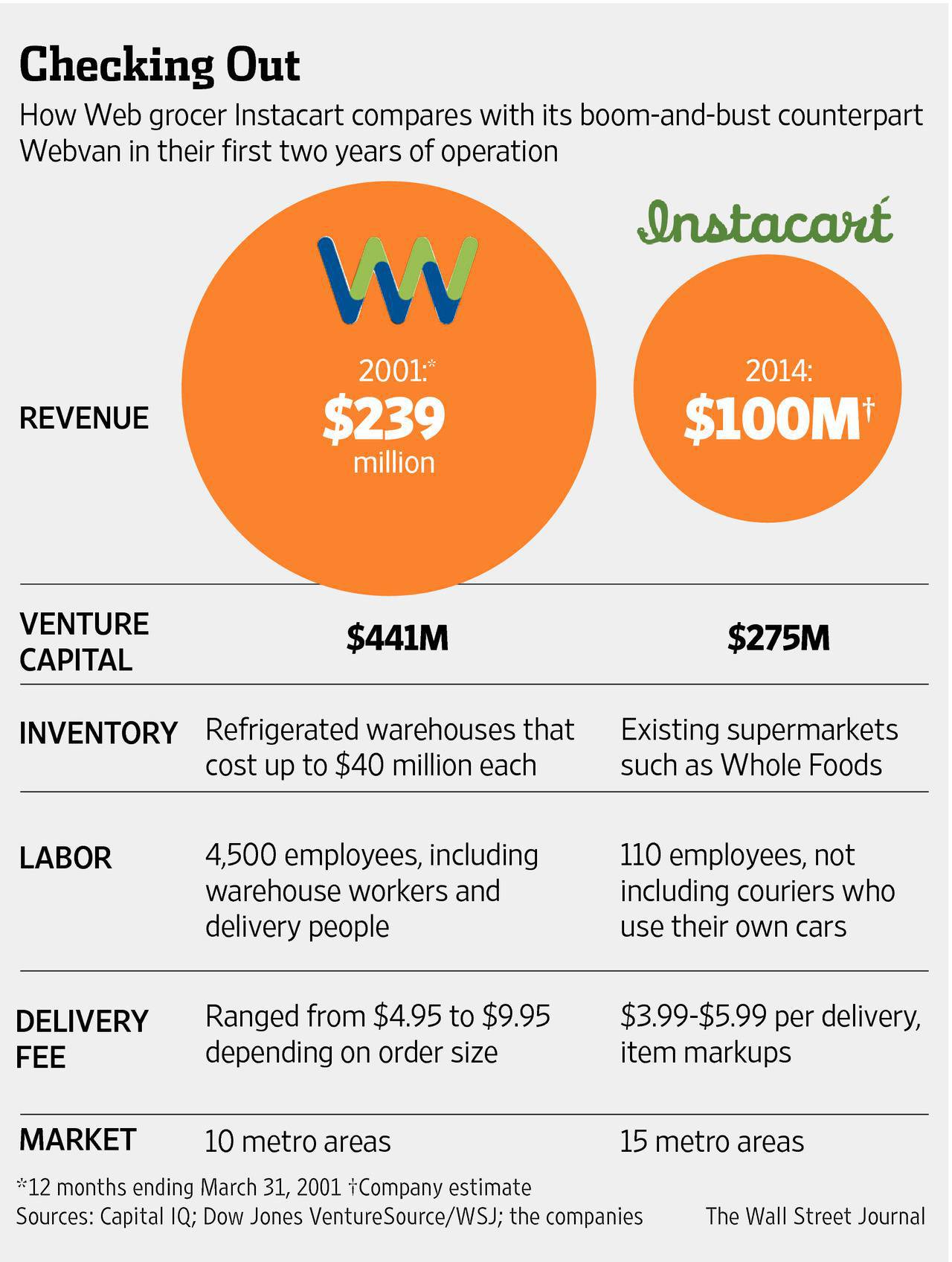 For example, Instacart took a different approach than Webvan in its first few years of operation. While Instacart brought in a much smaller amount of revenue, it ran a much leaner business reliant on fewer full-time employees, relying mostly on contracted delivery drivers. Additionally, it completely cuts out Webvan's massive warehouse costs by leveraging existing grocery stores as fulfillment centers.
Given the continued high cost and complexity of logistics, it remains important for grocery delivery providers to understand the unit economics of their businesses, and potential routes to profitability, before recklessly expanding.
However, as logistics and warehouse innovation continue to modernize, such as with the advent of robotic micro-fulfillment startups like Fabric, providing cheap grocery delivery may become a more realistic proposition going forward.
Unfortunately, this will be a few decades too late for Webvan.
29. Qualtrics
Qualtrics' explosive $8B exit was significant for the company, which remained free of venture funding for over a decade.
It is also one of the largest VC-backed enterprise software acquisitions in history (in terms of first-time exits), edging out Microsoft's $7.5B acquisition of GitHub in October 2018.
The Utah-based customer survey software company was started by CEO and co-founder Ryan Smith and his father Dr. Scott Smith (a university professor) in 2002. The startup initially focused on selling to academics, beginning with business schools.
The father and son duo worked out of their family basement, running operations, prospecting, and building the company from the ground up. Nearly 2 years later, they sought the technical help of the eldest Smith son Jared, who initially described the code as "unscalable junk." Despite his skepticism, Jared helped them rewrite the program before heading off to work on product at Google. He later returned to Qualtrics.
The company was known for rejecting investment offers, and remained bootstrapped for over a decade. In 2012, Ryan turned down a $500M offer for the business, which at the time was doing $50M in revenue.
But eventually, Ryan decided he wanted "a board of people who had grown huge tech companies." In that same year, and after some disagreement with Jared, the company finally agreed to raise a $70M Series A from Sequoia Capital and Accel, each of which went on to participate in the next two and final funding rounds.
Qualtrics continued to grow, and prior to its acquisition by SAP, had filed its S-1 and planned to raise as much as $495M as part of its upcoming IPO. SAP CEO Bill McDermott stepped in with an $8B cash offer, and the deal is expected to close in early 2019.
SAP's acquisition of Qualtrics is the second-largest in the company's history, behind its $8.3B purchase of expense management platform Concur.
Notably, Qualtrics built itself from the ground up, decided against selling "early," and took on capital later in its life — and now the company is looking at huge returns.
30. Mercari
In Japan, investors talk in terms of "before Mercari" and "after Mercari." That's how significant the Mercari IPO was.
Mercari operates a booming online, app-based flea market. The company raised $1.2B in its June 2018 IPO, bringing its valuation to $3.7B. This made Mercari Japan's first unicorn tech startup and blew open the doors of a nascent tech startup scene.
It also meant early investor United Inc. saw a 150x+ return on its investment. Japan-based United had jumped in with a $3M investment in a Series A round in 2013. Just 5 years later, that stake was worth more than $400M.
Mercari's founder Shintaro Yamada was a game industry veteran who had sold his first company to Zynga. Yamada came up with the idea for the Mercari flea market app after traveling the world and realizing that even the poorest people carried cell phones.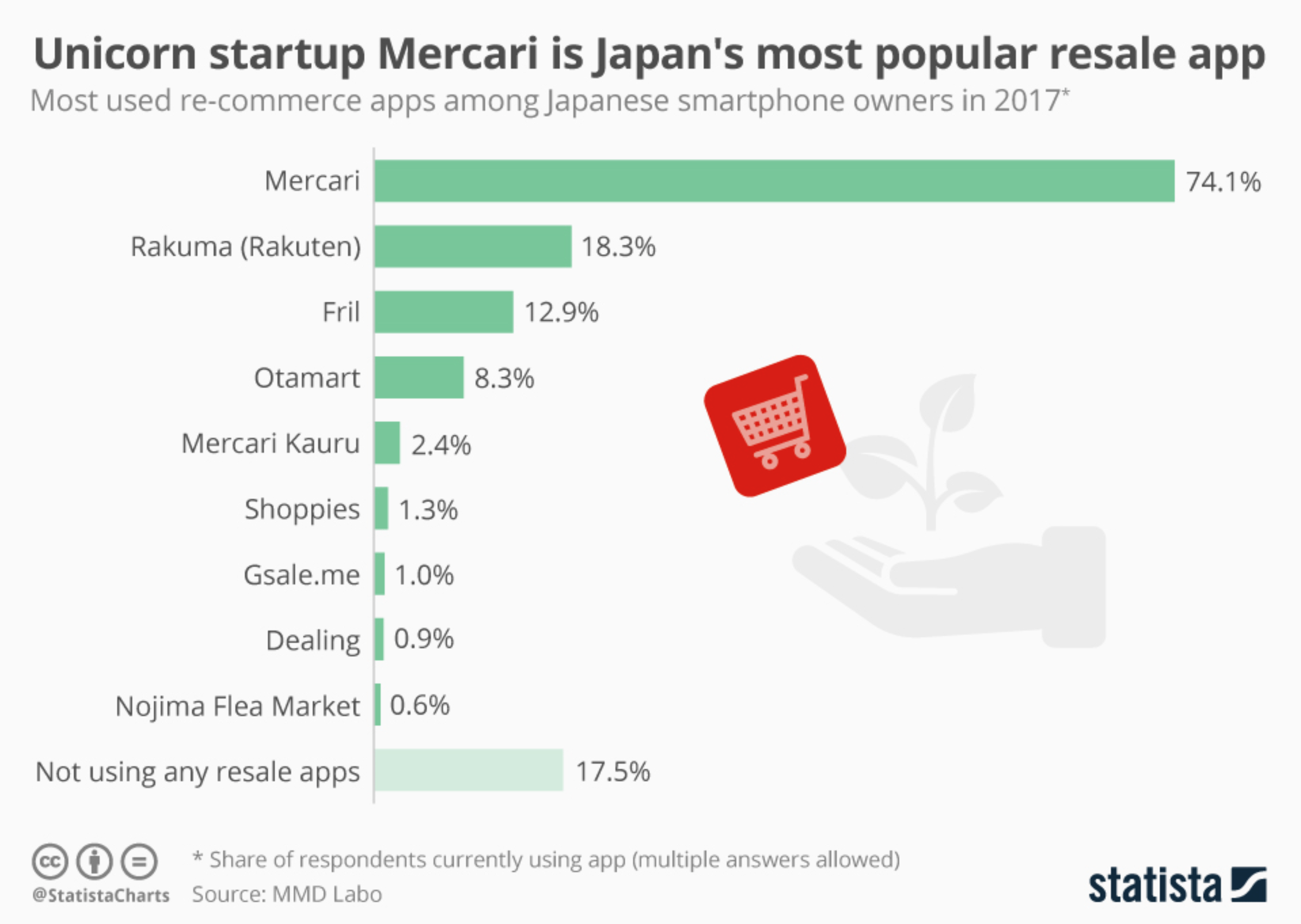 Mercari quickly grew to dominate the second-hand sales market in Japan, but now must look to expand internationally. Source: Statista
Local investors — most of them corporations like United — understood that he had something special. Foreign investors didn't.
They didn't realize that the lower wealth of individual users was offset by the huge numbers that could be signed up. And, despite Japan's role as an economic powerhouse on the world stage, the country's startup ecosystem was still tiny. There were few notable exits and most talent was flocking to safe corporate jobs.
In just a few years, however, as tech startups around the world began to make headlines, the Japanese startup scene has also caught fire, sparked in large part by Mercari's success. Investors today are much more tuned into the startup landscape in Japan.
Mercari's success showcases the importance of looking at a company's surrounding local culture as well as its financials when evaluating nascent startups for potential. Your peers may be hesitant, but local investors may well be seeing something they're not.
As startup fever catches, less obvious places can turn out to be winners. Post-Mercari Japan is looking like just that.
31. NIO
There's an electric car boom coming to China, and Tencent doesn't plan to be left behind. The Chinese internet giant was the primary investor and early backer of NIO, considered to be China's Tesla. At NIO's September 2018 IPO, Tencent held 15.2% of the electric carmaker.
The company went public at a valuation of about $6.4B in September 2018.
NIO has had some hiccups, but managed to hit 10,000 cars shipped in the second half of 2018. (In comparison, Tesla sold about 14,000 cars in China in the first 9 months of the same year.)
Tencent has also invested in Tesla, taking a 5% stake for $1.8B in 2017. The move signaled that Tencent is looking to cash in on a likely bonanza when electric cars go mainstream. Playing both sides of the street ensures it will hold significant market share whether Tesla or the Chinese brand becomes the top seller.
While not well known in the US, NIO is poised to be a leader in China, where the growing middle class is seeking fuel efficient transportation.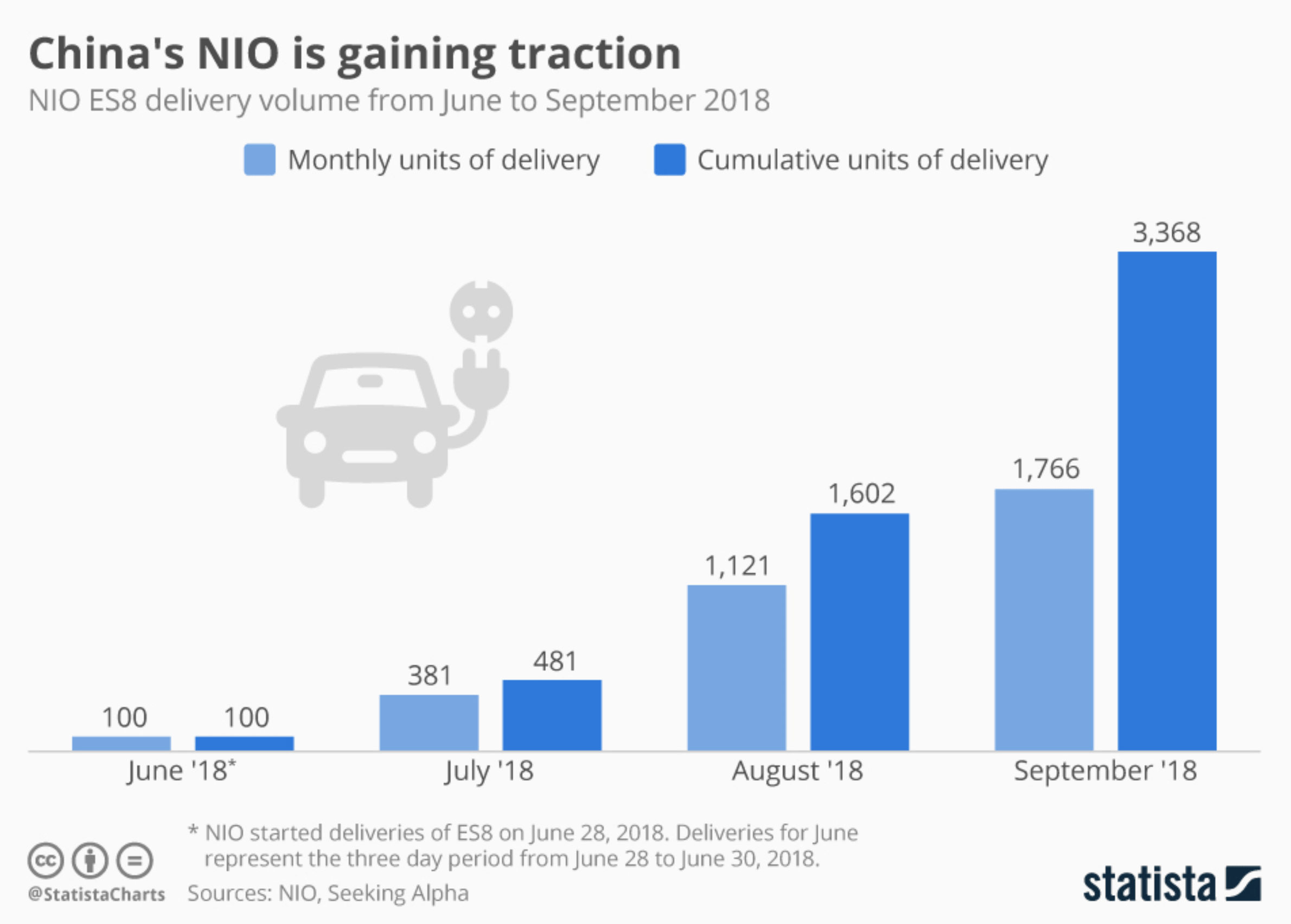 Between June and September 2018, NIO's production rose from 100 units a month to more than 1,700. Source: Statista
Tesla, for its part, is building a plant in China, and expected to ramp up production. It remains to be seen whether Chinese consumers will favor the more established Tesla brand. NIO is undercutting Tesla on price, offering an SUV for about half the cost of a Tesla model.
In addition to its investments in the two automakers, Tencent received its own license from the Chinese government to test an autonomous vehicle in the city of Shenzhen.
When an industry is in its infancy, smart investors hedge their bets. Tencent has done just that, taking a major stake in its competitors as well as backing its own brand. In the early days of an industry set to explode, covering all bases can be a winning strategy, especially for investors with deep pockets.
32. Meituan Dianping
Since the company's 2010 founding, Sequoia Capital China has put more than $400M into the Chinese services platform Meituan.
Sequoia also helped coordinate the crucial 2015 joining of forces between the company and its rival Dianping — a $15B merger.
When now-merged Meituan Dianping recently raised $4.2B in an IPO that valued the company at $55B, the value of Sequoia's holdings in the company hit about $4.91B — a greater than 12x return on its investment.
Meituan Dianping has grown into a broad-based services provider, dealing in everything from movie tickets to restaurant reservations. Source: GGV Capital
Meituan started out as a Groupon imitator, but eventually, it emerged as one of the few Chinese deal-of-the-day sites (there were around 2,000 voucher sites in China at the time) with the revenue and user base to grow beyond that. Today, it is a broad-based services provider, dealing in everything from movie tickets to restaurant reservations.
Sequoia, as well as Chinese giants Alibaba and Tencent, backed the company from early on.
In the tech community of China, the successful Meituan Dianping IPO was a sign that Chinese tech IPOs were on the rebound, after some pessimism surrounding the public offerings of Xiaomi and Nio, which both priced around the bottom of their range.
33. Xiaomi
Chinese smartphone manufacturer Xiaomi officially became the third most valuable smartphone manufacturer in the world when it went public in July 2018 at a valuation of $54B.
In that IPO, the largest backer of the company, Morningside Ventures, made back more than 40x its investment.
It was the most successful investment ever for the firm, led by Chinese venture capitalist Liu Qin, who met the founder of Xiaomi (Lei Jun) when he was working at Kingsoft in 2003. They co-invested in UCWeb, a deal in which they profited when the company sold to Alibaba.
Xiaomi has become the third most popular smartphone maker in the world, thanks to Morningside Ventures' vote of confidence. Source: CNBC
When Lei told Liu he was going to work on a mobile phone company, Liu had the inside line to invest in the new company — and it fit his investment priorities perfectly. Liu and Morningside's approach has been to invest in companies that are capital efficient, even as other investors clamor to invest in companies working on capital-intensive industries like ride-sharing. Xiaomi was, comparatively, relatively efficient.
At the time, the product was, of course, underdeveloped, and it was critical that Liu and Lei had trust in one another. Without the vision they shared for the company, there would not have been a convincing reason for Morningside to invest — and no returns either.
VC firms funnel $62B to US-based companies in Q1'21
Dig into the latest trends in venture capital funding in the CB Insights and PwC MoneyTree Headline Report.
34. Pinduoduo
Tencent-backed Pinduoduo raised a total of $1.6B in its July 2018 IPO at a valuation of almost $30B.
Sequoia Capital China and Tencent began investing in the Chinese e-commerce company starting in its Series B round, in which Pinduoduo raised $110M in 2016.
Post-IPO, Tencent controls about 17% of the company, with Sequoia's ownership share coming in at about 6.8%.
Like the Alibaba service Taobao, Pinduoduo allows users to buy a wide range of products online, though it differs in its social mechanisms. Pinduoduo allows users to band together with friends and family to make group purchases and get a better price.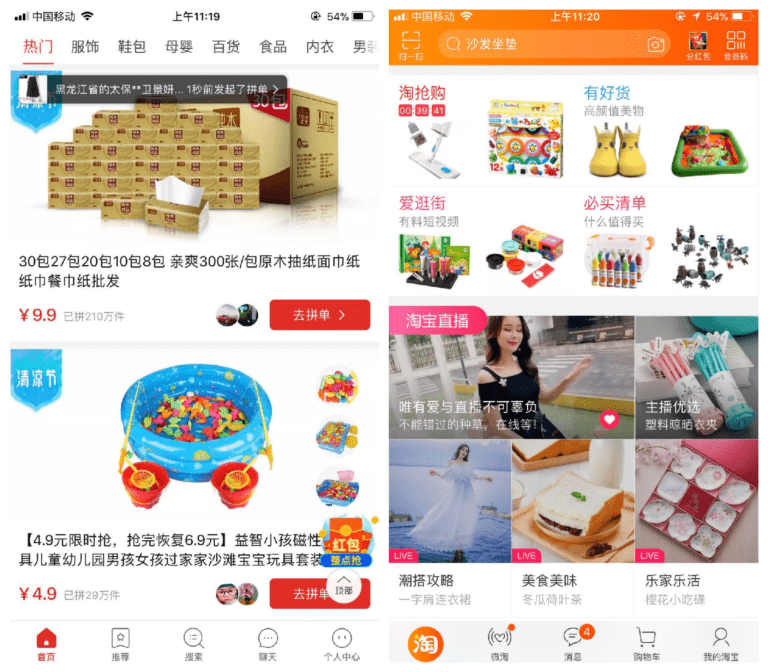 Pinduoduo (left) vs. Taobao (right). Source: TechNode 
Tencent's investment in Pinduoduo goes beyond just the financial aspect. Users transacting on the Pinduoduo app use the Tencent service WeChat to communicate with buyers and sellers and can also get group discounts for doing so.
Tencent's investment has also allowed Pinduoduo to tap into the ubiquitousness of the WeChat app — which is used by nearly 1.1B people worldwide — rather than, as some of Pinduoduo's competitors require, making users download a new, separate app.
Of those competitors, none looms larger for Tencent than Alibaba. In its struggle for supremacy, Pinduoduo is one of Tencent's latest attempts to undermine its biggest competitor by providing a more convenient competing service.
35. Ele.me
Chinese local delivery startup Ele.me was valued at about $9.5B when Alibaba bought full ownership of the company in April 2018.
Before the acquisition, Alibaba — together with affiliates Ant Small and Micro Financial Services Group Co.— controlled approximately 43% of the company.
Prior to its Ele.me investment, Alibaba had failed to achieve the same kind of brick-and-mortar delivery presence that its main competitors Tencent and Meituan have had in the services space.
With Ele.me, Alibaba was able to compete with its rivals Tencent and Meituan in the delivery services space. Source: The Hustle
Ele.me, however, was recording almost $9.5M every single day in orders from more than 40M customers in more than 250 cities around China.
Moving to consolidate control is a common theme for Alibaba: slowly building up its stake in a company, learning about how it works, and learning about the space is a way for Alibaba to bolster its own product and service lines over time, rather than all at once in a traditional acquisition.
36. Adyen
When it went public in June 2018, Dutch payments startup Adyen's stock rose by more than 66% — by the end of the day, the company had a market cap of more than $15B.
Adyen handles payments for companies like Netflix, Spotify, and Facebook and processed $127B in payments in 2017 alone.
The company's VC backers include Iconiq Capital, General Atlantic, and Index Ventures, which led Adyen's $16M Series A round in 2014.
At IPO, Index Ventures held a 17% stake in the company, making its share worth more than $2.55B — a 159x return on a $16M investment.
Not long after its IPO, Adyen's value was nearly $20B and Index's share was worth more than $3B.
Index noticed Adyen for three reasons. First, the company had rapid growth, largely because its customers were avid evangelists of the brand and the product. Second, it was profitable (not another cash-burning Silicon Valley startup). And most importantly, it had only raised a few million dollars by that point, so the company wasn't over-invested.
Index was able to offer Adyen something it wasn't getting from its European VC suitors: an emphasis on and assistance breaking into other markets around the world, including the US. Today, Adyen is a primary payments processor for many companies across the United States, including Facebook and eBay.
37. GitHub
In June 2018, in one of the biggest US venture-backed acquisitions of the last decade, Microsoft paid an eye-popping $7.5B for open source startup GitHub. But back in 2012, when Andreessen Horowitz poured $100M into the startup, many in Silicon Valley thought the firm was grossly overpaying.
It was a massive gamble at the time. That initial Series A round was the largest check Andreessen Horowitz had ever written. GitHub was in an unknown and misunderstood corner of the tech world. The startup had no clear path, no real product, and no sales organization.
But Marc Andreessen believed strongly that "software is eating the world." Inside Andreessen Horowitz, the things GitHub lacked didn't matter — what mattered was that it had the attention and the adoration of people who built software.
The site was the first large-scale open-source meeting place for developers. Open-source was founded on the belief that code can and should be shared and collaborative. GitHub made that vision into a reality by providing a place on the internet where a community of developers could work on any project they liked.
Andreessen Horowitz saw the potential for disruption in how software is built. GitHub, it realized, was the platform where this could happen. Instead of companies working within their own walled gardens, they could open their code up to the world and tap into the collective wisdom of the crowd.
As partner Peter Levine later recalled about his first meeting with the founders, GitHub was a little rough around the edges. But it had something better than anything a slick marketing department could deliver: developers around the world were flocking to the site. Their enthusiasm meant GitHub was growing by 100% year-over-year through word of mouth. The company had revenues and cash flow.
What Levine saw wasn't a collection of developers, but a platform that could launch the new digital economy. It could transform how many of the world's technologies are built, covering everything from apps to enterprise software and beyond.
Microsoft, ironically, was once among the loudest opponents to the idea of open-source. But major improvements in software proved out this way of working. Microsoft CEO Satya Nadella was warmer to the idea than his predecessor Steve Ballmer, and in the end Microsoft became GitHub's largest contributor.
When Andreessen Horowitz had made its $100M investment, GitHub was valued at roughly $750M. The VC's support helped the fledgling company take off, and it was soon adding an average of 10,000 users a day.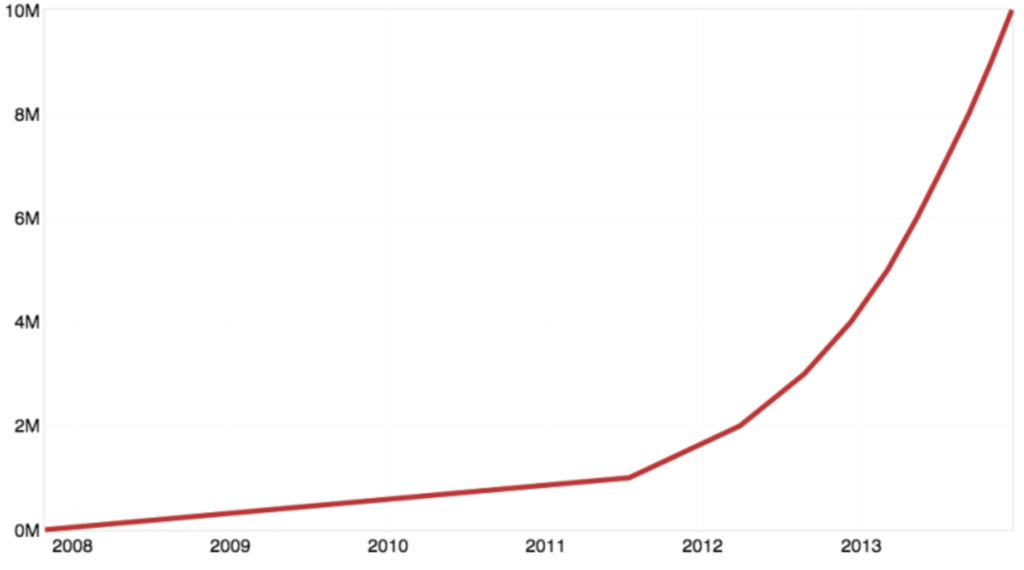 GitHub user growth. Source: Growth Hackers
Thanks to a16z's initial cash infusion, GitHub matured as a company, and in 2015 it raised a $250M Series B round led by Sequoia Capital. Andreessen Horowitz also participated, along with other top tier players Thrive Capital, IVP, and SV Angel. GitHub's valuation jumped to more than $2B.
Six years after a smart initial investment, Andreessen Horowitz's bet has paid off in spades. The VC took home over $1B in the exit, having locked in its shares by investing in that initial round. It was a big payday for the firm, which had the vision to recognize that collaborative, social coding was the future.
38. Flipkart
In 2008, e-commerce was almost nonexistent in India, and even brick-and-mortar retail chains were struggling. But that's just when Accel decided to take a chance on online retailer Flipkart with an $800K seed investment.
Ten years later, in 2018, Walmart paid a whopping $16B to acquire Flipkart in a deal that valued the e-commerce company at $20.8B. What could have been a mistimed move turned out to be one of the largest deals ever for a private venture-backed company. And the deal made Flipkart's investors rich, not least of all early champion Accel, which made about $1.1B.
In the deal, Walmart bought 77% of Flipkart, becoming the Indian e-commerce startup's corporate parent. The deal boosted the US retailer in its war with Amazon to cash in on the lucrative India market. It ranks among Accel's biggest global exits, and cemented Accel India's reputation for backing winners.
Back in 2008, despite a growing middle class, most people went to their local shops. They didn't trust internet buying except when it came to travel such as rail and air tickets. There also wasn't the infrastructure to ship packages around India.
Other VCs such as Sequoia passed on Flipkart. But Accel saw something in the founders, Binny Bansal and Sachin Bansal, two former Amazon employees who believed they could build the same kind of e-commerce empire in their own country.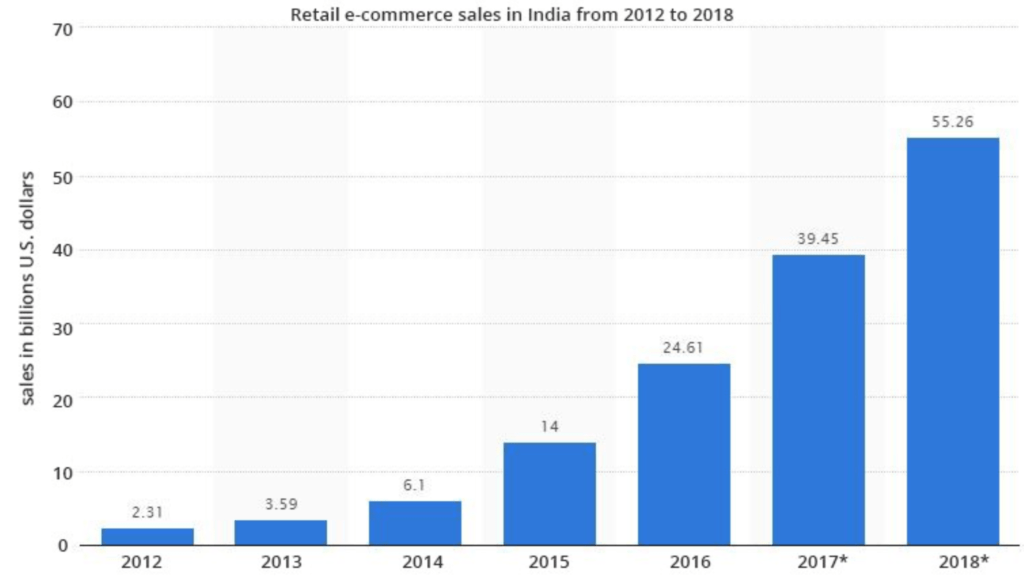 Between 2013 and 2016, retail e-commerce sales in India grew from $2.31B a year to more than $24B. Source: Statista

Accel had just opened the India office, and was on the lookout for "unconventional and audacious businesses," as the partners later wrote.
Emerging markets such as India are high risk, high reward. Accel made its India fund semi-independent and hired mostly Indian partners with a focus on early-stage startups.
Even today, 60% of the Accel India portfolio is in seed stage, and most other investments are at the Series A and B level. This makes for an agile team that stays engaged with the standouts in the ecosystem.
While it's fashionable for investors to say they're looking for visionary founders, in these kind of emerging markets this is just one key trait to look for. Founders must also have deep knowledge of the challenges they're facing and be open to experimenting with new ideas. This is what the Accel India partners saw in the Bansals.
In order to make its vision a reality, Flipkart built from scratch the infrastructure that companies in the developed world take for granted. This included a network of national logistics centers and delivery fleets. The company also pioneered ways to make buying online appealing, with cash on delivery, doorstep debit/credit payments, and monthly installments.
With the ball rolling, investors jumped in and pumped about $7B into the company over the next decade. These investors spanned the globe, including Tiger Global, Naspers, SoftBank, Morgan Stanley, Tencent, and Microsoft, to name just a few. Flipkart has remained the top e-commerce site, despite numerous management changes and the eventual departure of both founders.
39. Spotify
Plenty of investors did well in the Spotify IPO on April 3, 2018, when the streaming platform was valued at $29.5B. But early then-small Swedish VC firm and early investor Creandum walked away with an 80x return on its investment.
In total, Creandum invested about $4.5M into the company for an approximately 6% stake. At exit, its stake in the company was valued at $370M.
Creandum led the also-Swedish company's first venture round — but it wasn't love at first sight. Before investing, Creandum and Spotify met regularly to talk and consult for 18 months. Those negotiations created a deep personal connection between Creandum and Spotify, and also gave Creandum the opportunity to get an inside take on whether or not it should invest. Eventually, it did.
Over the decade following Creandum's investment, Spotify rocketed from an unknown Swedish startup to the most popular on-demand music streaming service in the world.
Stockholm-based Spotify was far from a sure bet when Creandum first took a look in 2007. Most investors didn't want to touch it. The music industry was risky, had razor thin margins, and opened a world of headaches in negotiating with industry execs.
Creandum partner Fredrik Cassel later recalled being skeptical of the co-founders' claim that the service could play any song in the world. Cassel named an obscure Swedish artist, The Bear Quartet. To his amazement, Spotify pulled up every song the band had ever recorded.
In the decade following Creandum's investment, Spotify became the most popular on-demand music streaming service in the world. Source: Quartz
Equally impressive for Creandum was that Spotify had developed a mobile app that worked just as seamlessly as the desktop version. The dominant phone then was the Nokia, and Spotify had built a fully functioning app for the Nokia Series 60. The functionality was flawless, and at the demo, "jaws dropped."
During the 18 months before Creandum invested, Cassel got to know co-founders Martin Lorentzon and Daniel Ek, saying that he "saw qualities in them that others missed."
At the same time, there was no easy or even fully legal way to make a business out of downloading music. Napster fell afoul of the music industry over copyright issues and was shuttered in 2001. Others tried to fill the gap, but those efforts also ended up in ugly lawsuits. One service, Kazaa, not only owed millions, but put its own customers at risk as the powerful recording industry threatened Kazaa's users with lawsuits for piracy.
Despite this, many people took their chances downloading music through any of a number of quasi legal services that rose and fell. Spotify's founders knew their product had to beat those services if it was to win. Their stated goal was: "This needs to be better than piracy."
With immense barriers to entry and difficult markets, there are also rich rewards. However, to capitalize, investors can't just throw money at a company — they need to invest the time to build a relationship, so that when the word gets out about the company's success, they've earned their seat at the table.
As the first round began to come together, investors were waking up to Spotify's potential. Ek and Lorentzon were choosy about their investment team, and their relationship with Cassel sealed the deal.
As Cassel recalled, "[We] were closer to the company than nearly anyone else in the venture scene which allowed us to pull the trigger and actually invest."
By following this playbook, Creandum locked in a solid chunk of what would turn out to be Europe's most valuable startup.
40. Dropbox
At its IPO in March 2018, file sharing startup Dropbox had a $12.7B valuation, making it one of the most valuable tech companies in the world.
With this exit, Sequoia Capital saw a jaw dropping $2B return on its investment.
The Dropbox story is an object lesson in how to keep a promising startup in your court and reap outsized rewards. In brief, Sequoia's strategy was to do an end run around the traditional financing process, keeping other investors out while building a special relationship with the Dropbox founders.
By the time Dropbox's valuation ballooned from the low millions to billions, Sequoia had locked in its shares. Those who came in late to the party shelled out far more for smaller pieces of the pie.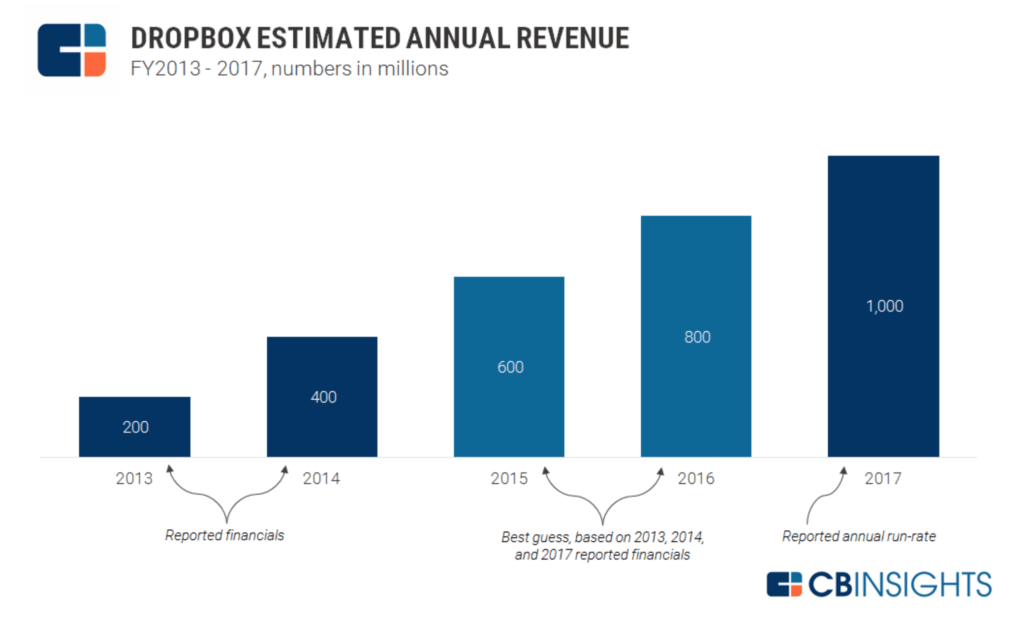 Dropbox's annual revenues went from $200M in 2013 to more than $1B as of 2017.
Sequoia's home run shows the power of getting in early and backing a winner. But it also teaches that you don't have to follow the usual script with risky early-stage startups in promising new markets.
Dropbox was far from a sure thing when co-founders Drew Houston and Arash Ferdowsi walked through Sequoia's doors in 2007. It was just one startup in a sea of contenders trying to cash in on the emerging cloud storage space.
Talented MIT trained engineers, Houston and Ferdowsi were fresh out of Y Combinator. But the accelerator hadn't yet become the mighty force it is today.
The founders were entering an untested market full of sharks and fraught with technical challenges. Already, other cloud storage startups had flamed out after losing mission critical documents (or cherished wedding albums).
And Dropbox didn't look like it was on a fast track or much of a winner. Many VCs were eyeing other entrants, like fellow Y Combinator classmate SugarSync.
Despite all this, Sequoia led a $1.2M seed round for Dropbox in 2007. The company didn't launch until a full year later, in 2008 — a long time for an early-stage startup.
Though 75,000 early adopters signed on as beta customers after Dropbox posted a demo on geek site Digg, growth then stagnated. The founders tried advertising techniques — PR and Google Adwords. They didn't work. The problem? No one was searching for a solution they didn't know existed.
At this point, Dropbox was spending $400 per customer acquisition, far more than the price of the product. As Houston later recalled at a 2010 Stanford symposium, the situation was "horrific."
Despite this, Sequoia led a $6M Series A round in 2008, looping in one other firm, Accel. At this point, many VCs would have pushed the company to add more marketing and SEO talent to fix the problem. Given Dropbox's burn rate, this would've meant leading another round and bringing on new investors.
Sequoia instead came up with a different plan. The firm offered to extend financing to the startup to keep it afloat. This wasn't about raising another round. No others would be involved.
This strategy locked in Sequoia's large stake. With almost zero dilution, Sequoia soon held 23% of the company shares, second only to Houston's holdings.
In just 15 months between 2008 — 2010, the company went from 100K registered users to 4M. And it didn't end there. Revenues skyrocketed as word of mouth spread around the globe.
Thanks to this stratospheric growth, Dropbox's share price shot up by 150x between 2008 and 2011. And because it was flush with revenue, the startup didn't follow the usual path of raising growth rounds.
Dropbox was on its way to becoming an integral part of the digital environment. The financial support Sequoia offered was key to Dropbox's success.
This meant a massive payout for the VC firm. And this early vote of confidence helped make Dropbox the company it is today, with millions of users and a global footprint.
41. Coinbase
Coinbase went public in April 2021 — an event that marked, in the words of Gil Luria, an analyst at investment firm D.A. Davidson, "the epiphany for everyone that [cryptocurrency] is real."
The Coinbase crypto exchange, founded 9 years earlier by Brian Armstrong and Fred Ehrsam, was valued at $65.3B for its stock market debut.
Coinbase exited via direct listing instead of a traditional IPO. This means that the company didn't raise any money, but its shareholders and investors could sell shares and cash in their investments. And Coinbase's IPO meant huge profits for several VC investors.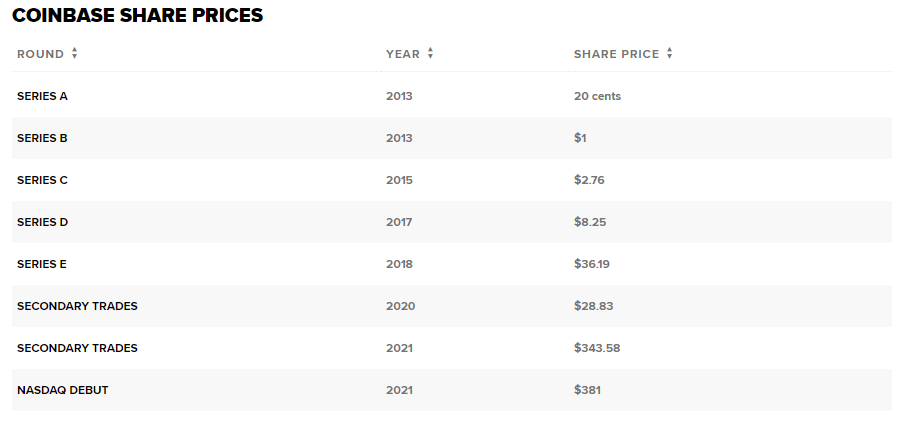 Coinbase share prices during multiple funding rounds, secondary trades, and its direct listing. Source: CNBC
Union Square Ventures, for instance, contributed $5M to Coinbase's $6.1M Series A round in 2013, which valued Coinbase at $20M for 20 cents a share. Eight years later, this bet was worth around $4.6B. USV partner Fred Wilson wrote in 2013 that Coinbase was the firm's first investment in the crypto sphere:
"We have been thinking about and looking to make an investment in the Bitcoin ecosystem for several years. Today, we are happy to be able to talk about our first investment in the sector."
Andreessen Horowitz is the biggest investor in Coinbase. The famed VC led a $25M Series B round, purchasing shares at $1 a piece, and has since bought an additional 3.5M shares from USV. Overall, Andreessen's stake in Coinbase was worth almost $10B in April 2021.
The third-biggest investor in Coinbase is Ribbit Capital (a CB Insights Fintech Smart Money VC). The fintech-focused VC owned 12M shares that were worth $3.9B when the crypto exchange went public. Other investors who profited from Coinbase's IPO include Tiger Global, Institutional Venture Partners, and DFJ Growth.
Coinbase has seen massive growth, from counting 100K members in 2013 to over 56M customers in 2021. And this success story has prompted VCs to double down on their investments in crypto and blockchain startups. Andreessen Horowitz, for example, is planning to raise nearly $1B for a crypto investment fund, while USV will allocate nearly one third of its new $250M fund to crypto investments. These commitments highlight the belief that the cryptocurrency ecosystem is a new frontier for outsized returns.
42. Uber
Uber went public in May 2019, fetching a valuation of $75.5B. The ride-hailing giant also raised $8.1B by issuing 180M shares. This IPO was a massive payday for a number of VC investors.
The group that stood to profit the most were seed investors. In 2010, Uber raised $1.5M in a seed round with investors paying $0.009 a share at a $4M valuation. First Round Capital invested $510,000, and the value of this stake reached $2.5B post-IPO. Lowercase Capital struck gold as well, with its initial seed investment of $300,000 growing to be worth $1.1B post-IPO.
But there were also many other investors who backed Uber in 2010. Those who held onto their shares saw enormous payoff 9 years later.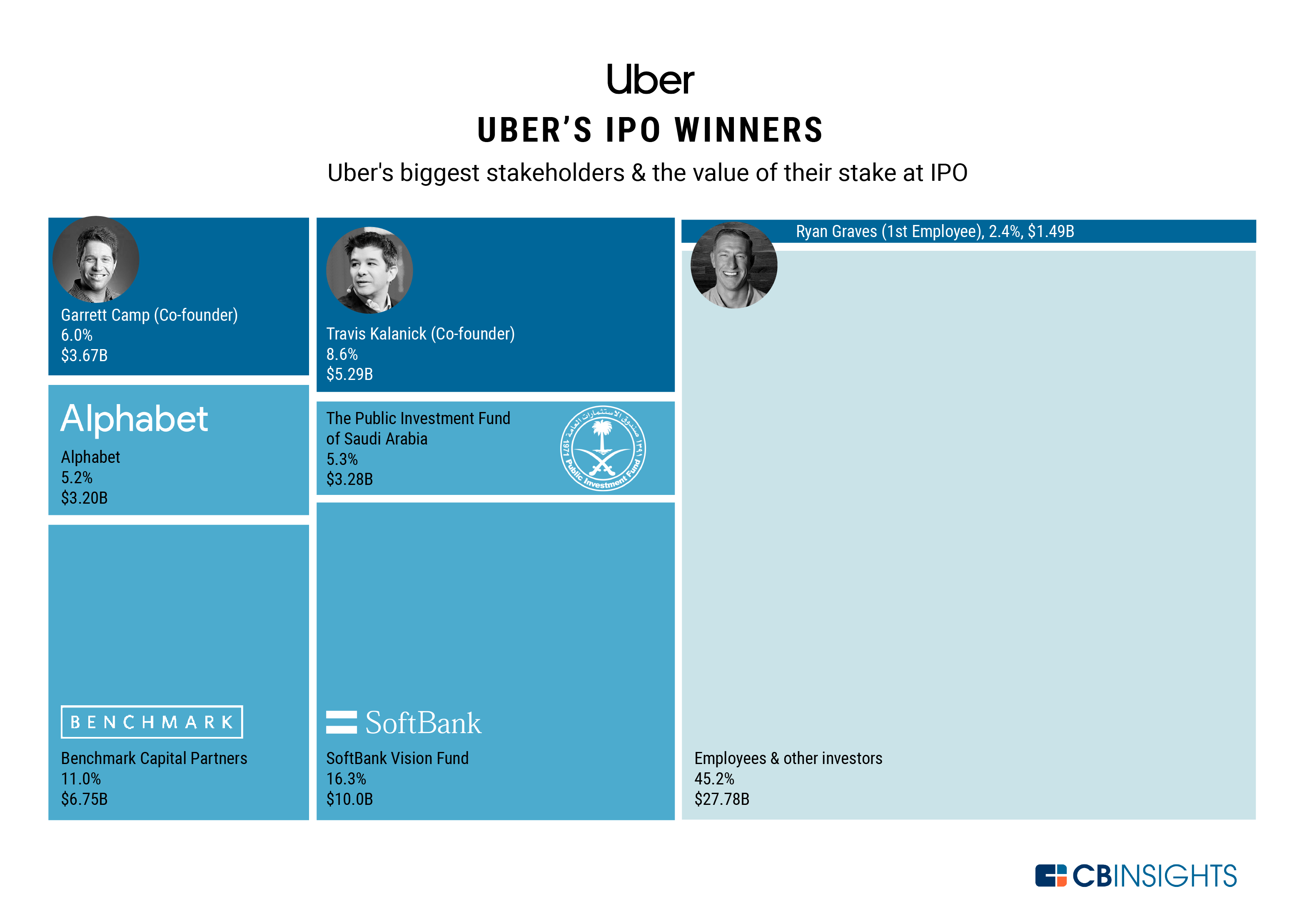 Over the years, Uber raised multiple rounds from major investors. SoftBank's Vision Fund invested $7B into Uber in 2017 and led a $1.3B round in 2018. By the time of the IPO, SoftBank's 16.3% stake was worth $10B.
Benchmark Capital was also a major investor. In 2011, the firm invested $9M into the ride-hailing app, for a stake worth $6.8B eight years later. TPG Capital invested $90M in 2013 to reach $1.4B at the IPO, while Menlo Ventures took part in Uber's Series B round, amassing stock worth $1.9B in 2019 (even after selling $1B worth of shares to SoftBank in 2017).
Uber attracted investments from various other investors, including Qatar Investment Authority, Saudi Arabia Public Investment Fund, and Toyota. All of them profited as the ride-hailing giant's value steadily increased from 2010 to 2019.
Uber's share price has fluctuated since its exit. The company's market cap dropped to around $50B in May 2020 but has recovered since, reaching $96B in May 2021.
43. Airbnb
With revenue decreasing 30% year-over-year and layoffs of nearly 2K employees, Airbnb faced a brutal 2020 amid the Covid-19 pandemic. But the company started to recover in the second half of that year, and eventually went public in December at a $40.6B valuation.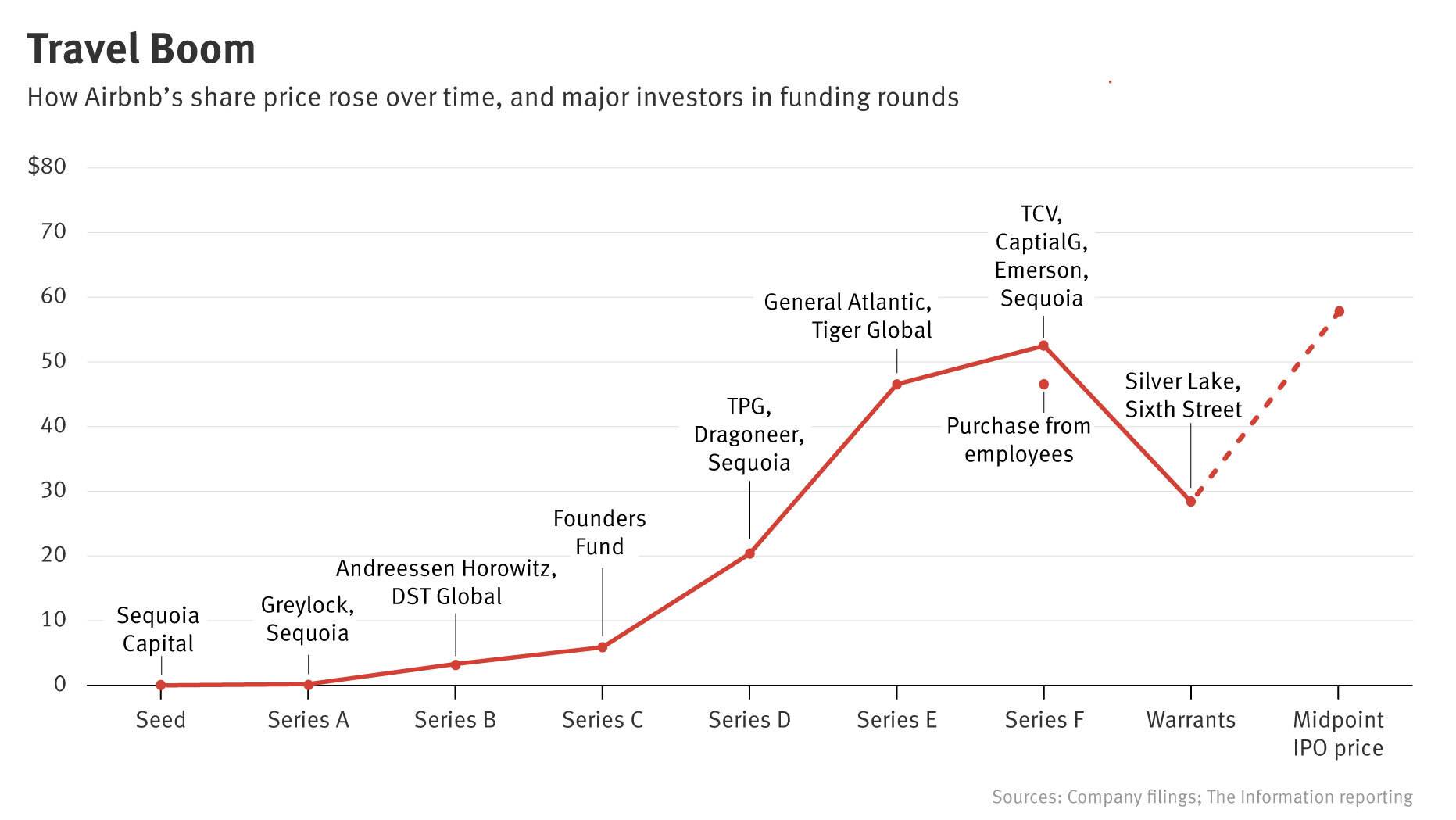 Source: The Information
Among Airbnb's investors, Sequoia Capital in particular enjoyed massive returns. The VC firm invested around $600K in 2009, securing 58M of Airbnb's shares at $0.01 per share. Apart from the seed deal, Sequoia also participated in 3 more rounds, investing $260M in total. The value of its stake at IPO price reached $4.8B.
VC firm Greylock Partners was another leading investor. In 2010, LinkedIn co-founder Reid Hoffman, a partner at Greylock, convinced the firm to lead Airbnb's Series A and invest $4.9M, securing a stake worth around $1.4B at IPO price.
Unlike Greylock, Andreessen Horowitz decided not to take part in Airbnb's Series A. But as the home-sharing startup gained traction, the VC firm came to lead a Series B, investing $60M at a $1B valuation, then going on to back several future rounds. At the time of IPO, Andreessen Horowitz's initial stake was worth $1B.
Founders Fund also entered at the Series B stage. The firm, including Peter Thiel, Napoleon Ta, and other partners, invested $500K in the Series B, and also participated in the Series C by investing $150M, the fund's largest investment to date, which required obtaining permissions from limited partners. Ultimately, the risk paid off — Founders Fund's stake in Airbnb was worth $1.5B in December 2020.
Airbnb also worked with many other investors throughout the years, including DST Global, Y Ventures, A-Grade Investments, General Catalyst, General Atlantic, TCV, and Silver Lake Partners. All of these firms profited when Airbnb went public.
44. Zoom
Buoyed by the shift to remote work brought on by the Covid-19 pandemic, Zoom's video conferencing platform has become a household name. The company went public in April 2019, fetching a valuation of $9.2B at a share price of $36. Based on this price, many of Zoom's investors, executives, and employees had their stakes skyrocket in value.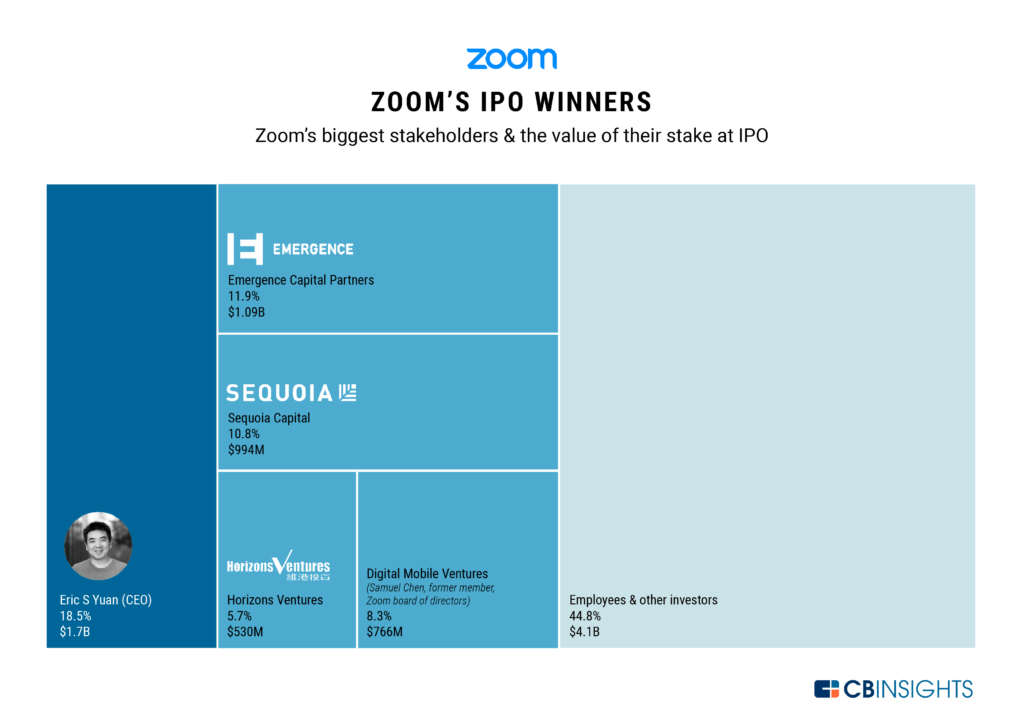 Zoom CEO and founder Eric Yuan owned 18.5% of the company, a stake worth $1.7B at the time of the IPO. Emergence Capital Partners had the largest external stake in Zoom, at 11.9%, worth $1.1B. This VC firm participated in Zoom's Series C and D rounds.
Sequoia Capital achieved equally impressive returns. The VC firm owned 10.8% of the video-conferencing giant in April 2019, a stake worth around $994M at the $36 share price. Sequoia only backed Zoom's Series D.
Other investors in the company include Qualcomm Ventures and Horizons Ventures.
Many investors initially believed that Zoom had no chance in a mature market dominated by Microsoft, Google, and Cisco, as well as smaller players such as GoToMeeting and FuzeBox.
But Zoom proved to be a huge win. The company kept growing, and as the Covid-19 pandemic forced people to embrace remote work, Zoom's valuation rose rapidly.
In March 2021, the company announced revenue growth of 326% year-over-year to reach $2.7B for the fiscal year ending January 31, 2021. In May 2021, Zoom's market cap stood at over $90B, a massive increase from the $9.2B valuation given during its IPO just 2 years prior.
45. Snowflake
Snowflake's IPO showed that helping companies store, analyze, and share data across the cloud is a huge business opportunity.
The cloud data warehousing company went public in September 2020, selling 28M shares and raising $3.4B at an initial valuation of $33.3B. While shares began at $120 apiece, they ended the first day trading at more than twice that ($254). At this price point, Snowflake was valued at around $70B, and its investors and shareholders enjoyed massive returns.
At the time, Sutter Hill Ventures (SHV), a Palo Alto-based VC firm, owned 20.3% of Snowflake's shares, a stake worth $12.6B, up from a total investment of less than $200M.
SHV managing director Mike Speiser was involved with Snowflake from its early days. He served as the company's CEO and CFO from 2012 to 2014, helping the founders develop the product and hire staff.
SHV is rarely mentioned alongside better-known VCs like Andreessen Horowitz, Sequoia, or Benchmark. It has a bare-bones website, and Speiser says that he only talks with media "at the request of portfolio companies." But his willingness to invest not only money but also time and effort to help Snowflake demonstrates what it can take to achieve outsized returns.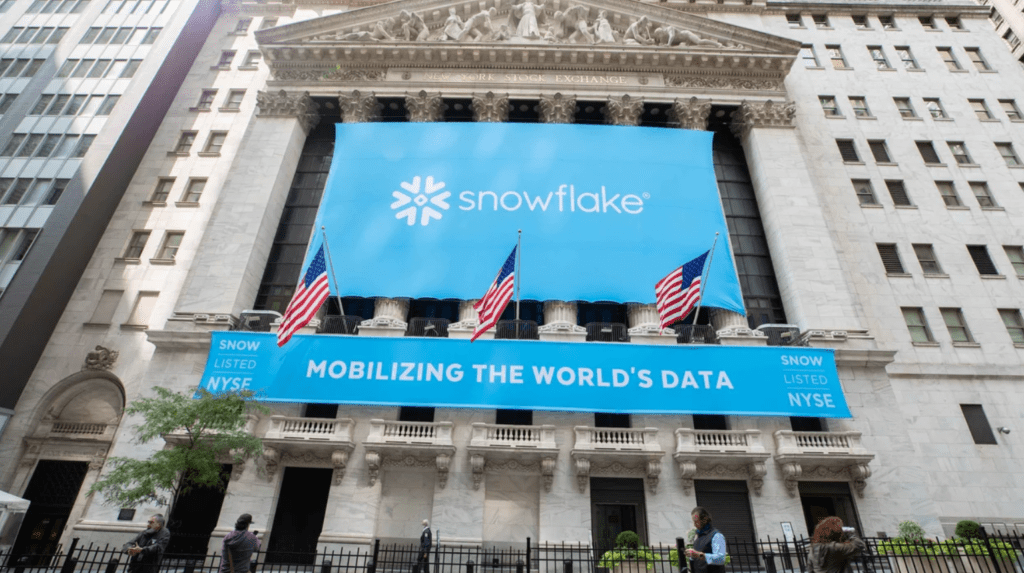 Source: Snowflake via Protocol
Snowflake had other investors, too. Altimeter Capital, an investment firm that led Snowflake's $45M Series C in 2015, owned 15% of the stock at the time of the IPO. This stake was worth around $9.2B after the first day of trading.
ICONIQ Capital was a lead investor in Snowflake's $100M Series D in 2017. ICONIQ held 14% of the data company's shares, worth $8.6B. Redpoint Ventures and Sequoia also saw a huge return on their investments: both held around 9% of Snowflake's shares, which comes out to more than $5B for each VC.
Even Warren Buffett's Berkshire Hathaway, an investment behemoth that typically prefers investing in mature companies, couldn't pass on Snowflake, investing $250M in a post-IPO private placement. Salesforce did the same.
After the IPO, Snowflake stock kept rising. In December 2020, it reached a peak of $429 per share, though stock value has fallen by over 50% since then. As of May 2021, Snowflake's shares were trading at over $200 apiece.
Despite these ups and downs, Snowflake shows once again how timely investments in tech startups can yield massive returns for VC investors. And with data and cloud technologies becoming a vital component of today's economy, the company is well positioned to take advantage of this trend.
Conclusion: There's no formula for a home run VC investment
After working through the data on the biggest VC exits of all time, we found that some of the best VC deals of all time didn't come from tactics out of a playbook. They were the result of research, strong convictions, and committed follow-through.
The global startup market is constantly becoming more dispersed and more efficient. Companies come from countries all around the globe.
Tools like AngelList have begun to level the playing field when it comes to "finding" the right companies, allowing individual investors to fish through startups for the next Uber or Facebook. Meanwhile, initial coin offerings allow startups and individual investors to connect through decentralized token sales.
Some of the only real clear advantages left are the simplest, and most challenging: doing your research, then putting in the work to help the companies that you invest in succeed.
If you aren't already a client, sign up for a free trial to learn more about our platform.