With the IPO window finally cracking open, we asked our newsletter subscribers which tech company IPO they're the most bullish on.
2019 is shaping up to be a blockbuster year for tech IPOs.
Lyft filed to go public at a $24B valuation in March, and Uber filed its S-1 just last week.
We asked our newsletter subscribers to vote on which company they think will see the largest stock price gain a year after its IPO. Here are the results: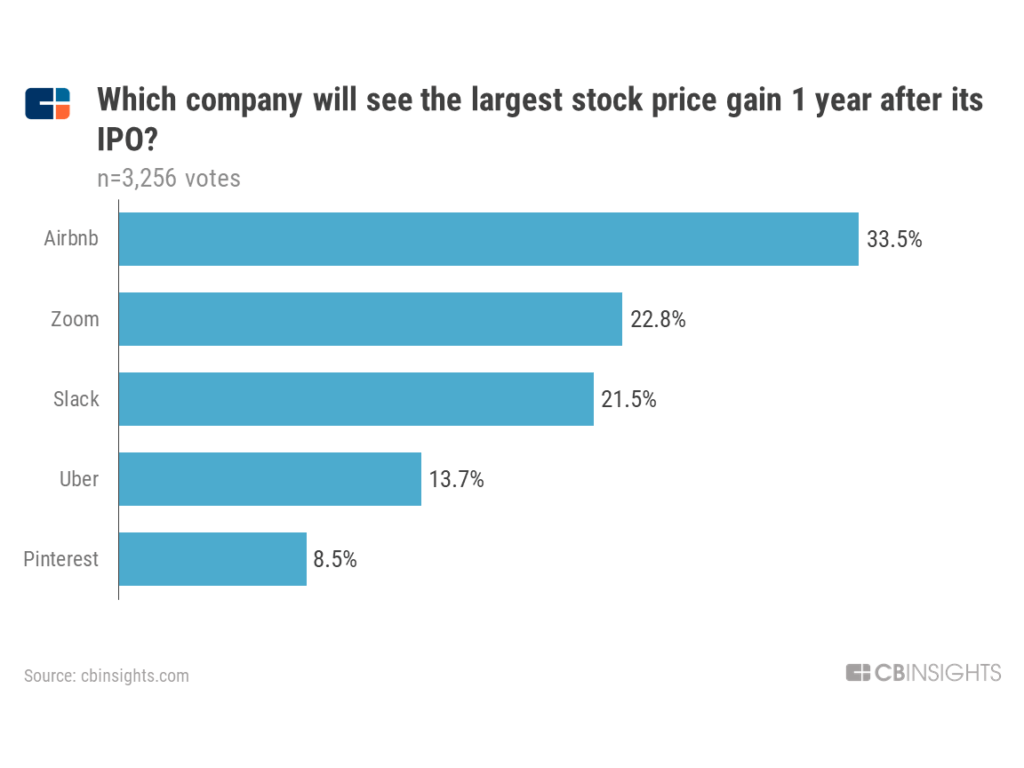 Airbnb is the clear winner here, taking 33.5% of the vote. The exact timeline for the company's IPO is unclear, and co-founder Nathan Blecharcyzk recently told Business Insider that it might not happen in 2019 at all.
But that hasn't burst the hype bubble.
The home-sharing unicorn was last valued at over $29B in March 2017 following a $448M Series F funding round led by China Investment Corporation. The company says it is profitable, and reportedly had over $1B in revenue in Q3'18.
Compare this to Uber, which in its S-1 noted that it "may not achieve profitability." Meanwhile, when Zoom filed its IPO in March, it reportedly had a net income of $7.6M on $330.5M in revenue. Pinterest, which also filed to go public last month, said that it was profitable in Q4'18, but not enough to pull it out of the red for the full year.
Airbnb acquired last-minute hotel booking startup HotelTonight for $465M earlier this year, its largest acquisition to date. At that time, it reportedly priced its equity at around $120 per share. It also invested in hotel booking app Oyo Rooms, one of the most well-funded tech companies in India. These moves show that the company is diversifying in an attempt to become a true global travel platform.
If you aren't already a client, sign up for a free trial to learn more about our platform.