Snap alums have secured $197M in funding in 2021 alone, and Greycroft is the top investor in the Snap Mafia. We used our founder-scoring algorithm to identify 10 early-stage Snap Mafia companies you should be tracking.
Founded just over 10 years ago by a trio of Stanford University students, Snap has evolved beyond its wildly popular disappearing photo and messaging app to become an $80B publicly traded "camera company."
Through a series of strategic acquisitions, Snap (formerly known as Snapchat) has cemented itself as a leader in emerging tech areas like augmented reality and smart glasses, all while growing its user base of teens and young adults. 
Now, former Snap employees — its alumni network, or "mafia" — are branching out, founding companies in areas ranging from virtual try-on (Veesual.AI) to entertainment tech (Invisible Universe) to stock trading (Freetrade.io).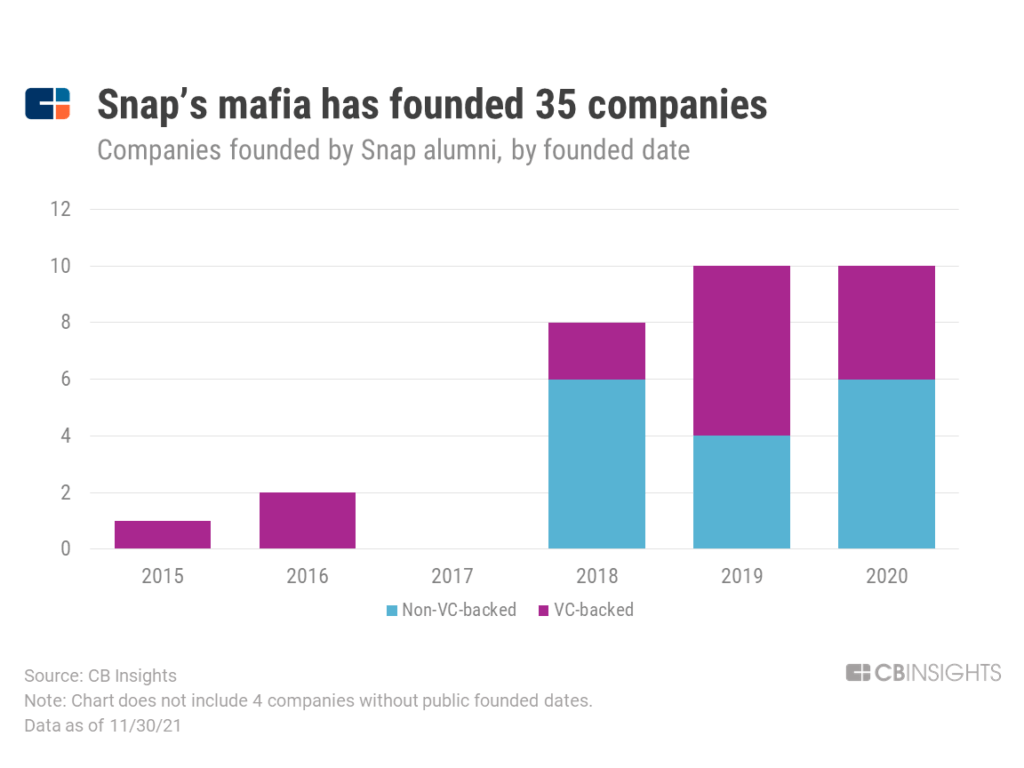 See how the Snap Mafia stacks up against the Uber Mafia and Airbnb Mafia. 
These alumni-founded companies are drawing high-profile investors. E-commerce marketplace Verishop, which was co-founded by ex-Snap Chief Strategy Officer Imran Khan, has raised 2 rounds from CB Insights Smart Money investor Lightspeed Venture Partners. Jeremy Liew, a Lightspeed partner that funded Snap's seed round in 2012, told Axios:
"Like the alumni of PayPal and other great companies, Snap employees will go on to build a new generation of startups. We are thrilled to partner with Imran and Cate Khan to fund the first of the Snap mafia."
Highlights from the Snap Mafia include: 
Total companies:

Thirty-five companies have been founded by ex-Snap employees since 2015. These companies have raised a combined $343M in disclosed equity funding across 53 financings. 15 have received venture capital backing, recording an average total funding of $32M and median total funding of $25M.

Stage:

The majority of the companies (57%) are early-stage (seed/angel and Series A).

Exits:

Social finance app

Meemo

, founded by a team of former Snap software engineers, was acquired by Coinbase as part of a talent acquisition in June 2021. 

Top VC investor:

Greycroft is the most active VC investor, having invested in 3 Snap alumni-founded companies, such as Meemo and

OK Play

. Three investors are close behind Greycroft, including Lightspeed and ZhenFund, as they each have 2 Snap Mafia companies in their respective portfolios.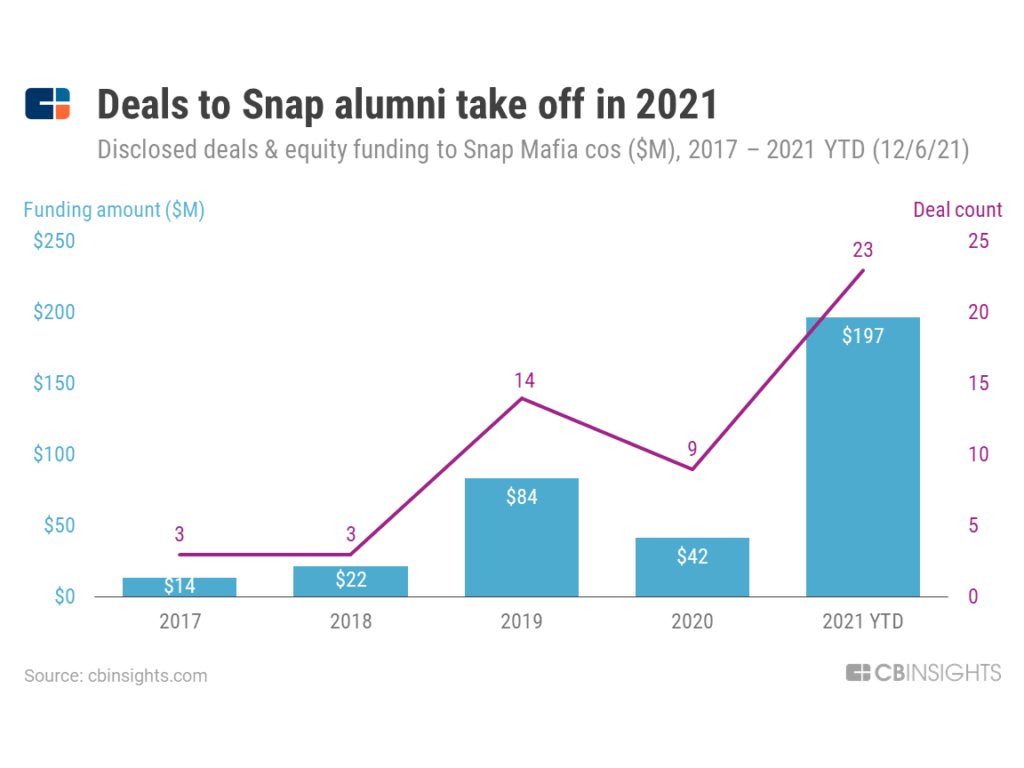 Below, we identify the top 10 early-stage companies from the Snap Mafia based on founding team strength using the CB Insights Management Mosaic algorithm.