Of the 200+ renewables companies funded in the last year, we identified 10 of the top teams using our Management Mosaic algorithm. From tidal power to green hydrogen, proven founders and teams are innovating in new sectors.
Renewables tech funding has been on a tear in recent years and is on pace to reach almost $8B in 2021. US-based solar and wind companies have typically dominated the space, but a growing portion of renewables funding is going to new technologies as well as to companies based outside of the US.
The barrage of press releases from research groups and startups promising the next great innovation in renewable energy can make it difficult to discern truth from speculation. However, the CB Insights Management Mosaic offers insight into where the industry is going.
Management Mosaic is an algorithm built by CB Insights data scientists that reduces the subjectivity inherent in assessing founding and management team quality and enables enterprises and investors to quickly identify the best startups. With Management Mosaic, we can see the sectors where proven founders and management teams are focusing their time.
We analyzed the 200+ renewables tech companies that were funded in the past year and identified 10 of the strongest teams below.
Signaling growth in new sectors, key technology or business innovations in the list include:
Tidal power
Renewable fuels
Solar subscription models
Green hydrogen
Offshore wind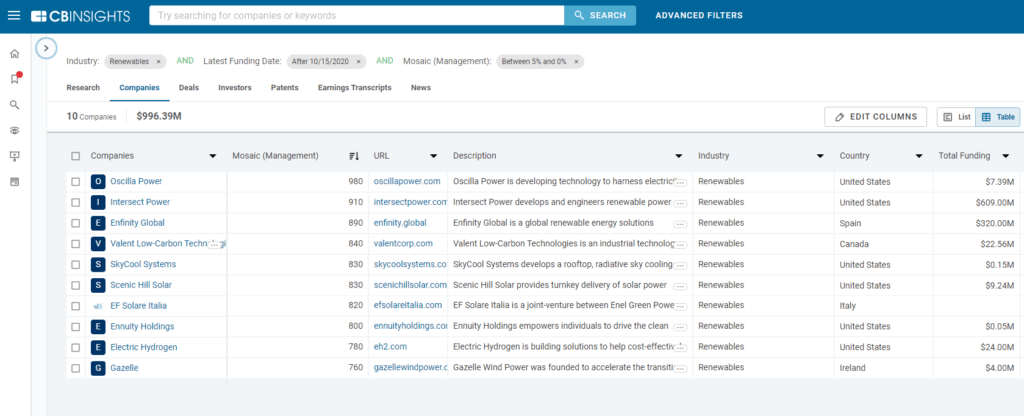 This list includes renewables tech companies that have received funding within the last 12 months (as of 10/15/21).
Management Mosaic scores are as of 11/19/21 — data is dynamic and scores on company profiles may have changed.
You can learn more about Mosaic here and in our whitepaper.