With its third acquisition in the senior-focused healthcare space, BestBuy forges ahead with its plan to bring a holistic health experience to its customers. Here are the top-line bullets you need to know.
Best Buy, a consumer electronics retailer, has acquired Current Health, a digital health company. The terms of the deal were undisclosed. The transaction is expected to be completed by the end of the current fiscal year.
WHO ARE THE PARTIES TO THE DEAL?
Current Health: UK-based Current Health is a telehealth platform that enables remote patient monitoring. The company uses biosensors, wearables, and self-reported patient data to track patient needs at home and attend to them as required. Current Health's revenue has reportedly grown over 3000% over the past year ending April 2021. The company's partners include Mount Sinai Health System, the UK National Health Service, and Geisinger Health, along with pharmaceutical companies like AstraZeneca and Amgen that deliver therapy and administer drug trials at home. The company has offices in Edinburgh and Boston.
Best Buy: Minnesota-based Best Buy is an electronics retailer operating in the US, Canada, and Mexico. The company's products include mobile phones, consumer electronics, appliances, and entertainment devices, among others. Best Buy recently acquired two senior-focused healthcare companies — GreatCall and Critical Signal Technologies. Best Buy reported revenue of $47.3B and net income of $1.8B in FY21. Same-store sales were up 9.7% over the same period. The company had about 102,000 employees globally at the end of FY21.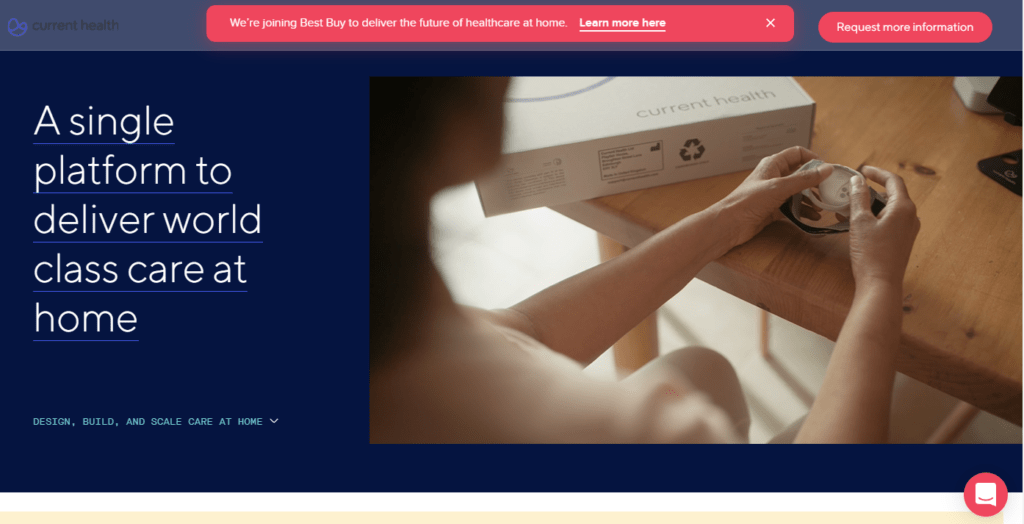 Source: Current Health
WHY DOES THE MARKET MATTER?
Best Buy wants to enhance its capabilities in the digital health space where:
The digital health market is expected to be valued at $426.8B by 2027, growing at a CAGR of 17.4%, according to Global Market Insights.
Venture funding to digital health tech startups came in at $24.7B in H1'21 across 1,194 deals, up 118% year-over-year.
The impact of Covid-19 on healthcare infrastructure has led to a relaxation in government regulations, accelerating the trend of shifting healthcare to digital platforms.
The possibilities in the digital health space have pulled investment from tech giants like Amazon and Microsoft. Microsoft announced the acquisition of Nuance Communications, a speech recognition firm, in April 2021, to develop transcription technology for doctor consultations. Meanwhile, Amazon plans to expand its virtual care services to all its employees across the US.