Airbnb alums have already created 3 unicorn startups and seen 1 company IPO. Andreessen Horowitz is the top investor in the Airbnb Mafia. We used our founder scoring algorithm to identify 10 early-stage Airbnb Mafia companies you should be tracking.
When Airbnb's co-founders were strapped for cash, they turned to a creative marketing strategy: selling election-themed cereal boxes during the 2008 US presidential election.
As the startup grew, they looked to hire similarly scrappy employees — or "cereal entrepreneurs," as they called them — according to former Airbnb director of product Jonathan Golden. "The secret to Airbnb's success was to hire for entrepreneurial skills."
Since then, former Airbnb employees — its alumni network, or "mafia" — have gone on to found 100 companies, according to CB Insights data. 
Some of the most recognizable companies include Coinbase, D2iQ, and Outschool, with founders and C-suite members like ex-Airbnb technical product manager Brian Armstrong, former Airbnb tech lead Tobi Knaup, and early lead engineer Nick Grandy, respectively.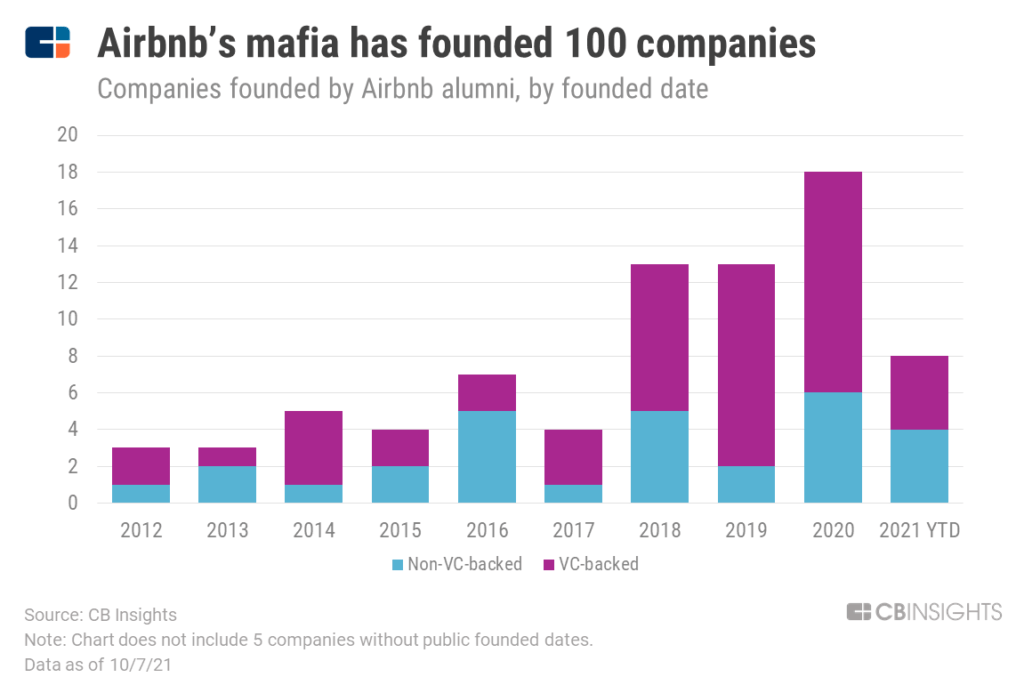 See how the Airbnb Mafia stacks up against the Uber Mafia here. 
Highlights from the Airbnb Mafia include: 
Total companies:

There are 100 companies founded by ex-Airbnb employees since 2012. These companies have raised a combined $2.5B in disclosed equity funding across 137 financings. 51 have received venture capital backing, with average total funding of $55M and median total funding of $4.5M.

Stage:

The majority of the active companies (55%) are early-stage (seed/angel and Series A).

Unicorns:

Three companies founded by Airbnb alumni have attained unicorn status: Outschool ($3B valuation), Coinbase (first joined the club at a $1.6B valuation), and

QuintoAndar

($5.1B valuation).

Exits:

Three companies (

Podz

,

Gigfairy

, and

Glow

) have been acquired, while one company — Coinbase — IPO'd at a $65.3B valuation in April 2021. 

Top VC investor:

Andreessen Horowitz (a16z) is the most active VC investor, having invested in 4 Airbnb alumni-founded companies including Coinbase, D2iQ, and

Preset

. Andreessen Horowitz also backed Airbnb itself, first investing in the company's Series B in July 2011. 

Eight investors are close behind a16z, including

Smart Money VCs

Index Ventures, Sequoia Capital, Kleiner Perkins, and Spark Capital, with 3 Airbnb Mafia companies each in their portfolios. Sequoia Capital was also one of Airbnb's earliest VC investors — the firm backed Airbnb's $0.6M seed round in April 2009 after it graduated from Y Combinator.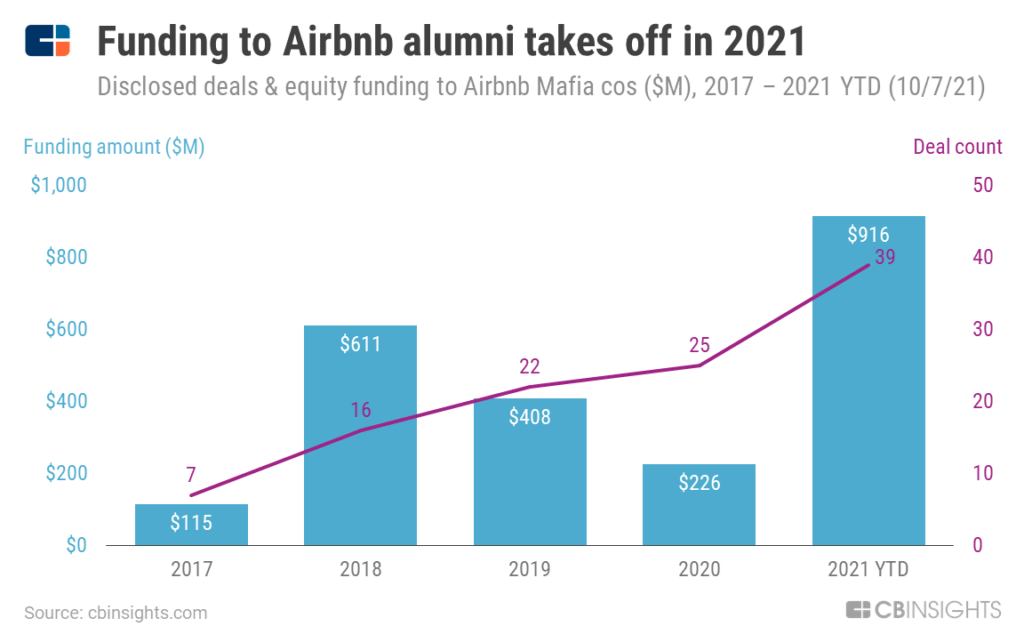 Airbnb alumni have spawned startups across a range of areas, from real estate marketplaces (e.g., QuintoAndar) to consumer goods (e.g., Bobbie) to financial services (e.g., SFOX) and more.
Below, we identify the top 10 early-stage companies from the Airbnb Mafia based on founding team strength using the CB Insights Management Mosaic algorithm.