Benchmark's legal action and PR campaign against ex Uber CEO Travis Kalanick has spurred questions about whether the VC should be avoided for not being "founder friendly."
In the wake of the hubbub surrounding venture capital firm Benchmark's decision to sue former Uber CEO Travis Kalanick for fraud, there's been some founder angst wheth they should avoid raising from Benchmark.
First, it's worth noting that while founder-venture capital disagreements happen, the nature of the Benchmark-Uber conflict is unprecedented as we discussed with Katie Benner of The New York Times.
The single biggest reason that Benchmark has become an activist investor in their fight with Uber is the size of the potential reward if they are successful. As Ben Thompson rightly points out, "Uber is not another fish. It is the catch of a lifetime."

So it only makes sense that Benchmark, with billions of dollars at stake, will do what it takes to protect its interests and maximize their ROI (and that of their LPs) on an investment of a lifetime.
Of course, suing a founder, given how uncommon it is and how publicly this is playing out, has invited questions about Benchmark and whether founders should avoid them.
This question is being asked because for the last 5 years, investors have been falling over themselves to look "founder-friendly". There has been too much money chasing startups and so VCs astutely realized that marketing themselves as founder-friendly could be a way to convince entrepreneurs to take their money in a highly competitive market where most VC differentiation is minimal.
Benchmark's moves ultimately may serve as a wake-up call that ushers in the end of the founder-friendly charade – the idea that financiers are your friends.
And so, let's get back to the question of whether you should avoid raising from Benchmark. Sure – if you go on to become Uber worth $68.5B, and expect to have a series of scandals, lawsuits and governance issues, you might want to avoid Benchmark.
Otherwise, you'd be avoiding one of the best VCs of the modern era. They've shown a history of investing in winners.
Should entrepreneurs avoid raising capital from Benchmark? 
Here are a few evidence-based reasons why Benchmark might still be worth a look:
1: Exit History Is Amazing
Here is Benchmark's exits over time from their CB Insights profile. Look at the sheer number of dots over the $1B mark. It's a lot.

They were in Snap and 13 other IPOs in the last 11 years.
2: Amazing Success With Modest Fund Sizes
What's even more impressive is they've had this level of exit success with relatively modest fund sizes. They could have raised much larger funds, but instead they've stayed focused. Here are their recent fund sizes.
There has been no creep. And they've been able to be in winner after winner without spraying & praying which is a common VC strategy.

3: Respected By Their VC Peers
In a survey of venture capital general partners, Benchmark was the 2nd most respected firm. The question posed was, "If you were an LP and had to put money into a fund, where would you put it?"
They came in #2 behind the venerable Sequoia Capital.
Think of this survey as akin to the college football coaches poll.  Even their fellow VCs put Benchmark at the top of their industry.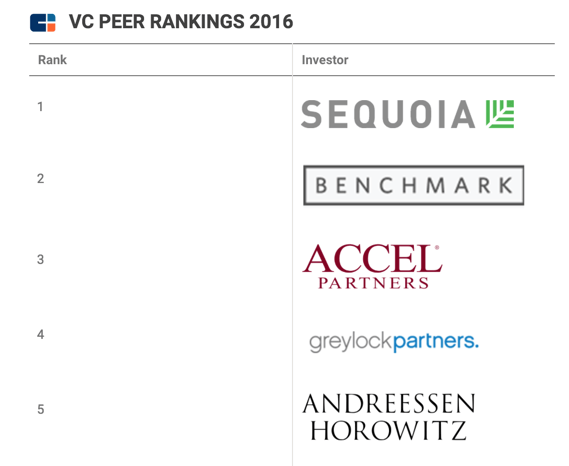 4: The Individual Partners Have Amazing Track Records
Related to the above, the individual partners at Benchmark are among the best in the biz. In a New York Times / CB Insights ranking of the top VCs, 2 of the top 10 and 3 of the top 20 partners are Benchmark partners.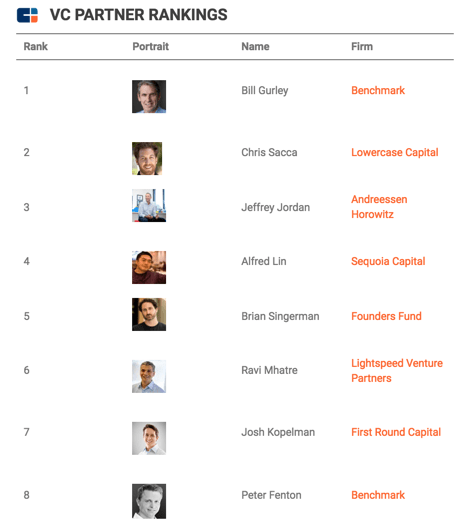 Notes / Opinions / Closing Thoughts:
The was strictly evidence-based.
We have zero connection to Benchmark.
This doesn't try to gauge marketing talk like "founder-friendly". We imagine everyone is founder-friendly until they are not.
VCs are trying to make money. They are financiers of companies. It would seem to make sense to view them as such versus as your cool, rich friends. It's business after all.
We wonder if this question was posed by a peer VC. 🙂
For a detailed overview of Benchmark, check out our Benchmark Capital Teardown.
If you aren't already a client, sign up for a free trial to learn more about our platform.