The CB Insights Digital Health 150 are among the most promising companies globally working on virtual care delivery, drug discovery, and more. We answer some of our readers' most pressing questions about the list and the direction of the sector.
From out of nearly 8,000 startups, CB Insights selected 150 winners to create the Digital Health 150, a list of the top private digital health companies that are reimagining the lines of the traditional healthcare experience.
In our recent webinar — Behind The Scenes: Trends, Insights & Startups From The Digital Health 150 — we took a look at the selection process for the annual list, and highlighted the emerging trends and technologies poised to take over the sector.
FREE DOWNLOAD: THE COMPLETE DIGITAL HEALTH 150 LIST
Get an Excel file with the entire Digital Health 150, CB Insights' annual ranking of the 150 most promising digital health startups in the world.
Below, we answer some of the webinar attendees' most pressing questions.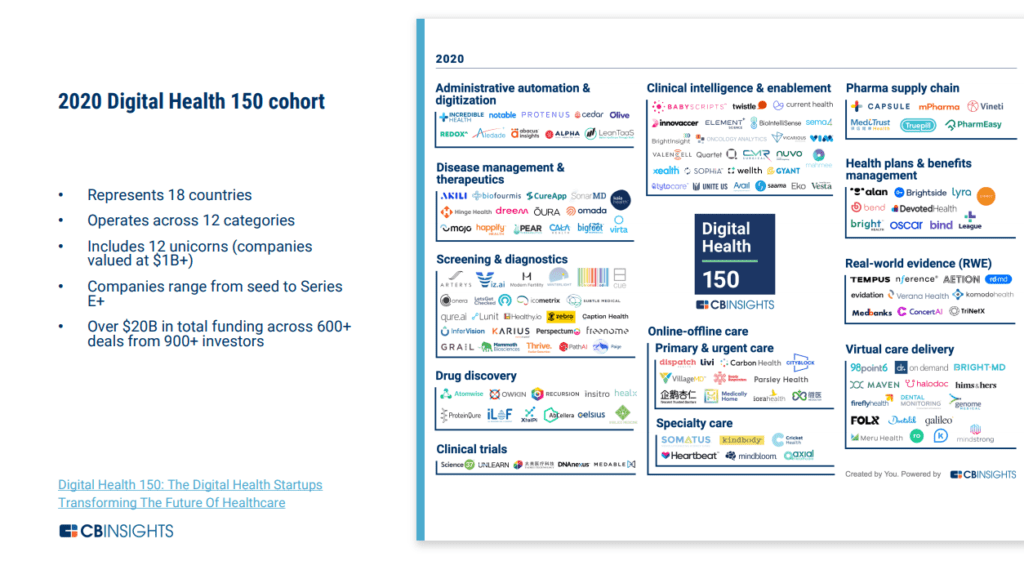 Are there any big differences in trends by geographies? 
Some of the biggest differences between markets in the US, Asia, and Europe are the result of different healthcare systems, and as such, different issues being emphasized by some of these digital health solutions. 
For instance, the US healthcare system is very unique in its model compared to other developed countries especially in terms of how much of the country's GDP is spent on managing healthcare costs. There are distinct financial incentives, cost structures, and workflows to the US market — which is why there's an increased focus on alternative health plan providers such as Bright Health, Oscar Health, and Devoted Health. 
Also, the pain points of revenue cycle management is US-specific, which is a reason why we see a number of companies operating in this space to facilitate provider, payer, and patient payments. From a general perspective, something that all regions share in common is an increase in more accessible, personalized digital health tools.
What types of artificial intelligence are companies focusing on?
The two companies mentioned in the webinar that use artificial intelligence (AI) to streamline provider workflows both use machine learning (ML). 
Olive uses ML, computer vision, and robotic process automation (RPA) to automate repetitive manual tasks in healthcare. Alpha Health refers to its AI technology as "United Automation," with the similar goal of automating tasks through its AI model that learns from initial inputs.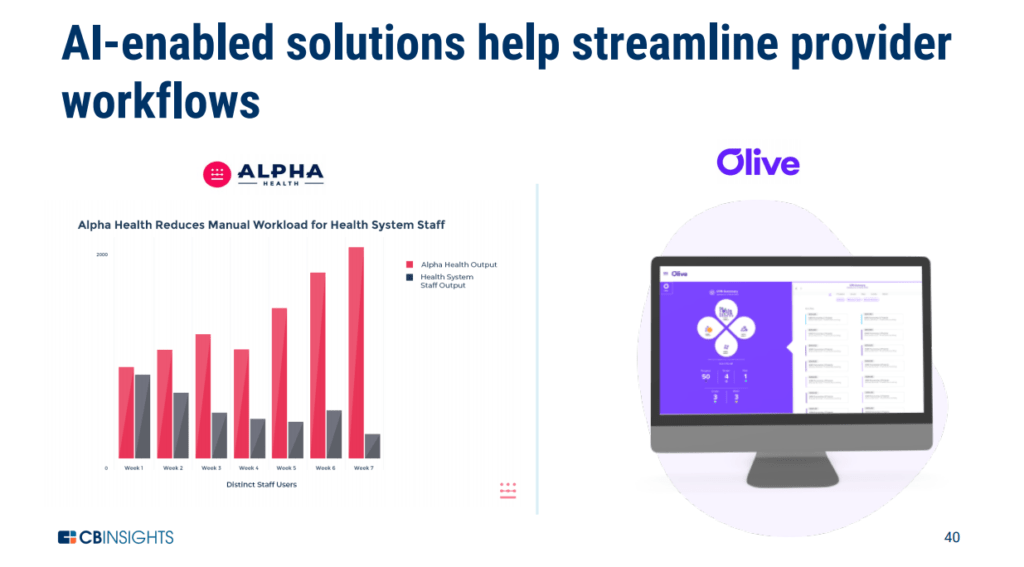 What is happening in the pharma and services space? Is pharma investing outside of drugs?
Pharma companies are investing in digital solutions outside of drug therapies and building out their respective "beyond-the-pill" strategies. These platforms are becoming more important as the traditional relationship between a pharma company and other stakeholders (e.g. providers, patients) shifts. 
For instance, patient engagement is becoming a bigger aspect of pharma companies' offerings so that in some cases, patient input is being factored into building out some of their digital products or into branding/marketing purposes. 
As more emerging categories within digital medicine demonstrate clinical evidence, areas such as digital biomarkers, diagnostics, and therapeutics stand to gain more traction from pharma players. More companies are also beginning to use digital endpoints in clinical trials, which could play a bigger role in future drug trials. 
Aside from investments, companies such as Novartis have also been active in establishing strategic partnerships to increase their digital initiatives while actively pursuing internal projects to use emerging tech such as AI to streamline its drug R&D processes.     
What other areas are emerging other than reproductive health in women's health?
Beyond reproductive health, there is interest in better understanding and managing chronic diseases in the context of women's physiology. As many landmark clinical trials in the US primarily had male participants until the early 2000s, there are fundamental gaps in the clinical data available around women's health. 
Some examples here include cardiovascular health, bone health, oncology, chronic pain, and autoimmune diseases. Having better insights into these areas could also help us understand reproductive health from a more holistic perspective.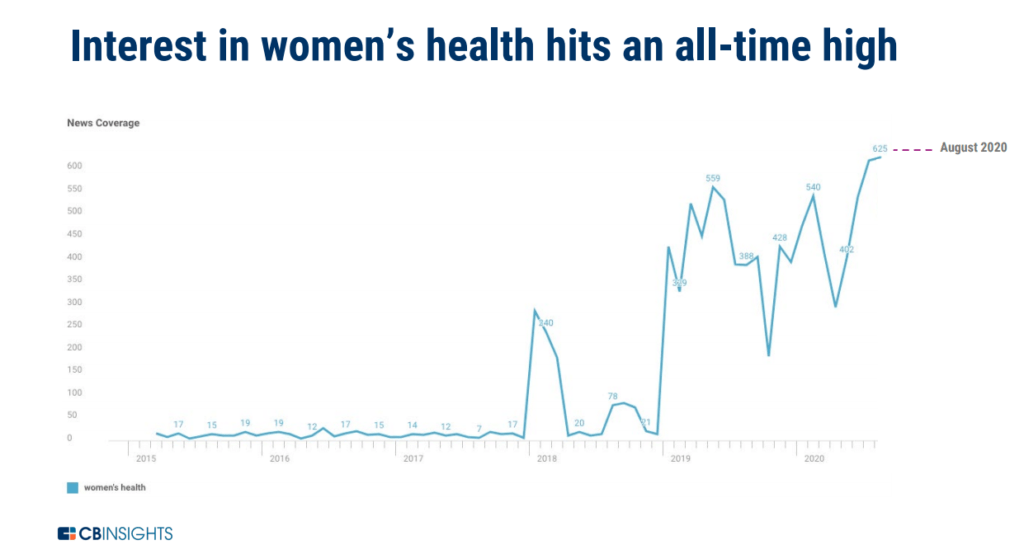 What is the most surprising, or perhaps most underappreciated, trend impacting the digital health space? Which companies stand to benefit most?
We think the most underappreciated trend is on the operational side of the healthcare industry. There are a lot of inefficient practices across different stakeholders' workflows or operations, which trickle down to impact patients' health care costs and outcomes. 
We briefly mentioned clinical trials in the webinar, and that is just one example of solving for a pain point which has persisted for so long for providers, life science players, and patients. Not to mention, it incurs an unnecessary amount of costs and time for everyone involved. 
Another one is on the administrative/financial side of provider and/or payer solutions — the companies that stand to make great impact are the ones that can replace or augment legacy systems with those that are easy to use, reduce time to complete tasks, and save organizations money. This is a challenge because the healthcare industry operates differently from others and is slower in adopting digital solutions on a broader level. 
Lastly, the manufacturing/supply chain logistics of the pharma industry is another area that seems underappreciated but could end up saving the industry money through the application of more automated/digitized solutions, especially with the expected increase in advanced therapies (e.g. cell & gene therapies) that could enter the market in the future. The work that Vineti does in this space is particularly interesting.
If you aren't already a client, sign up for a free trial to learn more about our platform.