Over the past years, craft beer has helped big brewers mitigate a decline in the US beer market. But slower growth across the segment is now forcing these giants to look beyond beer — and alcohol — for new opportunities.
Constellation Brands is betting big on cannabis.
The Corona and Modelo beer producer just announced a $4B investment in cannabis company Canopy Growth, raising its stake from just below 10% to 38%.
Earlier this year, Molson Coors acquired kombucha startup Clearly Kombucha, while Heineken launched a new initiative, Draft for Home, to deliver cold brew coffee and kombucha alongside beer.
But this should not come as a surprise.
The US beer market has faced strong headwinds over the last year, with overall beer sales dropping by 1% in 2017.
Big brewers have increasingly invested in the fast-growing craft beer category to help mitigate these declining sales.
But even craft beer isn't growing as fast as it used to.
Craft beer sales across the US grew by 5% — in volume — in 2017, according to the Brewers Association. This is a steep drop off from the 13% growth rate recorded in 2015, and an even higher 18% rise in 2014.
And big brewers are already acknowledging this trend on their earnings calls, while looking for new growth opportunities beyond beer.

Craft beer has been a major topic on big brewers' earnings calls since 2012, with a record 95 mentions during Q1'17. This includes mentions from AB InBev, Heineken, and Molson Coors, among others.
But the conversation has changed over the years.
While they were talking double digit growth and acquisitions a few years ago, big brewers are now being more cautious about the craft beer category, at least with regards to the US market.
Constellation Brands, for one, reportedly laid off numerous craft beer sales representatives in the US as it announced its $4B bet on cannabis.
"So, do the craft beer trends worry me? I would say overall, the broader beer trends are concerning to me and […] we're going to be playing outside the traditional definition of beer." —  Andy Thomas, CEO of Craft Brew Alliance
The craft beer category is still growing fast in other parts of the world, with Europe expected to grow 11% each year through 2021. The world's largest brewer AB InBev has even acquired 4 overseas craft beer brands since 2016, compared to 3 brands in the US.
what's next for big brewers?
Big brewers are already looking to expand into adjacent beverage categories, including:
Low-alcohol and no-alcohol beers
Cider brands
Kombucha startups
Cannabis-infused drinks
Heineken, for example, launched a non-alcoholic version of its beer back in 2017, while AB InBev hopes to generate 20% of its sales from low-alcohol and non-alcoholic drinks by 2025. That's up from 8% today.
In addition, some of the startups we've highlighted in our Disrupting the Happy Hour market map could become interesting acquisition targets.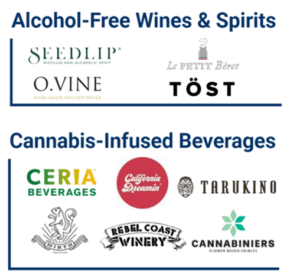 This is especially true for the ones operating in the nascent alcohol-free wines & spirits and cannabis-infused segments, although the latter still faces numerous regulatory barriers.
But it may not be enough for a $50B+ revenue company like AB InBev.
In addition to acquiring and investing in startups, the world's largest brewer might consider larger acquisitions. Top of the list could include PepsiCo as well as Coca Cola.
The Atlanta-based soft drinks giant Coca Cola launched its first ever alcoholic drink in Japan in May'18, further blurring lines between alcoholic and non-alcoholic beverage companies.
AB InBev already has a history of massive mergers — Grupo Modelo ($20.1B), SABMiller ($103B) — and could benefit from distributing soft drinks alongside beers.
Regardless of what the future holds for these beer giants, we are already witnessing a diversification beyond alcohol.
If you aren't already a client, sign up for a free trial to learn more about our platform.