Personalization is taking over the beauty and personal care space. Here are the new directions startups are taking to differentiate their business models.
Personalization is taking over the beauty and personal care industry — and the media is taking notice.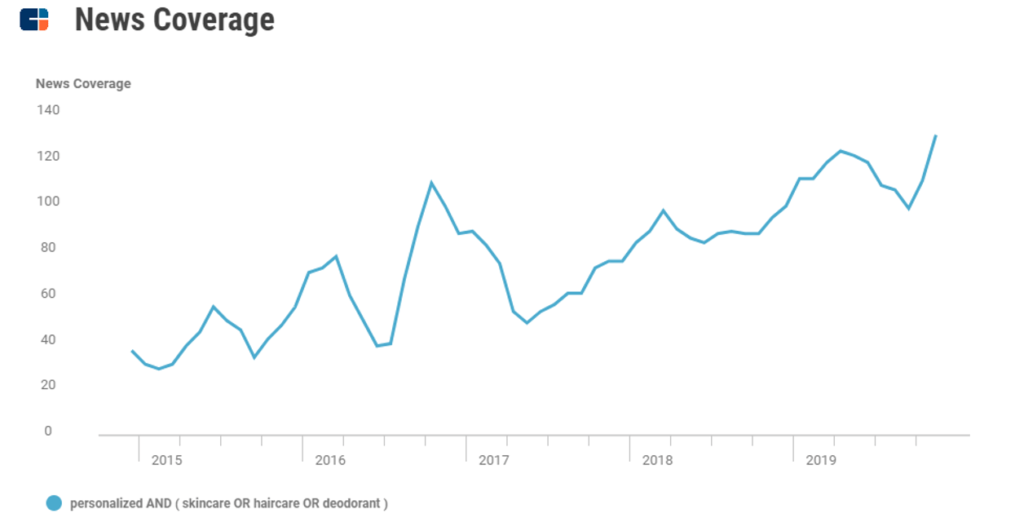 Source: CB Insights
The Association of National Advertisers (ANA) voted "personalization" as the top marketing word in 2019. "Personalization" refers to any method of tailoring a product or experience to individual consumers. It can be applied across nearly every part of the product or consumer journey.
get the free beauty trends report
Find out the 14 trends changing the face of the beauty industry, from "waterless" beauty to virtual try-ons.
Companies use technologies like AI-powered algorithms and biological testing to formulate custom products, deliver targeted messaging, and make product recommendations based on preferences. 
Pinrose, for example, uses a quiz that is based entirely on visuals, shapes, and colors to match users with a fragrance in its collection. Startup Heyday offers facials with a personalized skin analysis before each treatment by skin therapists, who also provide customized take-home regimes.
In a crowded playing field, beauty and personal care startups are looking to differentiate themselves with specific personalization strategies or add-ons.