We analyzed startups that have raised funding since 2016 to identify 15 ancient and new-age ingredients that are trending in the beauty world.
Fueled by the rise of indie and direct-to-consumer brands, beauty products are evolving to meet consumer desire for transparency and clean products. Today's consumers are more ingredient-conscious than ever and are increasingly associating beauty ingredients with health.
As consumers seek health benefits from and transparency in their beauty products, we see some beauty companies beginning to follow trends in the food world. Like food brands, beauty companies are beginning to integrate plant-based ingredients, spices that have not traditionally been used in Western markets, and more into their products. 
Using CB Insights data, we analyzed beauty startups that have raised investment since 2016 and surfaced 15 trending ingredients:
Castor oil
Jojoba
Moringa
Sea buckthorn
Quinoa
Rice
Turmeric
Caffeine
Green tea
Charcoal
Silk & keratin
Probiotics
Algae
Mushroom
Carrot
These include both new ingredient types as well as ancient ingredients (e.g., East Asian beauty ingredients) that have recently been introduced to Western markets.
Scroll down to view more detailed descriptions of these ingredients, with infographics highlighting the recently funded startups using each one. Several of these companies are using many of these ingredients across their products.
get the free beauty trends report
Find out the 14 trends changing the face of the beauty industry, from "waterless" beauty to virtual try-ons.
CASTOR OIL
Castor oil is an ancient oil rich in ricinoleic acid — a fatty acid that helps protect the skin against bacteria and viruses. With applications across food preservatives, industrial coatings, and other areas, castor oil has become a trending ingredient for haircare, makeup, and skincare products.
Investors are backing a variety of beauty startups harnessing castor oil. Kreyol Essence, which was accepted in Sephora's beauty accelerator in 2017, produces hair and bodycare products that feature Haitian black castor oil as the main ingredient. In makeup, Mented Cosmetics, which raised $1M in pre-seed funding earlier in October, uses castor oil to create moisture in its lipsticks.
Men's grooming brand Beardo and customizable skincare startup Skin Inc Global also integrate castor oil into their products. Both companies saw corporate minorities in March 2017 from Marico and Spackman Entertainment & Spackman Media respectively.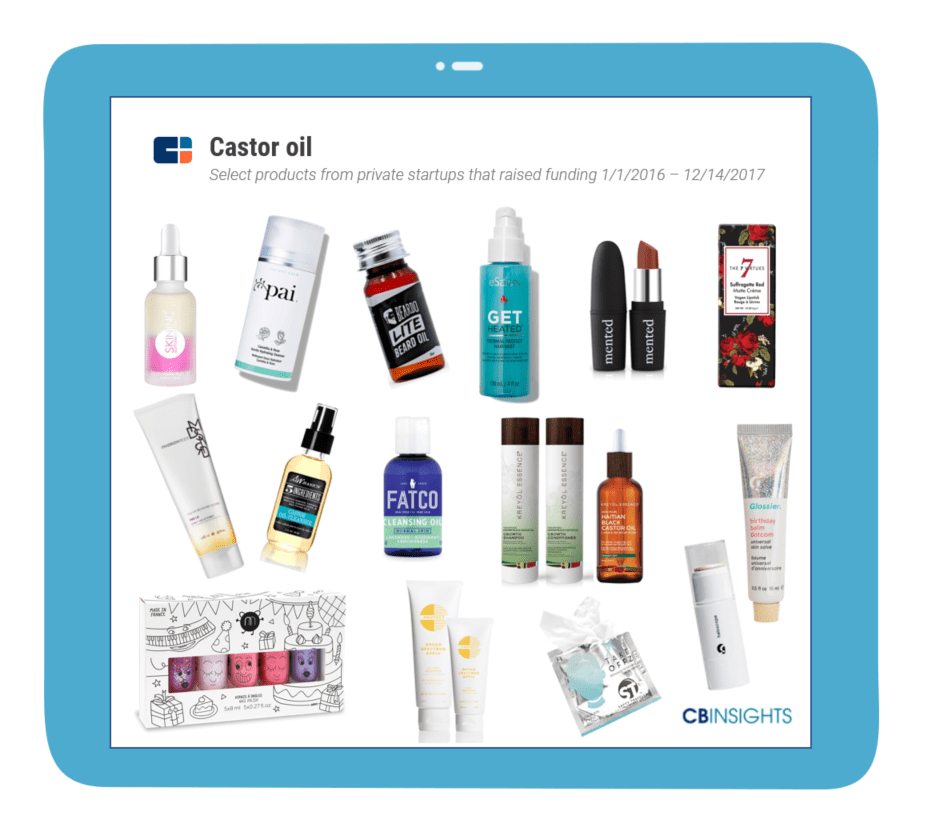 JOJOBA
Originally discovered by Native Americans, jojoba comes from the seed of the jojoba plant, which is native to Arizona, California, and Mexico. Jojoba oil, which is the liquid wax extracted from the seed, is primarily used in pharmaceuticals and cosmetics for reported moisturizing and hydrating properties. 
Jojoba has emerged across a range of skincare and haircare products. Ogee, which has raised $1.65M in disclosed equity funding, offers a jojoba-infused organic skincare line while Wander Beauty, which raised a $4.5M Series A in April, uses jojoba oil in its lipstick and lip gloss products for easy application and moisture.
Natural beauty company FATCO, which was recently accepted in Target's accelerator program (Target Takeoff), also features jojoba oil for both hair and skin products.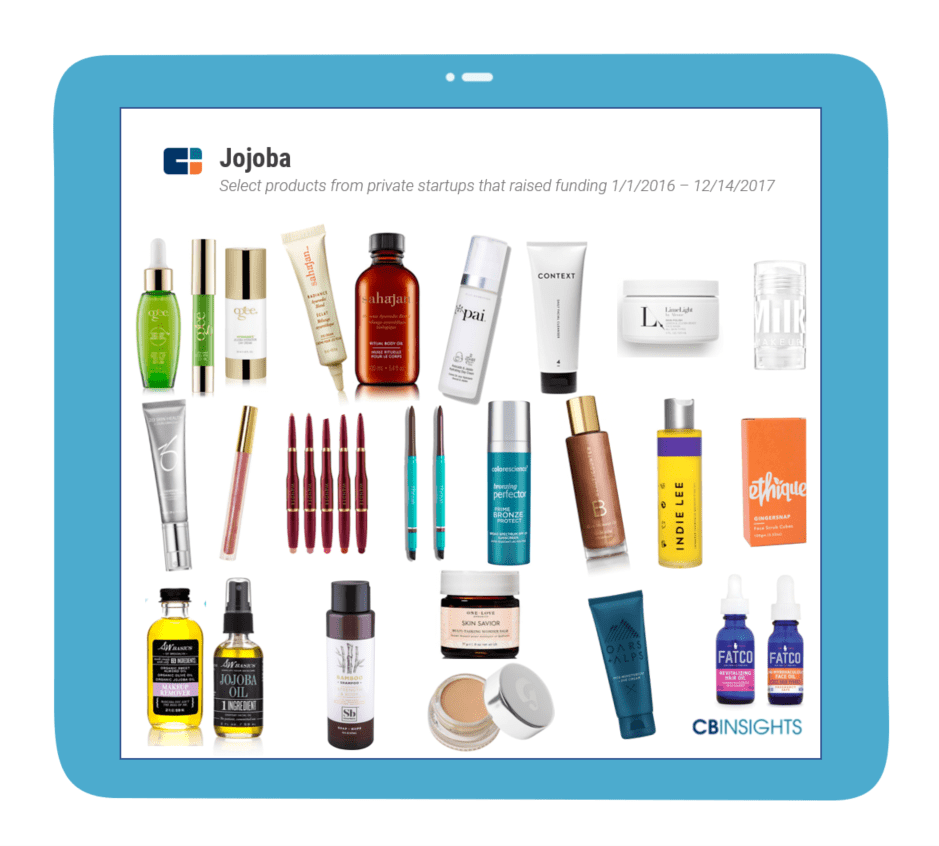 MORINGA
Moringa, an emerging ingredient in food products, is a superfood native to South Asia. Rich in antioxidants, moringa reportedly touts anti-aging benefits. HUM Nutrition, which provides beauty-enhancing vitamins and is distributed through Sephora, integrates moringa into its superfoods powder while True Moringa offers hair and skin products that feature cold-pressed moringa oil as a core ingredient. Like the aforementioned FATCO, True Moringa was recently accepted into Target's accelerator program.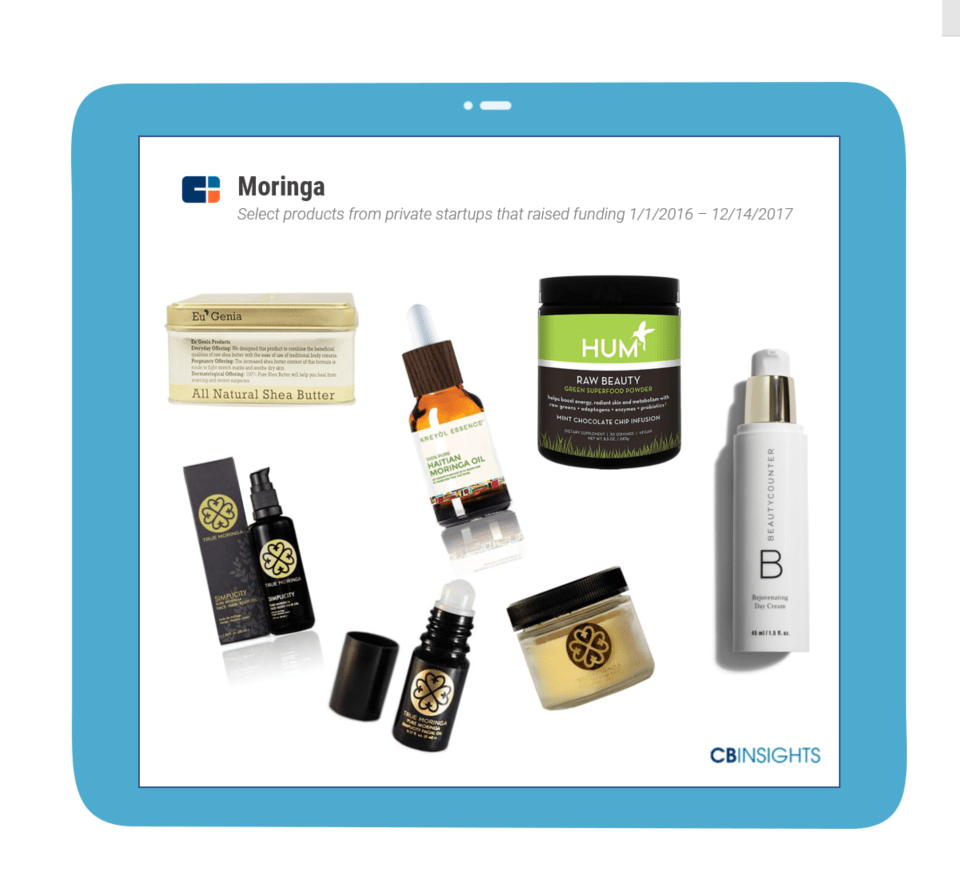 SEA BUCKTHORN
Sea buckthorn oil comes from seeds or pulp of sea buckthorn berries. Another ancient oil, sea buckthorn oil contains Vitamins A & E, fatty acids, and beta carotene. The product can be used in foods such as jellies and sauces and has rising applications in cosmetics.
Startups such as The Moms Co. and BeautyCounter offer body oils that use sea buckthorn oil while LOLI Beauty sells customizable "blend it yourself" beauty recipes with natural ingredients such as sea buckthorn juice.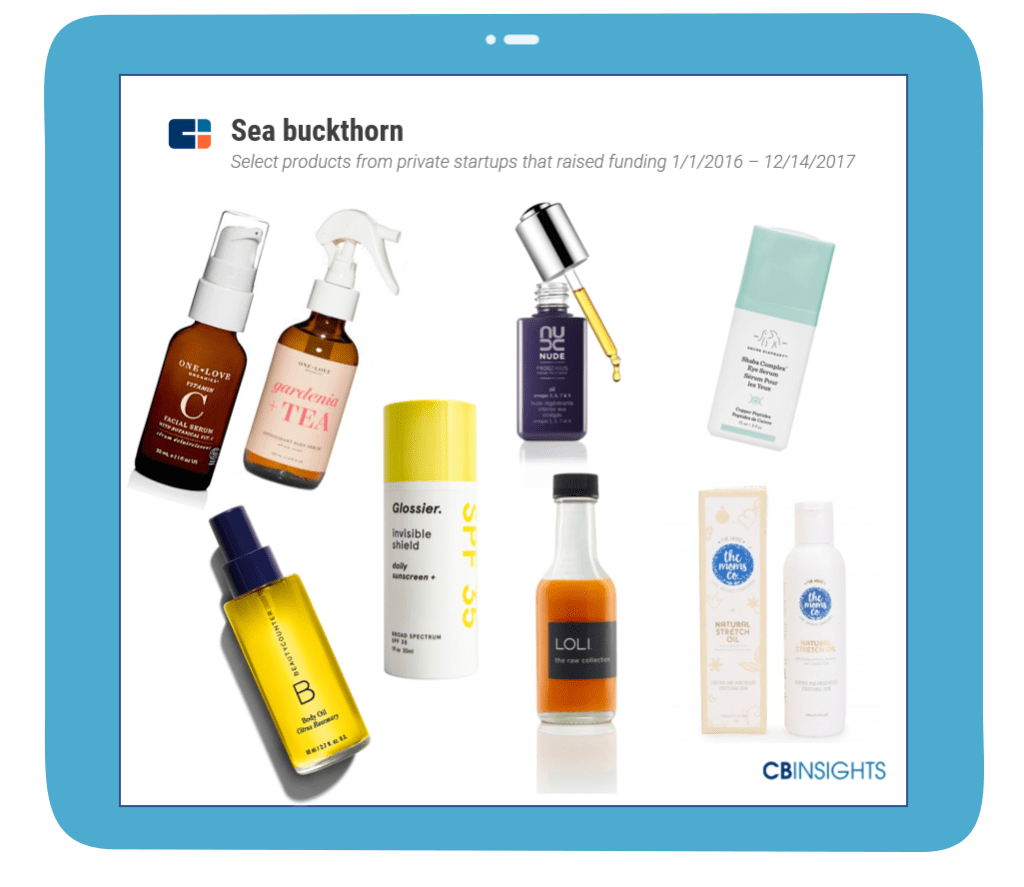 Track all the beauty startups in this brief and many more on our platform
Startups working on beauty & personal care have the potential to upend the industry. Look for Beauty & Personal Care in the Collections tab.
Track beauty and personal care startups
QUINOA
Besides its nutritional value as a complete, plant-based protein, quinoa touts beauty benefits for skin and hair. Hydrolyzed quinoa, a quinoa extract, can reportedly strengthen, repair, and protect hair. It can be found in shampoos and conditioners including in those of personalized shampoo provider Function of Beauty, DIY hair coloring company eSalon, and others.
Natural cosmetics producer Pacifica Beauty, which raised a private equity round from Alliance Consumer Growth in 2016, has used quinoa seed extract.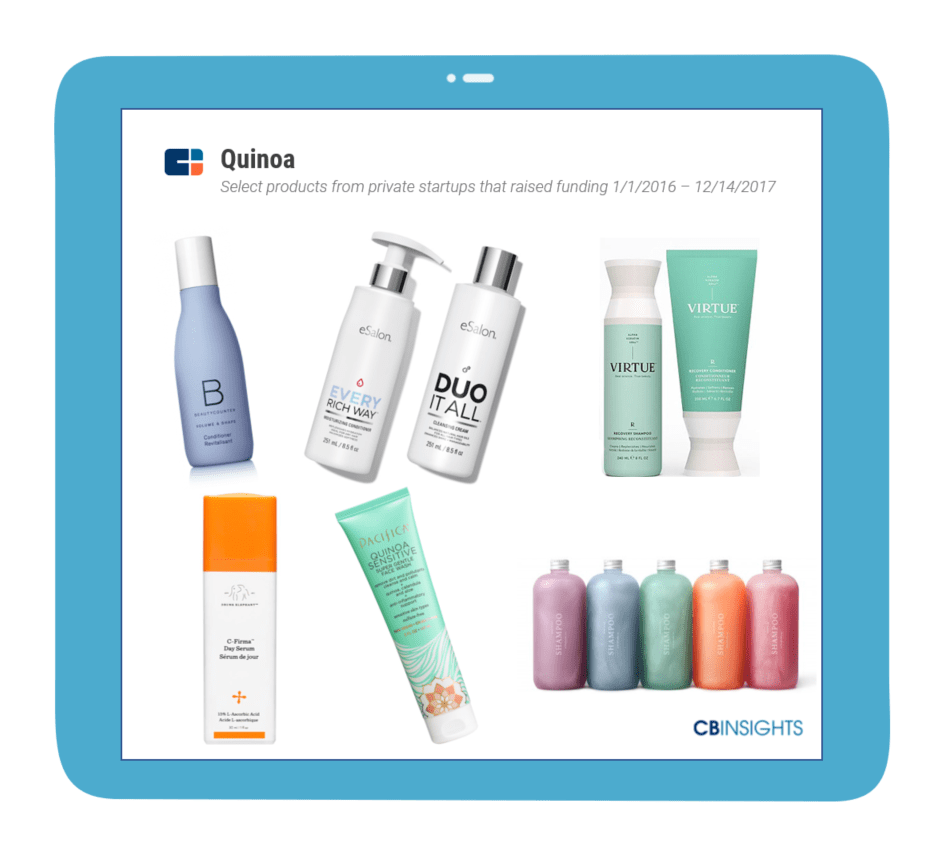 RICE
Rice and its derivatives have served as a powerful East Asian beauty ingredient for centuries due to their natural antioxidants. Among many benefits, many believe it has anti-aging, brightening, and conditioning properties. 
Rice has been emerging across Western beauty products. In skincare, luxury beauty brand Tatcha, which provides a skincare line inspired by traditional Japanese beauty rituals, offers several exfoliating products that feature rice enzyme powder as a key ingredient. Both smart money-backed cult beauty brand Glossier and organic skincare line One Love Organics, which was accepted in Sephora's accelerator program in 2016, use rice extracts in certain products.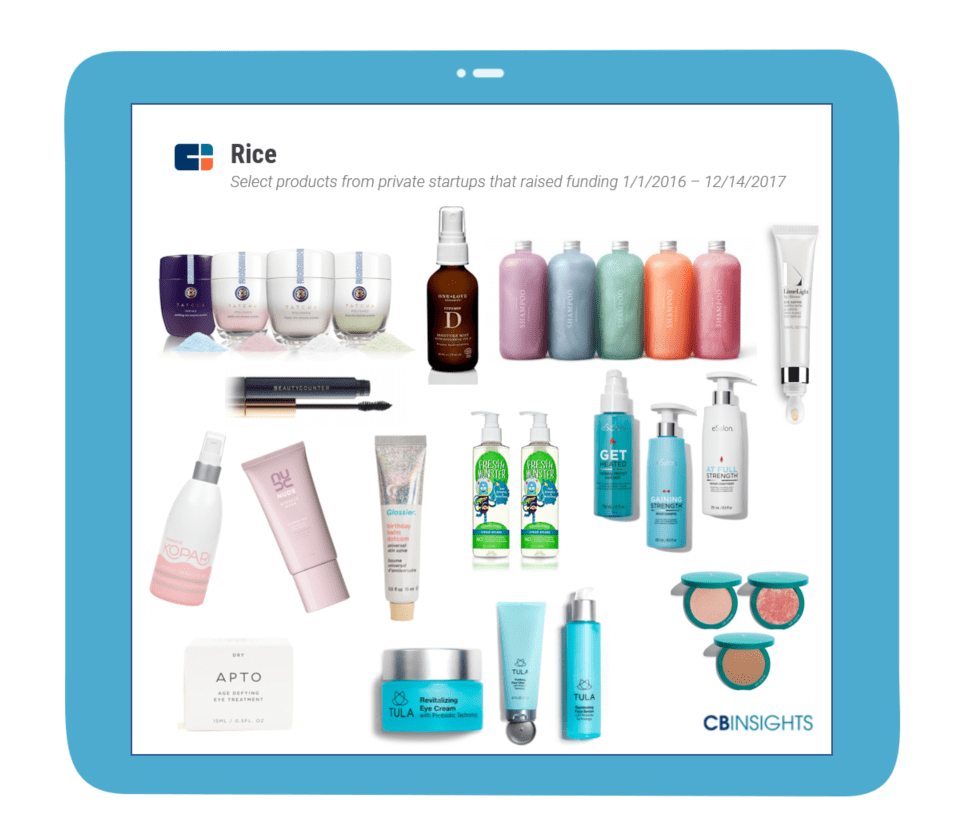 TURMERIC
Similar to the East Asian use of rice, turmeric, which is traditionally found in Indian cuisine, offers reported beauty benefits. Curcurmin, the antioxidant extract found in turmeric, has anti-inflammatory properties.
Startups are introducing turmeric to Western shoppers in both topical products — such as facial masks and lotions by Apto Skincare (skincare line of on-demand facials provider the Ritualist) — as well as through oral supplements offered by the aforementioned HUM Nutrition, and hair-growth supplements producer Nutrafol — which raised a Series A round from Unilever Ventures and CircleUp in May 2017.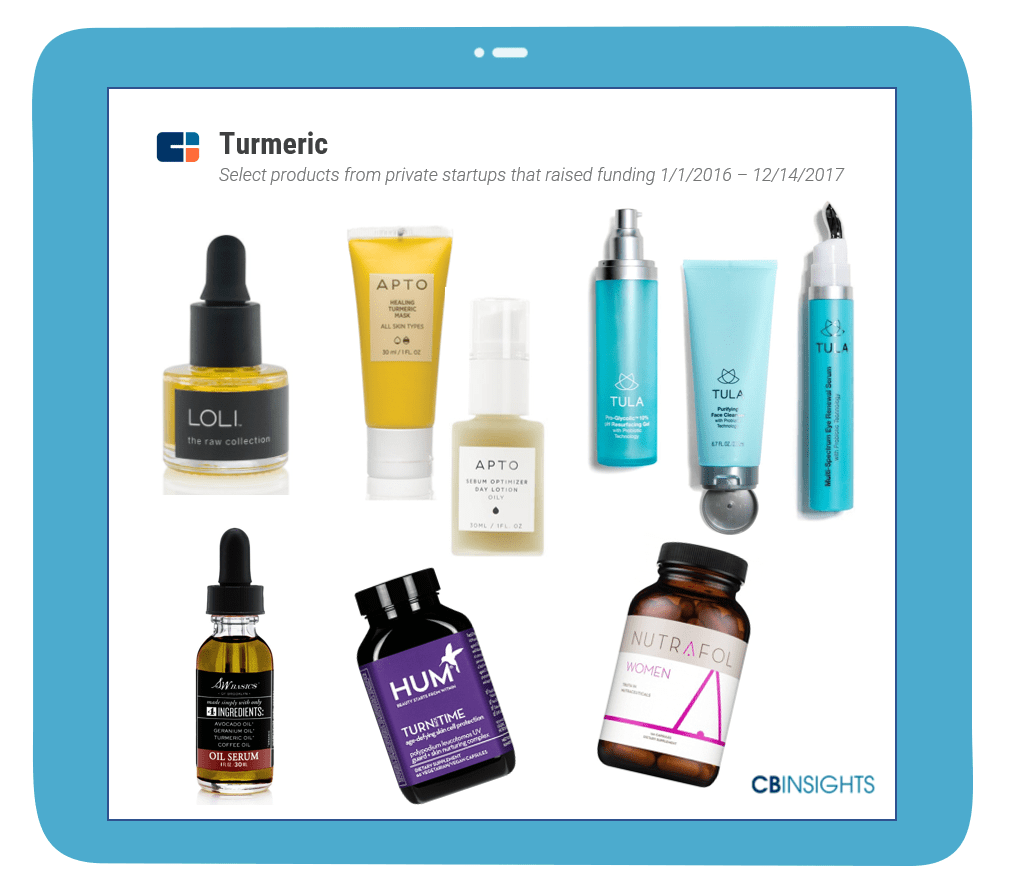 CAFFEINE
Caffeine can provide utility to consumers beyond a cup of joe. The stimulant touts antioxidants and anti-inflammatory properties that are primarily used in age-delaying products.
India-based MCaffeine, which has raised $300K in angel funding, produces caffeine-infused beauty products including shampoos, conditioners, face washes, and lotions. The Ordinary, a Deciem brand known for hyper transparency and science-backed ingredients, features a high-caffeine solution for eye puffiness. Earlier in June, Estee Lauder took a corporate minority in Deciem, which just launched the Ordinary line in Sephora in December 2017.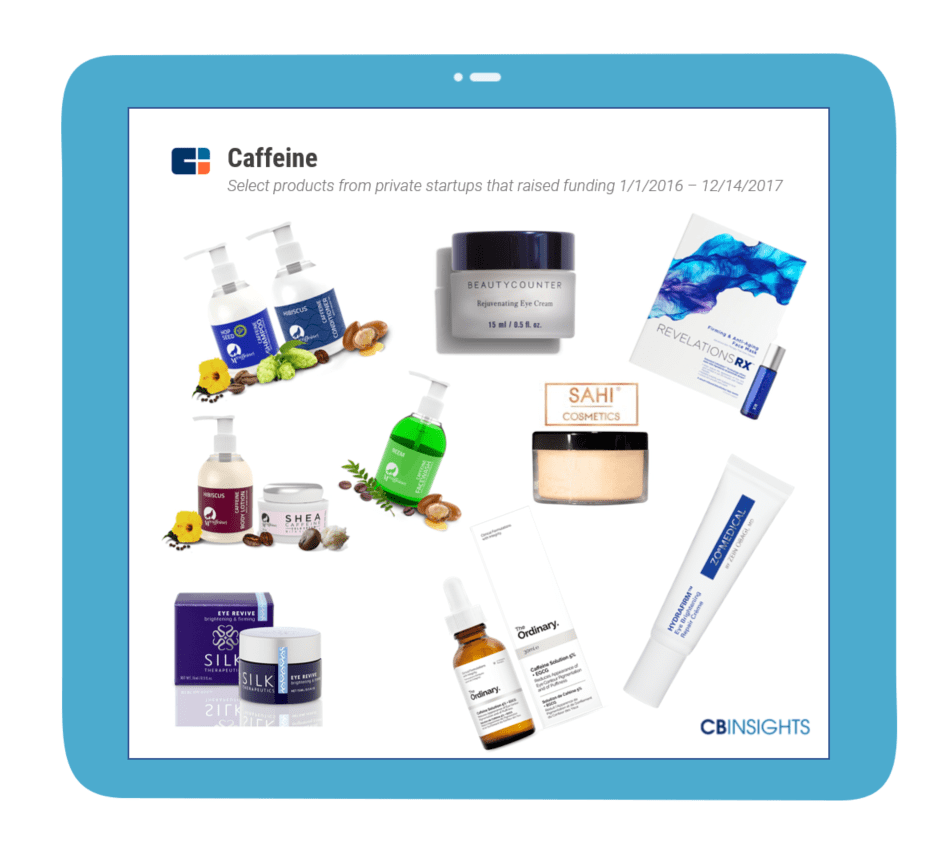 GREEN TEA
Green tea, which originated in China, has served as an Eastern beauty remedy for generations due to reported detoxifying and anti-aging benefits.
Many startups are integrating green tea as an ingredient in clean beauty products. For example, Milk Makeup, which saw a private equity round in January 2017, uses matcha — a powdered form of green tea — in a few of its skincare products, while cruelty-free luxury skincare brand Drunk Elephant, which has raised over $8M in private equity funding, incorporates green tea into an eye cream product for its nourishing benefits.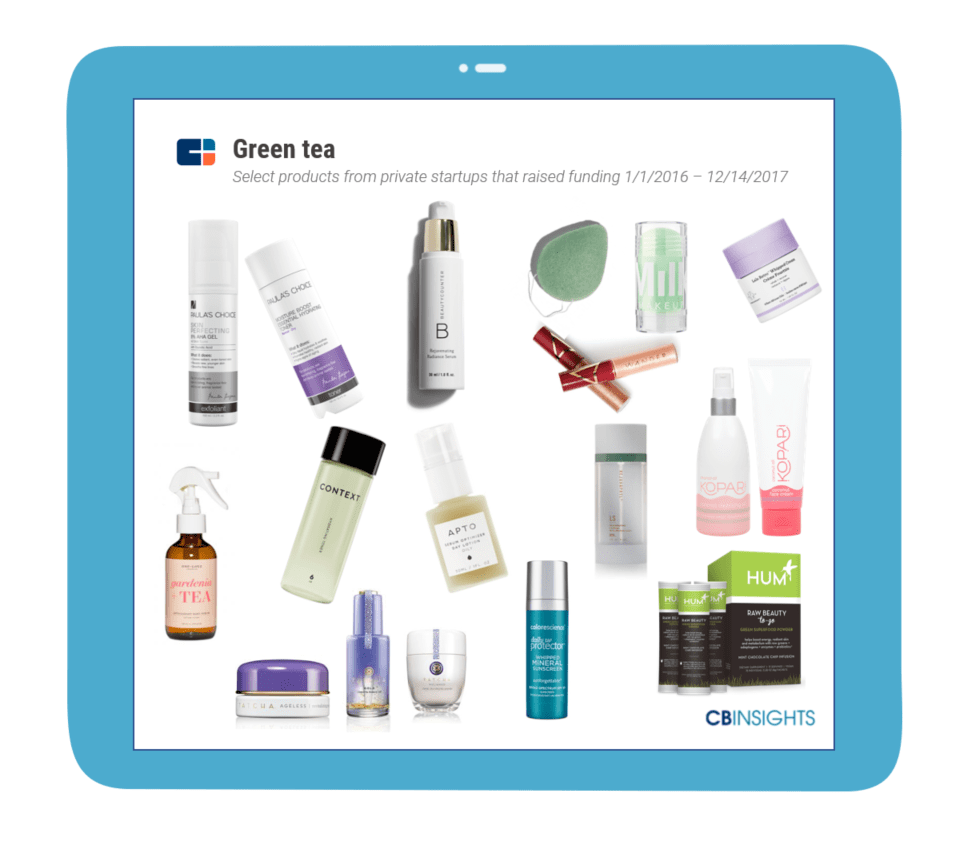 CHARCOAL
Charcoal has been used in medicine, cooking, and other industries for centuries and has recently been upping its presence in the beauty industry due to reported abilities to absorb toxins and pollutants.
Startups such as BeautyCounter offer charcoal bars and masks while PiperWai (which also participated in Target's 2017 inaugural incubator) integrates charcoal into its natural deodorant line due to its absorbent properties.
With makeup giant MAC Cosmetics having recently launched a charcoal-based skincare line, we could begin to see corporates further betting on charcoal as a staple beauty ingredient.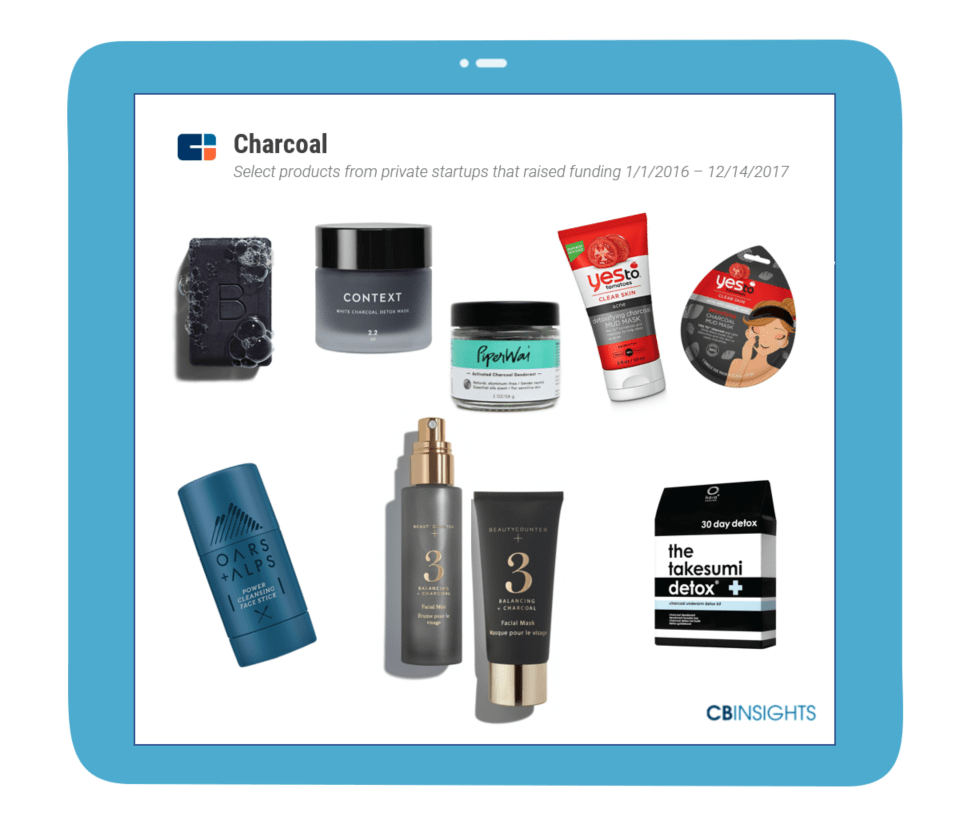 SILK & KERATIN
Beyond luxury garments, silk has increasing applicability in the beauty industry. Rich in amino acids, silk protein can serve as a strengthening ingredient that creates elasticity and shine. Silk biomaterials company Silk Therapeutics has raised nearly $23M for its proprietary liquid silk that serves as an active ingredient in its skincare line.
Keratin is another protein that can be found in human hair, skin, and nails to prevent breakage. Virtue Labs, which raised a $15M Series A in August 2017, provides a haircare line based on its proprietary Alpha Keratin 60ku that was developed through regenerative medicine. eSalon integrates both silk and keratin across its haircare products.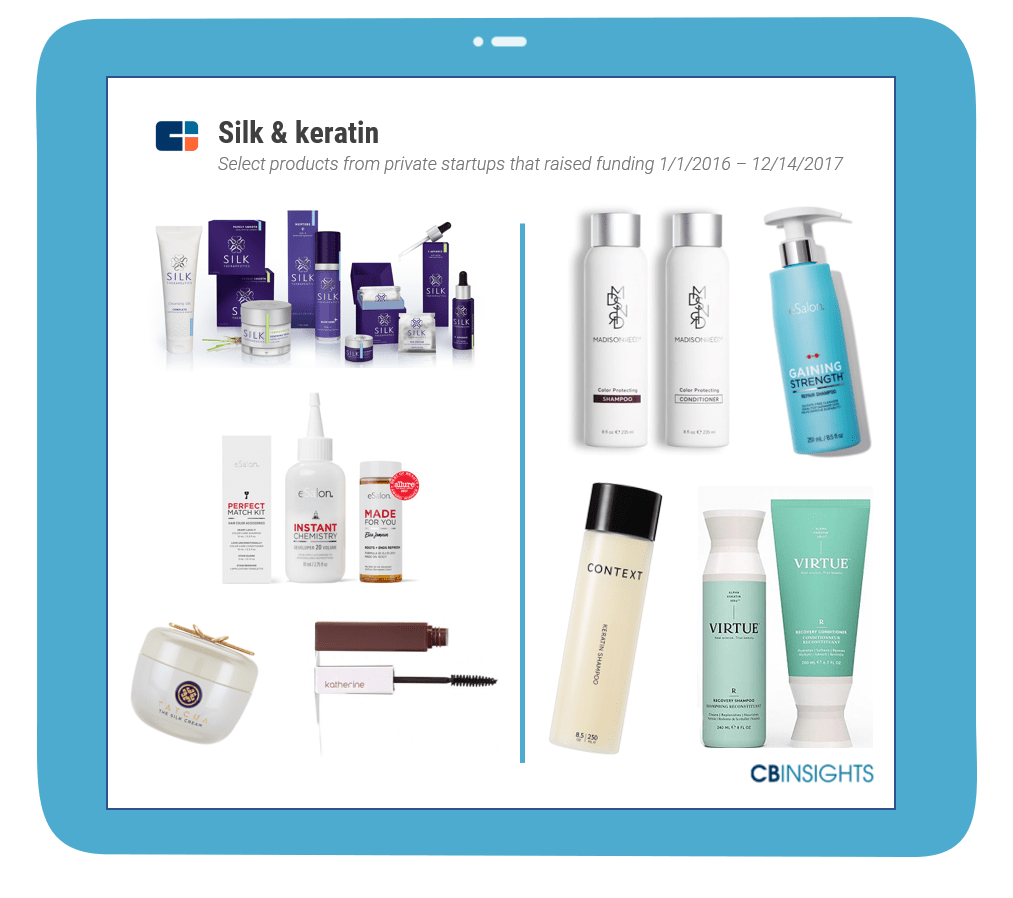 PROBIOTICS
Probiotics, which are live microorganisms that positively affect digestive health, support the philosophy that beauty begins from within. With the increasing tie between better-for-you foods and cosmetics, probiotics are becoming a trending ingredient in beauty products due to gut benefits which can reportedly reduce inflammation and create glowing skin. 
Probiotics are being used both topically and orally. Probiotic-based skincare line TULA attracted $8.5M in a Series A round earlier in February from L Catterton while HUM Nutrition offers a probiotic in its assortment of supplements.
Even corporates are researching more into this area. Johnson & Johnson is partnering with probiotic-based skincare startups while L'Oreal has been conducting R&D on probiotic skincare. And on the M&A side, Procter & Gamble recently acquired natural deodorant brand Native (not pictured), which incorporates probiotics to deter body odour.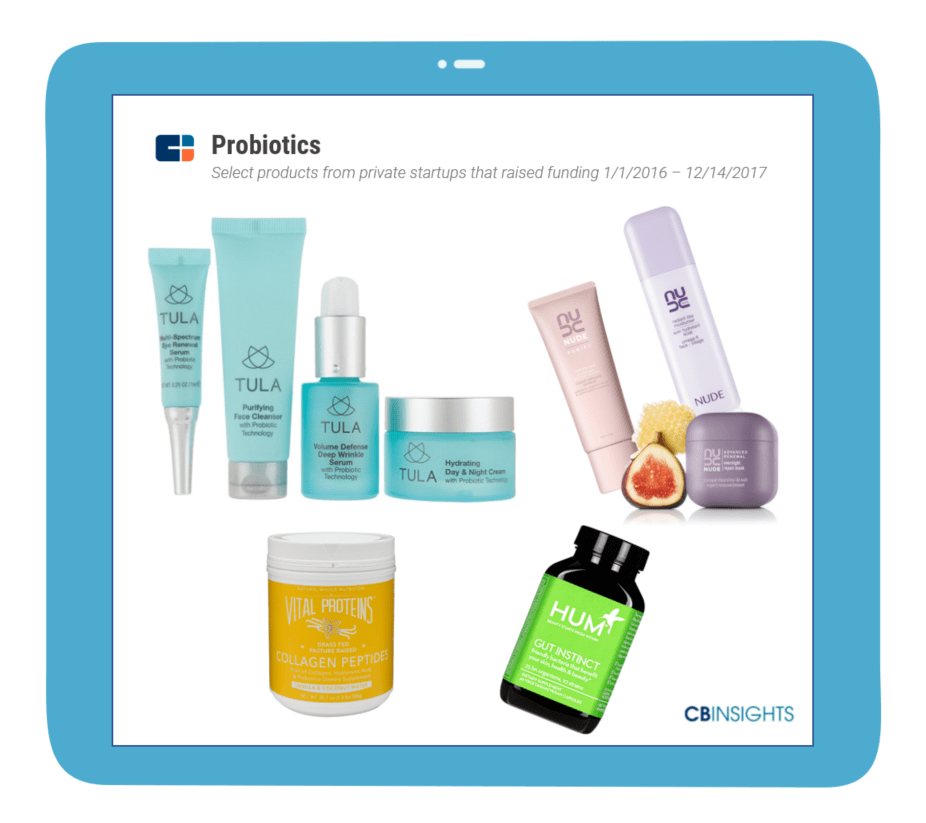 ALGAE
Outside of the ocean, algae, seaweed, and other derivatives are emerging across both food and beauty products. Many believe that algae and microalgae extracts provide intense hydration, antioxidants, and other benefits which make them attractive for beauty products.
Algae is a featured ingredient across multiple products for certain brands. For example, Restorsea's Vibransea complex (which is anchored by an enzyme from salmon eggs) also contains brown algae for skin elasticity. Another line, Microphyt, has developed a microalgae-based skincare line of anti-aging creams and moisturizers.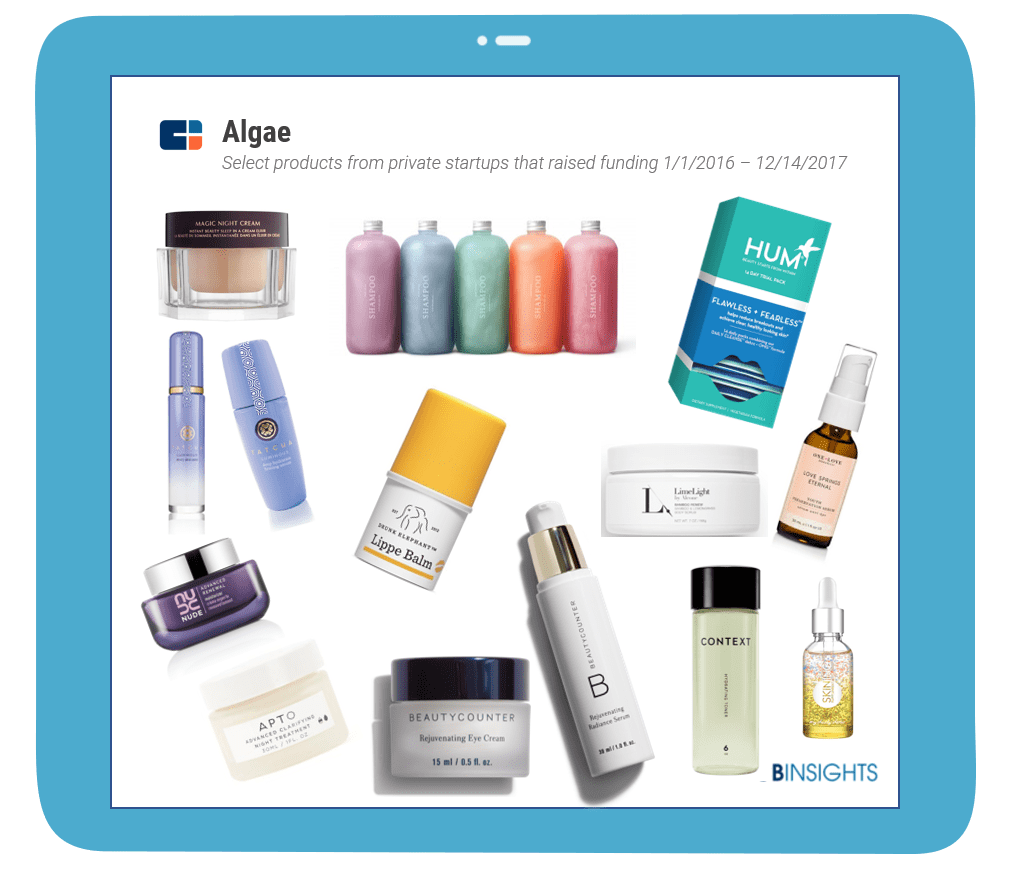 MUSHROOM
Fungi-powered beauty is trending. Startups are capitalizing on mushrooms' reported beauty benefits (based on their vitamin and antioxidant content). Charlotte Tilbury Beauty, which received funding from smart money VC firm Sequoia Capital in April 2017, uses mushroom extract in a makeup foundation that claims to enhance skin firmness and moisture, while Glossier uses mushroom extract in its moisturizer.
Aforementioned Restorsea and Limelight by Alcone (which saw a corporate minority from natural cosmetics giant L'Occitane in May 2017) both integrate songyi mushroom extracts in their products for anti-aging benefits.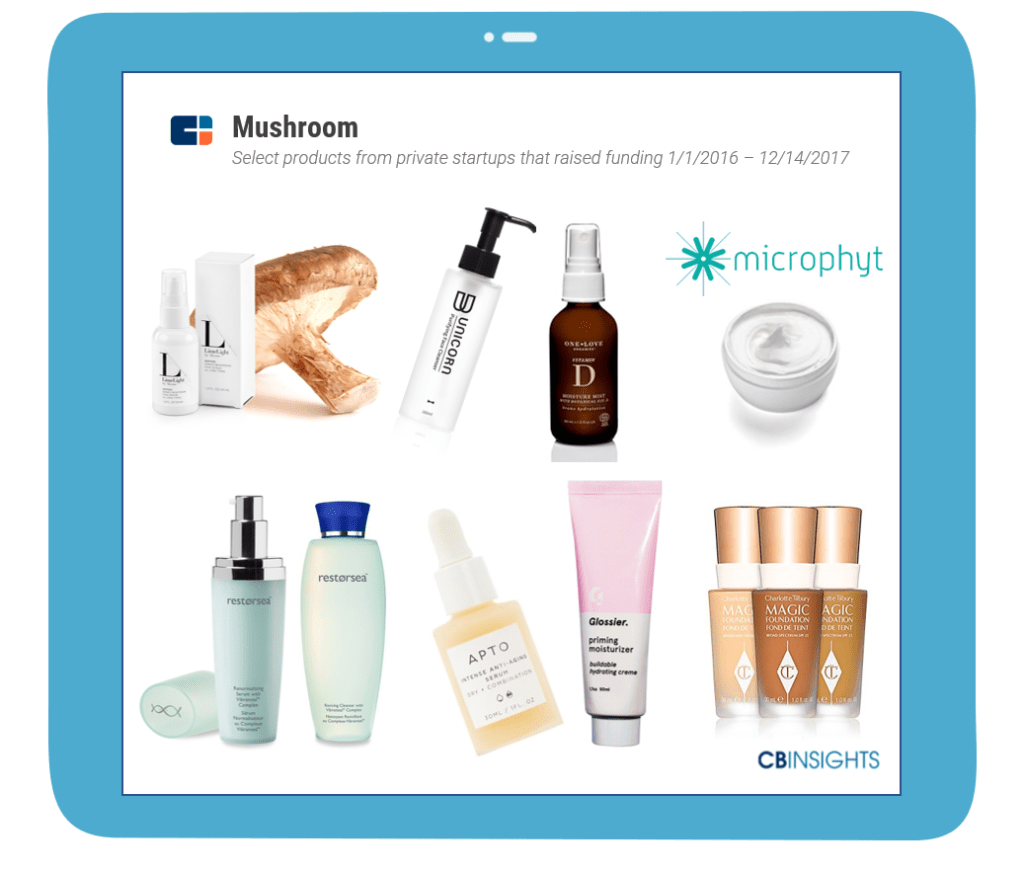 CARROT
Beauty startups are bringing carrots outside of the kitchen. Carrots contain antioxidants, beta-carotene, and Vitamin C, which many believe can provide anti-aging and brightening benefits.
Natural beauty line Yes To, which has raised $74M from Viking Global Investors and other investors, provides a carrot-based beauty line, among other plant-based ingredients, and sells both online and in Walgreens, Target, Walmart, and other stores. Another Sephora Accelerate participant, Thrive Causemetics uses both carrot root extract and carrot seed oil in its lipsticks to help firm and restore suppleness.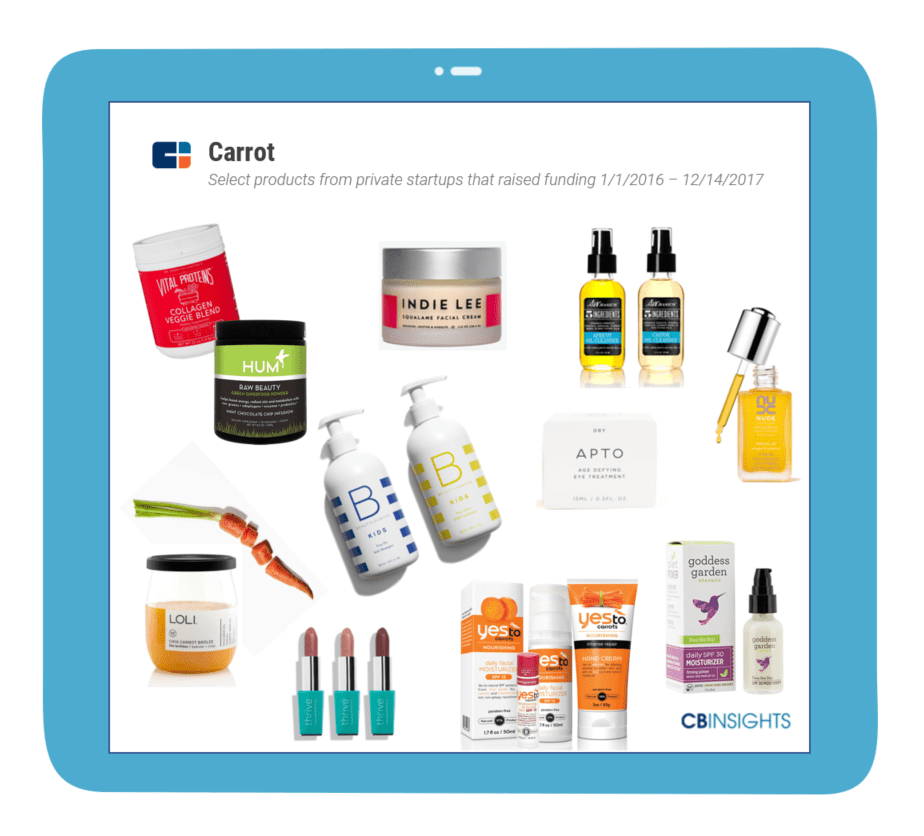 | Company | Select Ingredients | Total Funding | Select Investors |
| --- | --- | --- | --- |
| Beardo | Castor Oil | $0.5M | Marico, Venture Catalysts |
| BeautyCounter | Castor Oil, Jojoba, Moringa, Quinoa, Rice, Caffeine, Green Tea, Charcoal, Algae, Carrot, Sea Buckthorn | $41.89M | TomorrowVentures, TPG Growth |
| Charlotte Tilbury Beauty | Algae, Mushroom | N/A | Samos Investments, Sequoia Capital, Venrex Investment Management |
| Colorescience | Jojoba, Green Tea | $67.74M | Bridge Capital Holdings, SkinMedica, VMG Partners |
| Context | Algae, Jojoba, Charcoal, Green Tea, Silk & Keratin | N/A | Volta Global |
| Deciem | Caffeine | N/A | Estee Lauder Companies |
| Drunk Elephant | Algae, Green Tea, Quinoa, Sea Buckthorn | $8.33M | Leandra Medine, VMG Partners |
| eSalon | Castor Oil, Quinoa, Rice, Silk & Keratin | $22.28M | AvTech Ventures, Encore Venture Partners, Smart Technology Ventures |
| Ethique | Jojoba | $0.36M | PledgeMe |
| Eu'Genia Shea | Moringa | N/A | Sephora Accelerate |
| FATCO | Castor Oil, Jojoba | N/A | Target Takeoff |
| Fresh Monster | Rice | $0.67M | Telluride Venture Accelerator |
| Function of Beauty | Algae, Quinoa, Rice | $9.62M | GGV Capital, Y Combinator |
| Glossier | Castor Oil, Jojoba, Mushroom, Rice, Sea Buckthorn | $35.4M | Index Ventures, Lerer Hippeau Ventures, Thrive Capital, TOMS Capital |
| Goddess Garden | Carrot | $4M | Renewal Funds |
| HUM Nutrition | Algae, Carrot, Green Tea, Moringa, Probiotics, Turmeric | $7.5M | CircleUp Growth Partners, Imaginary Ventures, Strand Equity Partners |
| Indie Lee & Co. | Carrot, Jojoba | $3.7M | Winona Capital Management |
| Kaia Naturals | Charcoal | N/A | Sephora Accelerate |
| Katherine Cosmetics | Silk & Keratin | $3.26M | N/A |
| Kopari (Koco Life) | Green Tea, Rice | $13.55M | L Catterton, Mila Kunis, Ashton Kutcher, Hilary Duff |
| Kreyol Essence | Castor Oil, Moringa | N/A | Sephora Accelerate |
| Limelight by Alcone | Algae, Jojoba, Mushroom, Rice, | N/A | L'Occitane |
| LOLI Beauty | Carrot, Turmeric, Sea Buckthorn | $0.61M | Grand Central Tech, Project Entrepreneur |
| Madison Reed | Castor Oil, Silk & Keratin | $70M | First Round Capital, Maveron, True Ventures |
| MCaffeine | Caffeine | N/A | Harminder Sahni, Kaushal Aggarwal, Krishna Mehra |
| MDRejuvena | Green Tea | $9.22M | Oxford Finance, N/A |
| Mented Cosmetics | Castor Oil | $1M | BBG Ventures, iSeed Ventures, Outbound Ventures, Target Takeoff |
| Microphyt | Mushroom | $2.76M | CEA Investissement, Horizon 2020, Sofimac Partners |
| Milk Makeup | Green Tea, Jojoba | N/A | Main Post Partners |
| Nailmatic | Castor Oil | $2.34M | Odyssee Venture |
| NUDE Skincare | Carrot, Probiotics, Rice, Sea Buckthorn | N/A | BeautyCounter (Acquired) |
| Nutrafol | Turmeric | $1.33M | CircleUp, Unilever Ventures |
| Nuvesse Skin Therapies | Caffeine | $54.68M | Advanced Technology Ventures, Delphi Ventures, Flybridge Capital Partners |
| Oars + Alps | Jojoba, Charcoal | $1.3M | Breakout Capital |
| Ogee | Jojoba | $1.65M | FreshTracks Capital, N/A |
| One Love Organics | Jojoba, Rice, Green Tea, Algae, Mushroom, Sea Buckthorn | N/A | Sephora Accelerate |
| Pacifica Beauty | Quinoa | N/A | Alliance Consumer Growth |
| Pai Skincare | Castor Oil, Jojoba | N/A | N/A |
| Paula's Choice | Green Tea | N/A | Bertram Capital Management, TA Associates |
| PiperWai | Charcoal | N/A | Target Takeoff |
| Restorsea | Mushroom | $57.03M | LMN VC |
| Sahajan | Jojoba | N/A | Sephora Accelerate |
| SAHI Cosmetics | Caffeine | N/A | Rise of the Rest, Zell Founders Fund |
| Savvy Travelers | Castor Oil, | $0.5M | N/A |
| Silk Therapeutics | Caffeine, Silk & Keratin | $22.58M | Highland Consumer Partners, Prism VentureWorks, Sheri Disney, The Kraft Group |
| Skin Inc Global | Castor Oil, Algae | N/A | Spackman Entertainment Group, Spackman Media Group |
| SoapBox Soaps | Jojoba | $7.78M | N/A |
| Sprout A Revolution (SW Basics) | Castor Oil, Turmeric, Carrot | $1.12M | N/A |
| Tatcha | Rice, Silk & Keratin, Algae | $21.27M | Castanea Partners |
| The 7 Virtues | Castor Oil, Silk & Keratin | N/A | Sephora Accelerate |
| The Moms Co. | Sea Buckthorn | $1M | DSG Consumer Partners, Saama Capital |
| The Ritualist | Rice, Turmeric, Green Tea, Algae, Mushroom, Carrot | N/A | JAB Holding Company, Roger Planes, Sephora Accelerate |
| Thrive Causemetics | Jojoba, Carrot | $0.27M | Sephora Accelerate |
| True Moringa | Moringa | N/A | Target Takeoff |
| TULA | Rice, Turmeric, Probiotics | $8.46M | Great Oaks Venture Capital, L Catterton |
| UNICORN | Mushroom | $0.15M | 500 Accelerator, AppWorks Ventures |
| Virtue Labs | Quinoa | $15.33M | HighCape Partners, N/A |
| Vital Proteins | Carrot | $19M | CAVU Venture Partners |
| Wander Beauty | Jojoba, Green Tea | $4.48M | DGNL Ventures, Maveron, The Pritzker Group |
| Winky Lux | Jojoba | $2M | BBG Ventures, Female Founders Fund, GGV Capital |
| Yes To | Charcoal | $73.48M | Bridge Capital Holdings, San Francisco Equity Partners, Viking Global Investors |
| ZO Skin Health | Caffeine, Jojoba | $6M | N/A |
If you aren't already a client, sign up for a free trial to learn more about our platform.