Our timeline visualizes beauty and personal care company exits valued at $1B+ at acquisition or IPO, from Meitu's $4.9B public offering to Johnson & Johnson's massive purchase of haircare company Vogue International.
From makeup to haircare to plastic surgery marketplaces, companies in the beauty space are increasingly attracting investor attention. In 2018, beauty & personal care startups raised a record $1.8B (up 127% year-over-year) across nearly 200 deals.
Beyond investment, beauty & personal care startups are also seeing increased consolidation. Though 2018 witnessed a dip in exit activity compared to previous years, 2019 is once again seeing rising levels — with 48 exits year-to-date.
Since 2007, 11 companies have exited via an IPO or M&A deal valued at $1B+, 5 of which have happened since 2017. Using CB Insights' data, we visualized these billion-dollar exits together in one timeline (as of 10/22/19).
Our analysis considers first exits since 2007 only. For more on billion-dollar exits, see Visualizing Tech Giants' Billion-Dollar Acquisitions. 
Please click to enlarge.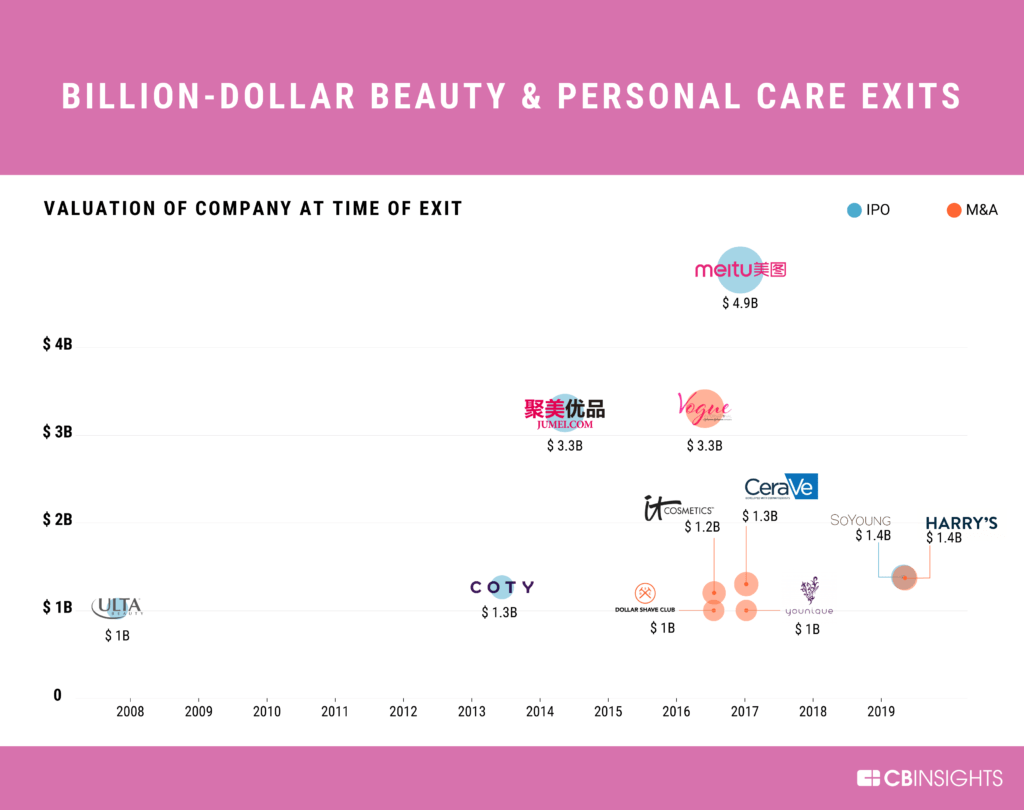 Key takeaways
The largest exits in the space are divided: 6 are acquisitions and 5 are IPOs.
Meitu is the highest-valued exit on our list. The China-based photo app startup went public on the Hong Kong Stock Exchange at a valuation of $4.9B in December 2016.
Rounding out the top 3 are haircare manufacturer Vogue International, which was acquired by personal care giant Johnson & Johnson for $3.3B in June 2016, and China-based beauty retailer Jumei International Holdings, which went public in May 2014 at a $3.3B valuation.
There are two startups that exited at exactly $1B — D2C shaving company Dollar Shave Club, which was acquired by Unilever in 2016, and skincare company Younique, which Coty snapped up in 2017.
Only 2 companies reached disclosed unicorn valuations prior to exiting: Meitu ($2B in 2014) and plastic surgery marketplace SoYoung ($1B in 2018).
If you aren't already a client, sign up for a free trial to learn more about our platform.