Trade finance has seen more successful blockchain pilots than other use cases, but will historically conservative banks have the same risk appetite to move from testing to full-scale production?
As trade wars intensify, banks are looking to blockchain as a way to streamline international trade transactions.
Historically inundated with paper trails and inefficiencies, banks and regulators worldwide are teaming up to digitize the trade financing process. HSBC, Standard Chartered, and others belong to a range of consortia that have had successful pilots using distributed ledger technologies (DLT) to process live trade finance transactions.
However, before any of these pilots can move from initial test to full-scale production, broader questions around regulations, scalability, and security need to be addressed.
Why does it matter? Trade finance underpins the $17T international trade market and is estimated to represent $5T – $10T of trade, depending on the definition. Further, there's approximately $1.5T in unmet demand for trade financing.
Why now? In trade finance, banks facilitate international trade by providing financing to buyers and sellers. However, as the trade war intensifies between the US and countries such as China, banks are looking to reduce some of the risk they take on through technological innovations.
How are banks responding? In the short term, banks are reducing their reliance on antiquated manual processes and digitizing key trade documents, like Letters of Credit (LOCs), to reduce cost and improve efficiency.
Others are looking to replace the process altogether with longer term applications of distributed ledger technologies (DLTs).
This is a growing trend we can see playing out in the media as mentions of "trade finance and DLT" spiked above standalone mentions of "trade finance."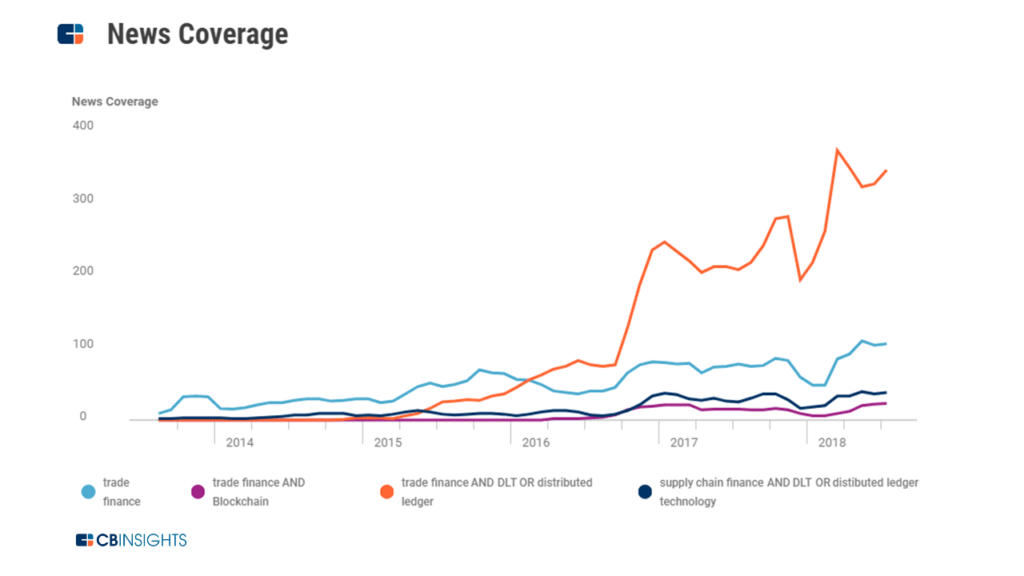 The growth in news mentions is also tied to announcements from major DLT projects that banks and regulators have been piloting.
This analysis explores 5 of the major blockchain consortiums — Voltron, Marco Polo, Batavia, we.trade, and HKTFP — working on DLT trade finance applications, and looks into their recent activity and major milestones.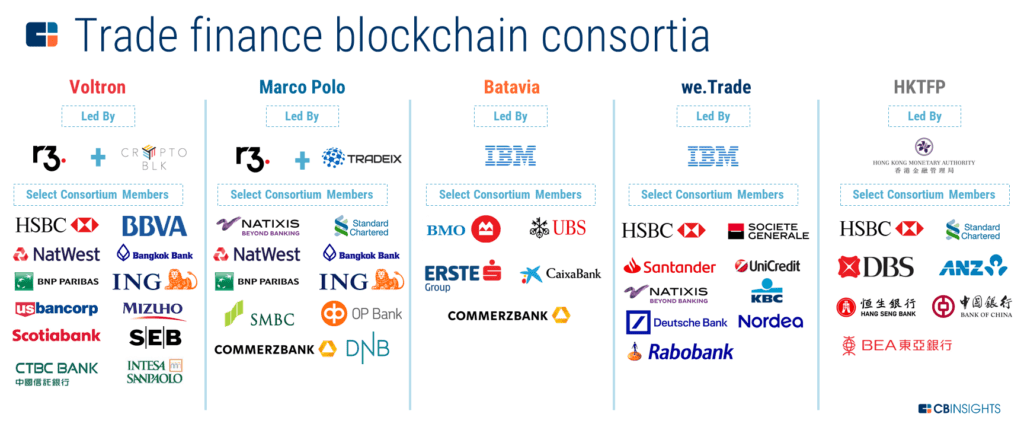 Benefits of distributed ledger technologies (DLT) 
Trade finance stands to gain immensely from DLT, due to the traceability, transparency, and operational efficiency it offers.
Banks are some of the biggest advocates of the technology because it is secure and accessible to a select group of trusted parties. It allows for more transparency around trade transactions and operations, including everything from tracking invoices to digitizing documents.
Banks in particular favor closed environments because the technology is still new. They also have added regulatory overhead and security concerns, and by forming partnerships, they can collaborate on designing and implementing proof-of-concept (POC) pilots that aim to create a more efficient trade financing process.
Trade finance blockchain consortia
Voltron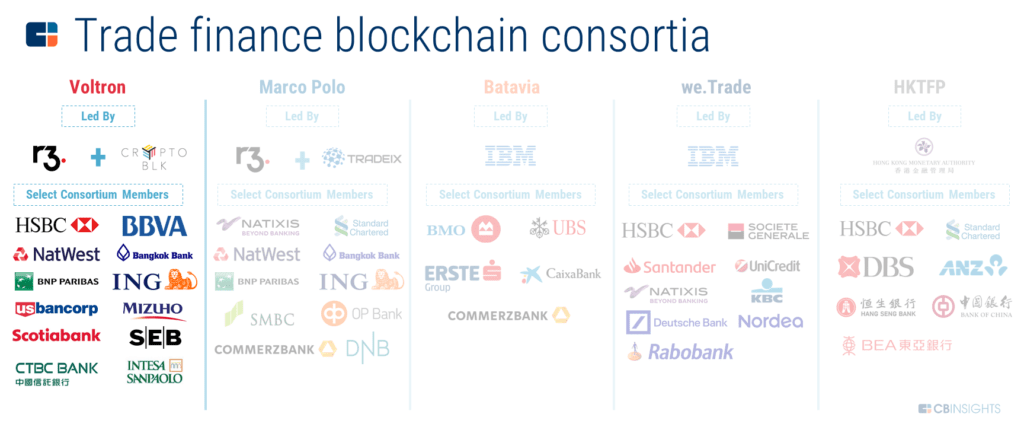 What is it: Voltron is led by R3 and CryptoBLK with tech supported by Microsoft's cloud platform Azure. Voltron has onboarded 12 partner banks including Bangkok Bank, BBVA, BNP Paribas, HSBC, ING, Intesa Sanpaolo, Mizuho, RBS, Scotiabank, SEB, and U.S. Bank.
Description: Voltron uses R3's DLT platform to digitize paper-based letters of credit (LOCs), a highly manual process today that banks are anxious to digitize in order to reduce fraud and speed up document turnaround. The consortia has been making headway in trade finance with its DLT platform called Corda. In July 2018, R3 pivoted to B2B with Corda Enterprise, a business application of its commercial B2C blockchain.
Milestone: In May 2018, HSBC and ING used Corda, in partnership with CryptoBLK, to successfully complete a LOC for Cargill to ship soybeans from Argentina to Malaysia. Typically a manual process that takes between 5-10 days, Voltron was able to cut it down to 1 day. The next phase is to scale Voltron for the broader cohort of banks.
Marco Polo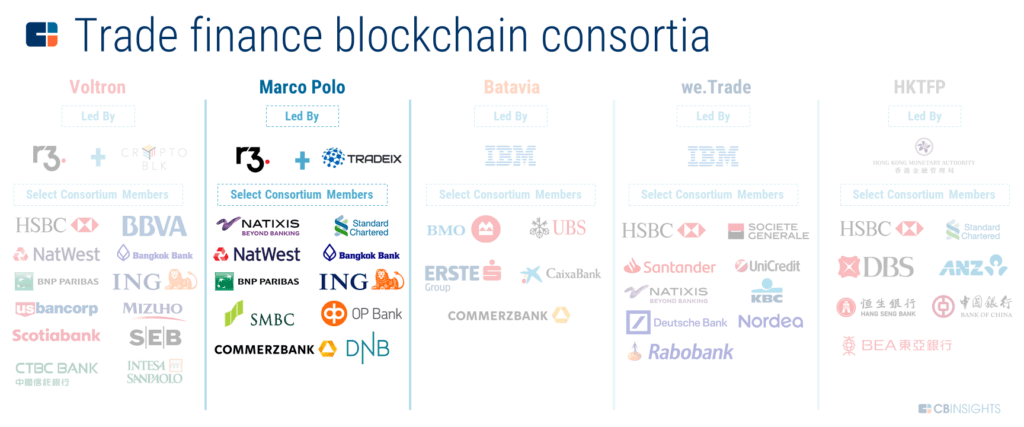 What is it: A collaboration between TradeIX and R3 that has partnered with 14 major financial institutions including RBS's NatWest, BNP Paribas, Commerzbank, ING, DNB, OP Financial, Bangkok Bank, SMBC, Standard Chartered, and Natixis.
Description: The collaboration combines R3's Corda Enterprise solution and TradeIX's TIX Core, an open infrastructure powered by DLT. The goal is to streamline accounting for businesses to track payment guarantees and expedite receivable discounting.
Milestone: In October 2017, TradeIX reported one of the earliest successful trade financing transaction pilots. Using TIX Core, Standard Chartered was able to digitally discount receivables and simultaneously secure credit risk through insurer AIG for an undisclosed logistics company.
Batavia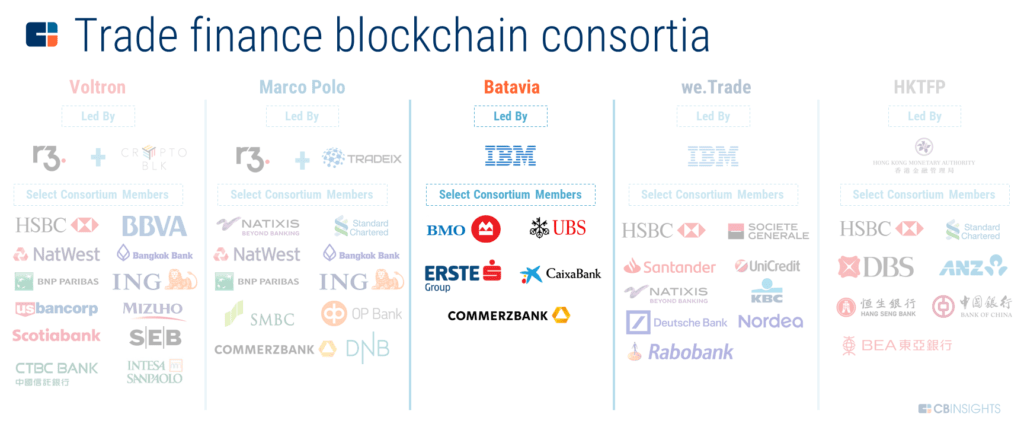 What is it: A consortium between 5 banks (UBS, Bank of Montreal, CaixaBank, Commerzbank, and Erste Group) that is built on the IBM Blockchain Platform.
Description: Batavia has broader applications than the other projects, and uses smart contracts to help all participants in a cross-border trade to track and monitor their open transactions.
Milestone: In April 2018, the group ran 2 import pilots: it imported German cars and Austrian textiles to Spain. During the test runs, participants were able to monitor each stage of the trade as the goods traveled by road and sea. Next, they are looking to add air freight traceability before launch.
We.Trade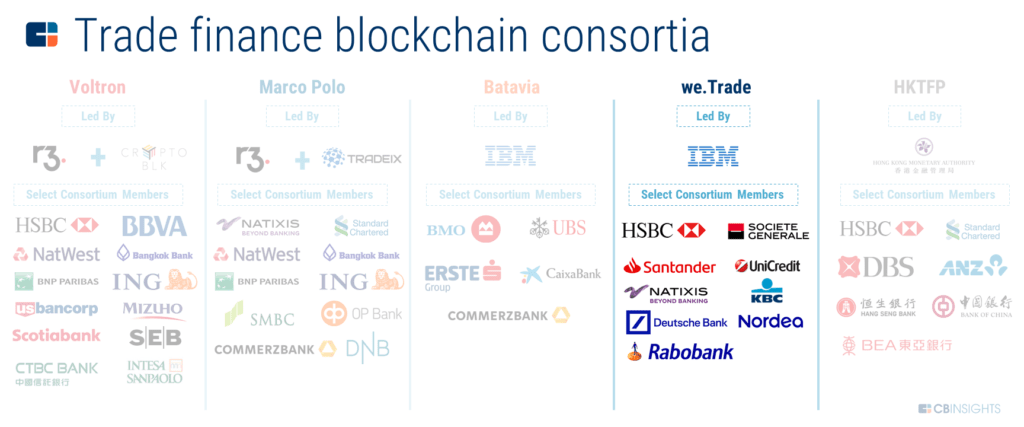 What is it: A consortium between 9 banks including Rabobank, Deutsche Bank, HSBC, KBC, Natixis, Societé Generale, UniCredit, Nordea, and Santander. The platform is built on the IBM blockchain using Hyperledger Fabric.
Description: Targeted at SMEs in Europe, the platform offers suppliers faster factoring (or partial invoice financing), by using smart contracts (a protocol on the Ethereum blockchain) in place of a letter of credit.
Milestone: In July 2018, we.trade reported it was operational across 11 European countries and had successfully executed 7 live trade transactions between 10 companies on the platform.
HKTFP (Hong Kong Trade Finance Platform)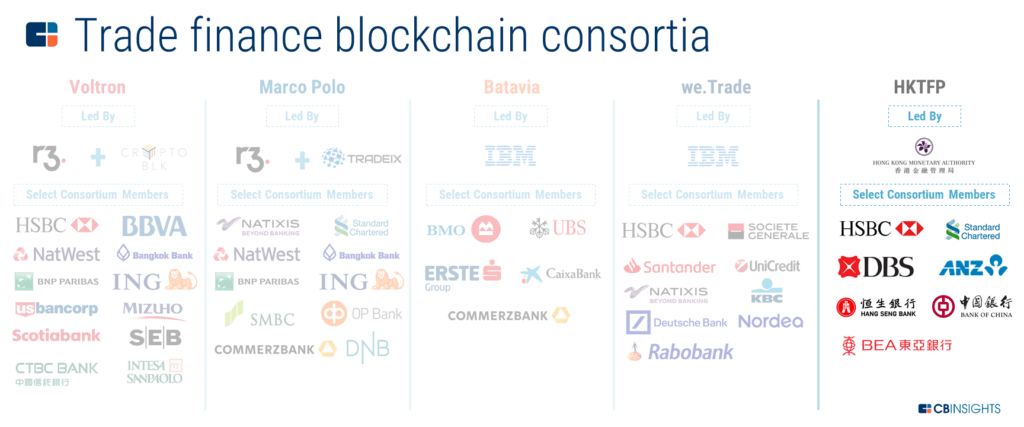 What is it: A venture led by the Hong Kong Monetary Authority (HKMA) with technology support from the Ping An Group. There are 21 banks reportedly on board including HSBC, Standard Chartered, Hang Seng Bank, Bank of East Asia, Australia and New Zealand Banking Group, and Singapore's DBS Group.
Description: Slated to launch later this year, HKTFP was established to digitize supply chain record-keeping and to eventually connect other trade platforms (like Marco Polo or we.trade) to further facilitate cross-border trades.
Upcoming Milestone: Go live with select consortia slated for the end of 2018.
What's ahead
In the long run, DLT could augment the trade finance market because it lowers the barriers to entry and replaces antiquated intermediaries.
But before DLT can be applied at scale, there are broader issues related to scalability, security, and regulation that need to be addressed.
Challenges could arise around the interoperability of DLT projects — as DLT is closed to trusted parties, it requires that all trading partners use the same ledger. If there's market fragmentation, the system wouldn't work.
One of the reasons the technology is valuable is that it reduces double entry risk by establishing a single "golden record." But this might not always be the case as banks team up to form various ledgers.
The popular adage, "everyone wants to be the first to go second," is particularly true of banks when experimenting with new technologies like blockchain because of the high perceived risk relative to the payoff.
However, the early success of trade finance pilots paired with the clear appetite from banks and regulators mean continued investments and innovation are likely.
If you aren't already a client, sign up for a free trial to learn more about our platform.