Cathy Bessant explains how Bank of America remains aggressively innovative in a consumer-centric landscape.
"We're in the business of other people's money," said Cathy Bessant, chief operations and technology officer at Bank of America.
It's for this reason that the company pursues incremental, well-executed innovation rather than the "fail fast, often" model employed by much of Silicon Valley.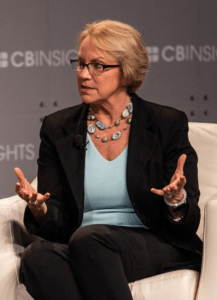 "The truth of it is, we are in a consumer and commercial trust business … What we're in the business of doing is at the center of people's lives — it's their finances, their money," said Bessant to Rebecca Blumenstein of The New York Times during CB Insights' annual Future of Fintech conference.
"And so 'fail fast' at customer scale, in our business, just doesn't make any sense … we're not funded by venture capitalists, we're funded by shareholders."
But the banking giant still finds ways to innovate and respond to disruption.
Beyond releasing its digital assistant for personal banking (named Erica), the firm has prioritized growth of intellectual property to help drive innovative solutions.
The US Patent Office recently released its 2017 rankings, and Bank of America was ranked 125th of 300 patent issuers across all industries.
And large, well-known tech firms are now referencing the bank's patents, ranging from cybersecurity to blockchain, within their own intellectual property pursuits.
"We feel really good that we get classic tech names citing a boring bank's intellectual property as important."
Additionally, Bessant estimates that the firm will spend between $660M—680M on security measures as the firm looks to establish enduring infrastructure beyond just temporary solutions, especially those geared at consumers.
"We're working to change the way we develop and design and build what we do so it's protected by design versus protected by something that is retrofitted."
And as the company continues to scale, Bessant acknowledged that although 30 million households offer a huge opportunity and platform for success, it also creates the potential for failure at scale. "We really try to balance how we deploy those opportunities … [and] protect what we have to do to perform every day at the same time."
If you aren't already a client, sign up for a free trial to learn more about our platform.