As Baidu accelerates its capabilities in self-driving vehicle technology, we dive into the Chinese tech giant's uniquely collaborative approach.
Baidu has become the "dark horse" in the autonomous vehicle arms race.
In an effort to play catch up to frontrunners in the US and gain an edge on emerging players in China, Baidu has taken a novel approach to developing self-driving software.
The company's Apollo project, which it launched in April 2017, is an open source software platform that's designed to encourage collaboration across the auto industry to accelerate the development of self-driving cars.
Industry leaders across the auto ecosystem have since jumped on the Baidu train. In just 14 months, Baidu has amassed over 100 partners, working with major OEMs, auto suppliers, and chip manufacturers.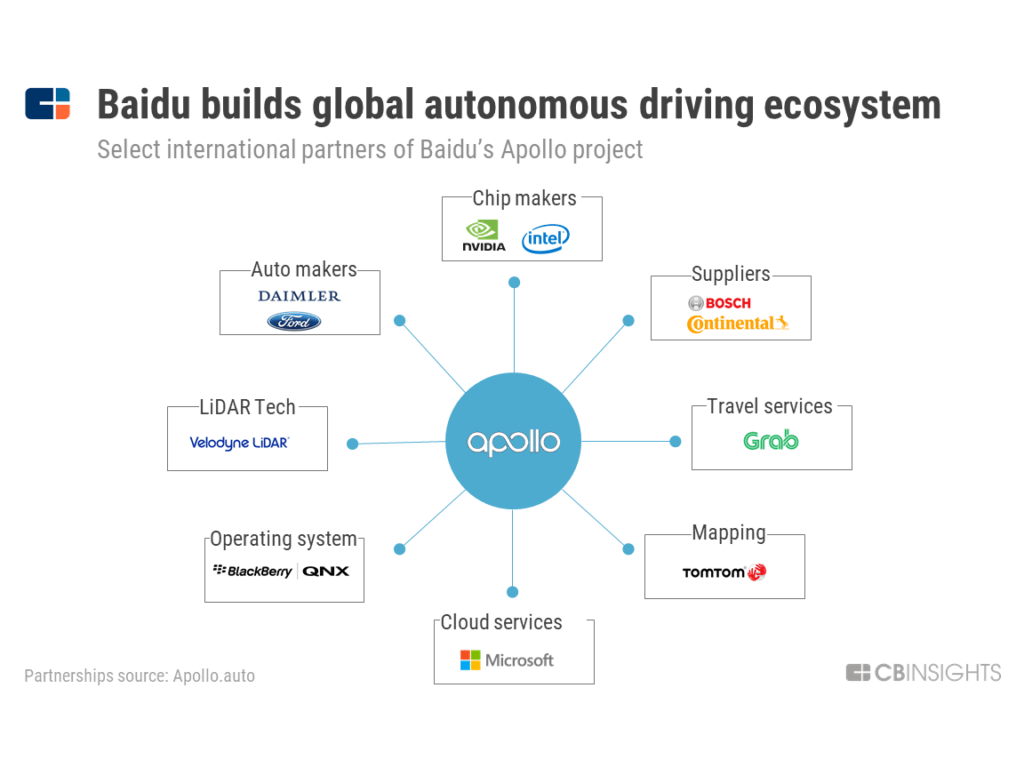 With this large web of partners across an array of verticals, Baidu can dedicate the majority of its time and attention to its area of expertise — AI and software development — leaving its partners to perfect the hardware and vehicle manufacturing components.
Baidu is also increasing investment in autonomous driving technology, ramping up R&D spending in 2017 and launching a $1.5B investment fund dedicated to startups innovating in the AV space.
In this analysis, we take a closer look at Baidu's recent developments to assess how the company's nuanced approach compares to other leaders in autonomous vehicle technology.
Table of contents
The Apollo platform: Android of the auto industry?
In April 2017, Baidu launched its Apollo project, an open source platform for autonomous driving software. The platform combines a number of tools — including data, APIs, and open source code — that developers can use for free to bring autonomous driving products to market.
In many ways, Apollo resembles Google's Android Open Source Project (AOSP), Google's open software platform for a mobile operating system (OS) that launched in 2007. The idea for AOSP emerged after Apple released its first iPhone, when Google decided it needed to enter the mobile realm to prevent users from switching to another search engine on their mobile devices.
Rather than launching its own smartphone, Google focused solely on software. The company used an open source platform in part to make it easier for third parties to develop compatible apps. The thought process was, the more third-party apps available, the more appealing phones running on Android software would be for consumers.
This approach helped Google scale Android rapidly. According to Gartner, Android made up 86% of the global mobile market in 2017, up substantially from 0% ten years earlier.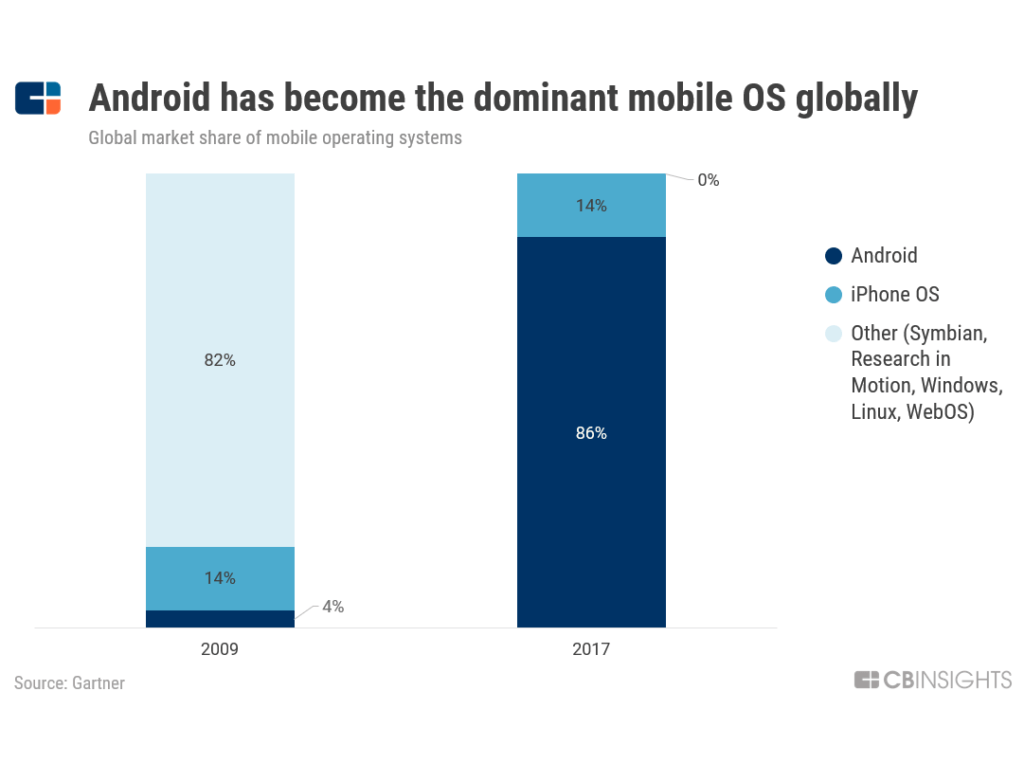 The incentive behind Baidu's Apollo platform mirrors Google's approach to Android: standardize an operating system across an industry by making it freely available to manufacturers. 
With Apollo, Baidu aims to be the brains behind autonomous vehicles, allowing OEMs and auto suppliers to focus on manufacturing, branding, and the relationship with their customers rather than software engineering.
This approach is especially attractive in China's highly-fragmented automotive supplier landscape. With an open source approach, Baidu makes it possible for any of China's auto suppliers to assemble a vehicle with autonomous driving capabilities without having to hike R&D spending.
It's also worth noting that similar to Google withholding certain apps (e.g. Maps, Gmail, and Google Play) from Android's open source platform, Baidu is also reserving some of its services — such as mapping and machine learning — for an application programming interface under Baidu's control.
Closing the data gap
The Apollo project has gained traction since its inception. To date, Baidu has amassed over 100 global partners, collaborating with major players across a wide range of verticals including auto parts suppliers, OEMs, chip makers, and tech giants.
This wide net of partnerships has helped Baidu address an area where it lags peers: driver data.
Driver data — both from road testing and simulations — is critical for developing self-driving technology, as data trains the algorithms that guide the autonomous vehicle. While Baidu has extensive expertise in high-definition (HD) mapping and AI, it lacks driver data that competitors such as Waymo and Tesla have collected from vehicles on public roads.
Baidu's extensive web of partners provides the company with more access to data than the company could have collected on its own, by contributing data to Baidu's open source dataset as they collect it.
In March, Baidu launched an open source dataset within the Apollo platform called Apollo Scape, which is 10x larger in volume than other open source datasets such as Kitti and CityScapes.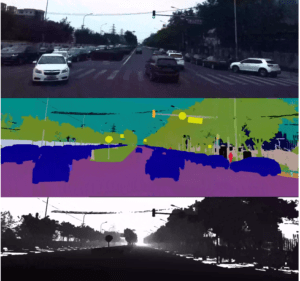 Apollo Scape uses semantic segmentation to break down video images by the pixel to allow for granular processing. The images are annotated so that a self-driving car can process surrounding objects and signals. For example, the technology can distinguish lane boundaries to assess different traffic rules (e.g. yellow vs. white line, solid vs. broken line).
The segmented images (as seen in the colored section of the left-hand image) can be annotated with 26 classifications, including cars, pedestrians, bicycles, buildings, and street lights to help self-driving cars recognize driveable areas on the road as well as detect oncoming hazards.
Also, the more diversified road conditions included in a data set (i.e. a street in the snow, rain, fog), the more equipped a self-driving car will be in more complex environments, as it can piece together a clean image of the road when fully covered in snow or when in the dark.
monetizing the platform
A critical concern surrounding Baidu's open software strategy has been monetization. 
Baidu CEO Robin Li addressed these concerns on the Q1'17 call:
"My goal for project Apollo is to expand our monetization opportunities ahead, a real plausible path towards future economic value creation for Baidu… There is [sic] known ways of monetizing open networks, whether it's services, packaged software, components, solutions – all these options are available to Baidu to tap into."
In January, the company spoke to monetizing a range of off-the-shelf hardware units that run on the Apollo platform, essentially selling a plug-and-play device to bring autonomous capabilities into any vehicle. While others have tried this approach in the past (e.g. Delphi and Mobileye; Comma.ai), Baidu has a clear advantage with its widely cast net of partners across multiple OEMs and auto parts suppliers.
Baidu is also looking to its HD maps as a potential line of business in the future.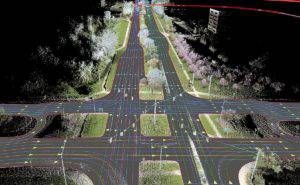 HD maps, generated by data collected from vehicle sensors, are critical for directing self-driving vehicles, as the maps contain precise information about lane sizes, intersections, etc. Baidu has the most extensive mobile maps service in China (called Baidu Maps) and has been working on HD maps since 2013. The company sees an opportunity in selling its HD maps to automakers that can either charge service fees or integrate the fees into the cost of the vehicle.
In January, Baidu partnered with navigation device maker TomTom to integrate HD maps into the Apollo platform. The partnership will integrate Baidu's extensive mapping of China with TomTom's HD maps of the US and Western Europe.
others open sourcing their software
Several other autonomous vehicle software developers have taken Baidu's open software approach, though for those that have, few can boast the extensive web of partnerships that Baidu has established.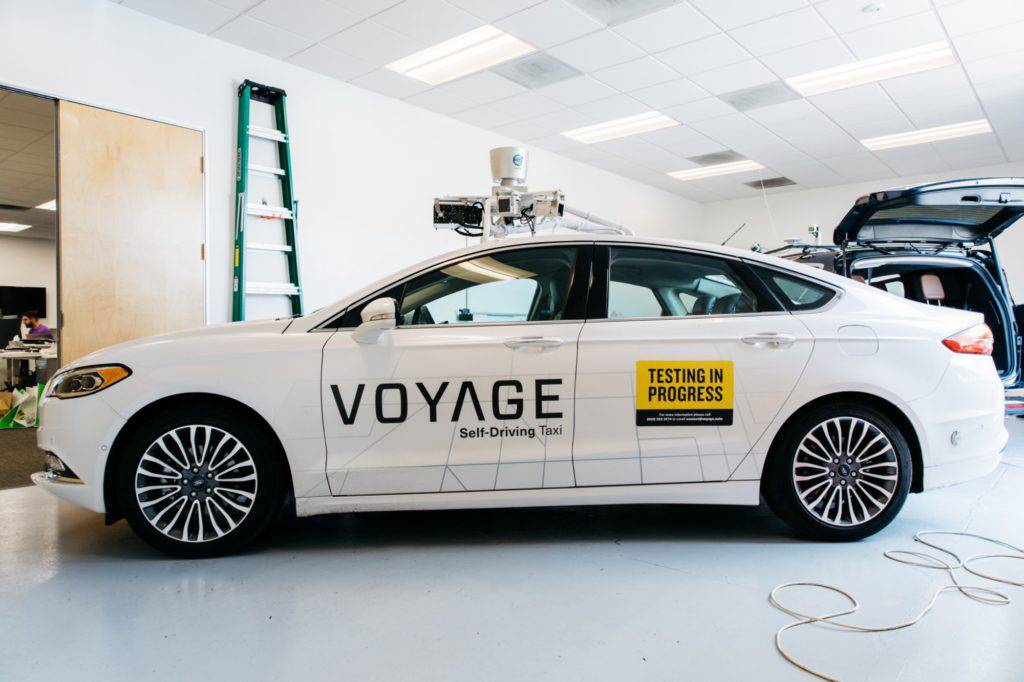 Voyage's autonomous vehicle
The most notable open source platforms include the following:
Despite open-sourcing its mobile software with AOSP, Google has avoided an open software platform for its self-driving vehicle software. Instead, Google's spin-off Waymo has taken an in-house approach to developing its autonomous vehicle technology, building out its own software and sensors to limit dependency on outside suppliers. On the computing side, Waymo has leveraged Google's TensorFlow and tensor processing units (TPUs) to train its neural networks.
Waymo claims that developing its technology internally allows for more efficiency and tighter integration. 
The China advantage
China is dedicated to becoming the global leader in AI by the end of the decade.
In recent months, the Chinese government has increasingly eased regulations on autonomous vehicles in a number of cities to accelerate the path to commercialization. Within weeks of Uber's self-driving car fatality in the US, China granted local governments the authority to allow autonomous vehicle testing on public roads. This decision has created a notable advantage for Chinese AV companies, including Baidu, given that testing is only allowed for domestic vehicle manufacturers.
Baidu is already testing its software on public roads. In December, Beijing granted Baidu permission to test on 33 public roads in the city. These roads yield 65 miles for testing, which tracks well above what other AV companies in China have reported:
Additionally, when naming the national champions of AI in November, the Chinese Ministry of Science and Technology designated Baidu as the leader in autonomous driving. The other national champions include Baidu's tech peers Alibaba and Tencent — designated as leaders in smart cities and healthcare, respectively.
Track all the auto tech startups in this brief and many more on our platform
Startups working on auto tech have the potential to change the way people travel. Look for Connected Cars & Auto Tech in the Collections tab.
Track Auto Tech Startups
While Baidu's US competitors have limited access to self-driving tests in China, it's worth noting that estimates based on average selling price suggest Tesla operates over 20,000 vehicles in China. Tesla also just formed a subsidiary to manufacture its vehicles on mainland China, which would likely increase the number of Tesla vehicles diving on China roads.
Because Tesla's vehicles have semi-autonomous capabilities, the company can use the data from those vehicles for its self-driving technology.
Waymo has yet to enter the Chinese market given Google's troubled history with China. Google left China in 2010 after facing issues with China's censorship rules. 
Competition rising on the domestic front
Although Baidu was named the leader in autonomous vehicle technology, major tech players in China are entering the self-driving field given the size of China's auto market.
Baidu's most viable China-based competitor is Didi Chuxing, China's dominant ride-sharing service provider. Didi purchased Uber's China business in August 2016 and has expanded its reach across the globe, entering markets in Mexico, Brazil, Taiwan, and Japan.
Didi thus has its own source of data collection: the unicorn has over 21 million vehicles on the road now from which it can collect data. Didi can also make money on its self-driving cars because it can use them for ride-hailing rather than selling them directly to consumers.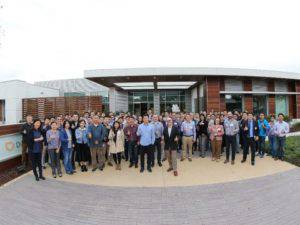 Last March, Didi set up a lab in Mountain View dedicated to self-driving tech that now has about 100 employees, and in May, the company received permission from the state of California to test its self-driving cars. Outside of Baidu's pilot program with Access Services, Baidu has yet to start testing in the US.
Didi has also been testing its vehicles on public roads in China, though the location and distance of those roads has not been disclosed. The company is working with electric car startup CHJ Auto to develop an all-electric robo-taxi service.
Alibaba and Tencent, the other major players in China's AI initiative, have also launched autonomous driving programs, though neither have been in the game as long as Baidu or Didi.
Alibaba first entered the self-driving space in March 2017, when the company recruited computer vision expert Wang Gang to lead the company's autonomous vehicle project. Since then, the company has started self-driving tests in China and is now looking to hire 50 more self-driving technology experts for its AI lab.
Tencent announced its self-driving technology project in November 2017. It recently received permission to test in the Chinese city of Shenzen.
Ultimately, the most successful company will be the one with the highest quality software, which relies almost entirely on driver data. If Baidu is able to leverage the data from its peers and start to collect valuable data in China on its own, it will have a notable advantage over peers.
Beyond Apollo: Baidu's outside investments
In addition to the Apollo platform, Baidu is dedicating significant capital to autonomous vehicle startups, all of which have joined the Apollo partnership alliance.
In September 2017, the company launched the Apollo Fund, a $1.5B investment fund dedicated to financing 100 autonomous driving projects over the next three years. One of its first investments was in Smarter Eye, a software developer focused on advanced driver assistance systems (ADAS). Baidu led the company's $15M financing in November.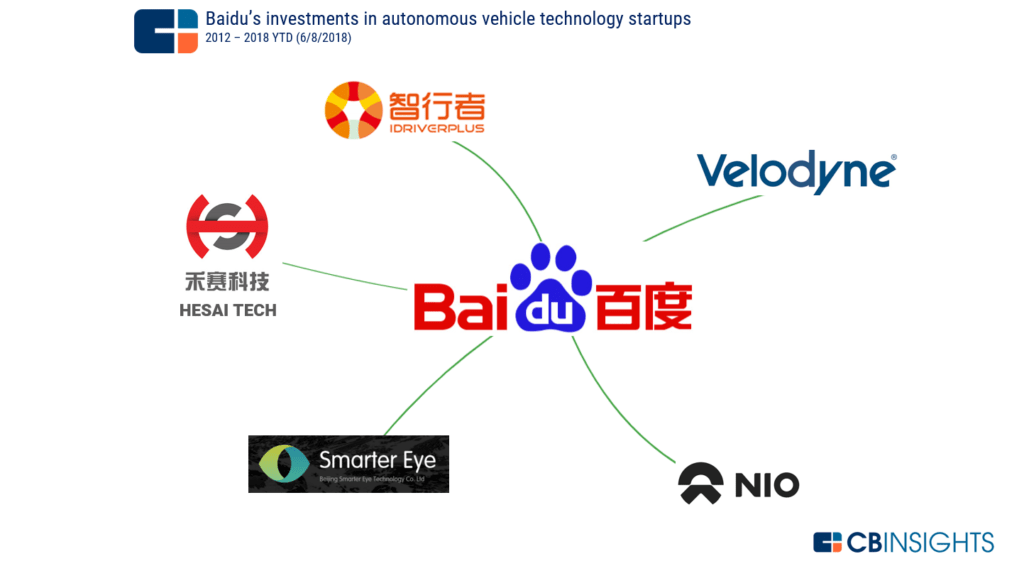 In the past, Baidu has also invested in startups developing autonomous vehicle hardware:
Baidu has also entered a joint venture with Asia Mobility Industries to launch a $200M smart mobility fund. Named Apollo Southeast Asia, the venture is meant to help Baidu gain a commercial foothold for autonomous vehicles in the Singapore region.
In-house still matters: the evolution of Baidu's R&D spend
Baidu is also ramping up its in-house AV capabilities.
As a percent of total revenue, Baidu's R&D expenses, which contain its internal investments in AV technology and headcount, have tracked higher in recent years. On its Q2'17 call, the company spoke to the shift of expenses to R&D from SG&A as a result of a ramp up in AI and autonomous vehicle tech:
"Our focus is to invest in AI capabilities and a lot of that is incremental and is R&D focused. So you will see we have an increase in R&D expenses but we do have a year-on-year decrease in SG&A expenses."
This rise in R&D panned out as planned in 2017, with the company's R&D expense rate ticking up to 15.2% in 2017, up from 14.4% in 2016 and above the 8-year average of 12.5%. For comparison, Google's R&D ratio was 15.0% in 2017 and Tesla's was 12.0%.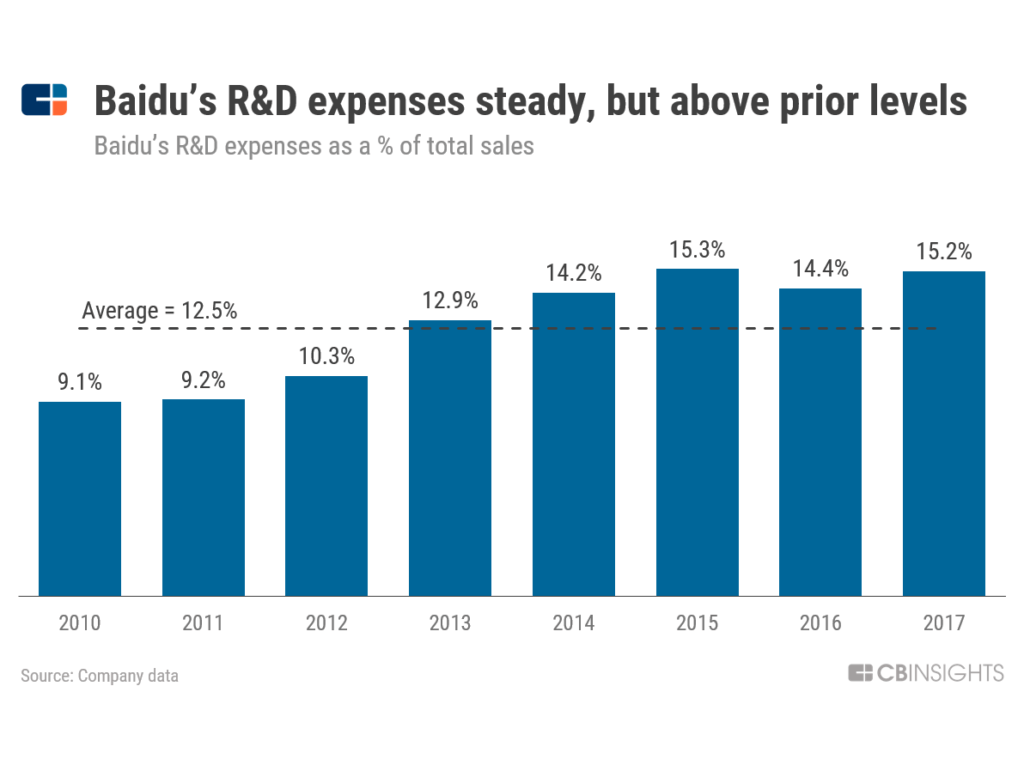 The number of R&D employees as a share of the total company is also creeping up, reaching a new peak in 2017 at 52% of the total company. For comparison, Google's R&D employees make up just 38% of the total company.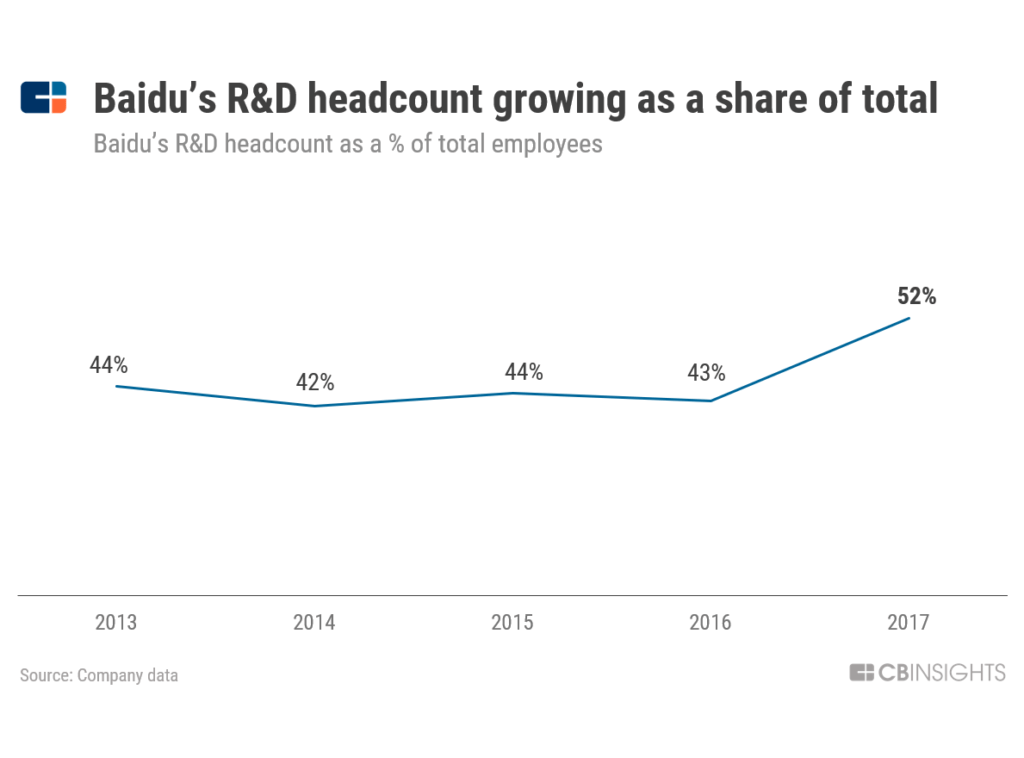 Additionally, Baidu expanded its footprint in Silicon Valley in October, opening a second autonomous driving lab in the city that will house 150 employees, which suggests the company isn't done with its recent hiring ramp. The company's original Silicon Valley lab housed 200 R&D employees focused on speech recognition and autonomous vehicles.
Bringing the tech to life: testing and fleet deployment
Baidu has partnered with a number of automakers in both China and in the US to test out its autonomous vehicle software in the next several months.
In January, the company partnered with California-based paratransit agency Access Services to roll out a small-scale pilot of autonomous vehicles for disabled and mobility-limited seniors.
Baidu is also partnering with China-based bus maker King Long to develop a Level 4 autonomous bus to ride a designated route in China, likely through tourist spots and airports. The company plans to mass produce 100 buses in July, all of which will be electric. Each bus will carry 14 passengers, with 8 seats, and no drivers seats. 
In terms of commercial fleet production, Baidu is working with Chinese automaker BAIC, one of its Apollo partners, to mass produce autonomous vehicles using the Apollo platform. The companies expect to start producing vehicles with Level 3 autonomy (i.e. still requires human intervention, though limited) by 2019, and fully autonomous Level 4 vehicles by 2021.
Of its Chinese peers, Tencent and Alibaba have yet to announce any potential ride-sharing services offered in the next few years. Didi Chuxing had also remained relatively quiet, but in recent weeks news surfaced that the company is in talks with Volkswagen to manage Didi's fleet and co-develop self-driving cars.
In the US, Waymo and US-based startup Drive.ai are already launching citywide public ride-sharing services, with Waymo starting in Phoenix and Drive.ai in Frisco, Texas.
Passenger entering Drive.ai's self-driving vehicle
With these program launches, Waymo will extend its services to Phoenix residents — the city has a population of 1.6 million people — and Drive.ai will provide rides to more than 10,000 people within a geofenced zone in Frisco. Waymo recently announced that it plans to add 62,000 Chrysler Pacific Hybrid minivans to add to its fleet. For context, the fleet currently has around 600 vehicles.
Waymo is also in discussions with Uber to potentially use its self-driving cars in Uber's ride-sharing network.
GM's self-driving car unit, Cruise, also plans to launch a self-driving taxi service in San Francisco by the end of 2019, though details around the size of the fleet and the specific area have yet to be disclosed. Cruise recently received $2.25B in funding from SoftBank, mainly for ramping up the service.
Concluding thoughts
The autonomous vehicle space continues to grow more competitive, with major players consistently expanding their self-driving fleets and announcing future pilot programs every day.
Baidu still has some catching up to do relative to its competitors that have robust driver data and impending self-driving pilot programs. The company has yet to outline its plans for a large-scale ride-hailing service to deploy its fleet commercially, and it lacks the customer base in mobility that its main peer Didi Chuxing has in China.
That said, Baidu's widely-cast net of partnerships and its collaborative approach to software development could help it amass the data it needs and the support on the hardware and vehicle manufacturing fronts to outpace its peers.
Additionally, the company's presence in China and the country's confidence in the tech giant's plans also suggest that Baidu may have a greater level of access to public-road testing and service deployment going forward.
Ultimately, if the company can maintain its foothold in China and the barriers to entry remain high for foreign players, Baidu will remain a force to be reckoned with in the AV space.
If you aren't already a client, sign up for a free trial to learn more about our platform.