Who needs zippers? MIT researchers are using live bacterial cells that open and close as heat and sweat build up to create moisture-responsive workout suits.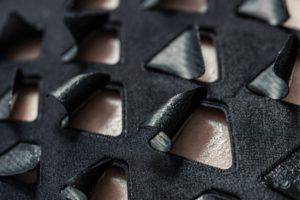 Moisture-wicking fitness gear is nothing new, but the next generation of dry-fit tees may keep you cool by shape-shifting where you sweat – no zippers, snaps, or velcro required.
Researchers from MIT's Tangible Media Group recently debuted a breathable workout suit featuring self-ventilating flaps at the exact spots on the body where you're most likely to sweat. Once you reach a certain threshold of heat or moisture, the "second skin" suit ventilates automatically so the sweat can evaporate.
How does the garment know when you're starting to sweat? The self-ventilating workout garments are lined with live natto bacterial cells, which act as "nanoactuators" that physically morph and move in response to moisture stimuli.
Fitness In The Post-Covid World
Download the free report to learn how technology is changing the way we work out.
With help from 3D printing technology, a number of researchers are using bacteria to create "smart materials" capable of changing shapes, storing data, and creating energy. With the self-ventilating workout suit – developed as part of MIT's new "BioLogic" project – "smart material" may now help you stay cool on the treadmill.
"These cells are so strong that they can induce bending of the substrate they are coated on," said Wen Wang, co-lead researcher.
The BioLogic project researchers (led by bioengineer Wen Wang, materials fabricator/designer Lining Yao, and colleagues) applied microbiology and molecular-materials research to the real-world realm of apparel.
The breathable gear is just the latest example of the MIT Tangible Media Group's work on "tangible user interfaces" (TUIs) – its term for innovations that allow humans to interact with digital information in a tangible way.
The idea for a second-skin workout-suit TUI was developed using longstanding scientific knowledge on how some bacteria behave in nature: Similar to pinecones, certain bacterial spores and other biological cells respond to moisture by expanding in humidity, and shrinking when it's drier. (The phenomenon is known as hygromorphic transformation.)
The MIT researchers recognized that these "shape-shifting" bacteria could be affixed to materials using 3D printing. As living organisms, they could behave as a system of sensors and actuators capable of opening and closing upon sensing the sweat of their wearer.

Two keys to creating the garment were determining 1.) which type of bacteria was best suited to a shape-shifting (or "nanoactuating") shirt; and 2.) which configuration of bacterial coatings was most responsive and effective at opening fabric in response to sweat.
In choosing the right bacterial strain for the breathable shirts, the researchers had to keep safety top of mind. The most common nonpathogenic strain of E. coli was tested first, but the researchers ultimately chose to utilize a strain of Bacillus subtilis referred to as natto; the strain is non-toxic, FDA approved, and edible – commonly used in the fermentation of Japanese soybean food. (E coli would be utilized in other areas of the research work.)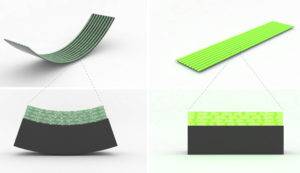 Determining the right layering of bacterial coatings took more than one try as well. The researchers first tried a two-layer system, whereby a bacteria layer was printed on just one side of the latex fabric. But with that approach, the entire fabric would curl open even at normal room temperature.
For the fabric to stay flat in normal conditions and only curl in response to high humidity, the team had to take a three-layer approach. By printing natto cells on both sides of the fabric, they ensured the external bacteria layers would respond equally to room conditions – essentially canceling each other out to stay flat at room temperature. But when one side was exposed to humidity (as with the interior of the shirt) that side would expand relative to the opposite side, so the material would bend outward.
The process for creating the garment is impressive to watch – as is the suit itself in action. In a video featuring professional dancers wearing the breathable gear, the MIT team walks viewers through the process of harvesting the animate cells, measuring and scanning them, then printing them on latex using a micron-resolution bio-printing system.
Researchers mapped the suit's flaps – which ranged from thumbnail- to finger-sized – to specific locations based on the body's Heat Map and Sweat Map, which delineate the spots where people tend to generate the most heat and sweat, respectively. Support frames underneath each flap keep the fabric's inner cell layer from directly touching the skin, instead allowing them to respond to changes in the air just above the surface.
In trials to test the "second skin" suit, the flaps opened about five minutes into exercise (just as study participants reported feeling warm and sweaty). According to sensor readings, the flaps removed sweat from the body and lowered skin temperature more effectively than a similar suit with nonfunctional flaps.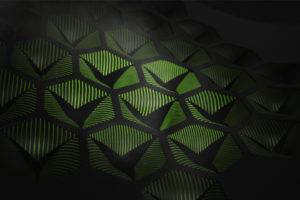 In addition to the breathable outfits, the researchers worked on other apparel as well – designing a running shoe with an inner layer of cell-lined flaps (covered in E coli, not natto) in the soles to air out and wick away moisture. They also engineered moisture-sensitive cells in the shoes to light up in response to humid conditions, expressing green fluorescent protein in response to moisture stimuli.
The researchers see the work with fluorescents as key to future commercialization of their work; imagine light-up running gear that can let people know you are running in the dark. Further opportunities also exist in combining moisture wicking with odor-releasing functionalities through genetic engineering.
And commercialization is en route for the living-garment innovations: The 14 MIT researchers on the BioLogic project (who came from disciplines spanning mechanical engineering, chemical engineering, architecture, biological engineering, and fashion design) collaborated with researchers from New Balance Athletics on the shirt and shoes, and the team is interested to collaborate with other sportswear companies as well.
The BioLogic team also wants to explore game-changing uses cases for the second-skin technology that go well beyond the gym: Applications for moisture-responsive curtains, lampshades, bedsheets, and even second-skin packaging may soon be on the researchers' agenda.
---
The original research "Harnessing the hygroscopic and biofluorescent behaviors of genetically tractable microbial cells to design biohybrid wearables" was published in the journal Science Advances. Full information is available here.
If you aren't already a client, sign up for a free trial to learn more about our platform.