The Post-Covid World
As schools reopen, teachers and administrators alike are looking at ways to redesign the education experience amid Covid-19. We dive into what the tech-enabled education of the future could look like.
Earlier this year, mandatory shutdowns shuttered schools and pushed most of the world into emergency remote learning situations. Schools turned to video conferencing tools, online learning management software, and other digital solutions to keep education ongoing.
Those emergency remote teaching experiences highlighted the barriers to digital learning adoption and tech-enabled education across systems worldwide.
Many students don't have access to the devices they need or sufficient WiFi to log on. Even those who do still found the experience of remote learning and teaching woefully inadequate.
Surveys suggest nearly half of parents are dissatisfied with how their children have performed academically during the pandemic, while 70% of teachers feel students haven't adapted well to remote learning.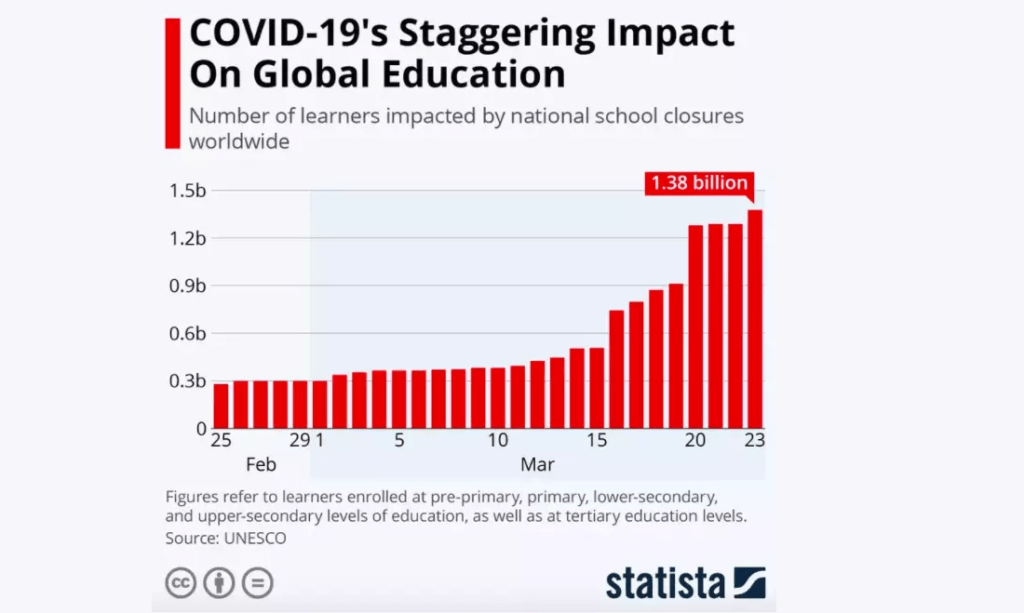 Source: UNESCO via Statista
Lack of funds to build out infrastructure, challenges in deploying tech at scale, and resistance to change are just a few factors preventing the $6.8T global education industry from fully entering the digital age.
Even as schools look to reopen with flexible schedules and new measures in place, more than 75% of public school districts are reporting hybrid or fully remote schooling for the 2020-2021 school year. Additionally, future shutdowns requiring full remote learning seem entirely possible.
With this in mind, the education industry is exploring how to better use technology to improve the learning experience. Currently, education technology (edtech) accounts for less than 5% of the $1.6T spent on education in the US each year, according to LearnLaunch. Digital technology penetration in the education sector is slight compared to other sectors.
In this report, we look at how 6 technologies — from online learning to AR/VR — are changing the global education landscape.
Table of contents
6 technologies transforming education
Education is a legacy sector, where it takes years — often generations — to bring about large-scale changes to methods, practices, and operations.
While tech-enabled education has the potential to help transform the schooling experience, it comes with certain drawbacks including privacy concerns around misuse of technology, high upfront costs for educational institutions, accessibility concerns, and a lack of training, among others. These barriers will need to be addressed alongside tech adoption in the space.
1. Online learning increases access and invites a wide array of learners
The rise of remote learning amid the Covid-19 pandemic brought the overall online learning industry into sharp focus. As teachers, students, and parents scrambled to grasp remote learning operations following lockdowns and shelter-in-place orders, edtech companies stepped in, either as partners to schools and colleges — or as stand-alone replacements.
Even for schools that are choosing to go back to face-to-face instruction, many are adopting a hybrid approach that requires at least some of the course or materials to be held online.
In addition to formal learners in grade school or university, adult and post-education learners have also leaned into online learning in the last few years, with Covid-19 accelerating this existing trend.
Interest in remote learning tools and virtual learning has spiked among corporates since the beginning of 2020, according to the CB Insights Earnings Transcript tool.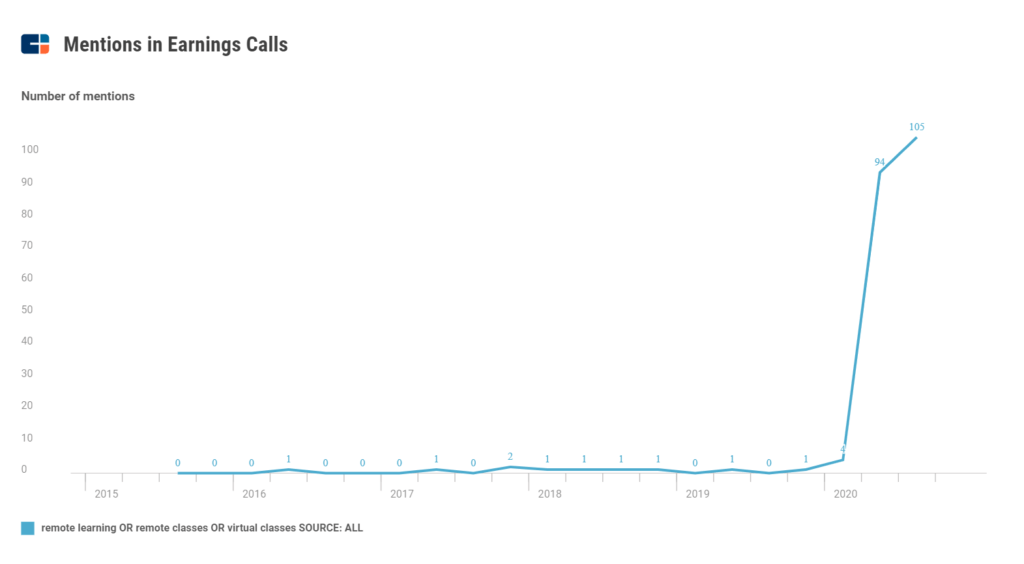 More than 58M workers have filed for unemployment since the beginning of the pandemic, and many are choosing to use their free time to learn new skills or brush up on existing ones.
With Covid-19 forcing education to digitize fast, it is hard to imagine a future where online learning is not a core component of education and teaching. Companies are filling in the gaps to meet digital education needs in a variety of ways.
Learning management systems
Learning management systems (LMS) help teachers deliver online lessons, share reading materials, and grade assignments.
These platforms can streamline much of the work for teachers by centralizing a number of features on one platform, including the tools needed to run a virtual, hybrid, or in-person classroom, as well as assisting with tracking student progress and connecting with parents. 
Amid the pandemic, Florida-based LMS company Nearpod — which helps K-12 teachers create lessons through pop quizzes and virtual reality field trips — offered its services free of cost to schools across the US.
Top Hat offers teachers an instruction and class management platform where they can share interactive media, virtual classes, and targeted online lessons. It focuses on colleges and universities, counting Vanderbilt University and the University of Iowa as clients.
Beyond startups, tech giants like Google are also getting involved. The company commanded a majority of the market for education computers prior to the pandemic.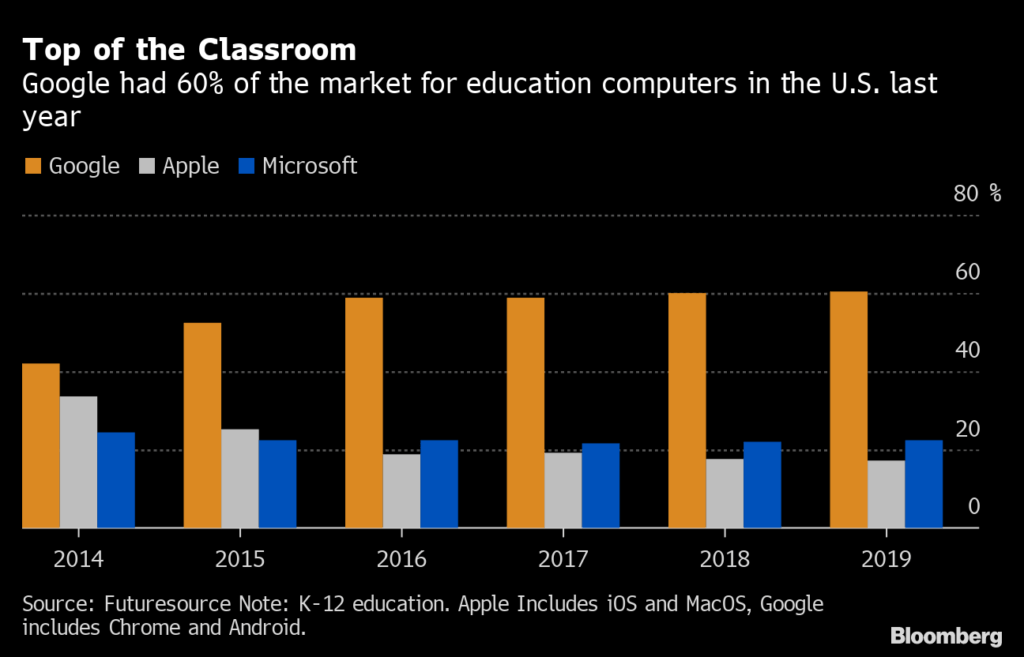 Source: Futuresource via Bloomberg
The pandemic has served to strengthen this market position: Google's LMS platform, Google Classroom, saw its user base double from March 2020 into April.
The tech giant also began to offer schools free access to advanced features of its Hangouts Meet app during Covid-19. In addition, it donated 4,000 Chromebook laptops and pledged free internet access to 100,000 households in the US.
Microsoft has also invested in the space, providing $1M to Kano, a company focused on teaching kids how to code.
Massive Open Online Courses
Massive Open Online Courses (MOOCs) are also seeing renewed interest as a means of gaining higher education. Adult learners in particular are turning to these courses, which are available to anyone with digital access, to fortify their skills or learn new ones to pivot careers. 
MOOC provider Udemy reported a 425% increase in enrollments from February to March 2020. The most in-demand courses on the platform feature professional skills (e.g. Adobe Illustrator, technical drawing) and child-oriented content, including art and coding. During the period of March-May 2020, the edtech startup saw its sales double year-over-year (YoY).
Outlier, the brainchild of MasterClass co-founder Aaron Rasmussen, raised $12M in Series A funding in January 2020. The educational platform allows students to take classes and receive college credit through the University of Pittsburgh.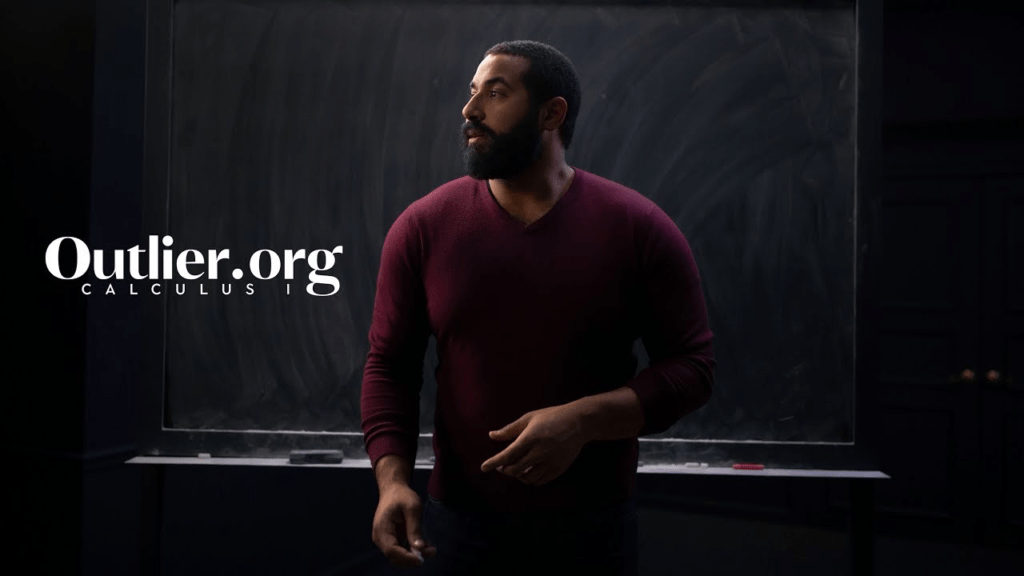 Source: Outlier
Several companies are also looking beyond college students to target adult learners, such as people with full-time jobs or those looking to upskill or reskill.
Coursera, for example, offers classes ranging from business foundations to data science. These are provided by not only universities, but also tech giants like Google, which offers its Career Certificates through the Coursera platform.
In addition to learning and improving broad business skills, there has been a rise in interest in tech-specific learning. Startups like Springboard, which raised $20M in Series B funding in August 2020, helps learners obtain certificates in areas like data science and UX design. A similar tech learning platform, Platzi, focuses on Latin American audiences.
There are also a number of startups serving individuals in creative fields and the arts, such as CreativeLive, which has classes in areas like photography, audio engineering, and drawing. Similarly, Germany-based Skoove is helping students of all ages learn to play the piano digitally, with more than 1M people using its services during the pandemic lockdowns.
Afterschool learning and tutoring
Several online platforms provide education that acts as a supplement to learning offered in schools and universities. A number of these afterschool learning platforms made their services free amid the Covid-19 pandemic to ensure continuous learning for students. These platforms and services can also allow students to get extra help or explore areas that they are interested in on their own time. 
India-based BYJU'S — which, at a $10B valuation, is the world's most highly valued education technology startup — made its learning platform free to all students following school closures. Its app helps teach math and science to primary and high school students through short videos, and also offers personalized learning journeys and tutoring for each student. Since announcing the free offering, BYJU'S has seen a 200% increase in the number of new students using the platform.
Afterschool online tutoring platform GSX also grew its user base amid the pandemic. In March 2020, the China-based company saw enrollment increase by 15M that month, compared with a total enrollment of 2.7M students at the end of 2019.
San Francisco-based Outschool is looking to tap into the afterschool learning market by providing group learning sessions to K-12 students. Students can choose from a wide range of topics such as architecture and Spanish and can engage online in their chosen topic with an expert teacher.
Another example is unicorn Course Hero, which raised $70M in Series B funding in August 2020 and claims an annual run-rate revenue of around $100M. The company provides a Q&A platform for students and a space for teachers to add course-specific material.
Saudi Arabia-based Noon Academy is an online social learning platform, where students can study and compete with other students. The platform boasts more than 6M registered students.
Companies like Riiid focus on providing online study materials and using AI to help students prepare for standardized tests such as the SAT, GRE, and GMAT.
Online learning moving forward
Though online learning has many upsides, especially during a pandemic, there are a number of challenges to consider.
Even if all things were equal in terms of access and quality, the one-size-fits-all-approach doesn't always work. What works for 1 student or institution may not work for others. Public universities remain largely underfunded in the US and their IT infrastructure and support staff may be less capable than in private schools and universities. 
Studying online also makes students more prone to distractions like surfing the web or multitasking (e.g. responding to email or chatting with friends and family). In this case, students might not receive the full benefits they would see from in-person learning.
Another challenge to consider is the mental and physical health effects that students experience when using digital devices for education all day long. In June 2020, a Gallup poll found that roughly 30% of students were struggling emotionally or mentally due to pandemic response measures including the move to remote learning.
Tactile and interpersonal skills may also suffer, especially in younger children where playing, socializing, and interacting with others is critical to development.
For adult learners, online learning might not fully convey the hands-on approach needed in certain fields. Tech like AR/VR is stepping in to fill the gaps, but in some cases physical interaction is irreplaceable. 
While research indicates online learning may help students retain up to 60% more material compared to around 10% in the classroom, it will not be as effective for students who do not have access to the latest technology or who lack conducive environments at home.
Learning in physical classrooms will resume once the virus passes, but the partnerships and technology integrations happening today could bring about long-term changes to how we teach and learn. Students may have a wider class selection and more flexibility as they choose between on-site learning, remote learning, or a combination of the two.
2. Virtual and augmented reality increase engagement by bringing learning to life
Virtual reality (VR) creates an immersive 3D environment that a user can explore. Augmented reality (AR), on the other hand, superimposes digital elements such as visuals, sound, and text onto a user's surroundings. Both technologies can be leveraged individually — or together — across education.
VR can be used to enhance learning and engagement by allowing students to interact directly with the material.
Google Expeditions, for example, allows students to take more than 900 VR tours, including to the 7 wonders of the world and to the Great Barrier Reef. It also provides access to over 100 AR tours, ranging across topics from Shakespeare to magnetism to art history to plants.
UK-based MEL Science operates a monthly subscription service for chemistry and physics-related experiment kits, the first of which comes with a Google Cardboard VR set. Parents and students can then use the MEL Science mobile app, alongside the contents of the experiments they receive, to learn at home.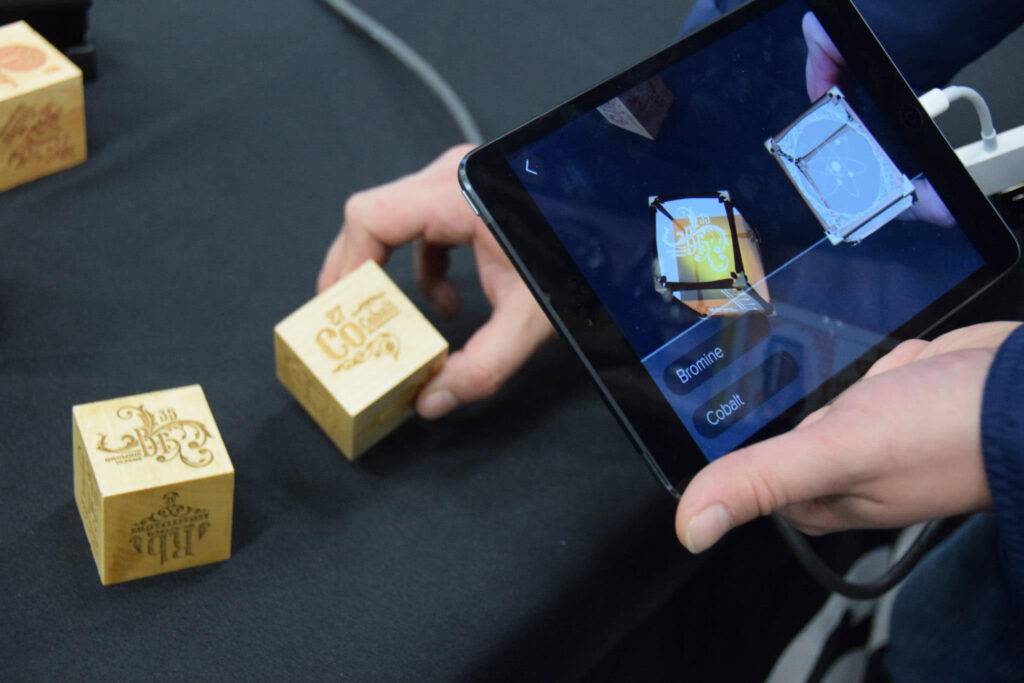 AR company DAQRI's Elements 4D blocks and associated app. Source: DAQRI
VR works particularly well for highly technical fields like medicine or the military. For example, a professor at the United States Military Academy created his own expedition using Google Expeditions to take his cadets to ancient battlefields in Caesar's campaigns in the Gallic Wars.
VR can also be beneficial for students with learning difficulties such as autism. A 2007 study showed that children with autism could effectively apply skills they had learned in a virtual environment — like fire and street/road safety — to the real world.
Floreo is an early-stage startup that is helping students with autism develop their social and communication skills.
AR technology has similar applications across education. Case Western Reserve University teaches its students about the human anatomy using an AR application called HoloAnatomy, which allows students to see, learn about, and explore the human body through 3D holograms using Microsoft's HoloLens.
Aug That! uses AR technology to teach K-12 students about concepts such as the solar system in order to increase engagement and retention. Students can access lessons by scanning their worksheets or flash cards on a mobile app.
California-based startup zSpace has created an AR/VR-enabled tablet that is being used by schools to teach concepts such as electricity, circuits, the periodic table, and geometry to K-12 students.
However, even as prices for VR/AR equipment are expected to drop, the high upfront investment required to set up the infrastructure for these technologies often acts as a barrier to adoption for educational institutions.
Currently, the cheapest headset available is Google Cardboard, which retails for $15.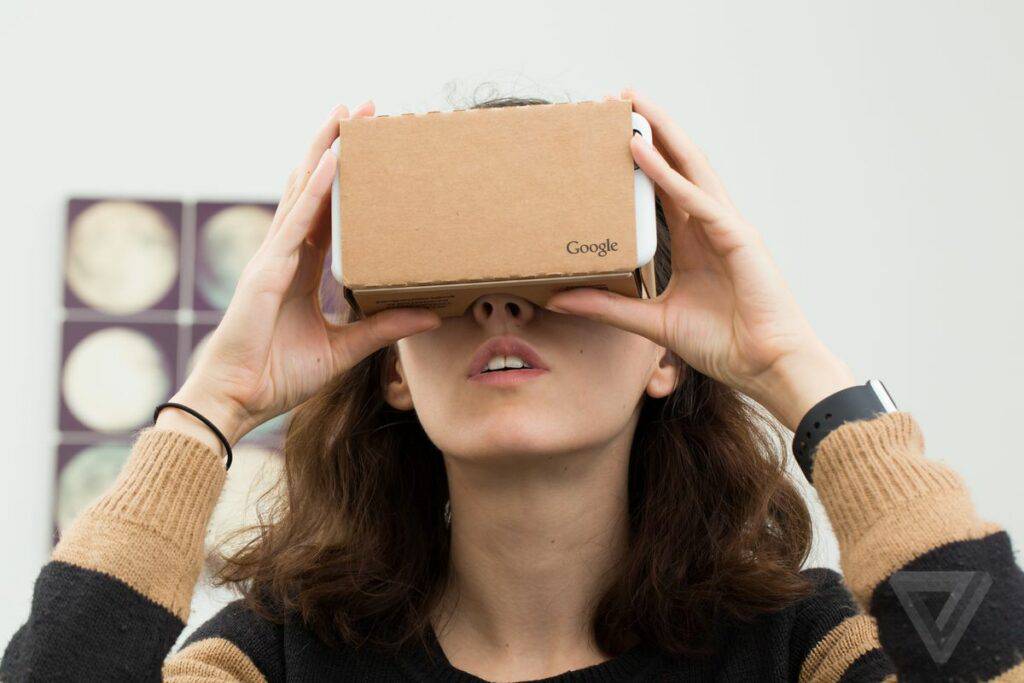 Source: The Verge
Additionally, AR technology requires the latest smartphones and tablets for each student, and this can be a significant cost for educational institutions.
Other educator concerns include the bulkiness of the equipment, which can be heavy. Some models require a constant source of power to run. In addition, glitches and the quality and availability of content and apps can create problems for educators.
3. Biometrics and facial recognition could help students stay focused and improve safety
Biometric technology that scans body parts like eyes, fingerprints, and facial features can help identify an individual. On educational campuses, applications could include everything from identifying students to ensuring they are paying attention in class.
In addition, the tech can help ensure the security and safety of students on campus. For example, thumbprints can be used to track attendance and alert parents if students don't arrive on time.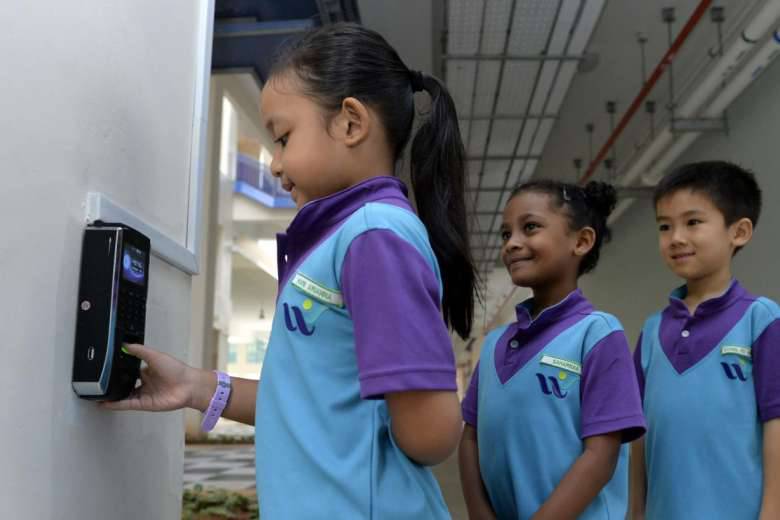 Students at a school in Singapore mark attendance using biometric systems. Source: ST
Facial recognition tech can help track a student's attentiveness through their facial expressions.
The Paris School of Business uses LCA Learning's Nestor software to track students' facial expressions and eye movements through their webcams during remote classes to ensure they are paying attention. In case the software suspects a student may have lost focus, it alerts the student and gives them a pop quiz on the materials they may have missed.
Similarly, a professor at the Sichuan University in China has been using facial recognition technology to determine when his students get bored during a lecture so he can use this data to teach that specific content in a more engaging manner.
This technology is also helping to deliver online testing by using students' webcams to proctor exams. Software platforms such as ProctorU, Proctorio, and Examity use facial recognition technology to match the test taker's facial features against the image of a government-approved ID that they present to the webcam before beginning the exam.
Facial recognition technology is also emerging as a way to help address safety concerns at schools and colleges. In January 2020, New York's Lockport City School District became one of the first public school districts in the US to adopt facial recognition at its 8 schools in an effort to prevent mass shootings and stop sexual predators.
The software captures faces of people who enter and exit the school through hundreds of cameras. It then compares the faces with a list of "persons of interest" created by the school. The list includes people with restraining orders against them, employees barred from visiting the school, and sex offenders in the area.
Schools in Denver and Missouri are using Panasonic's FacePRO recognition technology, while RealNetworks has been providing schools with its facial recognition tech for free or at subsidized rates.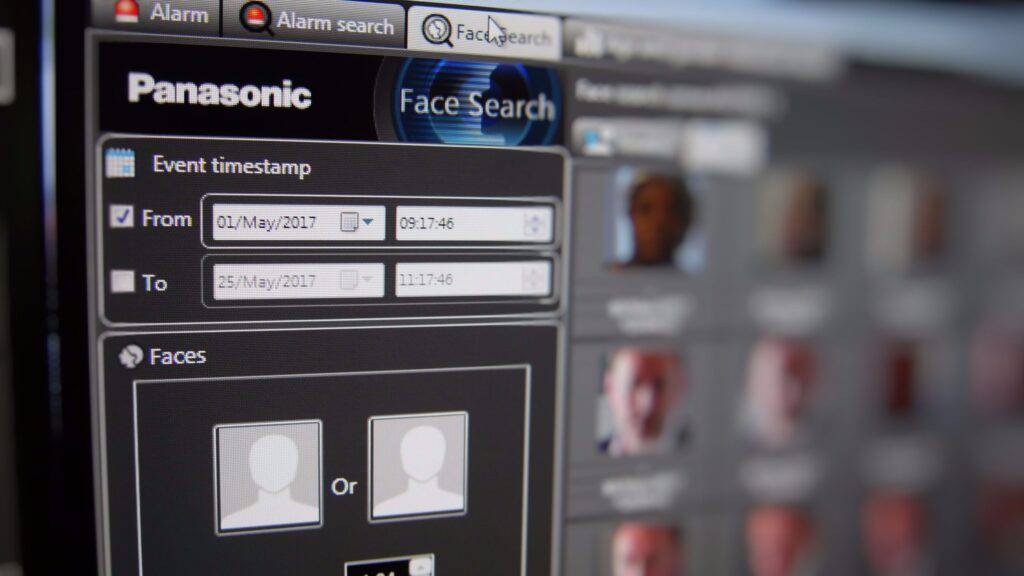 Source: Panasonic
Beyond security measures, facial recognition company PopID is using its technology to make payments and attendance convenient for students. Students at Stanford University can pay for their orders at on-campus restaurant Ray's Grill by using facial recognition. At the University of Southern California, students can also use this tech to log in to their customer accounts, in addition to paying for meals.
PopID's technology also has uses in helping ensure health and safety amid coronavirus concerns. The US-based startup's fever-screening cameras are already being used in restaurants across the US and are likely to have use in educational institutions as they gradually open.
While biometric-based solutions present potential upsides, there are also several challenges to consider, including the lack of regulatory framework and laws governing use of the tech.
There are also unaddressed privacy concerns about who gets access to data collected by facial recognition systems or if parental consent is required for such systems. In 2014, for instance, privacy concerns led to the shutdown of inBloom, a company that collected data from hundreds of New York City schools to develop personalized assignments for every student's specific needs.
There are also studies indicating that many facial recognition systems run a racial and gender bias, with chances of falsely identifying African-American and Asian faces up to 100 times higher than Caucasian faces. Correctly identifying children presents another unique challenge as their faces can change significantly as they grow up.
4. Gamification uses game elements to make learning interactive
Gamification in education is aimed at increasing learners' motivation and engagement by incorporating game design elements such as storytelling, problem-solving, badges, levels, and points in educational environments.
The global gamification in education market is expected to increase to $1.8B by 2023, up from $450M in 2018, according to CB Insights' Industry Analyst Consensus market sizing tool.
By designing lectures as a game, educators encourage students to face and accomplish various challenges and goals. This promotes higher student engagement and could help students retain knowledge more effectively. It also helps students reframe subjects they may consider burdensome or boring as engaging and fun.
Gamification enables students to receive instant feedback through the use of leaderboards and dashboards that can show how students rank among their peers. This can foster a spirit of healthy competition among students and motivate them to complete assignments to the best of their abilities.
A classroom teacher in the Houston Independent School district said that gamification helped his students perform better at reading and science and also reduced the time it took for students to accomplish their goals to only 10 months, compared with a usual time frame of 14-18 months.
The University of Washington created a video game called Foldit to research the structure of proteins. Participants in the game identify different ways to perfectly fold a selected protein structure to understand its native form. This information has been used to research different diseases — including Covid-19 — and create biological innovations to combat problems such as pollution and waste.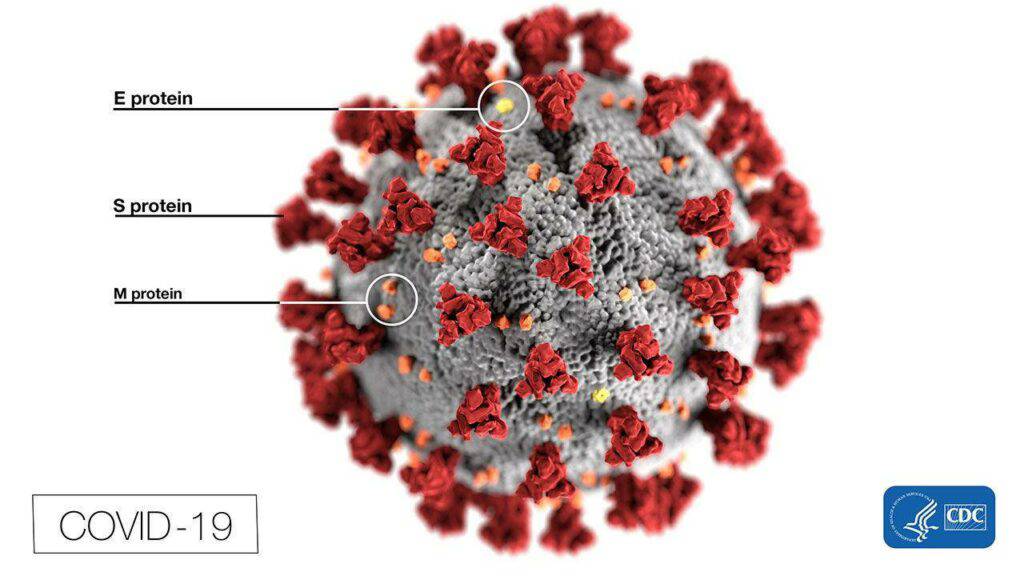 Amid the pandemic, gamers have used Foldit to work toward identifying a protein structure that will stem the spread of the SARS-CoV-2 virus. Source: SlashGear
Gamification is not limited to introducing elements of games into the classroom, but also includes games that promote learning. For example, Microsoft's Ribbon Hero game helps students learn to use Microsoft Office by awarding points for completing different challenges such as text manipulation and creating presentations. Participants can then share their progress and invite friends to compete with them.
Similarly, Duolingo uses a timed task-based game to help users learn a new language. The game offers different levels based on learners' skill levels. If the student completes the task within the time limit, she earns points as well as a time bonus.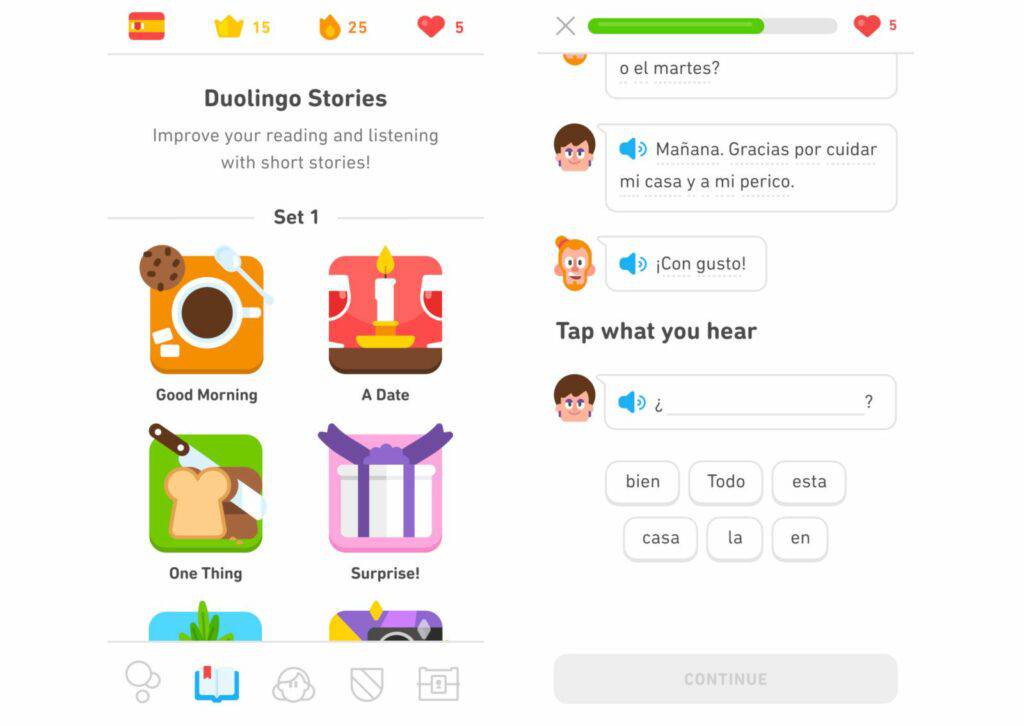 Source: Duolingo
While educators are likely to focus on how gamification keeps students engaged and self-motivated, critics point out that embedding entertainment into learning can make students more easily distracted. Students may also come to expect similar learning styles from other parts of their education.
There is also insufficient evidence to support the long-term benefits of gamification in educational contexts. More research is needed into the connections between a child's psychology and their increased participation and enthusiasm for this kind of learning.
5. Artificial intelligence enables data-driven decisions to increase efficiency and save costs
The education industry is experimenting with artificial intelligence (AI) applications.
Some institutions are using AI to help personalize learning, improve memory retention, teach languages, or increase accessibility to lessons.
For example, New York-based Knewton creates adaptive learning technology for higher education. Its alta program helps identify gaps in a student's knowledge and provides relevant coursework. The company claims that 15M students use its program, which can help increase scores by an average of 38 percentage points for struggling students in particular.
Similarly, China-based Squirrel AI Learning is an afterschool tutoring platform for K-12 students that tailors lessons to students using adaptive AI. The software's algorithm can reportedly judge a student's proficiency across 500 knowledge factors using only 25-30 questions.
AI can also prove helpful for students in overcoming language barriers in education. For example, Microsoft's Presentation Translator is an AI tool that provides real-time subtitles for presentations and lectures. Students can hear or read these in their native language.
Companies using AI are not only translating lessons in real time, but are also aiming to assist students with learning languages. California-based Elsa, for one, uses conversational AI to create discussions with users learning English and to help improve pronunciation.
AI-enabled chatbots are also being employed to increase student engagement. Botsify, an AI and machine learning-enabled chatbot, provides study material to students over text or multimedia messages and then assesses their knowledge through pop quizzes. It submits these results to teachers for assessment.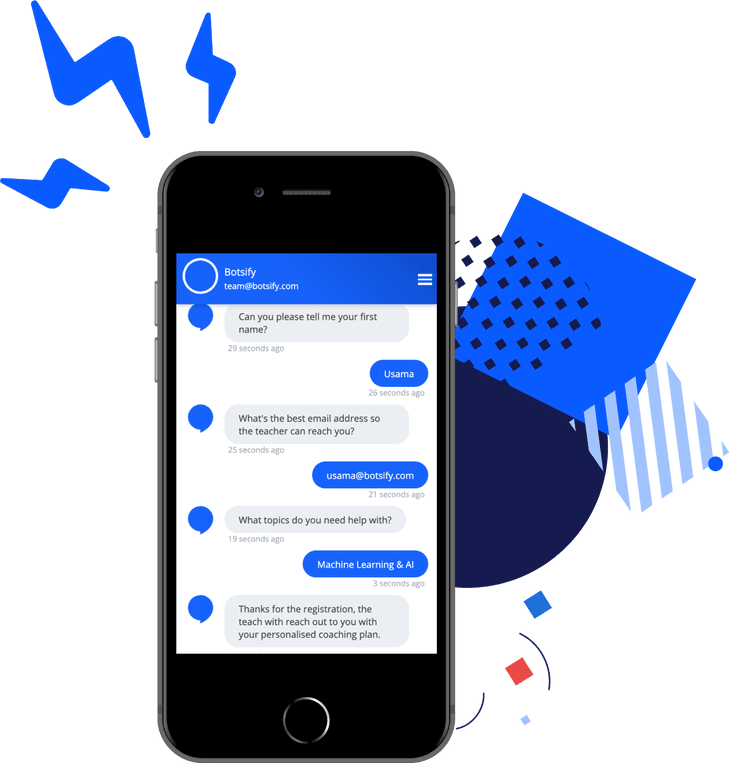 Source: Botsify
In addition to learning, chatbots can double as a teacher's virtual assistant, helping by answering frequently asked questions for students, giving personalized feedback to students, and providing additional learning materials based on a student's individual progress.
At the K-12 level, AI could help teachers devote more time to student engagement by automating other processes such as preparation for classes, administrative tasks, evaluation, and feedback.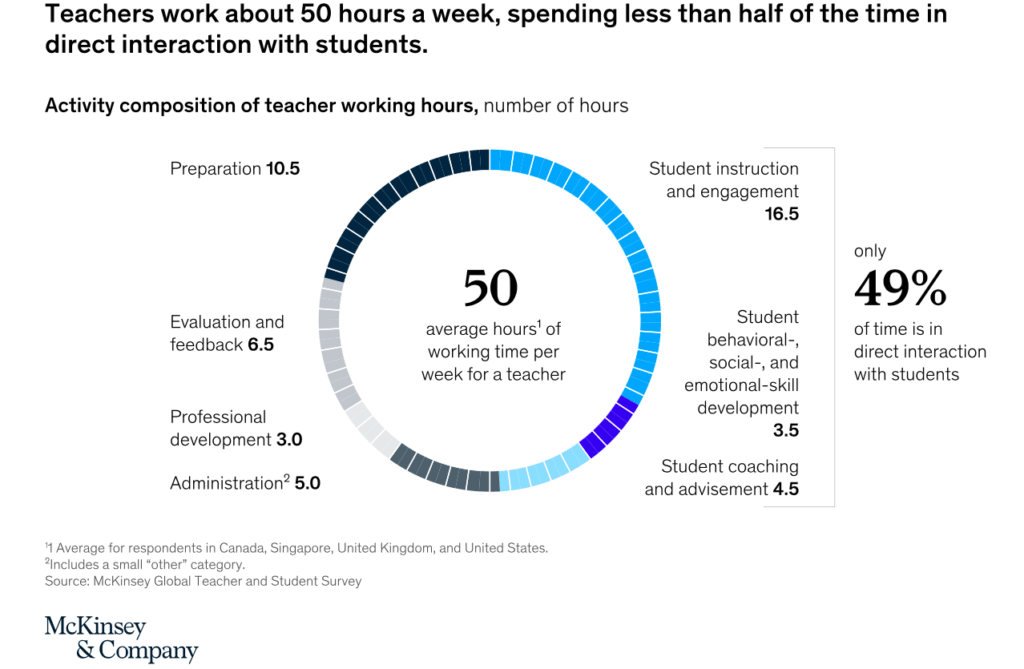 Source: McKinsey
Administrations are also looking to use predictive analysis — in which historical data is analyzed to determine a future outcome or course of action — to help reduce dropout rates, boost grades, and target students who are likely to be a best fit in a given school environment if enrolled.
For instance, in using predictive analytics, the University of Alabama found that students who asked for copies of their transcripts might be at risk of leaving the university. In response, administrators can provide appropriate resources to these students to encourage them to stay.
While predictive analytics uses historical data, it creates a problem for schools that are implementing these data programs for the first time, since there is no preexisting data and they may not have time to collect the necessary data.
In such a case, prescriptive analytics provides an alternative. Unlike predictive analytics, it analyzes real-time data to make or suggest tweaks immediately.
LearnSprout, which was acquired by Apple in 2016, is a service for K-12 educators that uses live data pulled directly from a district's student information system. It assesses student and school performance by using test results, grades, and attendance data.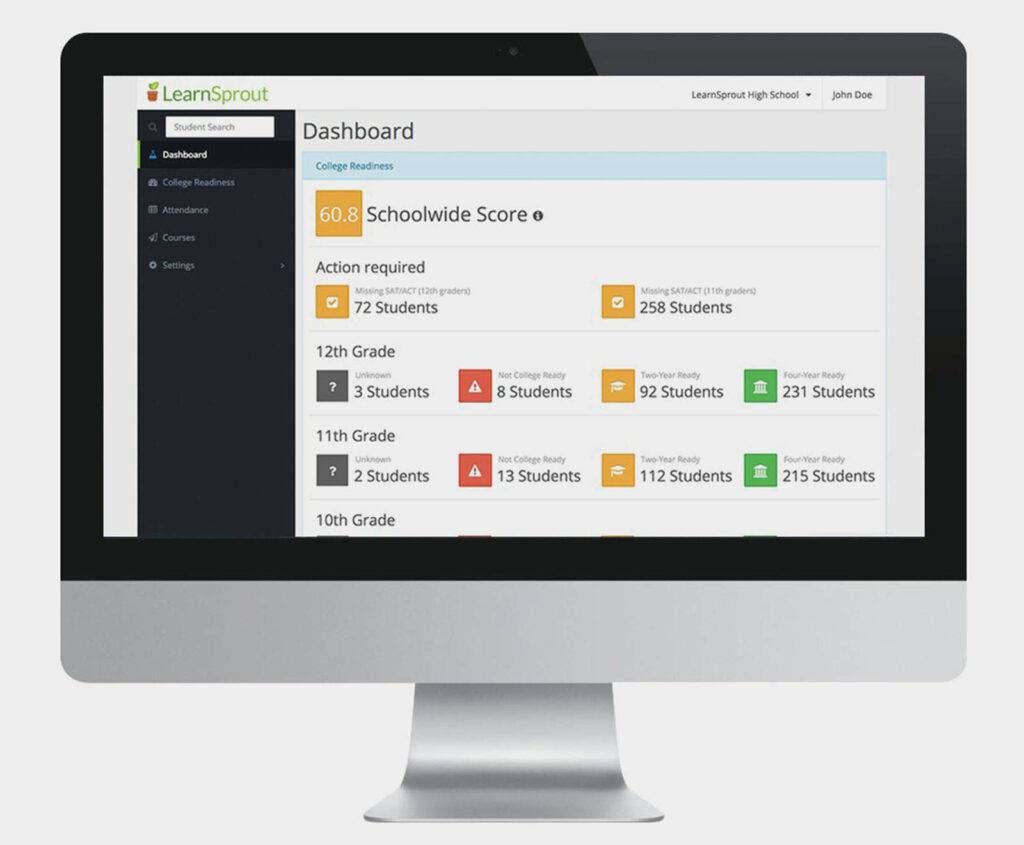 Source: LearnSprout
Even for all its benefits, AI adoption among educational institutions comes with some drawbacks, mainly regarding data hygiene and biases.
Effective data mining requires setting up the physical infrastructure — including servers, cloud networks, and hardware — as well as employing tech talent who can handle these sophisticated processes. This takes high upfront investment, which cash-crunched educational institutions may not always be able to supply.
There are also concerns about how data could reenforce historical stereotypes about race, gender, and other sensitive matters. For example, critics of big data analysis have pointed out how predictive data analysis could funnel students of color and those from low-income families into easier majors, mainly under the assumption that these majors need a lower grade.
6. Smart campus tech leverages devices and data for a connected experience
A smart campus is a digitally connected space, where devices and data come together to provide a more intuitive learning experience to students.
Devices such as smartphones, laptops and tablets, smart watches, and fitness trackers have become an integral part of people's lives. Among undergraduate students, 95% have access to smartphones, while 91% have access to laptops, according to EDUCAUSE.
By connecting all these devices into a single network — also known as the Internet of Things (IoT) — educational institutions could look to improve operations across the board.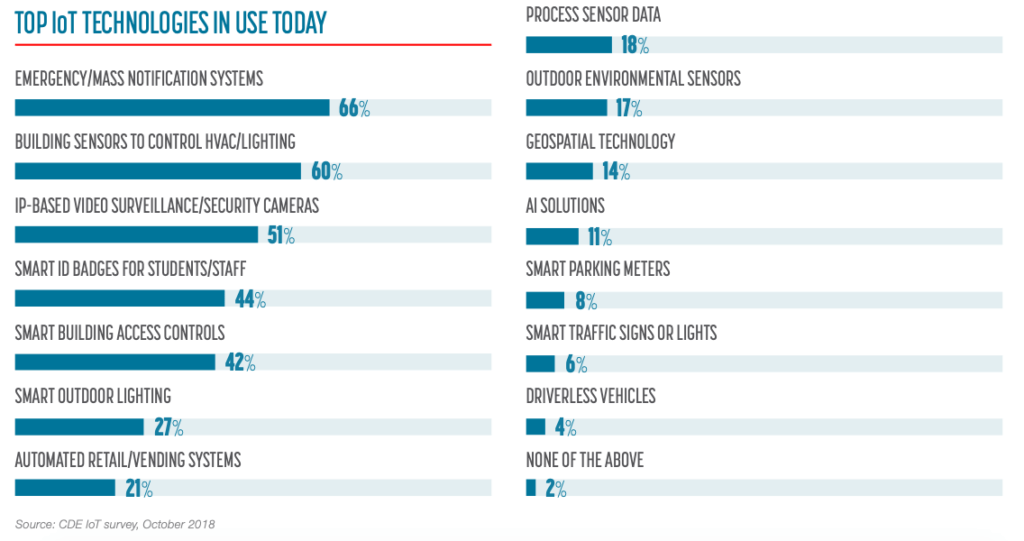 A Center for Digital Education (CDE) survey of higher education leaders from 2018. Source: Center for Digital Education
Smart campuses can help lead to cost savings for an educational institution. For example, buildings fitted with intelligent sensors can detect whether the building is in use and adjust its power distribution accordingly.
Arizona State University has been working with tech partners including Intel to install its Sun Devil Stadium with sensors that can be used to analyze crowd noise levels and determine which sections of the audience cheered the loudest for their teams. At other times, these sensors can help reduce water waste by determining if faucets have been left running in the stadium.
For students, smart campuses could mean increased convenience. At the University of Kentucky, students have access to a smart laundry, which they can pay for and operate through a smartphone app. Other campuses are enabling students to pay for food in cafeterias and vending machines through their smartphones and other wearable devices.
Big tech companies are also making their presence felt on campuses. In late 2018, Apple partnered with Duke University, the University of Oklahoma, and the University of Alabama to enable students to integrate the information on their physical IDs into their Apple Wallets. Students that use Apple devices at these universities are able to buy lunch and tickets to university events, as well as gain access to campus gyms and other restricted buildings by tapping their Apple devices to an NFC (near-field communication) reader.
Additionally, Amazon has partnered with St. Louis University in Missouri to equip dorm rooms with Echo Dot smart speakers that are specifically programmed to answer questions about dorm and campus life.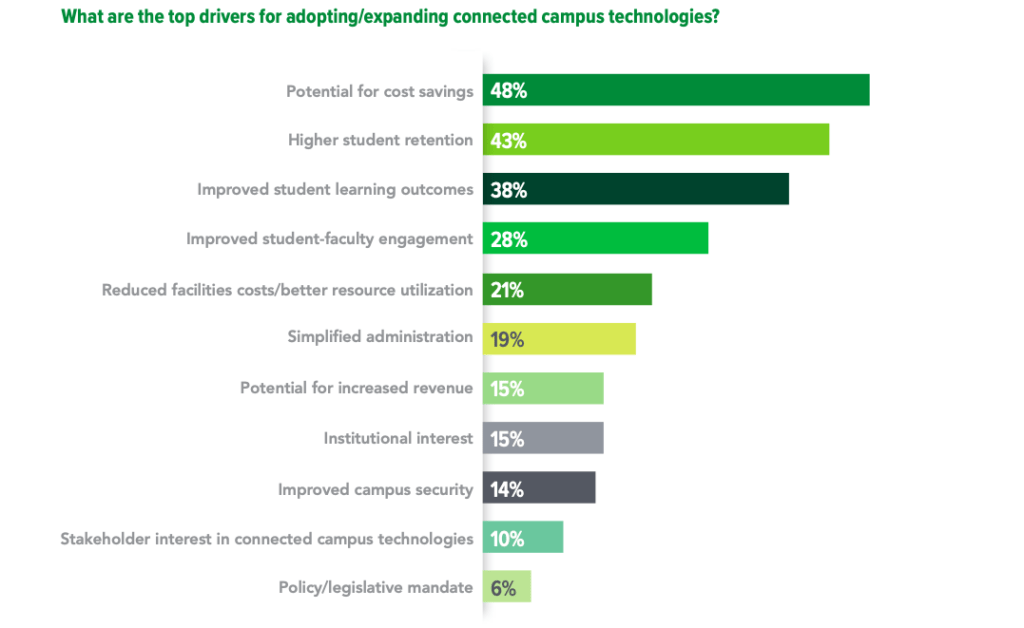 Source: CenturyLink
However, enabling a seamless operation of thousands of connected devices across campus requires immense technological preparation and planning on the part of the educational institution.
Schools need to examine their existing networks and upgrade them as needed to ensure the network can handle a wide range of devices including cameras, sensors, student devices, and more. Colleges also need to ensure that their networks are able to withstand and analyze the vast amounts of data that smart campuses generate.
Schools also need the buy-in of their students, faculty, and staff, who may be concerned about privacy and tracking. According to a 2018 survey, 60% of campuses reported data breaches in the previous year alone.
To ensure privacy and security of data, campuses need to put in place robust security systems such as AI and machine learning-enabled technologies that secure data across the network.
Making these network upgrades and installing infrastructure such as sensors and cameras for a connected campus means upfront and ongoing costs to universities and schools. While private educational institutions may be able to make these expenditures, many public schools lack the funds to do so. In addition, schools need to employ specialists who can ensure all the technologies deployed across campus are up to date and running smoothly.
Where the education industry goes from here
The education sector is largely lagging when it comes to tech innovation, and events like Covid-19 place an even stronger spotlight on inefficiency and gaps across operations.
Edtech and digitization at large could greatly supplement the learning process. Beyond seeing a more seamless transition to remote learning scenarios, tech could help provide personalized learning solutions as well as new and engaging avenues for students to participate in school.
However, the sector faces significant barriers to increased adoption of tech. These include privacy concerns, lack of specific talent to operate infrastructure, and inability of many educational institutions to make investments in building out networks.
Regardless, as we look to a post-Covid future, we will likely see increased acceptance of technology in learning, especially in hybrid formats that combine classroom learning with digital techniques like live broadcasts and virtual reality.
If you aren't already a client, sign up for a free trial to learn more about our platform.