China is a strong international force in the baby and kids tech space, boasting more $100M+ mega-deals than any other country.
While the US has taken a slim majority (51%) of deals to the baby and kids tech space since 2013, countries like China, India, the UK, and Germany are also seeing activity in the space, together accounting for 25% of deals.
This year to date, the largest deal to a US-based baby and kids tech startup has been a $92M Series C to social gaming startup Roblox, backed by Index Ventures and Meritech Capital Partners.
The biggest deal globally was more than 2X as large: a $200M Series D round of funding to China-based language-learning platform VIPKID, backed by Sequoia Capital China, Tencent Holdings, and Sinovation Ventures, among others.
Using CB Insights data, we mapped out more than 55 international private baby and kids tech companies that are VC-backed and have raised disclosed funding in the last 24 months.
We define baby and kids tech to include companies developing tech-enabled products and services that primarily serve babies, children up to approximately 12 years old, and their parents. Products and services included range from e-commerce sites to ed tech platforms to augmented reality toys. We exclude any companies that primarily focus on prenatal products and services.
Please click to enlarge. 
Baby and kids tech startups Global Map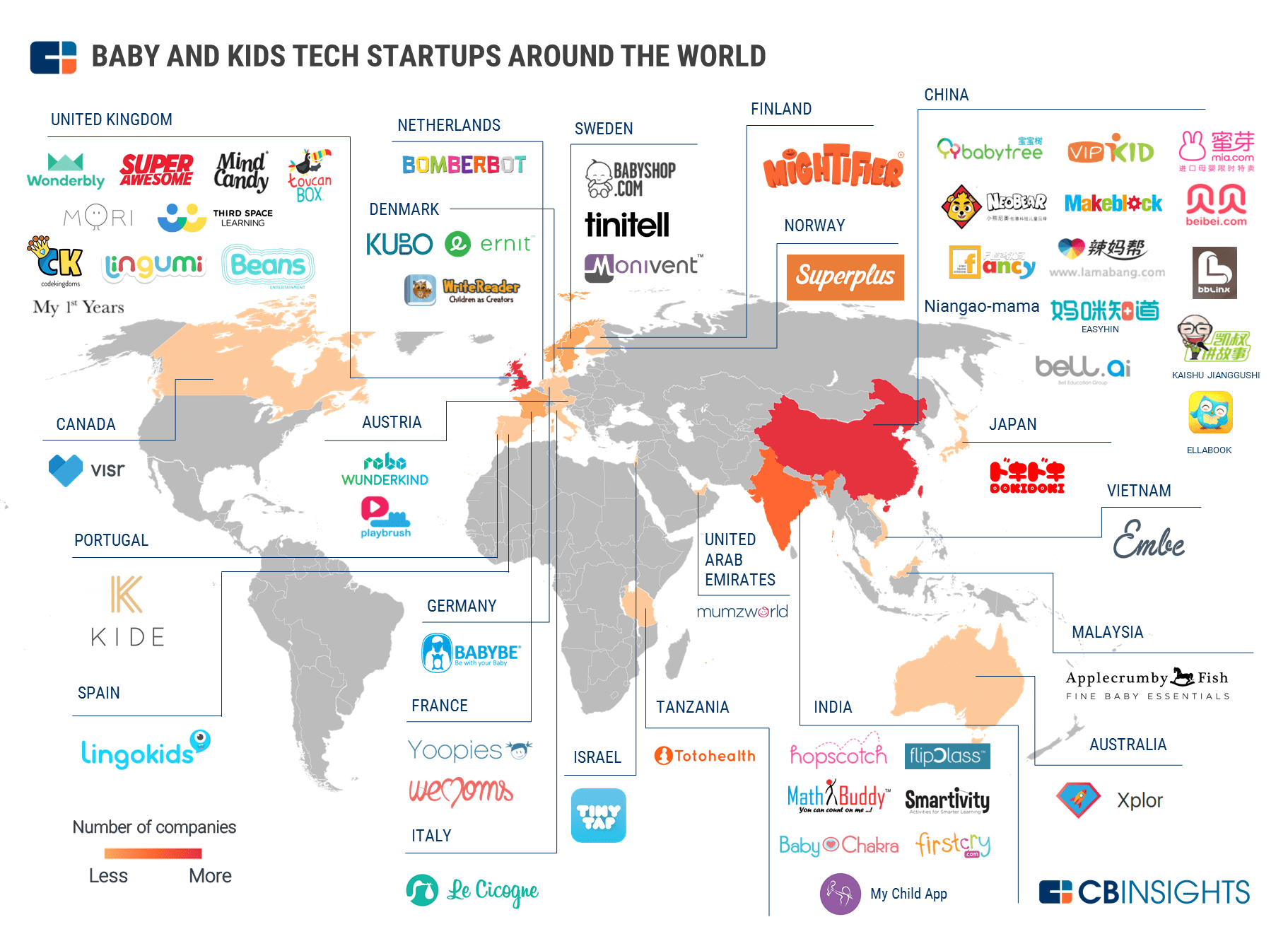 While China takes only 9% of global deal share since 2013, Chinese baby and kids tech companies have accounted for almost 90% of $100M+ deals to the category globally since 2015, overtaking the US (which only witnessed one such mega-deal over the same period) by a large margin.
China-based startups that have raised deals worth $100M+ since 2015 include parenting advice platform Babytree and the above-mentioned language-learning platform VIPKID, as well as e-commerce sites Mia.com, BeiBei, and Lamabang.
Though VIPKID has recently made headlines as one of China's newest unicorns (scoring a $1.5B valuation earlier this quarter), it is not the only language-learning startup to gain momentum.
Spain-based Lingokids, while a smaller company, has attracted early-stage interest from investors including Bessemer Venture Partners and 500 Startups. The company, with over $5M in total funding, teaches kids English through interactive mobile games.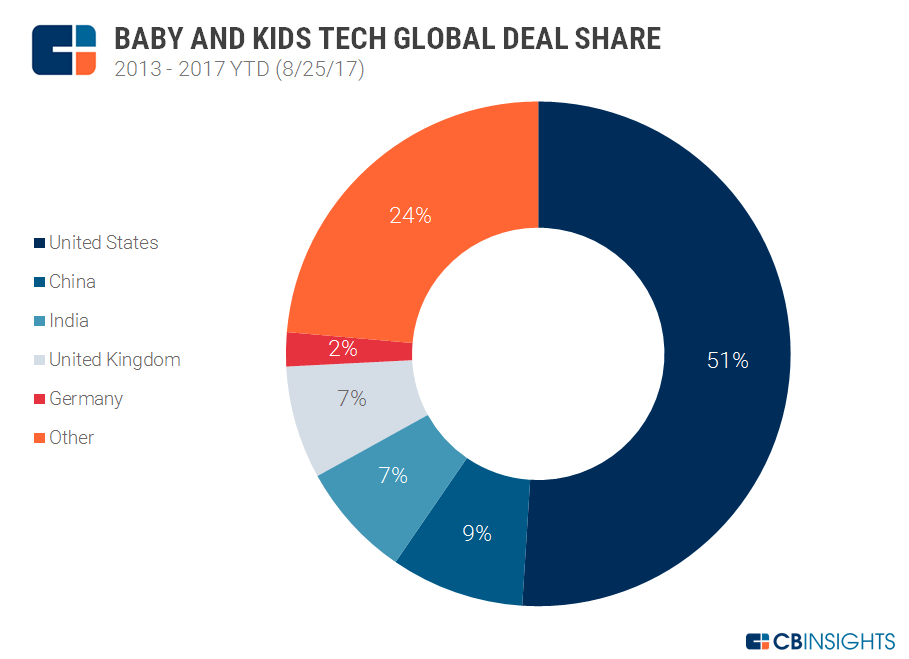 The UK, which accounted for over 7% of global deal share, has seen recent deals to a variety of startups, including an $8.5M Series B in Q3'17 to Wonderbly, a company which produces custom books for children, as well as a $1.5B Series B round of funding in Q2'17 to gaming company Mind Candy.
For more insights into baby and kids tech, check out our CB Insights Baby and Kids Tech Briefing.
Track all the baby and kids tech startups in this brief and more on our platform
Startups are offering new technologies to improve the lives of babies, children, and their parents. Track and analyze this growing category yourself using our Baby and Kids Tech Collection.
Track baby and kids tech startups
Companies list
If you aren't already a client, sign up for a free trial to learn more about our platform.