Corporate- and CVC-backed deals to baby & kids tech startups are on track for record deal and funding highs in 2017.
While still a nascent category, the baby and kids tech sector is attracting increasing interest from corporate investors.
While much of this attention has gone to US-based companies, a notable portion of corporate and CVC deals to baby and kids tech companies has also taken place in China, with corporates like Baidu and Tencent Holdings participating in $100M+ mega-rounds to the space.
Globally, deals with corporate participation in the sector are on track to reach a five-year high of 26 deals in 2017, which would be a 24% increase from the 21 deals that took place in 2016. Deals backed by corporate investors — including those made by their corporate venture arms — accounted for 23% of deals to the category at large.
Using CB Insights data, we analyzed corporate and corporate venture capital participation in deals to private baby and kids tech companies from 2013 through 2017 YTD (8/25/17).
We define baby and kids tech to include companies developing tech-enabled products and services that primarily serve babies, children up to approximately 12 years old, and their parents. Products and services included range from e-commerce sites to ed tech platforms to augmented reality toys. We exclude any companies that primarily focus on prenatal products and services.
For more on the growth of the corporate venture capital and CVC ecosystem at large, check out our H1'17 Global CVC Report.
Annual financing trends
In 2016, corporate and CVC investors participated in 21 deals to baby and kids tech startups in deals totaling $223M in disclosed equity funding. This slightly lagged the 2015 high of 23.
However, this year is currently on track to witness 26 deals with corporate participation by year end, which would set a five-year deal count high in the sector.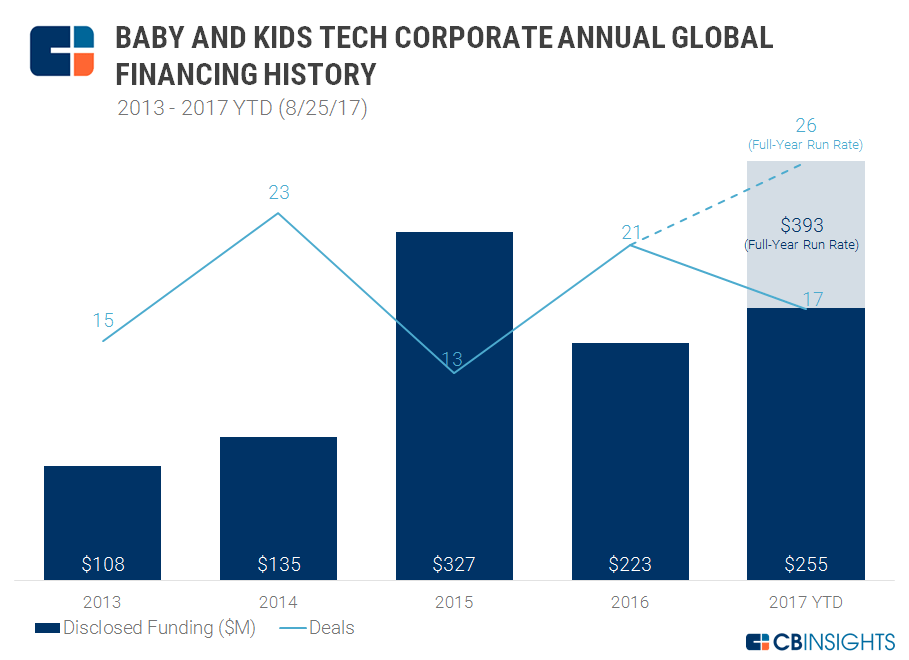 To date, there have been 17 deals in 2017, the largest of which was a $200M Series D round to children's language-learning platform Vipkid. The round saw participation from Tencent Holdings and resulted in a $1.5B valuation,  making Vipkid one of China's newest unicorns.
While 2015 and 2017 have seen higher levels of dollar funding, this has been primarily due to corporate participation in a few very large $100M+ mega-deals amid a majority of much smaller ($10M or less) deals.
Track all the baby and kids tech startups in this brief and more on our platform
Startups are offering new technologies to improve the lives of babies, children, and their parents. Track and analyze this growing category yourself using our Baby and Kids Tech Collection.
Track baby and kids tech startups
Quarterly financing Trends
Drilling into quarterly data, Q4'16 was the top quarter for corporate-backed deals to baby and kids tech companies, with 9 deals.
A funding high of $291M came in Q3'15, primarily due to corporate participation in two $100M+ deals, to flash-sale e-commerce platform Mia.com and parental advice platform Babytree, both based in China.
While not featured below, Q3'17 has already surpassed Q2'17 in terms of both deals and dollars, with 6 deals that included corporate participation already taking place this quarter.
The largest deal this quarter so far has been the $200M Series D to Vipkid. Another notable Q3'17 deal is the $8.5M Series B by Wonderbly, a startup using technology to personalize books for children. The round included corporate investors Google Ventures, Ravensburger, and The Chernin Group.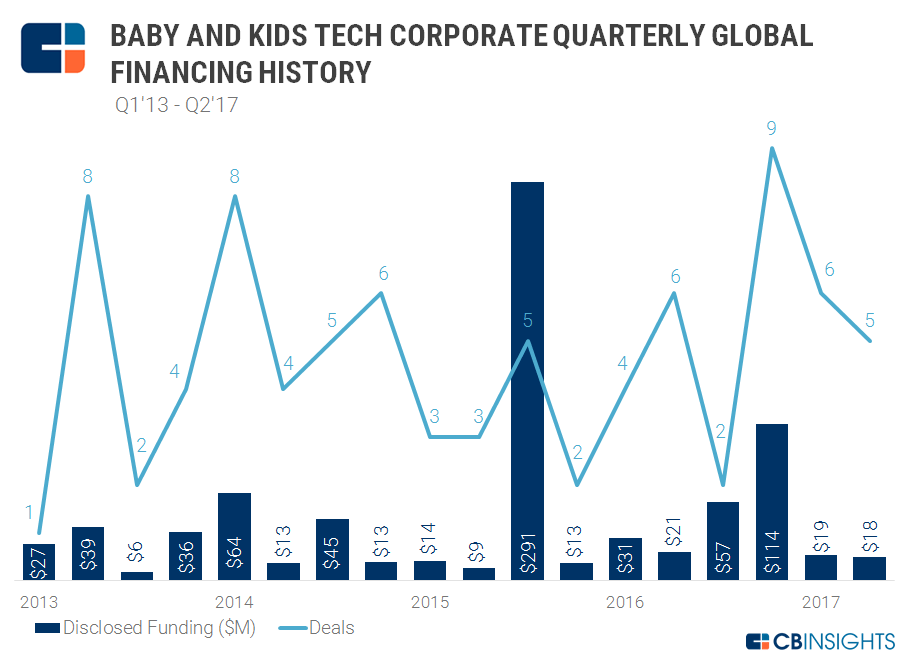 Notable corporate-backed companies
The most-well funded baby and kids tech company with a corporate or CVC investor is Babytree, with $602M in total disclosed equity funding to date. The next two most well-funded companies are Vipkid, at $325M, and Mia.com, at $232M. All of the top five most well-funded corporate and CVC-backed baby and kids tech companies are based in China.
Most Well-Funded Corporate and CVC-Backed Baby & Kids Tech Companies
2013 – 2017 YTD (8/25/17)

| Rank | Company | Corporate and CVC Investors | Total Funding in (M) |
| --- | --- | --- | --- |
| 1 | Babytree | Jumei International Holdings, TAL Education Group | $602 |
| 2 | Vipkid | Tencent Holdings | $325 |
| 3 | Mia.com | Baidu | $232 |
| 4 | BeiBei | Mizhe.com | $224 |
| 5 | Lamabang | Suning Commerce Group, Vipshop | $120 |
If you aren't already a client, sign up for a free trial to learn more about our platform.