Early-stage startups in the baby and kids tech space are gaining increasing investor attention.
Deal activity to baby and kids tech startups reached record levels in 2016 at 176 total, and 2017 deals are on track to surpass that figure by year-end. However, dollar funding has fallen off so far this year, and is on pace to reach less than half of total 2016 dollar funding.
The comparatively high level of dollar funding in 2015 and 2016 can be attributed to a number of large $100M+ deals that took place during both years. These included a $448M investment to China-based online parenting platform Babytree in Q3'16, as well as a $150M Series D to China-based baby products sales platform Mia.com in Q3'15.
Using CB Insights data, we analyzed funding trends from 2013 through 2017 year-to-date (7/20/17) in the baby and kids tech category. We define baby and kids tech to include companies developing tech-enabled products and services that primarily serve babies, children up to approximately 12 years old, and their parents. Products and services included range from e-commerce sites to ed tech platforms to augmented reality toys. We exclude any companies that primarily focus on pre-natal products and services.
This report contains detailed information on:
Annual financing history
Deal activity in baby and kids tech grew 48% between 2013 and 2016, reaching 176 deals in 2016. 2017 is currently on track to see a new high of 185 deals by the end of the year.
In contrast to the steady growth of deal activity, the pace of total funding to the industry has declined significantly in 2017, after three years of growth.
2016 saw four $100M+ rounds to companies including Babytree (mentioned above), as well as to US ed tech platform Age of Learning, and China-based e-commerce children's clothing platform BeiBei and video-teaching platform Vipkid. In 2015, there were also four $100M+ rounds, which also included rounds to Babytree, BeiBei, and Mia.com (mentioned above). In addition, China-based Lamabang also received a $100M Series C round of financing from investors including Matrix Partners China, in Q1'15.
The largest deals so far in 2017 were a $92M Series C to US social gaming platform Roblox and a $30M Series B to China-based educational robotics company Makeblock. Both deals were in Q1.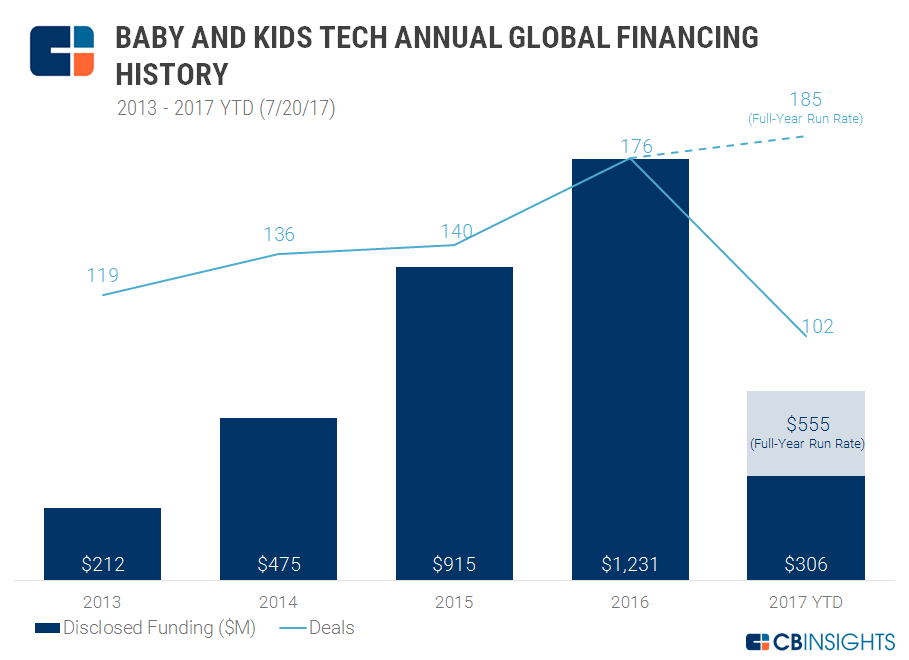 Quarterly financing history
Looking at investment into baby and kids tech companies on a quarterly basis, Q1'17 saw a high in deal activity, at 52 total. In Q1'16, quarterly deal activity surpassed 40 deals for the first time, and reached above this threshold in three out of four quarters that year.
Q3'16 represents the most well-funded quarter since 2013, with $650M in funding. However, 84% of that funding came from the top two deals that quarter: a $448M investment to Babytree, and an $100M Series C to Vipkid (mentioned above).
In comparison, the two largest deals of Q2'17 were a $13M Series A to online children's story and content platform Kaishu Jianggushi, and a $7.5M seed deal to Greenlight Financial Technology, which creates a smart debit card for kids along with an adjoining parental control platform.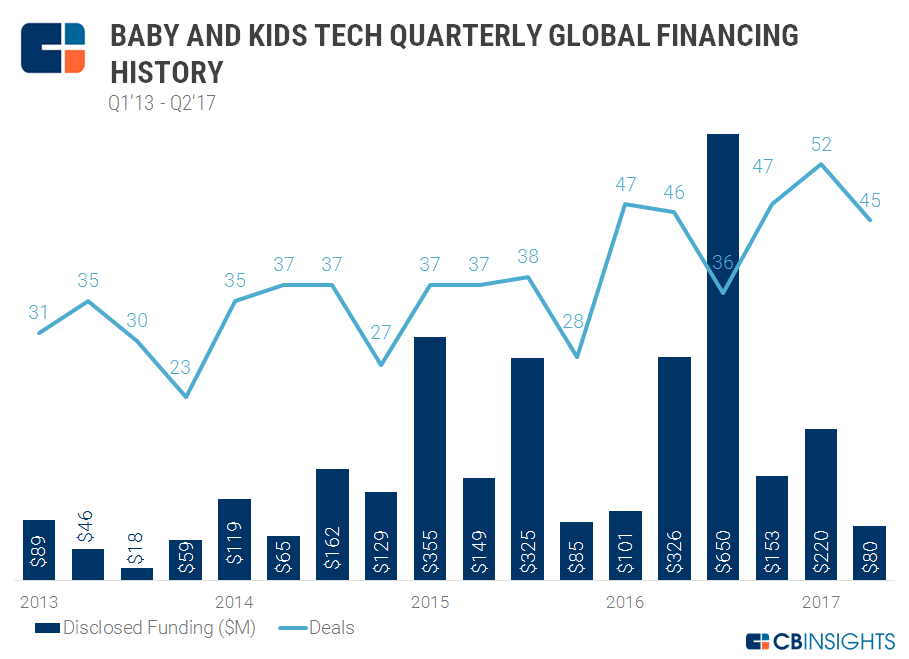 Financing trends by stage
There has been a modest increase in the proportion of early-stage (seed / angel and Series A) deals this year. There have been 64 seed / angels deals so far in 2017, while there were only 56 such deals at this time last year.
This trend aligns with the overall increased deal activity and decreased dollar funding that we have witnessed in 2017, which could signal renewed investor interest in early-stage startups and less attention focused recently on later-stage companies. In keeping with this, there were no Series E+ deals (which includes private equity and growth equity deals) so far in 2017, though they constituted 4% of deals in 2016.
Mid-stage deals (Series B and C) also declined from 8% of deal share in 2016, to only 5% of deal share so far in 2017.
Our "Other" category, which includes minority investments by corporates along with convertible notes, accounts for 16% of deal share so far this year.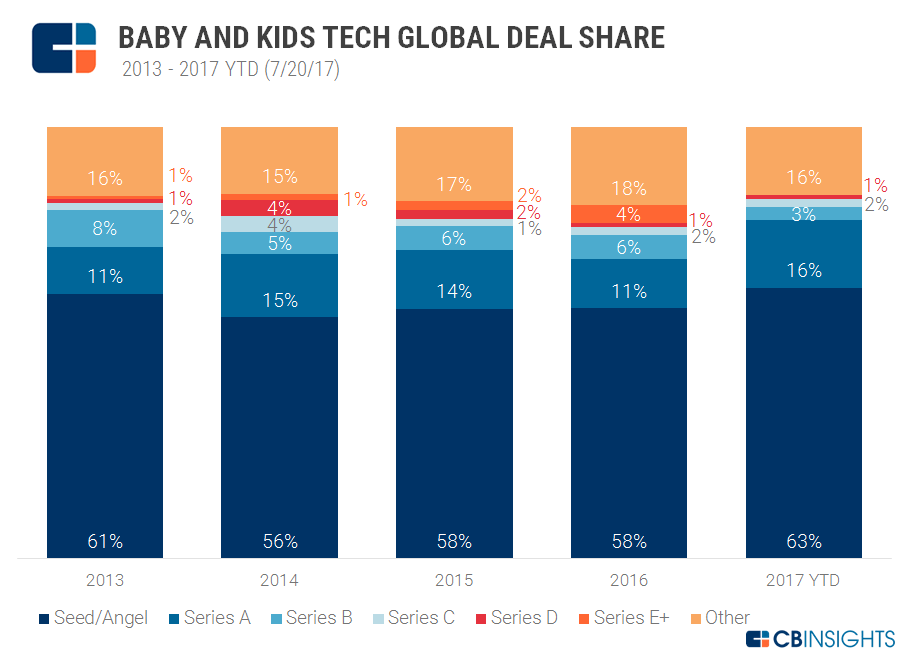 The most active VC investors
500 Startups claimed the top spot as the most active investor in baby and kids tech companies between 2013 and 2017 year-to-date. A recent deal in which 500 Startups participated included a $4M seed round to LingoKids, an ed tech platform for children, in Q2'17.
 Baby and Kids Tech Most Active VC Investors 2013 – 2017 YTD (7/20/17)

| Rank | Investor |
| --- | --- |
| 1 | 500 Startups |
| 2 | FundersClub |
| 2 | Forerunner Ventures |
| 2 | New Enterprise Associates |
| 2 | NewSchools Venture Fund |
| 2 | BBG Ventures |
| 7 | Matrix Partners China |
| 7 | RRE Ventures |
| 7 | Reach Capital |
| 7 | Qualcomm Ventures |
| 7 | Tandem Capital |
| 7 | Kapor Capital |
| 7 | First Round Capital |
If you aren't already a client, sign up for a free trial to learn more about our platform.