California-based early-stage seed fund 500 Startups leads the way as the most active investor in baby and kid tech since 2013.
With technology catering to every age group, startups focusing on products and services geared toward babies and kids have seen an increasing amount of investor interest over the last several years.
Specifically, the baby and kids tech space saw records highs in deals and disclosed equity funding in 2016, totaling $1.2B over 176 deals. In 2017, the category is on pace to set yet another record in deal activity, with 185 deals expected by year-end based on the current run rate.
We used CB Insights data to identify the baby and kid tech sector's most active venture capital investors as well as the companies they've invested in, 2013 – 2017 YTD.
As the baby and kids tech space is still a nascent and evolving category, relatively few firms have made a large number of unique investments into the space. The top investor, 500 Startups, has made 12 unique investments in the space, followed by New Enterprise Associates, which made 7 unique investments and placed second.
We define baby and kids tech to include companies developing tech-enabled products and services that primarily serve babies, children up to approximately 12 years old, and their parents. Products and services included range from e-commerce sites to ed tech platforms to augmented reality toys. We exclude any companies that primarily focus on pre-natal products and services.
Note: Our infographic below contains companies that may have ceased operations or been acquired.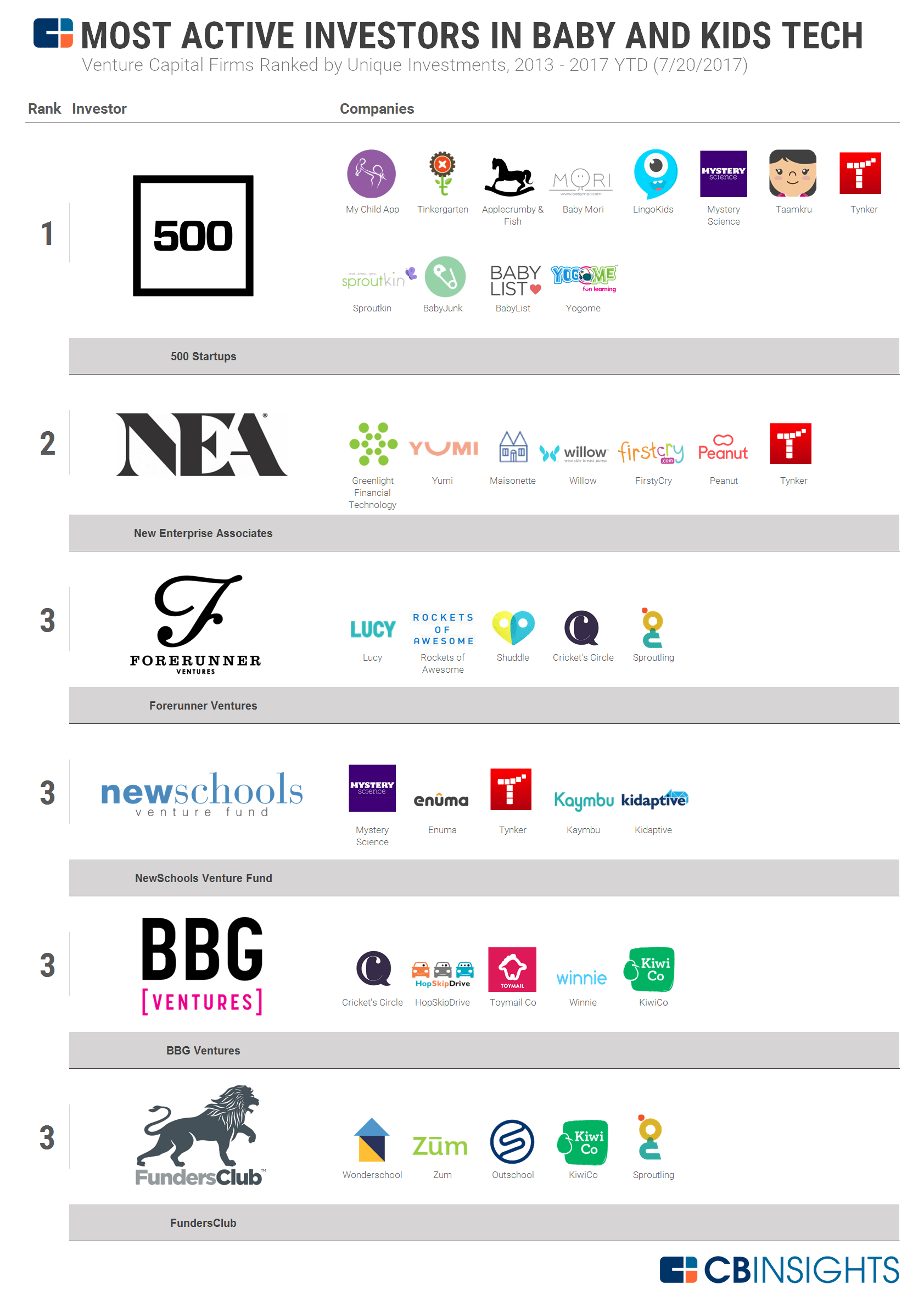 Key takeaways from the table above include:
Three of the venture capital firms on our list have a mission-oriented focus and invest in specific fields, rather than across tech and software more broadly. Forerunner Ventures specifically backs companies in the commerce and consumer products sector; Newschools Venture Fund is a non-profit firm that backs education-related startups; and BBG ("Built By Girls") Ventures only backs companies that have at least one female founder.
500 Startups, the most active investor on the list, has shown particular interest in ed tech startups, with 7 of the 12 baby and kids tech companies in its portfolio operating in the area of childhood learning and education, such as startups Mystery Science and Lingokids.
Startup Tynker, which helps kids learn to code, has seen participation from three investors in the above infographic (more than any other company).
The size of funding rounds that these investors have participated in varies widely. New Enterprise Associates (NEA) boasted participation in deals with the highest average deal size among its baby and kids tech portfolio companies, at $10.8M per disclosed deal. Meanwhile seed-focused fund 500 Startups participated in rounds with the lowest average deal size, at $1.5M per deal (86% less than NEA's average).
The largest deal to the baby and kids tech space with participation from one of the above investors was a $34M Series E round to Indian e-commerce platform FirstCry in Q4'16. NEA participated in the round, along with Temasek Holdings, IDG Ventures India, Vertex Ventures, and others.
Most Active Investors in Baby and Kids Tech 2013 – 2017 YTD (7/20/2017)

| Rank | Name | # of Companies Invested In |
| --- | --- | --- |
| 1 | 500 Startups | 12 |
| 2 | New Enterprise Associates | 7 |
| 3 | Forerunner Ventures | 5 |
| 3 | Newschools Venture Fund | 5 |
| 3 | BBG Ventures | 5 |
| 3 | FundersClub | 5 |
If you aren't already a client, sign up for a free trial to learn more about our platform.