Market Map
The B2B payments fintech market is heating up as these companies transform aspects of the payments value chain — from point-of-sale systems to API integrations to crypto. 
Fintech solutions geared toward businesses of all shapes and sizes are rapidly gaining traction. 
Previously, businesses relied heavily on costly manual processes and paper checks — practices that were challenged by the onset of the pandemic. Now, businesses are adopting payments technology to streamline operations, receive funds faster, and pay bills on time. 
B2B payments has been a trending topic on corporate earnings calls over the past 5 years and large payment players — from Bill.com to Mogo — are adding to the discussion.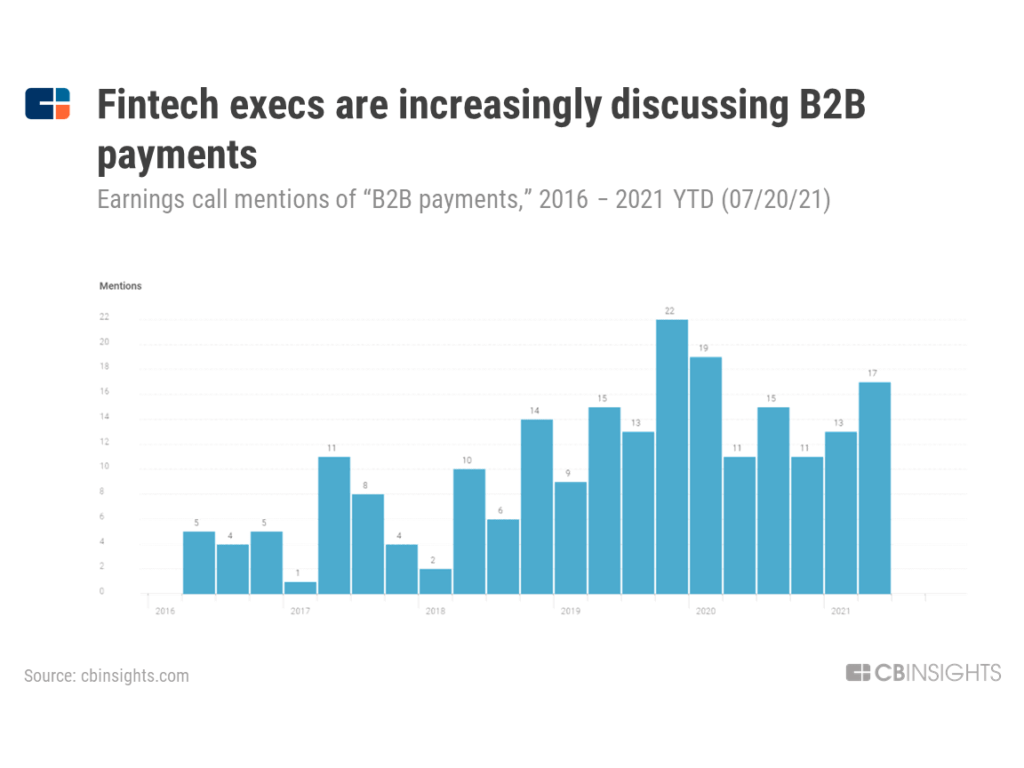 But many private fintech companies are also competing for a piece of the pie, looking to assist businesses in everything from e-commerce and point of sale to infrastructure and APIs to card payments and blockchain. 
Using CB Insights data, we identified 85+ startups leveraging technology to offer payments products and services to merchants, small businesses, and large enterprises.
We define B2B payments tech companies as those that provide payment technology to businesses that enable the transfer, acceptance, and processing of money. 
This market map includes private, active global companies that were selected based on recency of funding, total funding, and primary use-case. It is not intended to be exhaustive of the space and categories are not mutually exclusive. This was created with the CB Insights Market Map Maker.
Please click to enlarge.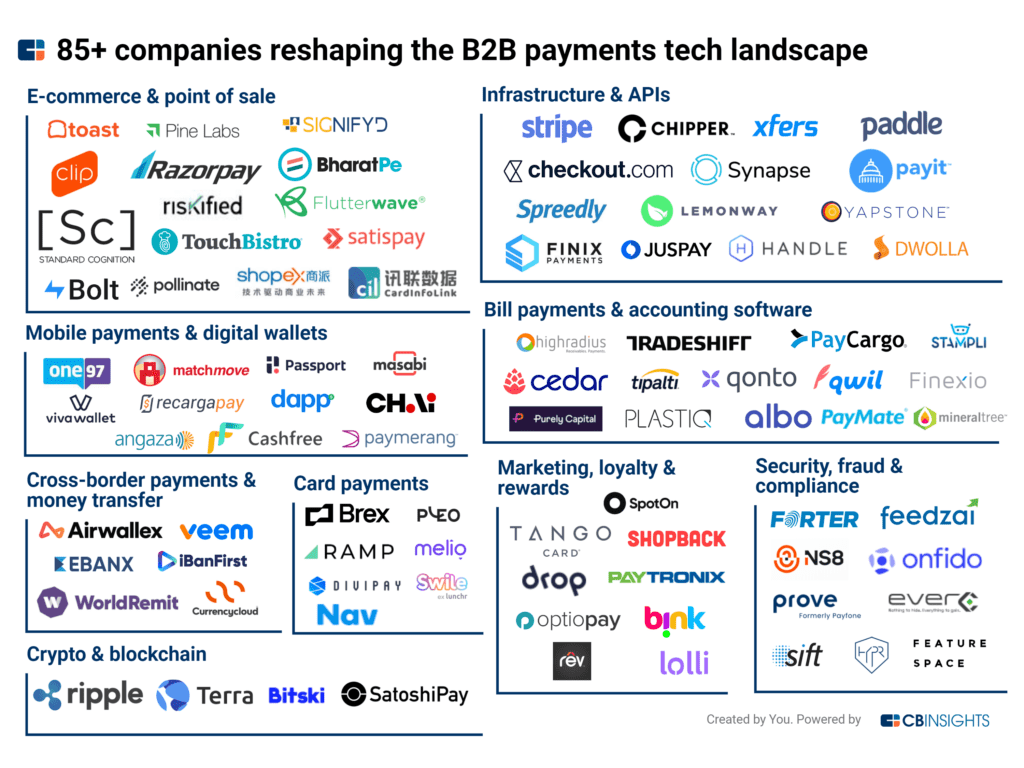 Category BREAKDOWN
E-commerce & point of sale (POS): Companies in this category help merchants process payments online or offline through omnichannel and physical point-of-sale systems. For example, India-based Pine Labs ($492M in total funding) offers cloud-based POS payment solutions that allow merchants to accept credit cards, debit cards, e-wallets, and QR codes as payment methods. 
Infrastructure & APIs: These companies offer payment infrastructure and API integrations for businesses. Chipper Cash offers an API solution to help businesses send and accept online payments in Africa. The company last raised a $100M Series C at a $2B valuation. 
Mobile payments & digital wallets: Companies in this category offer mobile payment solutions and digital wallet (or e-wallet) services to businesses. Passport ($212M in total funding) offers a mobile payment system and operating software specifically designed for clients in the parking, permits, and curb space business.  
Singapore-based MatchMove ($151M in total funding) offers an end-to-end virtual wallet and provides expense management, remittance, and banking services to help businesses increase revenue and boost user engagement. 
Bill payments & accounting software: This category comprises companies that help businesses pay their bills online and develop solutions for accounts payable, accounts receivable, bookkeeping, treasury, and taxes. HighRadius ($475M in total funding) offers automated accounts receivable and treasury solutions powered by AI that aim to help businesses increase the efficiency of their order-to-cash and treasury systems. 
Cross-border payments & money transfer: Companies in this category help businesses send money, in part by facilitating cross-border transactions. Brazil-based EBANX ($460M in total funding) offers cross-border payment processing across Latin America along with other services, such as those for local-fund collecting, customer support, know your customer (KYC), and remittances.  
Card payments: Companies in this category provide payment cards and/or credit card offerings to merchants or businesses. For example, Ramp Financial offers corporate cards and a spend management platform to businesses. The company last raised a $50M second Series B at a $1.6B valuation. 
Additionally, Denmark-based Pleo offers corporate payment cards and expense management software to businesses. The company recently raised a $150M Series C at a $1.7B valuation. 
Marketing, loyalty & rewards: Companies here offer customer engagement tools as well as loyalty/rewards programs for e-commerce companies. Lolli ($10M in total funding) is a bitcoin rewards application that partners with retailers to offer loyal customers free bitcoin or cash. 
Security, fraud & compliance: Companies in this category offer security, fraud prevention, and compliance SaaS solutions to businesses. For example, Feedzai offers a cloud platform equipped with a number of features to help manage financial risk, such as account opening authentication, transaction monitoring, and anti-money laundering machine learning technology. The company recently raised a $200M Series D at a $1B valuation. 
Crypto & blockchain: These are payment technology companies using cryptocurrency or blockchain technology to provide solutions to businesses. For example, Terra ($57M in total funding) partners with global e-commerce platforms to allow merchants and consumers to take advantage of blockchain benefits, such as low transaction costs.
If you aren't already a client, sign up for a free trial to learn more about our platform.