This acquisition supports Axel Springer's efforts to add US-based media holdings to its portfolio. Here are the top-line bullets you need to know.
Axel Springer, a publishing company, has acquired Politico, a global news and information company, at a $1B valuation. The deal is expected to close in Q4'21.
Who are the parties to the deal?
Politico:

Virginia-based Politico is a global news company and information services provider that specializes in politics and policy. The company has 700 employees in North America and 200 in Europe, and it generates revenue of about $200M annually. It publishes about 3,000 stories in a month and averages 54M unique monthly visitors.
Axel Springer:

Germany-based

Axel Springer is a media publishing and technology company. The company operates across 40 countries and has over 16,000 employees worldwide. The company's portfolio includes media brands like Business Insider, Bild, and Welt and portals like AVIV Group and StepStone Group.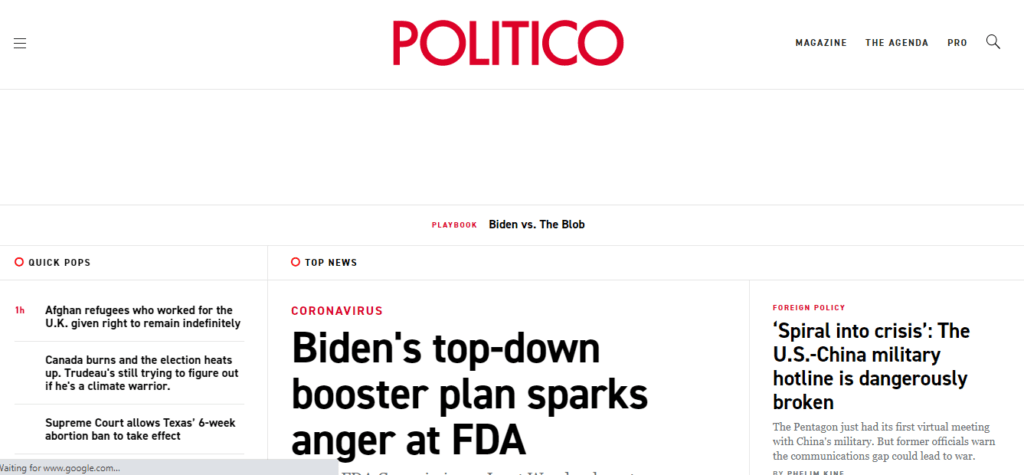 Source: Politico
Why does the market matter?
The global media market is projected to grow at a CAGR of 10% and reach a value of

 $2.67T by 2025, according to Research and Markets.

Covid-19-induced lockdowns sparked an increase in digital media content consumption — as a result, revenue grew 22% year-over-year in 2020 and is expected to reach $414B by 2025, according to Finaria.