How AXA's "payer-to-partner" health strategy has evolved through investments, partnerships, and M&A.
In 2016, AXA CEO Thomas Buberl put forth a strategy of transitioning AXA's position in health from that of a "payer to a partner" by 2020.
In other words, AXA hoped to address far more of customers' needs by developing its digital capabilities in areas such as prevention and care.
Why the focus on health?
For one, AXA has a large health insurance business that is expanding. Between 2014 and 2016, premiums in its Protection & Health segment grew from €2.4B to over €2.9B. AXA also plans to float part of its US business and use the proceeds to accelerate its shift from traditional life insurance to markets including health insurance.
AXA's Buberl has also stated that insurers are under threat from tech companies muscling in on their health businesses. In a December 2016 interview with the Financial Times, Buberl said,
"Technology companies may attack us on motor insurance, but they will mostly attack us in health. If we do nothing, then in five years they'll run us over. They will break down the barriers between pharma and device companies, and between doctors, hospitals and patients."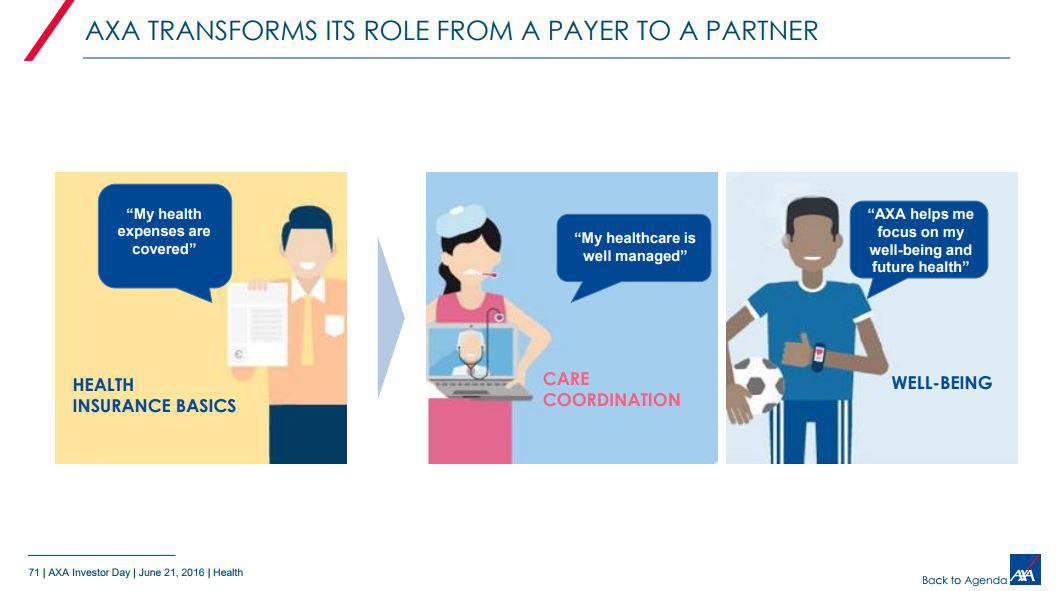 Earlier this month, AXA acquired Chicago-based Maestro Health for $155M. The acquisition of Maestro, which provides a one-stop shop for buying health insurance as well as managing benefits such as health savings and flexible spending accounts, established a foothold for AXA in the US health market.
In this post, we take a look at how AXA's "payer-to-partner" health strategy has evolved through investments, partnerships, and M&A.
Investments & incubation
Over the last three years, AXA has participated or led over 35 investments through its corporate venture arm, AXA Strategic Ventures. While AXA has slowed its overall investment pace, the insurer has increased the pace of its digital health investments since the start of 2016.
Recent investments include Floome, which develops a device that measures blood alcohol concentration, Annum Health, which provides behavioral treatment for heavy drinking, and Chiron Health, which provides telemedicine software and services.
Two thematic areas AXA has invested in health include health data tracking and insights and telehealth.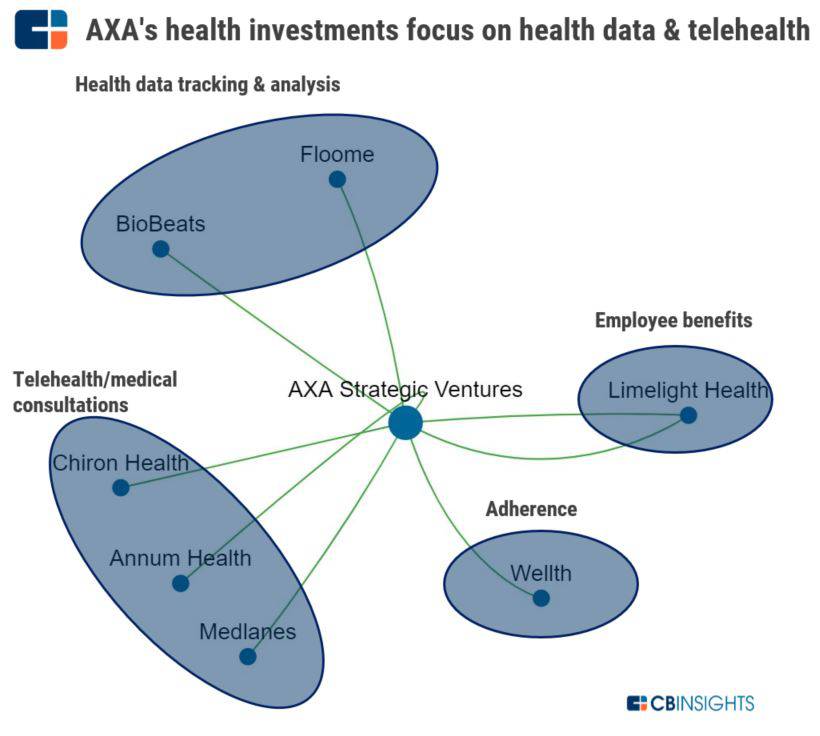 AXA also operates a Kamet, a startup studio which incubates startups internally. Four of Kamet's 8 portfolio companies are in the health segment including Padoa, a French startup that develops tools for monitoring the health of employees at work. Padoa raised a $5.7M investment from Kamet in July 2017.
M&A
AXA has an annual M&A budget of €1B, with one-fifth earmarked for investments in innovation. In November 2017, AXA narrowed its M&A focus to 16 key countries,  which together account for nearly 90% of AXA's profits. These countries include both developed markets such as Germany, France, Belgium, Italy, and the United States and 6 in emerging markets — Brazil, China, Indonesia, Mexico, the Philippines, and Thailand.
Until its acquisition of Maestro, AXA has not pursued much M&A in health though it did acquire the private medical insurance business of UK health insurer Simplyhealth in August 2015.
Maestro, which targets medium- and large-size employers in the US, will continue to operate as a wholly-owned subsidiary of AXA and more acquisitions in the health segment across its focus markets could follow.
AXA partners with Oscar
In January, AXA announced it would enter into a reinsurance partnership with US tech-driven health insurer Oscar Health. The partnership comes after Oscar said it expects to pull in nearly $1B in revenue and enroll 250,000 members in 2018. In Ohio, where Oscar is partnered with Cleveland Clinic, the health insurance startup enrolled more than 11,000 members or 15% of the total individual health market in the five-county northeast Ohio area.
The partnership is also in line with its payer-to-partner strategy as Oscar's strategy has focused on building out high-touch services, including telemedicine and "Ask your concierge," a health insurance advice team. As AXA SVP of International Employee Benefits Mattieu Rouot noted in the partnership announcement, "We share the same vision for the role of insurers and the future of health with Oscar."
If you aren't already a client, sign up for a free trial to learn more about our platform.