Joint venturing in China. New partnerships. This week in insurance tech.
Hi there,
It's been interesting to see how Europe's two largest insurers, AXA and Allianz, are shifting their approaches to corporate venturing.
Earlier this month, AXA rebranded its corporate venture unit to AXA Venture Partners, explaining that the change would "reflect the company's approach of establishing partnerships with its portfolio companies and other VC investors."
While the firm's investment mandate ranges from seed to growth equity, AXA has slowed its pace of new portfolio investments over time. Meanwhile, Allianz has also shifted its approach. Last November, Allianz said it would "discontinue its early-stage company building activities and focus on digital investment with strategic relevance for Allianz."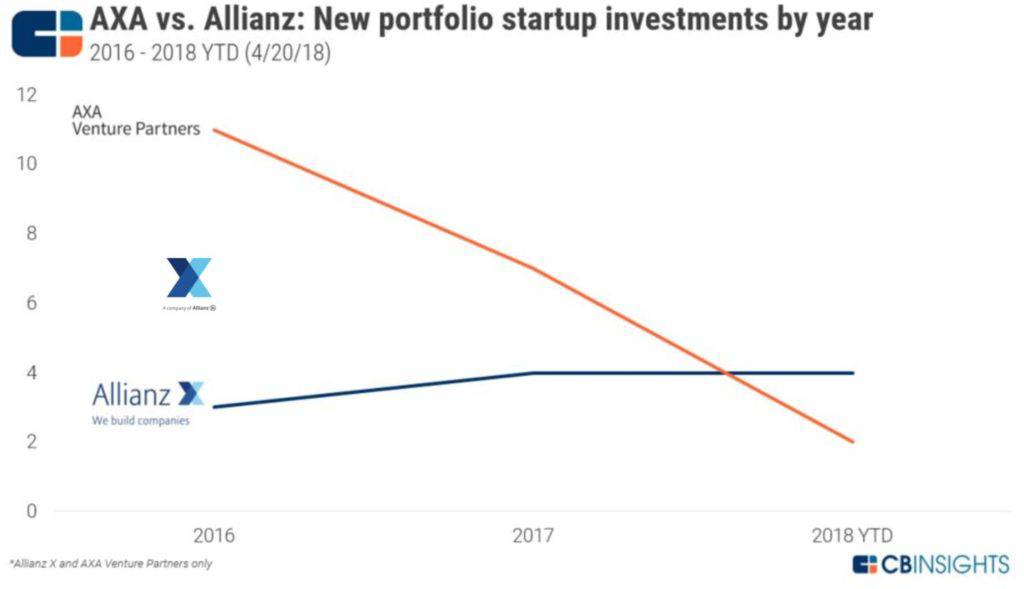 The upshot of this is that Allianz has stepped up its involvement in some of the largest financings in fintech through its digital investment unit Allianz X, including mobile microinsurance firm BIMA ($97M round), digital challenger bank N26 ($160M), and working capital marketplace C2FO ($100M).
Most recently, Allianz X invested $35M in Southeast Asian on-demand app Go-Jek to expand on an earlier partnership allowing Go-Jek drivers to purchase health insurance for their families. Recall rival Grab partnered with Chubb in March to expand insurance services for its drivers.
Related research:
Joint venturing in China
Speaking of Allianz, it announced this week that JD.com would take a 33% stake in the insurer's China unit in hopes of developing a digital insurance joint venture in China. Last June, Allianz Asia-Pacific CEO George Sartorel told Bloomberg:
"We have kept quiet in Asia for a long time, but our goal is to accelerate growth in the region. We see it really as the growth engine for Allianz."
Local Chinese media has long harped on tightening supervision and the increasing difficulty of getting the necessary licenses to operate. JD.com's new stake appears to be an effort to get around that. Recall that Allianz was not able to get regulator approval for an earlier joint venture announcement with Baidu and Hillhouse Capital to form a digital insurance company. A separate joint venture between Hillhouse Capital, Aviva and Tencent received regulatory approval in February to operate in Hong Kong.
Expect other (re)insurers to look to form joint ventures in insurance growth markets soon. Per PwC's Global CEO Survey, almost half of (re)insurance CEOs said that they plan to enter into a new strategic alliance or joint venture to drive profitability and growth over the next 12 months.
We'll be speaking with Aviva Asia chairman Chris Wei at our Future of Fintech conference on June 19-21 in NYC to hear more. Save $500 by using the code FoFinsurance.
Related research:
Have a great weekend,
Matt
@mlcwong
If you aren't already a client, sign up for a free trial to learn more about our platform.