In 2017, Amazon's cloud business generated approximately $17.5B in total revenue. Expectations for 2018 exceed $25B.
While the majority of Amazon's revenue is generated from its e-commerce business, the majority of the company's profits are generated from its cloud business, Amazon Web Services (AWS). According to the company's Q2'18 filing, AWS accounted for 55% of its quarterly operating profit even though it only generated 12% of quarterly net sales.
If AWS were to become its own independent business, it would be the fifth-largest enterprise technology business in the world by revenue.
But at its current growth rate, AWS may soon overtake SAP to become the fourth-largest enterprise technology business.
SAP is expected to generate between $28.87B and $29.25B in revenue in 2018, while AWS may generate between $25.75B and $27.25B based on its compound quarterly and compound annual growth rates since Q1'14.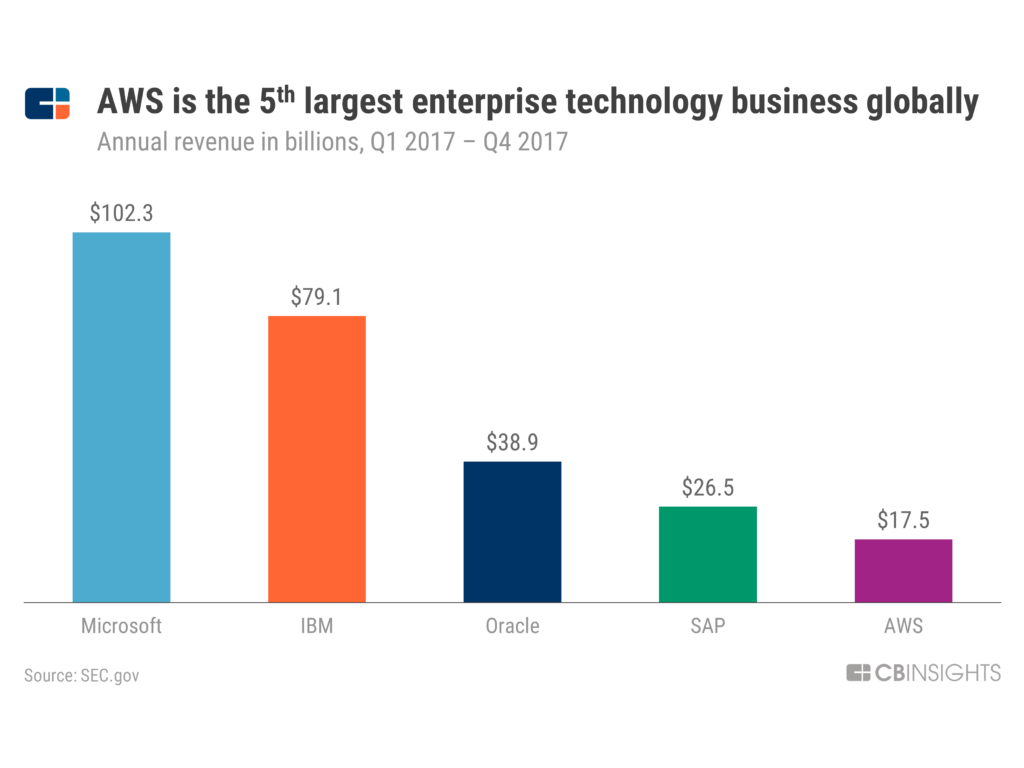 Other insights and highlights:
AWS was the first to market: Amazon's cloud business had 3 distinct cloud products by 2006 — SQS, S3, and EC2. Microsoft introduced the Windows Azure platform in February 2010, while Google released a number of products starting in 2008 before releasing Google Compute Engine — Google Cloud's core component — in late 2013.
AWS maintains one-third of cloud market share: Consistent revenue growth has also earned the company a third of all combined Infrastructure-as-a-Service and Platform-as-a-Service market share.
AWS leads in serverless computing: Amazon introduced AWS Lambda in April 2015, ahead of the serverless offerings released by Microsoft and Google. Recent surveys suggest that approximately 58% of developers use AWS Lambda as their primary serverless platform.
If you aren't already a client, sign up for a free trial to learn more about our platform.