M&A Analysis
Aveva acquired OSIsoft in one of the largest industrial technology deals in recent years, adding on capabilities in a rapidly growing and consolidating market.
The $23B industrial software space is heating up.
Manufacturers are digitizing rapidly, a trend that Covid-19 has accelerated as firms grapple with how to operate factories remotely. In turn, competition in the industrial software space is intensifying, and many providers are looking to consolidate.
In late August 2020, industrial software provider Aveva announced it would acquire OSIsoft, an industrial data infrastructure platform, for $5B — making it one of the space's largest deals in recent years.
25 Industries & Technologies That Will Shape The Post-Virus World
Get the free download to learn how industries are using tech to reimagine nearly every facet of their operations.
Founded in 1980, OSIsoft has steadily grown its annual revenue — reaching $466M in 2019 — and has raised funding from investors including SoftBank, Kleiner Perkins, and Technology Crossover Ventures. The company's core product has become the standard for industrial data management and real-time equipment monitoring.
Aveva, which merged with France-based industrial software group Schneider Electric in 2018, provides manufacturing execution systems, control software, and operations optimization software for asset-heavy industries, such as industrial manufacturing, oil & gas, and infrastructure. The acquisition of OSIsoft will allow Aveva to provide an end-to-end industrial software offering, from data collection and monitoring to equipment control and optimization.
In this post, we cover:
Transaction rationale, comparable M&A transactions, and valuations
What competitors are doing
Other potential M&A targets
Transaction rationale, comparable M&A transactions, and valuations
Aveva gains cross-sell and shared service opportunities with OSIsoft
Aveva is paying $5B to acquire OSIsoft, which amounts to a significant premium of 33x OSIsoft's trailing 12-month EBIT of $152M.
The OSIsoft acquisition offers 3 primary synergies:
Complementary customer base: Aveva and OSIsoft share several large, multinational customers (including Exxon, Johnson & Johnson, and Microsoft), creating significant cross-selling opportunities. In addition, OSIsoft brings a customer portfolio heavy on power & utilities firms, a space where Aveva's customer book is light. OSIsoft also adds a new industry to Aveva's portfolio: pharma & life sciences.
Product fit: In acquiring OSIsoft, Aveva now has an end-to-end industrial software solution. OSIsoft adds operational data collection, archiving, and modeling to Aveva's industrial control, engineering, and asset performance applications. Aveva now offers a comprehensive solution to the customer base it shares with OSIsoft.
Shared services: With similar product offerings, Aveva and OSIsoft will be able to reduce administrative costs by sharing services.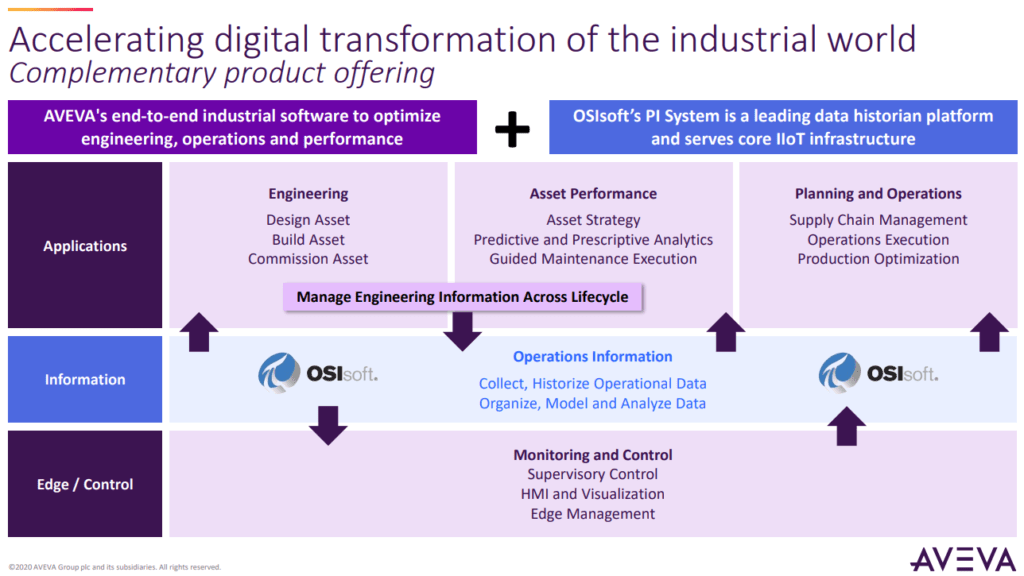 Source: Aveva
In addition to the near-term cross-selling and shared services synergies, Aveva is buying scale. At $5B, the OSIsoft deal is the largest deal in the industrial software space in recent years. Combined, Schneider, Aveva, and OSIsoft will command significant scale in an industry that is rapidly consolidating.
Recent comparable transactions include: