Startups developing improved sensor technologies are hot investment and acquisition targets as they compete to supply growing markets in autonomous driving, drones, and beyond.
With autonomous vehicle (AV) startups now garnering the lion's share of overall auto tech funding, one of the hottest technologies within the field has been novel sensor and vision technology.
Sensors are crucial for autonomous cars, as well as other vehicle-based applications like drones, indoor robots, and so on. But these devices, particularly laser-based lidar units, are pricey (ranging up near $100,000) and represent ripe targets for improvement in cost and performance.
Waymo, the formalization of Google's famous Self-Driving Car Project, has developed its own lidar tech, which has been the subject of an intense legal battle with Uber. Other sensor companies are betting on an explosion of demand as AV takes off; leading lidar incumbent Velodyne quadrupled its production capacity in 2017 as demand soared.
To keep up, AV developers are now rapidly beefing up bets on sensor technology. Since October 2017, GM's Cruise arm and Ford's Argo AI unit acquired lidar startups (Strobe and Princeton Lightwave, respectively) to speed up their AV programs and compete with Waymo. Others have scrambled to secure their own investments and partnerships with new sensor startups.
We used the CB Insights database to surface 14 notable lidar and radar startups to watch. We selected these companies based on recency of funding, investor quality, and Mosaic score — CB Insights' algorithm that uses financial and non-financial signals to predict private company health.
Within this new generation of sensor startups, we identified emerging players across two primary sensor types:
Lidar: Companies improving on cost and/or performance over available units. New developments are typically solid-state (no moving parts) for increased reliability and simplicity. Lidar devices emit laser beams and read reflected pulses with sensors to build a 3D map of the environment.
Radar: Companies improving traditional radar sensor technology, which functions well in adverse weather but typically provides low resolution. As the name suggests, radar works by reflecting radio waves off of objects.
The companies listed below are a mix of early-stage and maturing private startups that have raised funding within the past 18 months. Scroll down to read the full list, shown in descending order of disclosed funding within each category.
Track all the auto tech startups in this brief and many more on our platform
Startups working on auto tech have the potential to change the way people travel. Look for Connected Cars & Auto Tech in the Collections tab.
Track Auto Tech Startups
Lidar startups to watch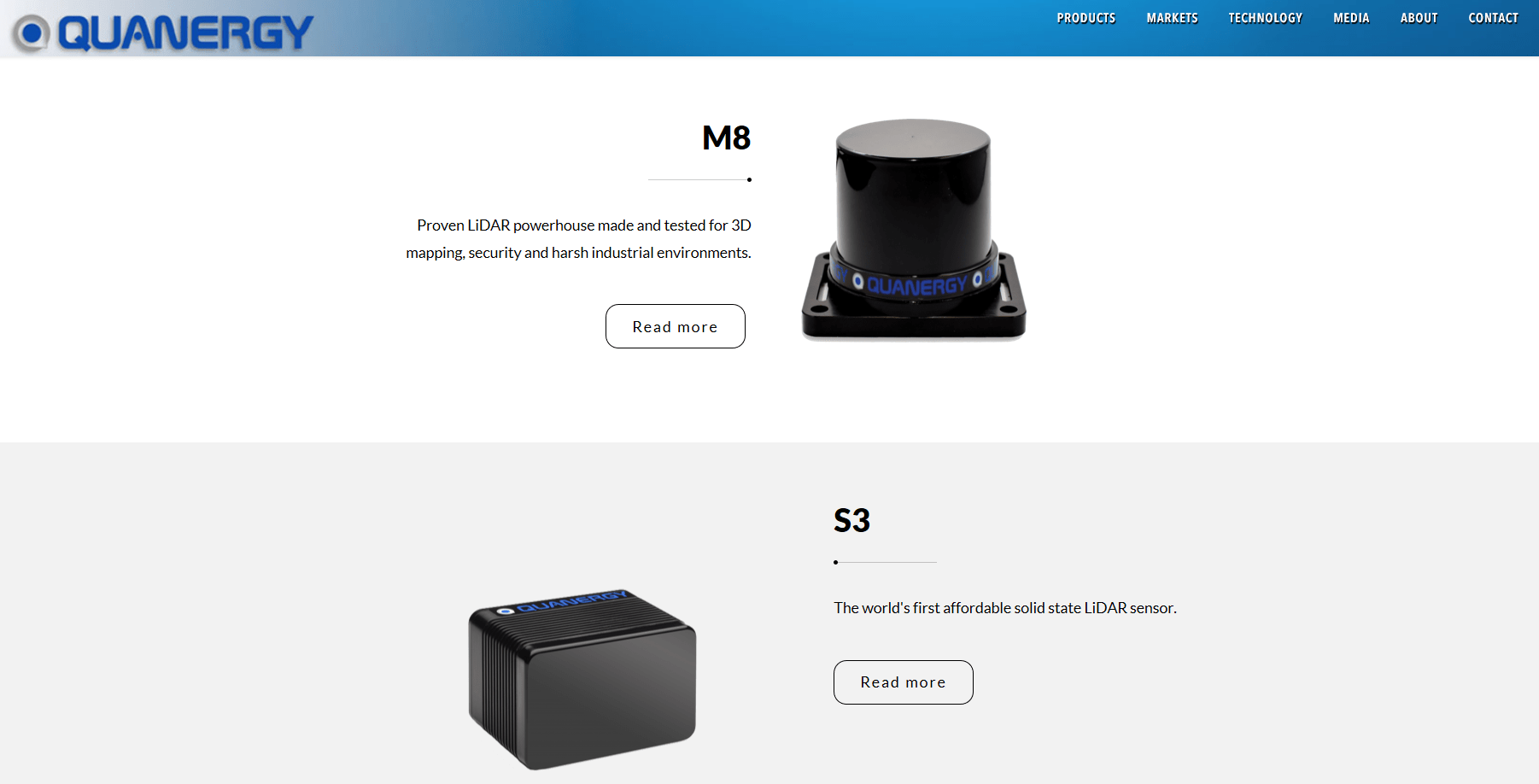 Headquarters: Sunnyvale, United States
Disclosed Funding: $134M
Select Investors: Aptiv (fka Delphi), Motus Ventures, Samsung Ventures
Quanergy is a Lidar startup that has managed to secure its place in the unicorn club with a valuation of nearly $1.6B. The company provides solid-state Lidar sensors for security, industrial automation, and vehicle and mapping applications. It also offers a traditional puck-type unit, the M8.
In 2015, Quanergy and major auto supplier Delphi (now Aptiv) partnered to develop sub-$1,000 Lidar units together. Quanergy has also been named the official Lidar partner of Fisker, the new incarnation of Henrik Fisker's electric vehicle startup.
The startup was reported to have asked bankers to submit pitches in September 2017, ahead of a potential IPO.
For more on startup investments and M&A of top auto suppliers, check out our graphic.

Headquarters: Quebec City, Canada
Disclosed Funding: $117M
Select Investors: Aptiv (fka Delphi), BDC Venture Capital, Osram
LeddarTech is developing solid-state lidar solutions aimed at delivering affordable, high-performance sensors for autonomous vehicles, drones, and other industrial vehicle applications.
Its recently announced LeddarCore LCA2 is a solid-state lidar system on a chip targeting automotive OEM deployment as soon as 2020. At CES 2018, LeddarTech also disclosed a partnership with virtual prototyping company OPTIS for simulating lidar for virtual testing and integration.
The startup has partnered with Aptiv on its lidar technology (like Quanergy), and has also drawn strategic investment from sensor incumbent Osram.