Established corporates and new startups are driving progress in autonomous shipping. The technology could improve safety, lower costs, and reduce energy consumption.
Construction has begun on the world's first fully-autonomous cargo ship.
Last week, Norwegian shipbuilder Vard Holdings said it would produce the fully-autonomous and fully-electric container ship, the Yara Birkeland.
The ship will be built for Norwegian chemical company Yara, and will be designed as a zero-emissions vessel. It is expected to be completed in 2020.
The recent news highlights how autonomous technology is quickly changing the massive shipping industry.
In this brief, we dive into current corporate- and startup-driven initiatives in the space, and autonomous shipping's implications for the global trade supply chain.
Autonomous shipping initiatives make waves
While some major corporates are building out autonomous vessels, others, like startups, are building out autonomous and semi-autonomous systems to be installed on existing vessels.
From corporates
Samsung & AWS: In early August, major shipbuilder Samsung Heavy Industries (a subsidiary of Samsung) announced that it's using Amazon's AWS cloud services to build an autonomous shipping platform. The platform will enable the self-piloting of container ships.
Samsung says it is also leveraging AWS to incorporate machine learning, augmented reality, virtual reality, analytics, databases, and storage into its smart shipping platform. The technology will be used for initiatives like creating a virtual replica of a ship cockpit for land-based training and simulations.
Rolls Royce, Kongsberg, & Wilhelmsen: Rolls-Royce sold its autonomous marine division to Norwegian maritime equipment supplier Kongsberg for approximately $660M in June 2018. While Rolls-Royce Commerce Marine had been a powerhouse in developing autonomous marine technology, it remained an unprofitable division that the company sought to sell.
The acquisition is a welcome addition for Kongsberg, as it also seeks to become a leader in autonomous shipping. The company partnered with shipping supplier Wilhelmsen to start a new autonomous shipping venture dubbed Massterly in Spring 2018. Massterly will help to outfit technology on autonomous ships, like the Yara Birkeland, mentioned above.

From startups
Shone: San Francisco-based startup Shone, which has raised $4M to date, seeks to retrofit existing ships with autonomous technologies to aid existing on-board crews. The company's technology combines AI with data from multiple existing ship sensors to help detect and predict the movement of other vessels nearby 24/7.
The startup partnered with major shipping carrier CMA CGM in June 2018 to incorporate AI on their existing ships. Once installed, the technology will help with piloting assistance, and will include an anti-collision alert system.

Sea Machine Robotics: Boston-based startup Sea Machine Robotics, which has raised $1M in funding, is creating industrial-grade control systems for autonomous and remote vessel control that can be installed on existing boats and ships. Specifically, Sea Machine's products leverage AI and lidar software to help ships perceive the environment around them.
The startup partnered with shipping carrier Maersk in April 2018 to test one of its products, the SM400, which is an autonomous control system designed for merchant and cruise ships. Maersk will install SM400's situational awareness software on one of its container ships to improve safety and navigation.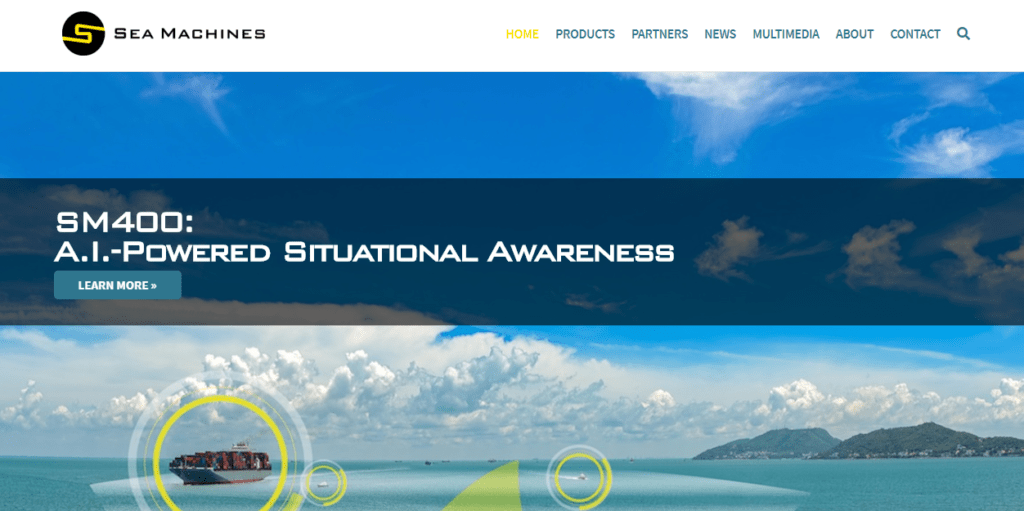 How autonomous shipping will change the maritime industry
While fully operational autonomous ships won't be available for some years, international regulation remains a hurdle for the space. International organizations have not done a good job keeping up with the impacts of autonomous technology.
However, the International Maritime Organization (IMO), a branch of the UN, has decided to take a proactive step in addressing the issue. In May, the regulatory body announced a framework for scoping out future autonomous shipping regulations. As part of the framework, the IMO created a preliminary definition for what constitutes an autonomous ship, dubbed MASS (Maritime Autonomous Surface Ship), and describes differing levels of autonomy (i.e. if an on-board human crew leverages autonomous technology assistance; if a ship is controlled remotely from land; or if a ship is completely independent and autonomous).
Setting aside legal hurdles, however, autonomous shipping is poised to impact global trade in a number of other ways: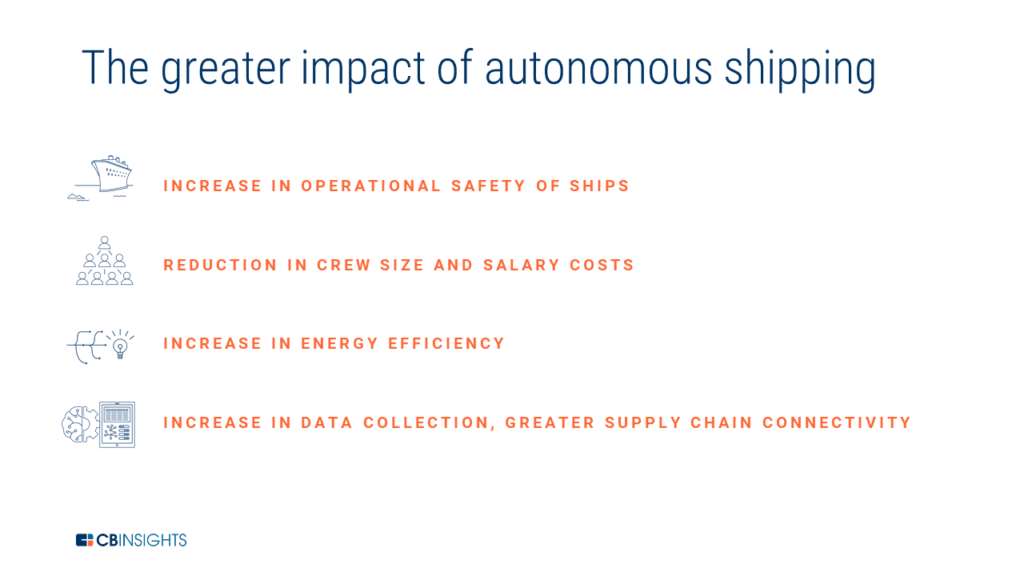 Operational safety: Between 75% and 96% of maritime-related accidents are caused by human error, according to a study by Allianz. Introducing fully-autonomous and semi-autonomous vessels may help reduce the number of shipping-related accidents, as employee fatigue and personal judgement failures are reduced. As 90% of global trade takes place by ocean, this could markedly improve safety across the global trade supply chain.
Reduction in crew costs: As on-board crews are reduced, shipping carriers will no longer need to pay their salaries, insurance, or on-board provisions. Crew-related expenses can account for up to 30% of a voyage's total cost. This means unmanned or lightly-manned vessels could save money for shipping carriers, and ultimately for those shipping goods, in the long run.
Energy efficiency: The Yara Birkeland, mentioned above, is expected to be the first fully-electric, and zero-emission vessel. As shipping vessels account for 3% of global carbon-dioxide emissions, the adoption of zero-emission ships could notably reduce pollution around the world.
Data collection: The global trade supply chain is becoming increasingly connected, digital, and data-driven. Startups and corporates are digitizing the shipping process and seeking to optimize logistics. Autonomous ships will be well-equipped to further promote supply chain visibility by collecting voyage-related data through their autonomous systems. This data can be used by supply chain partners to communicate the status of certain shipments, or further optimize shipping routes based on factors like sea conditions.
Click here to learn more about the impacts of autonomous shipping.
If you aren't already a client, sign up for a free trial to learn more about our platform.