An IoT-connected fish farm located in deep seas in Norway is capable of maturing up to 1.5M fish in just 14 months.
As our global population increases, fish demand is rising fast. But current methods of fish farming won't be able to meet global fish demand in a safe, sustainable way.
Temperatures in our near-water shores are rising, which is hurting wild fish populations, and traditional fish farming has caused environmental damage in the near-shore waters where it's commonly practiced.
Offshore fish farming – fish farming in the deep, open ocean – could provide an alternative: Companies are exploring locating fish farms in deep, far-out waters, which (according to proponents) has barely any effect on wildlife or natural environmental processes.
Commercial operation of offshore fish farms has been limited to date due to regulations, as well as the challenges of efficiently operating a large farming operation far from land.
But the space may see faster adoption following the recent debut of the most sophisticated aquaculture facility ever: The Ocean Farm 1.
The Ocean Farm 1 – created by leading salmon farming company SalMar – is the first offshore fish farm capable of complete automation in feeding and monitoring fish.
According to SalMar, the farm can mature up to 1.5M fish in just 14 months. If the experimental facility proves viable (and environmentally sound) it may compel more companies and governments to use offshore fish farms to help grow our global food supply.

By 2050, the UN Food and Agriculture Organization (FAO) predicts the world's population will reach 9.1B people – a 34% increase over today.
Our food supply must grow even more significantly to keep up: The FAO says global food production will need to increase 70% by 2050 to maintain a vastly larger population.
Meeting global protein needs will require suppliers to produce 200M more tons of meat annually than we do today, according to the FAO. Yet farming more protein on land could have devastating environmental consequences: Livestock is a major contributor to greenhouse gas emissions, and farming animals drains global soil reserves, land quality, and water supply.
Increased fish farming – also referred to as aquaculture – could help supply protein to our growing population at a lower environmental cost. Fish farms already supply half the fish consumed globally, according to the World Bank, and that share may rise to two-thirds by 2019.
Why open-ocean fish farms
Traditional fish farming typically takes place on land or near the shore. Most fish farms – including those of startups like Acadia Harvest and Baja Seas Aquaculture – utilize advanced technology and "recirculating systems" designed to improve the sustainability, efficiency, and cleanliness of their operations.
Even still, the fish farming sector faces pressure to be "greener." Environmentalists say that near-shore farming causes damages ranging from fish-poop pollution (and resulting disease outbreaks) to the destruction of mangroves and other wildlife.
Offshore fish farming, aka "open ocean aquaculture," could provide a low-impact, high-sustainability alternative: Farming fish in open ocean 3 or more miles away from the shoreline – where water circulation and local ecosystems are more robust – minimizes environmental impact.
Autonomous operation of offshore farms (which is being tested with the Ocean Farm 1) could extend the benefits even further, potentially lowering the costs associated with farming fish in general and making farming far out at sea a more economical option.
Offshore farming regulations are loosening
Offshore fish farming has seen growing interest in the last decade. In the US, researchers from aquaculture startup Kampachi Farms first tested an approach to offshore fish farming in 2011 with the Vellella Project.
The Vellella Project study tested the viability of farming fish with an Aquapod – an unanchored fish pen tethered to a drifting boat. The Aquapod was transported through waters 3 to 75 miles off the west coast of the 'Big Island' of Hawaii, per the video below.
At the time, testing was the Kampachi Farms team's only option: US regulations in 2011 did not permit offshore commercial fish farming anywhere in domestic waters.
But American seas are newly open for business: The National Oceanic and Atmospheric Administration announced a rule in 2016 that allows for large-scale fish farming in federally controlled waters three or more miles offshore.
Startups like Catalina Sea Ranch are capitalizing on the change and pursuing the first open-ocean fish farms on US waters. (For now, it appears offshore US fish farming will only be allowed in the Gulf Coast.)
In Europe, the regulatory environment has been more friendly. The EU embraced policy changes recommending the shift of aquaculture offshore back in 2002; by 2008, offshore farms were operational in Norway, Ireland, Italy, Spain, and several other countries.
Norway is arguably the aquaculture capital of the world: Fish farming helped Norway produce around 1.18M metric tons of salmon in 2016, and fish contribute $8B annually to Norway's economy – accounting for about 8% of its exports.
Even in Norway, however, there remain roadblocks to commercial open-ocean farming. The country has a complicated licensing system for fish farming that continues to somewhat restrict offshore facilities; only around 20% of Norwegian salmon farming has been happening in offshore sites, according to an EU report.
But the Norwegian government is gently pushing its salmon sector offshore. For one, its regulators have imposed limits on coastal fishing licenses in recent years in response to environmental concerns – indirectly increasing interest in offshore facilities among commercial farmers.
Norway is also issuing a select number of R&D licenses for experimental projects designed to prove the long-term viability and impact of offshore aquaculture, including the first-of-its-kind Ocean Farm 1.
Autonomous innovation in the deep seas
Prior to docking in Norway's Frøyfjorden in September, the giant, floating Ocean Farm 1 facility spent 11 weeks traveling by vessel to Scandinavia from China's Shandong Province, where Wuchang Shipbuilding Industry (a subsidiary of a Chinese state-owned shipbuilding conglomerate) built the facility for SalMar.
Along its journey, the Ocean Farm 1 was mistaken by some South African residents for a spaceship docked in their waters for shelter.
Watch the Ocean Farm 1 arriving in Frøyfjorden in the video below. (The facility has since been moved to Frohavet – an area off the coast of Norway's Trøndelag region – where it will remain stationary.)
The Ocean Farm 1 is the first of 6 R&D-licensed facilities Wuchang will build for SalMar for a total cost of $300M.
The facilities will test the biological and technological feasibility of offshore fish farming at an unprecedented scale: The Ocean Farm 1 is approximately 360 feet wide, 220 feet high, and incredibly durable – built to withstand a 12-magnitude earthquake. It can operate in waters between 100 and 300 meters deep.
And with more than 20,000 sensors on the Ocean Farm 1, the farm has achieved completely autonomous feeding and monitoring of fish.
The Ocean Farm 1 can mature up to 1.5M fish in 14 months, according to SalMar. It is also equipped with a 360 degree revolving gate with self-cleaning technology: A movable partition in the gate will continuously scrub the farm's netting, eliminating the "biofouling" that can harm fish's gill health.
Less biofouling will mean less need for fish handling – cutting production costs for SalMar. The facility also reportedly has a lab that employs "cybernetics and big data" from its sensors to provide constant feedback about fish health.
The Ocean Farm 1 project will focus on biological conditions and fish welfare, and could represent a new era of sustainable fish farming, SalMar has said.
In a more tangible way, it could help SalMar respond to the production constraints caused by limits on coastal fishing licenses.
"We're quite humble about what might happen, but this structure will give us the possibility to solve many of our problems." –Bard Skjelstad, SalMar's head of biology
Will it work?
Skjelstad's above remarks came ahead of the AquaNor 2017 trade fair in Trondheim, Norway in August, where several other companies also announced their latest advancements in offshore aquaculture.
For example, Marine Harvest, the world's largest salmon farmer, is developing offshore structures that can hold 1,000 metric tons of salmon each – the same volume of fish as a standard 50-meter wide net pen.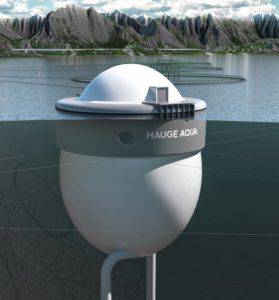 Each floating oval-shaped farm (called "the Egg") will be a "closed containment aquaculture system." Marine Harvest has received four R&D licenses for the facilities, developed in partnership Hauge Aqua.
The enclosed nature of the Egg system is intended to prevent fish escapes, which can lead to genetic mutations in natural fish surrounding any aquaculture facility. It also is designed to reduce sea lice – which can be highly problematic to fish farming operations.
Sea lice are no small issue, and were already discovered at the Ocean Farm 1 facility in November 2017. (SalMar added 21,500 new "cleaner fish" to combat the problem, according to reports.)
Sea lice are one of several issues that will affect regulators' licensing decisions around offshore fish-farms in the future.
Offshore facilities like the Egg and Ocean Farm 1 are designed to spot issues like sea lice and escapees using their IoT sensors (and self-correct many of the problems autonomously), but further studies will be required to determine whether these facilities are in fact more effective at combating the problem than near-shore farms are today.
Though further long-term research is needed, many stakeholders are bullish on the power of offshore fish farms to increase the world's food supply.
A new study from the University of California Santa Barbara found that the entire world's current output of wild-caught seafood could be farmed in areas that in total would comprise just 0.015% of the ocean's surface area (in a space roughly the size of Lake Michigan).
Of course, that estimate groups ocean surfaces together in a way that the authors note would not be realistic or recommended. But even at a small scale, the impact could be significant. According to the study:
Developing only 1% of Indonesia's suitable ocean area could produce more than 24 million tonnes of fish per year or over 3.9 × 1011 individual 4 cm bivalves. If consumed entirely within Indonesia, this volume of additional fish production would increase seafood consumption per capita sixfold. In fact, there is already considerable activity working to expand Indonesian aquaculture.
Considering the rapid pace of growth in Southeast Asian countries, that 1% increase in open-ocean farming could be vital to feeding many citizens in the region in a more sustainable, environmentally friendly way. If extended to other regions seeing a big uptick in meat consumption, more sustainable fish farming could provide a lower impact protein alternative available at scale.
If you aren't already a client, sign up for a free trial to learn more about our platform.