Smart Money investors are backing autonomous driving companies working on simulation & training, developing the full self-driving stack, enhancing mapping & localization, and more.
Autonomous vehicle tech is gaining momentum as startups and major automakers roll out solutions from lidar to computer vision to machine learning systems for perception and decision making.
Total equity funding to the space has already eclipsed $12B in 2021, up more than 50% from all of 2020. The top venture capital firms — or "Smart Money VCs" — have been active in the space for years. Now, as the market consolidates around major players like Waymo and Aurora, some Smart Money VCs are doubling down on their initial investments.
Below, we've used the CB Insights database to identify where the 25 Smart Money VCs — including Andreessen Horowitz, Accel, Sequoia Capital, and others — are placing their bets in the autonomous driving tech space.
Scroll down to the end of this brief for a complete list of Smart Money VCs.
SMART MONEY vcs FUND LARGER (BUT FEWER) DEALS as autonomous driving space consolidates
Eighteen out of the 25 Smart Money VCs have participated in a combined total of 66 funding rounds to autonomous driving companies since 2016.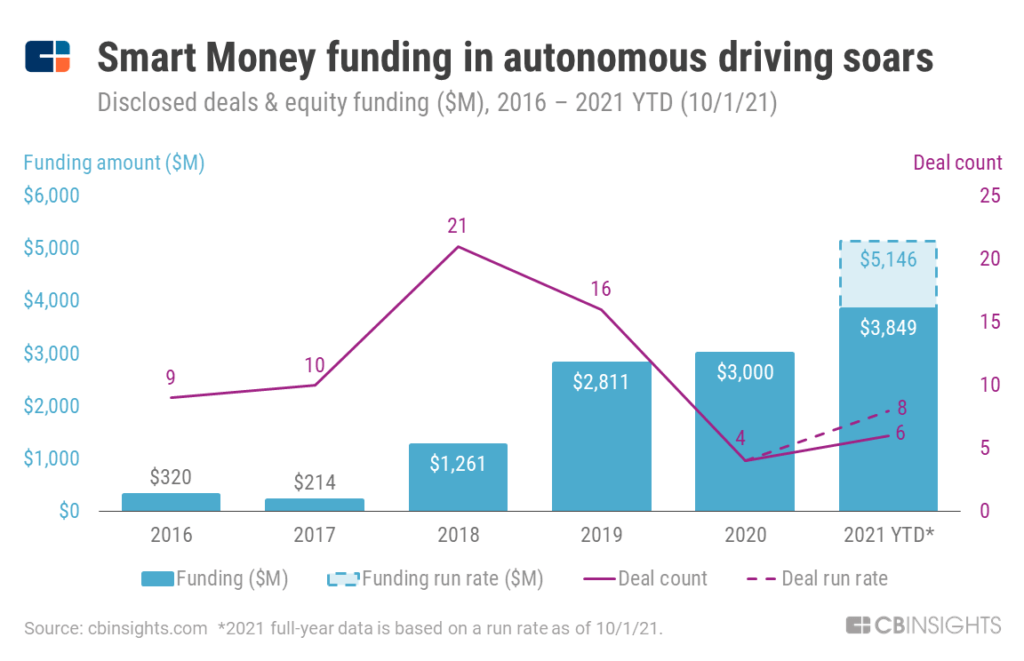 Total funding to autonomous driving companies by Smart Money VCs first spiked in 2018, growing almost 6x from the year prior. Since then, deal count has declined significantly as total funding continues to rise. Smart Money VCs have participated in a record-breaking $3.85B of total funding to autonomous driving companies so far in 2021, with the total projected to be above $5.1B by year end if the trend continues.
Every round backed by Smart Money VCs in the AV market over the last two years has been Series C or later. This indicates that as the AV market consolidates, Smart Money VCs are focusing on the winners, seeing stronger potential for leading self-driving developers, such as Waymo and Aurora, rather than early-stage companies.
The majority of the funding by Smart Money VCs in AVs over the last two years has come from just two mega-rounds ($2.25B in 2020 and $2.5B in 2021) to Waymo, of which Andreessen Horowitz was the only Smart Money VC to participate. 
Track all the Autonomous Vehicle Tech Startups in this brief and many more on our platform
Startups are developing technology to support fully automated driving. Look for Autonomous Vehicle Tech in the Collections tab.
Track Autonomous Vehicle Tech Startups
MOST ACTIVE SMART MONEY VCS IN AUTONOMOUS DRIVING
Andreessen Horowitz is the most active Smart Money VC in the autonomous driving space, participating in 10 deals since 2016. Accel comes in second place with 8 deals, while Sequoia Capital is close behind with 7 deals.