With autonomous vehicle tech reaching an inflection point, automakers, suppliers, AV developers, and big tech firms are partnering to bring self-driving solutions to market. Using CB Insights' Business Relationships data, we map out the complex web of partnerships in the space.
Autonomous driving development has been a significant challenge for major players in the mobility space.
Building and training driverless vehicles requires significant up-front investment, and the technology has yet to yield a profit.
In response, automakers are increasingly looking at partnership opportunities to pool resources and minimize the financial burden associated with autonomous vehicle (AV) development.
In addition to partnering with each other, automakers are teaming up with Tier 1 suppliers and full-stack AV developers. AV developers are especially eager to work with auto incumbents, as automakers and suppliers have the manufacturing expertise and capabilities to scale that can help these companies commercialize their technology.  
We used CB Insights' Business Relationship data to illustrate the dynamic web of partnerships underlying the autonomous vehicle ecosystem.
Please click to enlarge.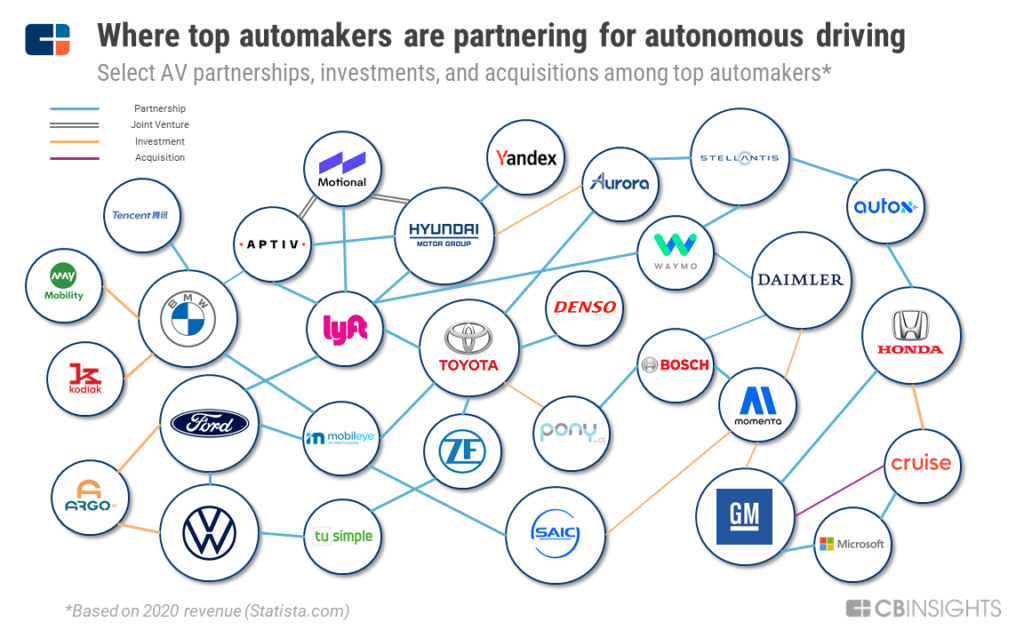 For the purposes of this visualization, we focus on partnerships, investments, M&A, and joint ventures across automakers, Tier 1 suppliers, full-stack autonomous driving developers (e.g., Cruise, Waymo), big tech, and mobility service providers (e.g., Lyft).
We exclude companies working on specific components of autonomous driving such as perception, mapping, and simulation. We also exclude partnerships for Baidu from the graphic given its vast number of partnerships, which are discussed later in this brief. 
Track all the auto & mobility tech companies in this report and many more on our platform
Startups building a next-generation mobility ecosystem, using technology to improve connectivity, safety, convenience, and efficiency in vehicles. Includes technologies such as ADAS and autonomous driving, electric vehicle technology, connected vehicles, fleet telematics, V2V/V2X, and vehicle cybersecurity.
Track Auto & Mobility Tech Companies
PARTNERSHIP TRENDS
Tier 1 suppliers partner with AV companies to stay competitive
Legacy Tier 1 suppliers are rapidly partnering with new autonomous driving companies to provide solutions for the future of autonomous vehicles.
While automakers are largely partnering with full-stack AV developers, Tier 1s have teamed up with full-stack AV developers and companies building the hardware and software components of autonomous driving systems. Because Tier 1s have experience in serving automotive OEMs and mass production, these relationships are mutually beneficial.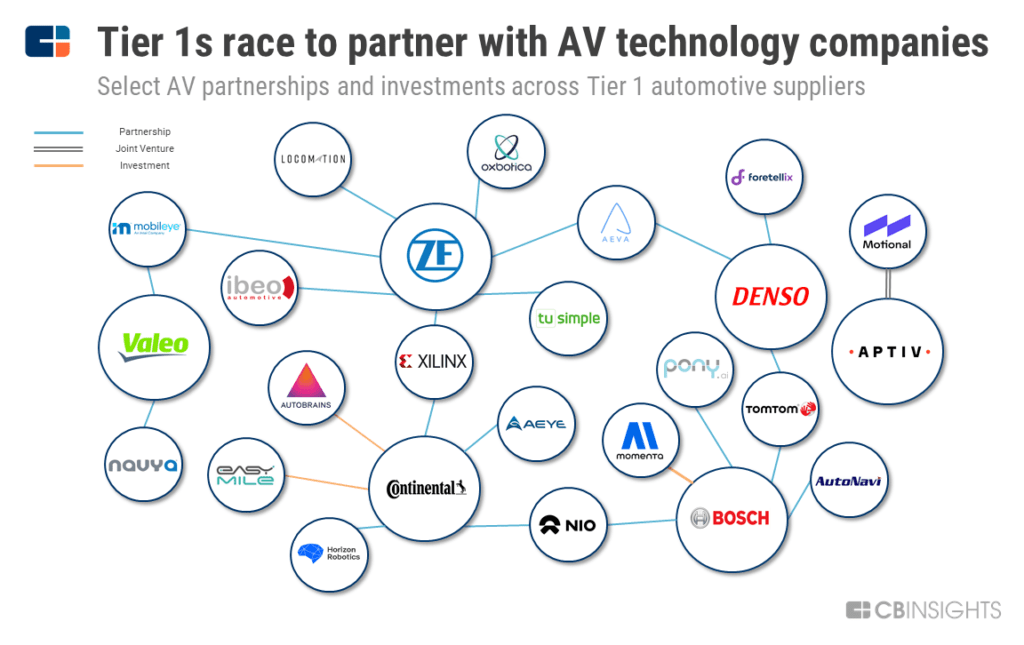 For example, Germany-based Tier 1 supplier ZF partnered with Intel's Mobileye in 2021 to provide advanced safety systems for new Toyota vehicles using ZF's camera and radar and Mobileye's EyeQ4 chip. The company has also partnered with Ibeo and Aeva for lidar solutions, as well as TuSimple and Locomation for autonomous trucking solutions. ZF has invested in and partnered with autonomous driving software company Oxbotica to develop Level 4 self-driving shuttles.
Many automotive suppliers are taking a similar approach. Earlier this year, France-based auto parts supplier Valeo announced that it was strengthening its partnership with Navya to release Level 4 autonomous driving systems. Meanwhile, Continental teamed up with lidar startup AEye to integrate its lidar into Continental's full-stack sensor solution.
Other Tier 1s are working directly with OEMs to create autonomous driving tech. In 2020, for example, Hyundai and Aptiv created the joint venture Motional to develop Level 4 self-driving passenger vehicles. More recently, the company unveiled its robotaxi built on Hyundai's IONIQ 5 EV, which it plans to launch in multiple US markets in 2023.
Big tech gains a stronger foothold in the autonomous driving space
Tech giants Alphabet, Amazon, and Microsoft, as well as China-based Alibaba, Tencent, and Baidu, have substantially built out their networks in the autonomous driving ecosystem. For example, Baidu's Apollo project — an open-source software platform for AV development — has drawn in 100+ partners.
This trend is not new — big tech has been investing heavily in the automotive and mobility space for the past several years. Now, as the first generation of autonomous vehicle tech hits the road, big tech companies are looking to secure their position in the market.