CEO Matt Mullenweg on the open internet, Facebook and Google's dominance, distributed teams, and more.
Matt Mullenweg would like to think of the software he created WordPress as the "Switzerland" of the online world. It's a neutral service for web publishers and developers built on the principles of open source.
"The web needs an independent platform," he said.
At the CB Insights A-Ha! Conference December 12 in San Francisco, Mullenweg — in conversation with Reuters global tech editor Jonathan Weber — advocated strongly for his independent open source service and against the "closed ecosystems" of services like Facebook and Google, fueled by network effects and an ongoing build-up of user data.
"Facebook and Google are taking all the air out of the room," he added.
However, Mullenweg admitted that open source is not a value in and of itself and will not win just because its "open," when pitted against the compelling services and products offered by Facebook and others.
"Open doesn't just win because it's open," he said. "You also need a better user experience and to create real value."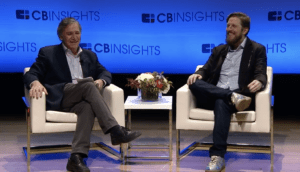 One way he believes he can help do that is by transferring more of the value WordPress creates to the developers and publishers that build on top of it, as opposed to platforms like Facebook that extract most of the value from creators that use it. This was also Mullenweg's reasoning for why Medium probably would end up becoming a "useless middleman" at a large scale.
Mullenweg said he believed there could be a "Cambrian explosion" of creativity and innovation similar to what happened in the early 2000s if an open internet could be preserved, given today's widely accessible publishing and developer tools.
Mullenweg also discussed his concern over free speech on the internet and his company Automattic's unique culture.
The company, which runs the for-profit WordPress.com — which offers ready-built blogging and domain services — and other products, is well known for its distributed work force.
The company, which was valued at $1B in its last round of financing, has 640+ workers in 59 countries around the world.
"If you believe talent is equally distributed around the world, ability to hire them immediately is a huge advantage," he said.
If you aren't already a client, sign up for a free trial to learn more about our platform.