Automatic checkouts will clearly impact retailers' labor planning, adding to inventory visibility to help product in-stocks. But store operations are just one element of this equation.
Do you love waiting in lines? Of course not.
ALTERNATIVE PROTEINS, FITNESS TECH, AND GAMING SURGED IN Q3'20
Consumer product startup investment activity spiked in Q3'20 as funding reached an all-time high. Download our free report now.
Checkout lines are the most annoying part of going to the store. Various technology investments have tried to fix them. Early efforts involved self-checkouts. Now even value players like Dollar General and Five Below are using them.
Newer machines are making these easier to use. FamilyMart convenience store recently opened in Yokohama, Japan with self-checkouts that use facial recognition to pay and cameras to scan items.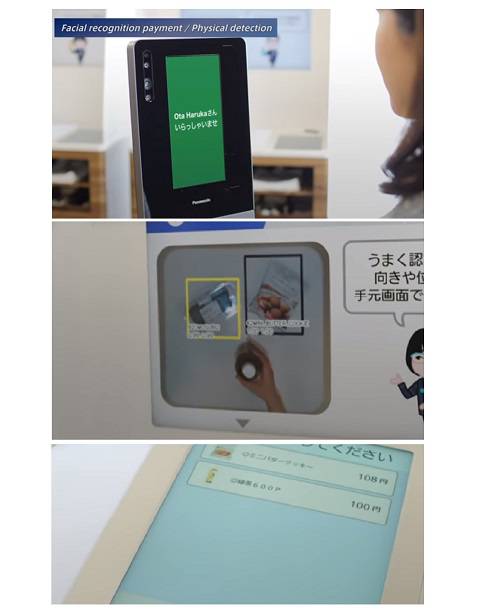 Source: Panasonic
If self-checkouts were step one, mobile self-checkout is step two of the checkout evolution. This lets shoppers scan their items and pay on their smartphones instead of having to go through checkout.
Sam's Club was an early mover, launching its Scan & Go system a couple of years ago. Since then grocers such as H-E-B and Sainsbury's, drugstores like Walgreens, and convenience stores like 7-Eleven have started testing mobile self-checkouts.
Retailers are still working through initial wrinkles to smooth the experience. One friction point is shoppers' fear that they look like they're shoplifting as they exit. Walmart Canada just opened a concept store with a dedicated lane for shoppers to walk through, signaling they're using the platform.
Another issue is that it's a bit slow and cumbersome to scan the product barcodes. To address this, Sam's Club is testing a tool where shoppers take a photo of the item.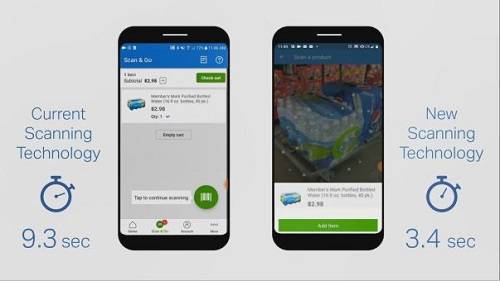 Source: TechCrunch
The last friction point is around certain products, such as random weight produce or alcohol. We anticipate fixes here too, such as more pre-packaging of fresh items and ID scanning vending machines with vision recognition to verify the shopper's age.
While the experience details get ironed out for this technology, step three of this evolution is upon us.
This is the move from mobile self-checkouts to just walking out (these automated checkouts ranked in our 2019 retail trends to watch report).
As we profiled here, a ton of companies are working to evolve the checkout process using technologies such as machine vision, IoT, and RFID. (Clients can view the full list of 150+ cashier-free retail operators here.)
Amazon Go is a high-profile example of this type of store expanding. Alibaba's Hema grocery stores are another.
And start-ups such as AiFi, Standard Cognition, and Zippin are developing technology to help traditional retailers keep pace.
How does this evolution matter for brands and retailers? 
Automatic checkout will clearly impact retailers' labor planning, adding to inventory visibility to help product in-stocks. But store operations are just one element of this equation.
Here are three reasons why brands also must plan against these shifts:
Next-level shopper data? Rising mobile and automatic checkout technologies step-change the type of information about product and basket sales.
Retailers may know exactly what shoppers picked up (or initially scanned) and then put back to pinpoint sales conversion gaps. They can track what order items were selected, better understanding causal relationships between category groups. And they may build a deeper understanding of various shoppers' overarching behavior, such as the length of trips, which will help to better hone promotions and ads. Those that can access and capitalize on this data will lead.
Impulse points will disperse. As lines disappear, categories depending on displays around cashiers will strategically target other dwell spots. This may include more displays around a full-service deli and online pick-up counters, or vending machines in restrooms or waiting areas.
The receipt and the bag will matter more. While sending offers and solutions on the phone will become ever-more personalized, the spots where ads are targeted also look likely to shift. This may include efforts such as flexEngage's offers on payment receipts, IDR Marketing Partnerssamples in online grocery orders, or even complementary to-go bags as shoppers shop.
Of course, checkout is just one area where technology is rewriting the shopper experience.
Check back on CB Insights later in June for our upcoming Store of the Future report, where we'll dive into the impact of rising technologies on how we will interact with the store over the next decade.
If you aren't already a client, sign up for a free trial to learn more about our platform.