What's next for auto tech? From flying robotaxis to next generation infotainment, our analysts uncovered 21 of the top auto tech trends to watch this year.
In 2011, Peter Thiel famously quipped, "We wanted flying cars, instead we got 140 characters."
Mobility tech has advanced rapidly since then, and concepts that were once considered futuristic are becoming increasingly common in our everyday lives.
From the growth of autonomous vehicles to flying robotaxis, we identified the top auto tech trends to watch in 2019.
1. Mobility-as-a-Service (MaaS)
A growing number of companies are reshaping mobility, offering on-demand services to cater to individual travel needs. Recognizing the significance of MaaS, traditional OEMs are repositioning themselves as mobility service companies, instead of car makers. In 2019, look for the rise of new MaaS models spanning micromobility, offerings by major incumbents, and more.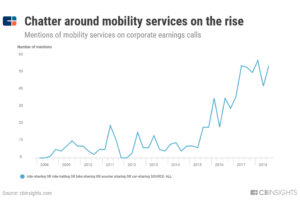 2. Electric Vehicles
Automakers view electrification as critical to the future of the automotive space, and are accelerating efforts to electrify their fleets. One of the top auto tech trends of 2019 will be increased investments in EV, particularly by major auto incumbents.
3. Telematics
Connected vehicle technology that enables real-time fleet visibility and data collection is opening up new revenue opportunities for automakers. A number of investors, including automakers and Tier-1 suppliers, are placing bets in the telematics space. In 2019, look for telematics to become more ubiquitous across the auto and mobility sectors.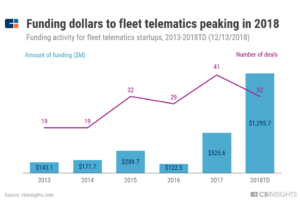 4. Advanced Driver Assistance
Until full autonomy is achieved, automakers are enhancing driver safety technology to work with human drivers and minimize errors.
Advancements in sensor technology and developments in machine vision software underpin advanced driver assistance systems that enable semi-autonomous driving. On the hardware side, automotive sensors help vehicles detect and process their surroundings.
This year, look for these technologies to be prioritized over full autonomy, which remains years from implementation.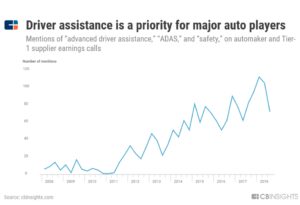 5. Industrial Robotics
Robots remain crucial to automotive manufacturing, as new vehicle architectures require higher levels of automation and flexibility. The automotive sector already leads demand for industrial robotics, and it's forecasted to maintain that demand in the future. One of the top auto tech trends of 2019 will be the growth of automated manufacturing across Tier-1 suppliers.
6. Industrial Sensors
As sensor prices continue to fall, the technology will remain one of most central auto tech trends of 2019. Sensors can help automakers monitor the assembly line, streamline operations, and predict costly outages before they occur.
7. Auto e-commerce
Car buying has remained a brick-and-mortar business for far longer than the rest of retail, but that could change soon. In 2019 and beyond, advancements in imaging technology and emerging distribution models could spark the transition to direct online buying.
8. Simulation
Driving simulation platforms are helping autonomous vehicle developers reduce the time and hassle associated with real-world road testing. Look for more partnerships between startups and major automakers, as AV developers increasingly rely on simulations to gather driver data.
9. Wearables
Automakers are testing wearable technology to augment the capabilities of human factory workers. While relatively nascent, wearables are effectively preventing strains and stresses for workers on the factory floor. One of the top auto tech trends of 2019 will be more pilot programs involving smart glasses and other wearables.
10. Vehicle-to-everything (v2x) technology
Vehicle-to-everything (V2X) technology enables cars to wirelessly communicate with connected devices on other cars, pedestrians, and roadway infrastructure. The technology also encompasses vehicle-to-infrastructure (V2I) communication that allows cars to process traffic signals and road signs. While deployment is in its earliest stages, look for greater development and testing in 2019.
Track all the auto tech startups in this brief and many more on our platform
Startups working on auto tech have the potential to change the way people travel. Look for Connected Cars & Auto Tech in the Collections tab.
Track Auto Tech Startups
11. Blockchain Verification
The lack of visibility in the automotive value chain has plagued automakers for decades. Blockchain verification could help address this. While in its earliest stages, automakers like Toyota are developing a blockchain verification system for the automotive supply chain.
12. Driver Monitoring
Advances in computer vision and machine learning software are enabling a new set of in-vehicle driver monitoring capabilities. Currently, human error causes roughly 95% of car accident fatalities in the US, and driver assistance is a priority across the automotive space. One of the top auto trends in 2019 will be major automakers developing their own in-vehicle sensor technology.
13. Flying Robotaxis
While still a ways away from commercialization, flying taxis are set to transform the mobility ecosystem. Although current adoption is low, estimates suggest the market potential for autonomous electric aircraft could reach $1.5T by 2040. While it'll be some years before you can summon an UberAir, there will likely be more pilot programs and development in 2019.
14. Lidar
Lidar sends pulses of light to measure the distance of surrounding objects and generate a 3D rendering of the environment. However, lidar's practicality has been heavily debated, largely due to the technology's cost. This year, expect the debate to continue while the technology becomes further refined and developed.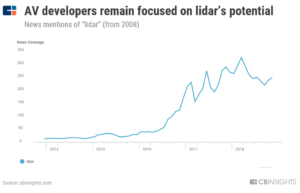 15. Flexible Assembly Lines
As automakers push for vehicle electrification and full autonomy, the manufacturing process is expected to grow more complex, driving the need for flexibility on the production line.
Toyota has spearheaded the flexible assembly line, developing a system that produces different cars consecutively with no downtime. One of the top auto tech trends of 2019 will be other auto manufacturers integrating flexible assembly lines into factories.
16. Online Aftermarket Parts
Facing disruption from e-commerce giants, aftermarket auto parts retailers are increasingly bringing their parts offerings online. As a result, the online market for auto parts is projected to comprise 10-15% of the overall aftermarket by 2030.
Walmart's partnership with Advance Auto Parts, which launched a specialty parts store on Walmart's website, is an example of how incumbent retailers and auto parts suppliers could partner on e-commerce endeavors.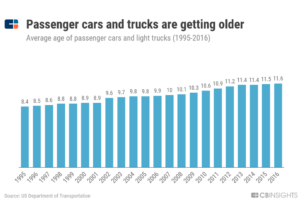 17. Fully Autonomous Vehicles
Despite a substantial market opportunity for autonomous vehicles, the timeline for full autonomy is still unclear. Electrification has become top-of-mind for automakers in recent quarters, dominating the conversation on earnings calls.
But automakers are still working towards full autonomy, and the market is projected to reach approximately $80B by 2025.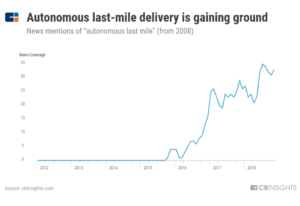 18. HD Mapping
Though still in its early stages, highly-precise digital mapping technology will help autonomous vehicles localize themselves with centimeter-level accuracy. A number of automakers are investing directly into mapping technology, and Google is also making headway in the space. The growth of mapping technology and its integration into vehicles will be one of the top auto tech trends of 2019.
19. 3D Printing
3D printing has simplified the automotive manufacturing process for years, but deploying the technology for parts construction or other more costly use cases will likely have limited applications. Regardless, major automakers like BMW and Ford are already using 3D printing for precise part manufacturing, and others plan to follow suit.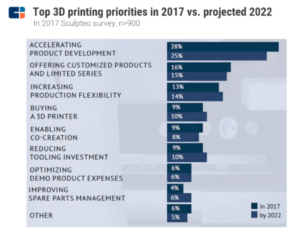 20. Next Generation Infotainment
As automakers struggle to master the infotainment system, companies are turning to startups and tech giants to tackle the technology. Look for auto incumbents to invest in or partner with infotainment startups, and for those companies to partner with tech giants like Apple and Google.
21. Digital Dealerships
The car buyer's interaction with the dealership is changing as a growing share of consumers start the buying process online. With customers now arriving at dealerships more informed than in the past, OEMs are equipping them with new technologies. OEMs are also redesigning their market strategies to handle the shift to digital.
If you aren't already a client, sign up for a free trial to learn more about our platform.