We highlight the top 10 highest-funded auto tech startups in the US every year since 2015 and dive into how the rankings have changed as the sector grows.
Auto tech funding has climbed upwards over the past few years, as emerging technologies such as connectivity and autonomous driving are expected to improve the performance, efficiency, and safety of vehicles.
Funding reached a new peak in 2018 with a record $7.9B in funding across 210 deals — a 75% uptick in funding year-over-year.
Using CB Insights data, we mapped out the 10 most well-funded US-based auto tech startups each year since 2015.
We define auto tech to include startups building a next-generation mobility ecosystem, using technology to improve connectivity, safety, convenience, and efficiency in vehicles. This includes technologies such as advanced driver-assistance systems (ADAS) and autonomous driving, connected vehicles, fleet telematics, V2V/V2X, and vehicle cybersecurity. Our analysis includes equity funding to private, active companies only. We exclude dead and acquired companies.      
Please click to enlarge.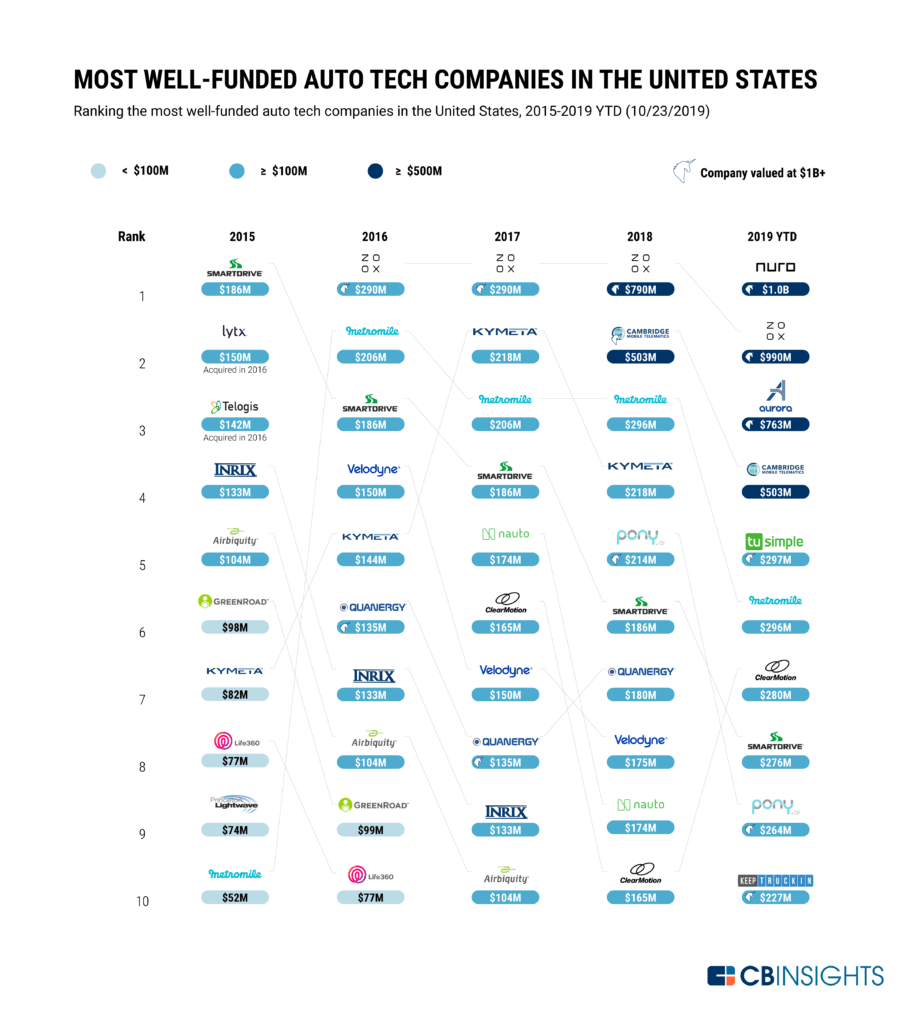 Key Takeaways
Funding & valuation trends
The top-funded company in our graphic is autonomous delivery startup Nuro, with over $1B in total disclosed equity funding. While the company is best known for its delivery robots, Nuro is also licensing its autonomous driving software to other companies, including autonomous trucking startup Ike, for self-driving applications beyond delivery bots.
Nuro appeared on the top 10 highest-funded US auto tech list for the first time this year, after raising a massive $940M Series B from SoftBank in February.
There are 7 unicorn companies highlighted on our graphic, 3 of which appeared on the list just this year: Zoox ($3.2B valuation), Nuro ($2.7B), Aurora ($2.5B), Quanergy Systems ($2B), Pony.ai ($1.7B), KeepTruckin ($1.3B), and TuSimple ($1B). Notably, all but KeepTruckin are developing technology designed for semi-autonomous and fully autonomous driving vehicles.
(While Lytx has since become a unicorn, it was not in 2015, the year it's featured in our graphic.)
Industry trends
Fleet management and telematics is a common focus for startups in our graphic, with companies like SmartDrive Systems, Airbiquity, and KeepTruckin offering ways for users better track fleet data. Connected car technology is another popular focus for startups including Kymetra, Cambridge Mobile Telematics, and Inrix.
Autonomous is emerging as another prominent category, especially in recent years. Zoox, Pony.ai, Aurora, and TuSimple are all focusing on developing driverless vehicle technology. Notably, all these companies are unicorns, and with the exception of Zoox, all appeared on the top 10 list for the first time this year.
Company & investor trends 
Our graphic only includes 21 companies total, reshuffled each year to create a new top 10 ranking. Of those, only 2 have made the top 10 list every year: SmartDrive Systems and MetroMile.
Smart Money VC Index Ventures is the most active investor backing companies in our graphic (based on portfolio companies). Index Ventures has backed 4 top-funded auto companies: Aurora, KeepTruckin, MetroMile, and Nauto.
SoftBank Group, New Enterprise Associates, and Greylock Partners have all backed 3 companies on our graphic.
SoftBank: Nuro, Cambridge Mobile Telematics, Nauto
NEA: SmartDrive Systems, MetroMile, Clear Motion
Greylock: Nuro, Aurora, Nauto
Track all the auto tech startups in this brief and many more on our platform
Startups working on auto tech have the potential to change the way people travel. Look for Connected Cars & Auto Tech in the Collections tab.
Track Auto Tech Startups
If you aren't already a client, sign up for a free trial to learn more about our platform.