Autonomous vehicle startups continue to rake in the majority of auto tech funding, claiming over 70% of the roughly $5B invested in auto tech startups so far this year.
Auto tech funding has raced upwards this decade. In 2018 YTD, financing has already outpaced 2017 peaks. 

Using CB Insights data, we analyzed the surge in auto tech private markets financing through 2018, including a breakdown of how much financing has gone specifically to the autonomous driving sector.
We define auto tech as companies that use software to improve safety, convenience, and efficiency in cars, including:
Assisted and autonomous driving
Driver safety tools
Connected vehicle/driving data
Fleet telematics
Vehicle-to-vehicle communication
Auto cybersecurity
Electric vehicle companies are included only if they have a significant emphasis on one or more of these fields. We exclude companies working on the industrial aspect of the automotive space (such as manufacturing), as well as startups working on broader mobility solutions like parking, bike-sharing, and so on.
In this research brief we cover:
annual funding skyrockets
In 2018, investors in the auto tech space have invested over $5B in disclosed equity funding across 116 deals, already breaking annual dollar financing records by a notable margin given last year's acceleration.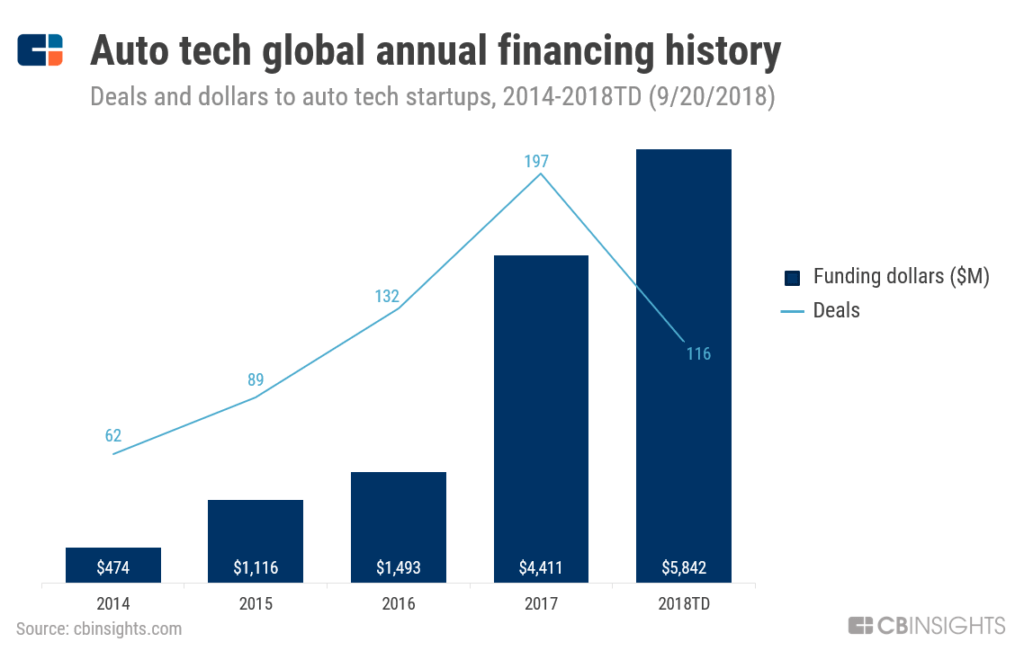 Most notably, corporate investors have picked up investment activity over the past year and a half, investing in nearly half of all auto tech deals in 2017 and 2018 to date.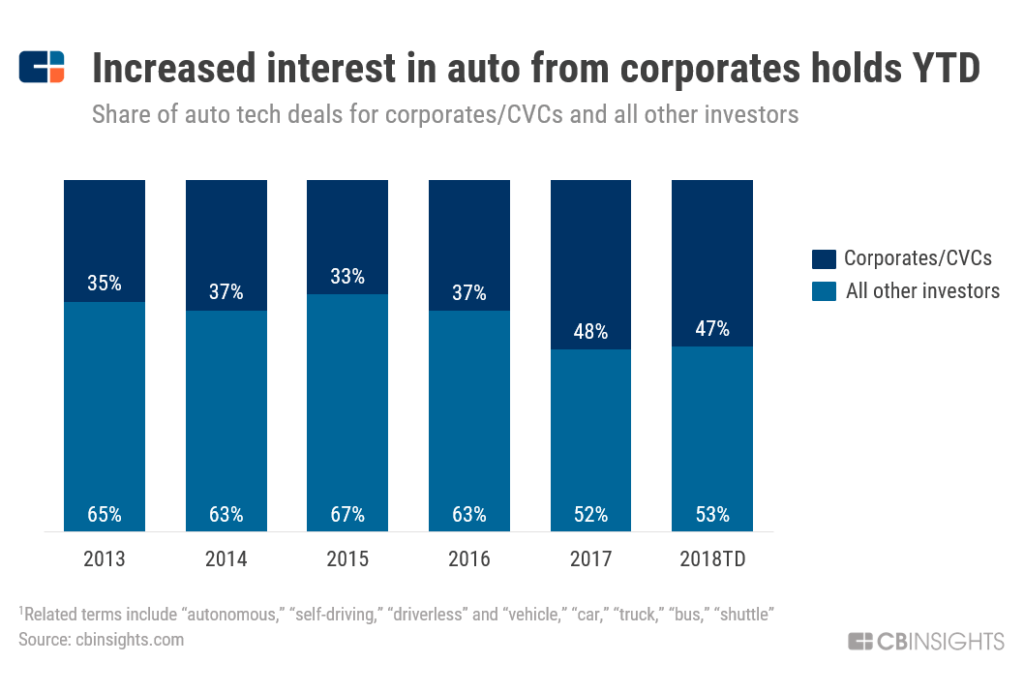 autonomy drives financing boom
Unsurprisingly, autonomous vehicle (AV) development has proven to be a key driver behind the rising interest and investment in auto tech.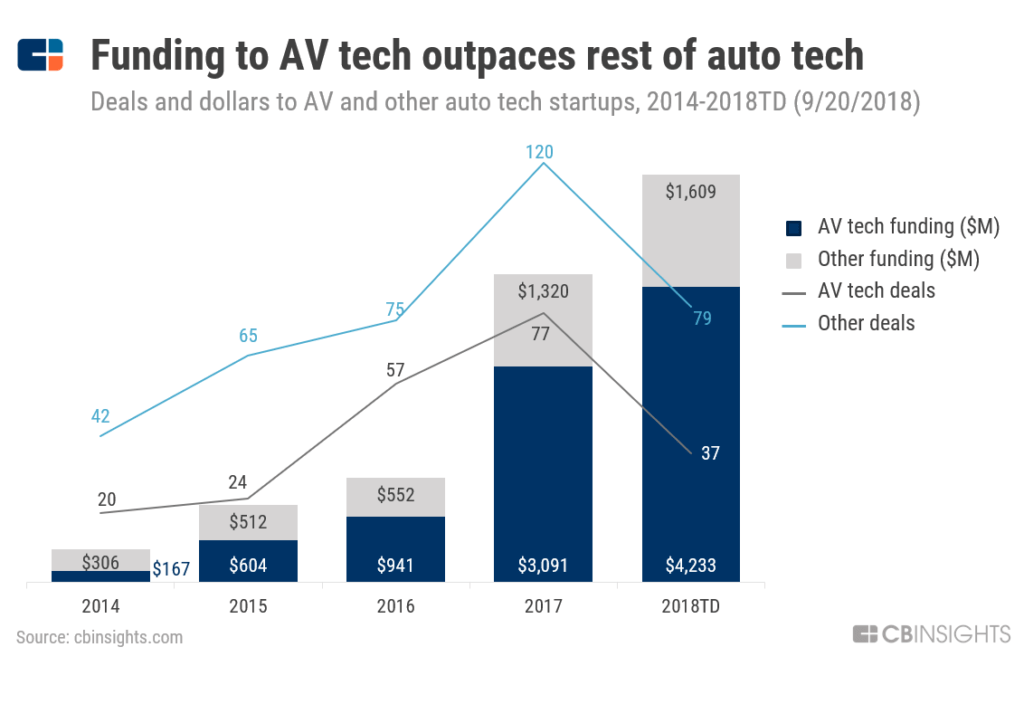 Since 2016, funding activity to companies working on semi-autonomous and autonomous driving technology has eclipsed all other segments of auto tech combined. Note that this includes investments in enabling technologies such as sensors, vision, 3D mapping, etc.
Year-to-date, the largest funding rounds of 2018 have involved companies playing in the AV ecosystem.
In May, GM's self-driving arm Cruise announced a $2.25B investment from SoftBank, with the first tranche of $900M to be followed by another $1.1B inflow when the transaction closes.
Zoox raised $500M in Series B funding in July.
SenseTime, a computer vision startup with applications for AVs, raised $600M in Series C funding in April followed by another inflow of $620M in May.
As a number of major corporations plan to launch self-driving fleets within the next few years, and chatter about autonomous driving technology has picked up substantially on public company earnings calls, across all sectors.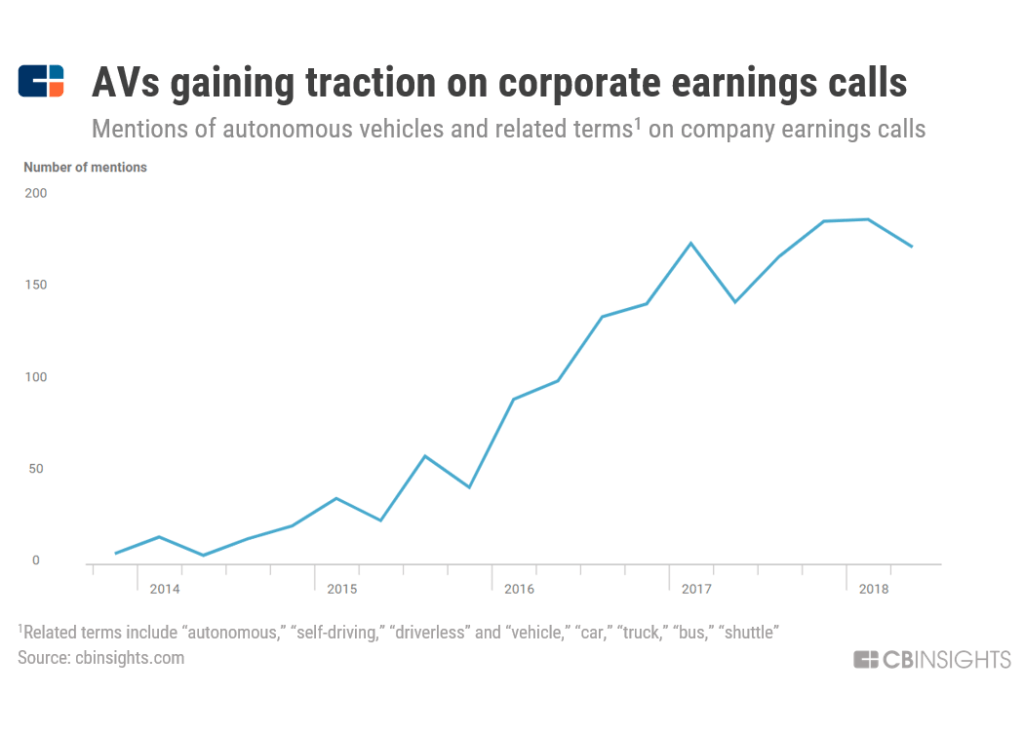 Perhaps unsurprisingly, only three of the ten companies with the most frequent mentions of AVs are automakers — GM, Ford, and Daimler — with the rest largely being broader tech firms working on AV processing chips or self-driving software.

Maturing investor ecosystem
Breaking down deals by stage, seed-stage activity has continued to slowly decline in 2018, with seed deal share ticking down to 29% from 32% in 2017.
More balanced share reflects the maturing of the ecosystem, with startups seeded in years prior now receiving mid- and later-stage investments.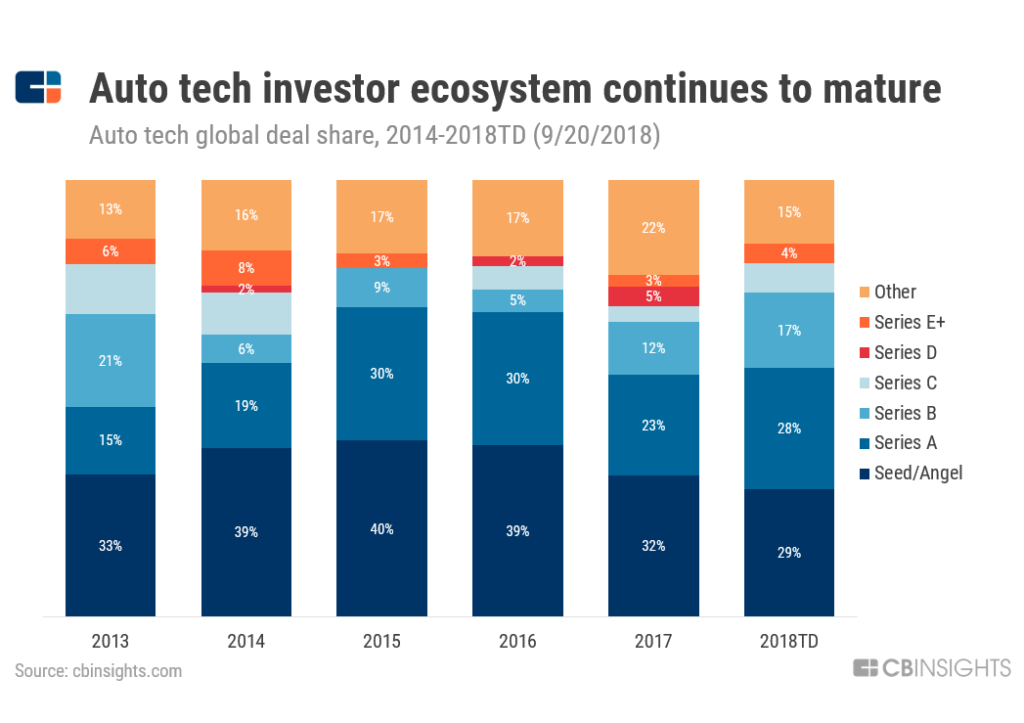 While the number of unique investors doesn't appear to be accelerating as much as it did in 2017, the number of unique corporations and CVCs is tracking above historical levels, reflecting the notion that an increasing number of corporates see value in investing in the auto tech space.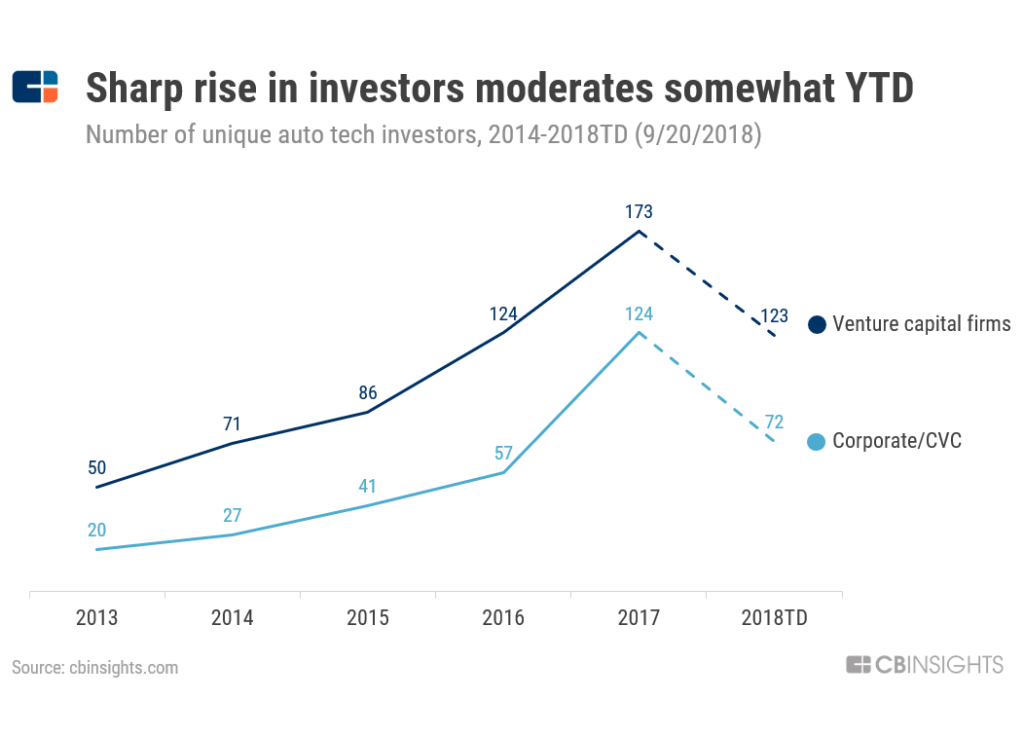 If you aren't already a client, sign up for a free trial to learn more about our platform.