With expectations rising around the promise of driverless vehicles, 15 investors and executives sound off on the future of mobility and the auto industry.
Auto tech is drawing more attention than ever as venture capitalists, startup founders, and industry stalwarts aim to profit from the evolution of the trillion-dollar automotive sector. Private markets investment into auto tech is on pace for a record year, and numerous corporations have laid out plans for the development of autonomous vehicles.
To understand sentiment around the suddenly-dynamic auto tech space, we gathered 15 perspectives, from Silicon Valley investors and startup founders to regulators and big auto executives. If we have missed any viewpoints that you think are worth highlighting, please let us know in the comments.
The Commentary
Mark Fields, the Ford veteran who succeeded Alan Mulally as president and CEO of the company in 2014, recently penned a Medium post laying out Ford's path to fully autonomous vehicles. Fields also used the post to announce a flurry of startup investments and M&A to propel Ford towards that goal. Most notably, Fields announced that the company would diverge from the stepping-stone path of many automaker peers, joining Google and others in racing directly to full autonomy.
"As little as four years ago, our approach was aligned with the thinking of most automakers today, which is taking incremental steps to achieve full autonomy by advancing driver assist technology. This is not how we look at it today. We learned that to achieve full autonomy, we'd have to take a completely different pathway.

So, we abandoned a stepping-stone approach and created a dedicated 'top down' engineering program to deliver fully autonomous vehicles and the new mobility solutions and business opportunities that a fully autonomous vehicle could deliver."
---
Uber's CEO cited the advent of self-driving vehicles as an "existential threat" in rationalizing the ride-hailing company's aggressive moves in the space and purchase of Otto. He also expressed optimism around employment prospects in the driverless future.
"So, if we are not tied for first [in driverless], then the person who is in first, or the entity that's in first, then rolls out a ride-sharing network that is far cheaper or far higher quality than Uber's, then Uber is no longer a thing … But this is a years thing, not a decade thing.

I don't think the number of human drivers will go down anytime soon. In fact, I think, in an autonomous world, it goes up. In absolute figures. Of course, in percentage, it's down. But then you also think, what about the tens of thousands of jobs that are necessary to maintain that fleet?"
---
Amid the first fatal accident involving an Autopilot-driven Tesla, the head of the US NHTSA strongly backed self-driving technology. He emphasized that the safety of autonomous vehicles would be carefully evaluated, but the agency would not wait for perfection. The administrator also expressed his agency's neutrality on the varying development approaches for the technology. These stances have since been backed by the NHTSA's official guidance policy.
"Of course we have to do everything we can to make sure new technology does not introduce new safety risks, but we also can't stand idly by while we wait for the perfect … If we wait for perfect, we'll be waiting for a very, very long time. How many lives might we be losing while we wait?

The federal government is not here to pick the winners and losers of this technology. We are neutral on the question of incremental technological development versus skipping to full automation. Our mission is not to design the future, but instead lay the framework, a framework that will speed the development and deployment of technologies with significant lifesaving potential. We are open to anything that fulfills that mission."
---
Josh Kopelman, who came in fourth in the CB Insights and New York Times ranking of the top 100 venture capital professionals, discussed autonomous vehicles in a Medium post last August. He likened the current state of automotive technology to the "300 baud phase" of consumer internet, and laid out several areas of investment interest despite giving a relatively conservative timeline for autonomous transport.
"I have a teenage daughter, and in a few years, she's going to get her driver's license. (Which terrifies me.) And while there have been incredible advances in autonomous vehicles over the last few years, I'm certain that she'll still need to learn how to drive — the technology and regulatory environments just aren't changing that fast. That said, after spending some time over the past few months looking at the autonomous vehicle landscape, I'm also equally certain that in 35+ years (when my daughter might have a teenage child), my grandchild will not know how to drive."
---
Amidst all the hype surrounding autonomy and next-generation mobility, Bilal Zuberi instead weighed in on automotive interiors and the suppliers that provide such systems. He is bullish on the ability of startups to upend the byzantine option packages and lackluster technology commonly associated with today's cars.
"Everything inside the car may be up for grabs. Consumers have endured crappy technology inside cars for too long, and have survived ridiculous prices to get various 'upgrade packages' installed … But a radical transformation is coming and a gigantic industry of inside-the-car components and systems that has been dominated by Tier 1 suppliers may be up for grabs."
---
Lee Hower has penned a series of posts on the future of auto tech. Like Josh Kopelman, he is excited by the prospect of fully autonomous vehicles, but also holds a more conservative outlook on their timetable given the scale of the "nearly unbounded" driverless problem.
"It isn't because of lack of interest or investment in vehicle autonomy … That said, there's no way you will be able to buy / rent / hail a fully autonomous vehicle in the next couple of years. Level 4 autonomy on public roads is a nearly unbounded problem… driving on a highway at 60+ mph or being able to self-park is a totally different challenge than navigating a poorly marked, chaotic urban downtown. Autonomous vehicles that work anytime, anywhere, and in any conditions are still quite a ways off."
---
Upon announcing Andreessen Horowitz's $3.1M seed investment in George Hotz's comma.ai, Chris Dixon highlighted the democratization of deep learning knowledge as a key driver of autonomous vehicle development.
"WhatsApp was able to build a global messaging system that served 900M users with just 50 engineers, compared to the thousands of engineers that were needed for prior generations of messaging systems. This 'WhatsApp effect' is now happening in AI … I tested [George's] car, and, along with some of my colleagues and friends with AI expertise, dug into the details of the deep learning system he'd developed. I came away convinced that George's system is a textbook example of the 'WhatsApp effect' happening to AI."
---
The co-founder of Parse and Scribd was an early investor in Cruise Automation, the self-driving tech startup acquired by GM in March 2016 for upwards of $1 billion. Tikhon is bullish about the opportunities for investing in autonomous transport startups, citing the wide array of existing stakeholders that may be hungering for M&A opportunities.
"With a company like Cruise, worst-case scenario, especially for a seed round, is that you are going to 5X your money because there are so many acquirers. You just have to hope they don't want to sell too early because they'll likely be getting a lot of M&A offers along the way — not just from the usual suspects like Apple, Google, Tesla, Uber, but also all the car manufacturers … GM plus Cruise is certainly worth more than GM alone, with another billion in the bank."
---
The GGF team at Kleiner Perkins sees the future of transportation revolving around the themes of "Shared," "Autonomous," and "Electric," with the three trends converging to create a positive feedback loop of innovation, and the car itself becoming less critical.
"Automotive executives often forcefully and convincingly contend that they will not become handset makers to companies like Apple and Google, who want to own the 'brains' inside the cars. The reality is they have a choice to make: Would they would rather be BlackBerry, which continued to try and own the hardware and software in a walled-off OS to the detriment of its customers (market cap $4 billion) or Foxconn, which is now a key manufacturer of the iPhone (market cap $89 billion)?

Is Detroit still relevant? Yes. Are Geneva [auto show] and CES [consumer electronics show] also relevant? Yes. Is the car itself relevant? Not as much."
---
In April 2016, Playground Global participated in a Series A round to Nauto, an auto tech startup focusing on advanced driver assistance systems (ADAS), connected vehicles, and data. Bruce, the co-founder of the hardware incubator, sees this area — driver assistance as opposed to driverless systems per se — as a "sweet spot," where startups can monetize and amass data on the road to full automation.
"We all realize autonomous driving is the future, but how do we get there? Working with OEMs is a good strategy; it's just a long, hard path to revenue. But it's a nice insight Nauto has — the automotive industry wants to work with proven leaders in the field. [So] the company just said we have to get millions of miles of experience. The only way to do that is to have people behind the wheel."

---
Despite potential upheavals on the horizon for established automakers, Mary Barra has characterized ongoing trends as opportunities for GM. Rather than brushing off increased interest in autonomous driving, connectivity, and ride- and car-sharing models, the GM CEO pledged to embrace these trends. Indeed, the 107-year-old company has backed up Barra's remarks with aggressive acquisitions, investments, and R&D spend.
"We are moving from an industry that, for 100 years, has relied on vehicles that are stand-alone, mechanically controlled and petroleum-fueled to ones that will soon be interconnected, electronically controlled, and fueled by a range of energy sources. I believe the auto industry will change more in the next five to 10 years than it has in the last 50, and this gives us the opportunity to make cars more capable, more sustainable and more exciting than ever before."
Additionally, in a May 2016 statement, the head of General Motors' foresight and trends unit Richard Holman credited Silicon Valley companies for "[forcing] the issue" in the development of autonomous vehicle technology, a rare hat tip from Detroit to the technology industry.
---
The former Hyundai and Truecar executive has emphatically backed Google's ambitious self-driving plans. Unlike many other driverless developers, Google believes the safest route is to eschew incremental advances and move directly to total autonomy.
"The industry has been making continuous incremental gains, but for self-driving cars to reach their full potential we need to focus on nothing short of full autonomy … Aiming for full autonomy not only reaches the most people, our team believes it's also the safest approach. Having this audacious goal was what drew me to the Google self-driving car project."
---
The BMW board member acknowledges that the German luxury automaker has technological ground to make up in the race towards autonomous vehicles, which likely drove its tie-up with Intel and Mobileye. Froehlich invokes fears that legacy car manufacturers will become contract OEMs delivering "metal bodies" — in the vein of electronics-manufacturing businesses — while tech companies control the brains of the vehicles.
"For me it is a core competence to have the most intelligent car. We have some catching up to do in the area of machine learning and artificial intelligence … Our task is to preserve our business model without surrendering it to an Internet player. Otherwise we will end up as the Foxconn for a company like Apple, delivering only the metal bodies for them."
---
One of the most vocal proponents of auto tech and autonomous vehicles, Elon Musk is unsurprisingly optimistic about both the substitution of human drivers with technology and his company's ability to deliver on that promise.
"I think [autonomous cars are] just going to become normal. Like an elevator. They used to have elevator operators, and then we developed some simple circuitry to have elevators just come to the floor that you're at, you just press the button. Nobody needs to operate the elevator … Autonomy is really about what level of reliability and safety do you want. Even with the current sensor suite we could make the car go fully autonomous, but not to a level of reliability that would be safe in, say, a complex urban environment at 30 miles per hour where the lane markings aren't there and children are playing and things could be coming at you from the side. In order to solve that you need a bigger sensor suite, and you need more computing power … But, and this may sound a little complacent, I almost view it as a solved problem. We know exactly what to do, and we'll be there in a few years."
---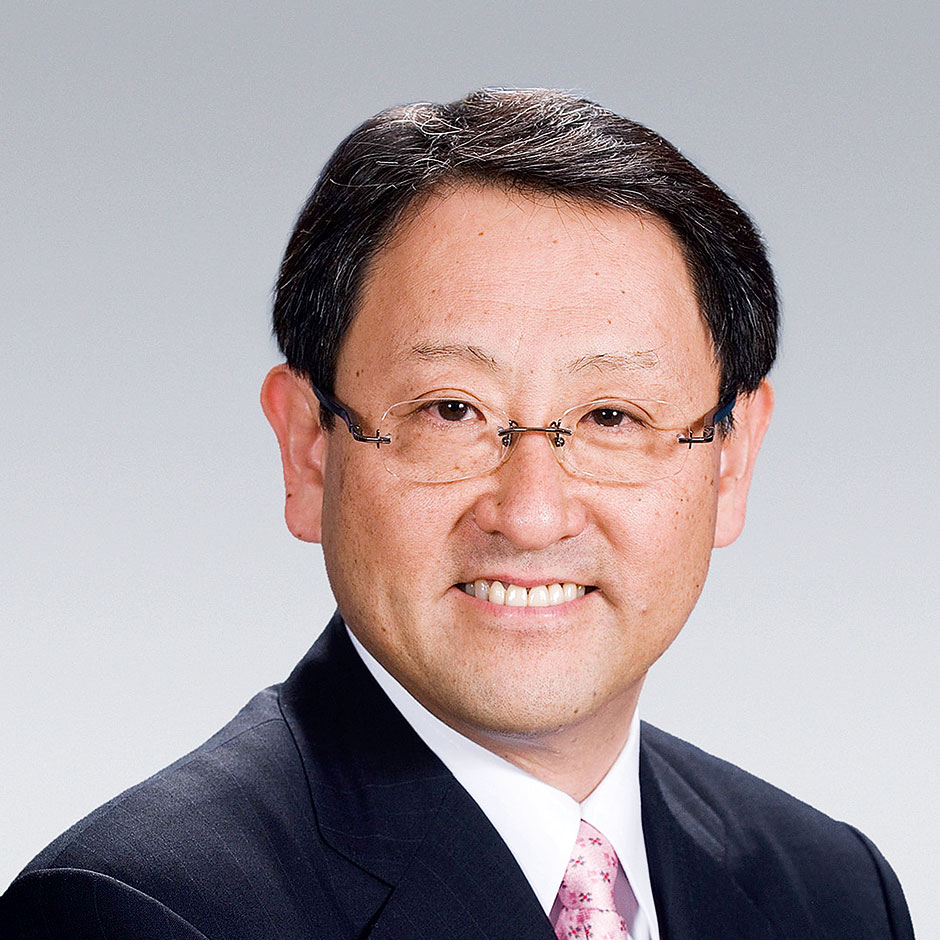 Toyota's top executive, a driving enthusiast who has opposed autonomous vehicles in the past, has recently begun to embrace the concept as rivals have accelerated development. He has also speculated on the broader implications of self-driving research in the fields of robotics and AI.
"I personally went through a big change in my thinking. I believe there is a point in Toyota participating in the field of autonomous driving. And we've got the resources to do so … I have hopes that what we are studying now could be used beyond the automotive business … [Freedom is] an element that cars should never lose. No matter what, cars need to win the love of their users."
---
Looking for more data on private companies in auto tech? Sign up for the CB Insights tech market intelligence platform for free below.
If you aren't already a client, sign up for a free trial to learn more about our platform.