We dig into the ramp-up in private markets activity by major automotive suppliers like Bosch, Delphi, Continental, and more.
As automotive upheavals such as electrification and automation gain momentum, players across the value chain have dramatically ramped up their private market bets to remain nimble.
With both the half-trillion dollar auto supplier market and greenfield opportunities at stake, supplier incumbents have joined OEMs in mobilizing capital to access startup technologies and talent pools.
Competition in the space has intensified, with newcomer suppliers including chipmakers like Nvidia and Intel (which completed its Mobileye acquisition this year) and a host of tech and software power players. Traditional players have escalated their activity to fend off these insurgents, with Delphi recently committing $450M to acquire autonomous vehicle startup nuTonomy.
To better understand auto suppliers' moves, we identified the 5 automotive suppliers most active in private markets since 2014 and used our social graph tool to analyze this cohort's bets through 2017 to date (10/31/2017).
Please click to enlarge. Each green line signifies one financing round, while a red line indicates an acquisition. Bosch's activity includes Robert Bosch Venture Capital (RBVC), the company's corporate venture arm.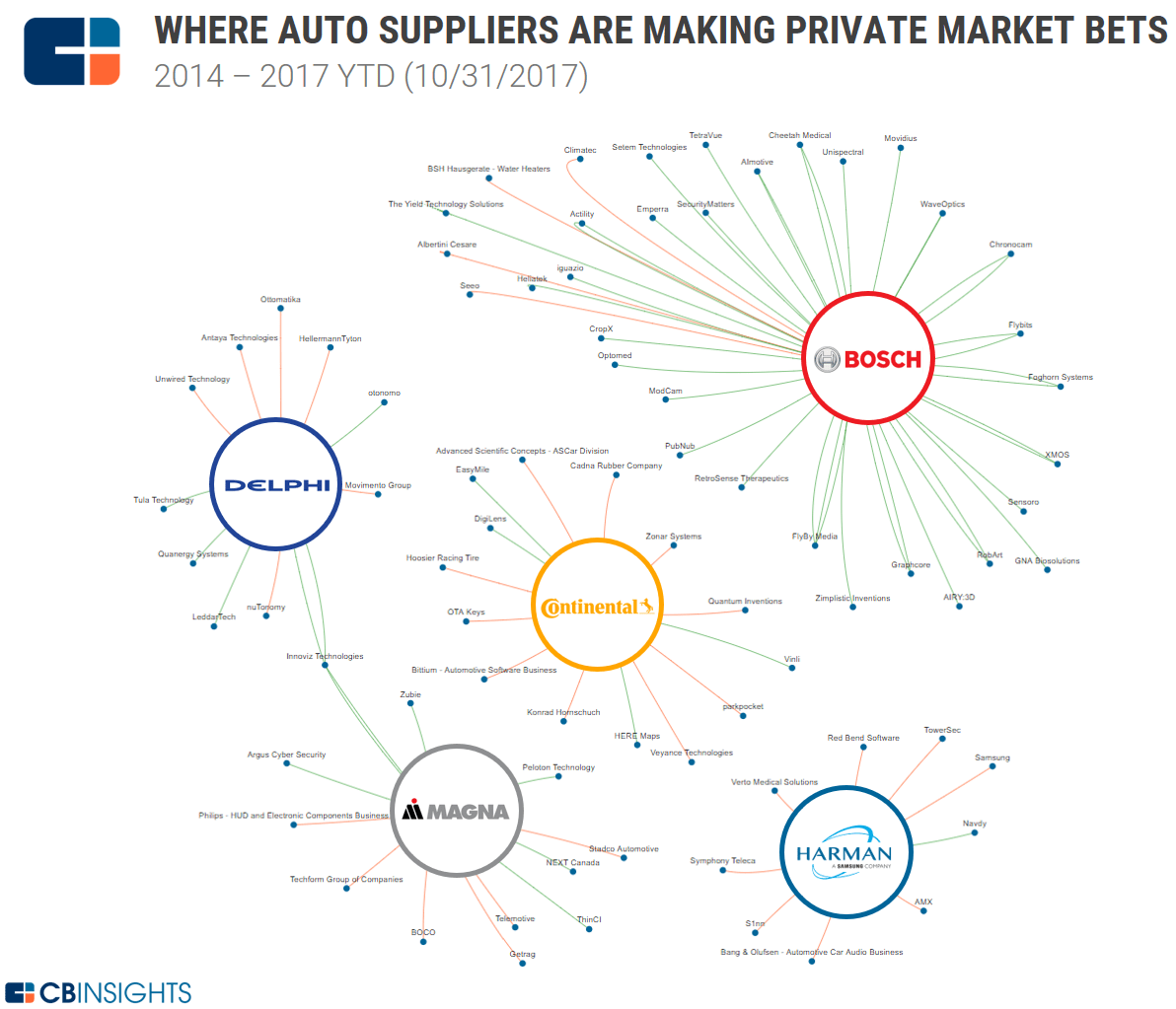 Using our database, we also extracted a few key insights on the data:
Quick ramp-up: This cohort has collectively participated in over 90 investments or acquisitions since 2014 (including multiple follow-ons to one company), with 30 deals made in 2017 so far alone. Bosch, with its sprawling business lines and active corporate VC arm, is unsurprisingly the top player, followed by Continental.
Autonomous driving: As the much-hyped technology gains traction, suppliers have augmented in-house autonomous vehicle (AV) programs with both acquisitions and investments.
Delphi was an early mover with its August 2015 purchase of Carnegie Mellon spinout Ottomatika; nuTonomy will join that acquisition under Delphi's new Aptiv brand for AV technology.
Meanwhile, Bosch has invested in AImotive (fka AdasWorks) via its corporate VC arm, and Magna has backed Peloton Technology, a truck platooning and automation developer.
Sensors & vision: Although suppliers are investing heavily in software disciplines to compete with technology vendors, they are also looking for new markets in the components business. As the booming AV market lifts demand for sensor hardware, startups have rushed in to develop lower-cost and higher-fidelity radar, lidar, and camera solutions.
Existing suppliers have responded with an expansive series of bets in the space: Continental acquired ASC's lidar division, while Bosch has invested in both vision startup Chronocam and lidar startup TetraVue.
Delphi has variously invested in and partnered with three lidar startups (LeddarTech, Quanergy, and Innoviz; the latter also counts Magna as a backer).
Connected vehicle cybersecurity: As connected vehicles have proliferated, so have firms focused on securing them. Connected car and infotainment specialist Harman acquired TowerSec in January 2016 (prior to Harman's own acquisition by Samsung).
Not pictured but also worth mentioning is Continental's potential purchase of Argus Cyber Security. At the time of writing, Continental has just announced a deal to acquire the auto cybersecurity startup for roughly $400M.
Argus had raised $30M in disclosed funding through 10/31/2017, counting fellow supplier Magna as an investor (showing the convoluted ties that have resulted from the frantic pace of auto tech investment).
If you aren't already a client, sign up for a free trial to learn more about our platform.