While some startups are chasing an electrified, autonomous, and shared automotive future, others are working to improve contemporary service and retail processes.
Billions of funding dollars are being funneled into private companies developing autonomous and connected car tech, as well as startups working on electric vehicles of varying types. Recently, Silicon Valley investors and traditional automakers alike have cast their eyes towards technologies with the potential to upend traditional auto ownership and operating models, including tangential developments in car-sharing and ride-hailing.
However, there are still startups working to support more traditional pillars of the automotive ecosystem. Using the CB Insights database, we examined a few startups working in fields from refueling ICE-powered (internal combustion engine) vehicles to selling vehicles to individual consumers.
Refueling startups
Using the CB Insights company comparison tool, we took a closer look at four gasoline refueling startups that have raised capital in 2017.
These companies all provide some variation of on-demand refueling, which pairs truck-mounted filling stations with mobile apps that allow consumers to request a fresh tank of gas. A few are also working with corporate customers to refuel cars parked at office lots, while others provide traditional gas station services like window cleaning and tire checks.
Click the image below to enlarge. CB Insights clients can click here to jump directly into the comparison.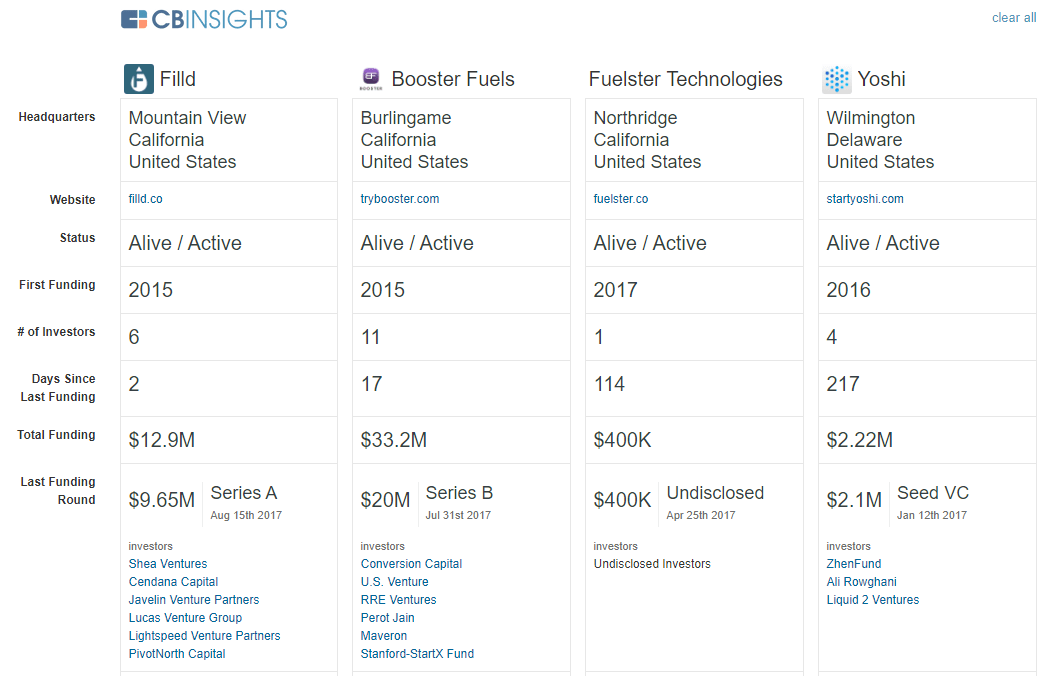 Two of these companies, Filld and Booster Fuels, have raised funds as recently as the last month. Investors include high-profile firms such as Lightspeed Venture Partners (Filld) and RRE Ventures (Booster Fuels), among others.
These startups betting that combustion-powered vehicles will remain a significant opportunity in the years to come. They are also going against the grain of the broader on-demand space, which has seen investors pull back with a more critical eye toward paths to profitability.
Auto retail startups
Although car-sharing and ride-hailing companies pitch their services as replacements for individual vehicle ownership, other startups pursue opportunities to both support and compete against traditional auto dealers. We took a look at four auto retail startups that have been funded since July 2017.
Click the image below to enlarge. CB Insights clients can click here to jump directly into the comparison.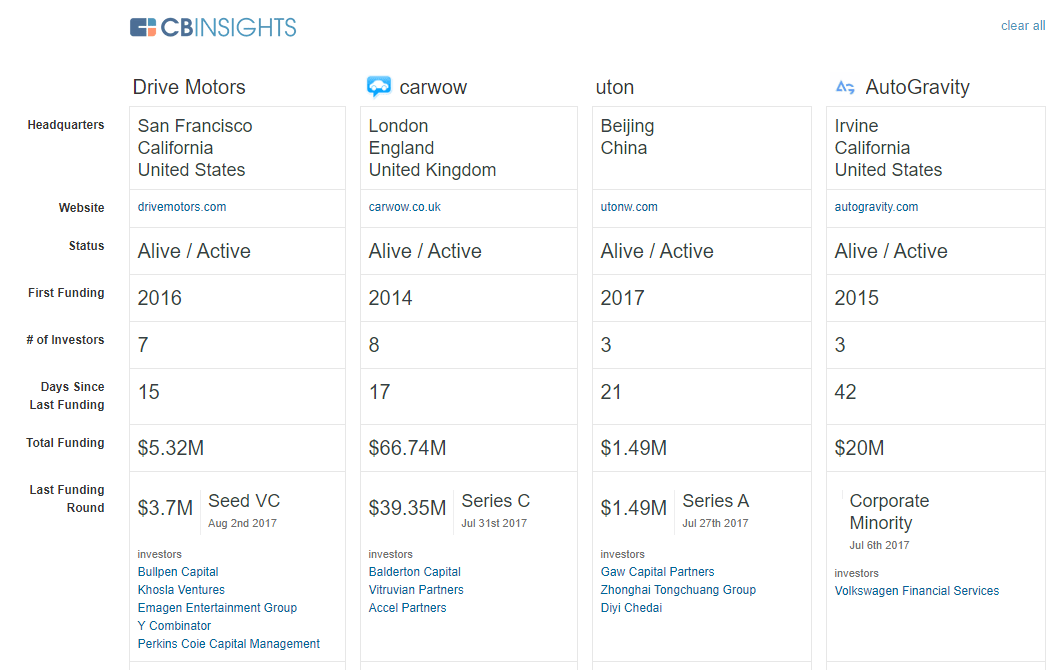 Drive Motors, which recently closed its seed round, is building e-commerce solutions to streamline online car purchasing for dealerships. Chinese startup uton, which received a $1.49M investment in late July, is also providing various tools to serve auto dealerships. Carwow is a UK-based new-car aggregator and buying platform that just raised just shy of $40M in a Series C. AutoGravity, most recently backed by VW's financial services arm, aims to simplify auto financing to smooth the buying process.
There are numerous other startups and corporations working to improve the auto retail experience with virtual reality showrooms, online sales channels, peer-to-peer transaction models and more. Two notable US used-car marketplaces have just raised new capital (Vroom and Shift), and despite a recent slowdown, the rapid growth of China's car market has presented opportunities for startups. We tracked several large financings to private Chinese auto e-commerce companies in our e-commerce funding analysis.
If you aren't already a client, sign up for a free trial to learn more about our platform.