We analyzed 10 years of earnings transcripts from major auto suppliers to assess how they're keeping pace with the increasingly connected vehicle.
As automakers embed more advanced capabilities in the connected car, software and processing power are becoming central to vehicle design. 
As a result, traditional auto suppliers are now facing competition from major tech corporations and startups in developing the most advanced in-vehicle software platforms. Auto suppliers are combating this pressure by upping R&D spend, reorganizing their business models, and partnering with startups to build out their in-house software capabilities.
Suppliers are tackling a wide array of software use cases, ranging from sensor-based computer vision for driver safety to centralized infotainment systems with wireless updates.
Our Earnings Transcripts tool shows how mentions of the word "software" on auto supplier earnings calls have picked up substantially of late. We measured mentions over the past 10 years across the following suppliers: American Axle & Manufacturing, Aptiv (formerly Delphi Automotive), Autoliv, BorgWarner, Continental, Delphi Technologies, Faurecia, Lear Corporation, Magna International, and Visteon.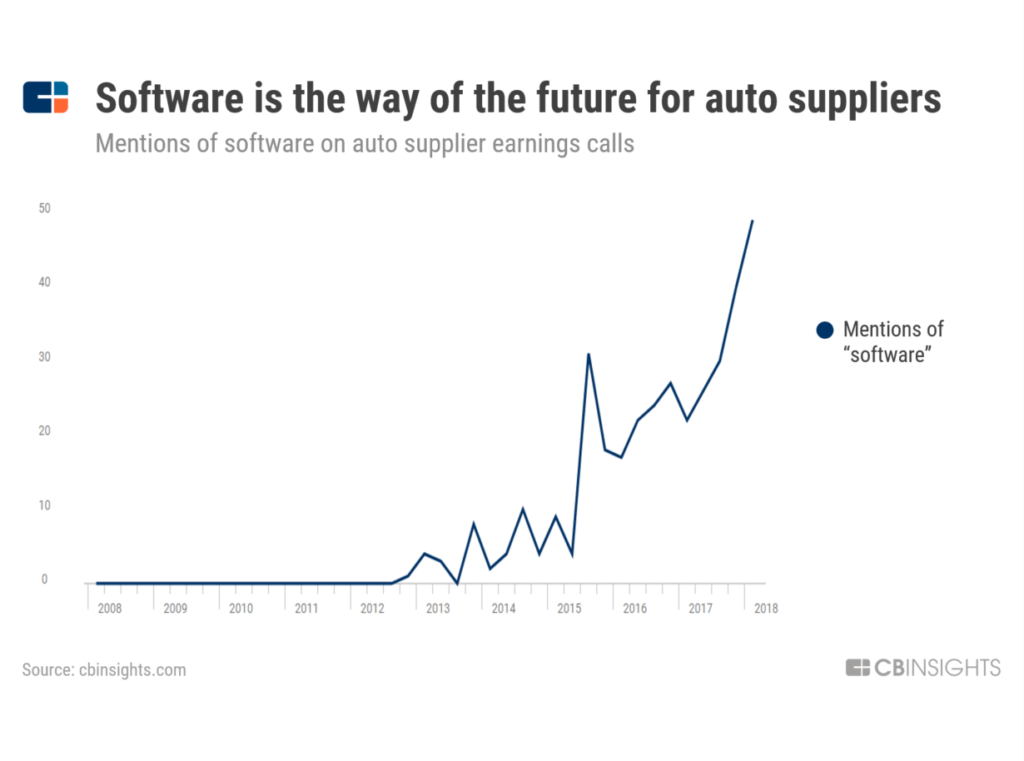 In December 2017, supplier Delphi Automotive split its business in two, spinning off its traditional powertrain business into Delphi Technologies and establishing a second company, Aptiv, dedicated to connected car and autonomous driving technology.