Deals and funding to auto commerce startups have grown steadily since 2012, with this year on track to pass the $3B mark.
The hype surrounding autonomous driving is reaching mainstream consciousness, OEMs are exploring new car ownership models in light of the explosive growth of ride-hailing services, and used car marketplace Beepi is the latest auto company to experience a very public failure earlier this year.
Nevertheless, the traditional auto commerce sector is still making a strong showing: online car shopping platform CarGurus made a strong IPO to the tune of $1.23B earlier this month, and activity in the sector at large is on pace for a record year.
Deals to vehicle sales, financing, and leasing startups in 2017 have already exceeded total deal activity last year, while funding is also on track to hit a new annual high — in part due to the rise of car sales platforms abroad.
Using CB Insights data, we analyzed annual and quarterly funding trends for private companies in the auto commerce space, 2012 – 2017 YTD (09/29/17). We also looked at the geographic distribution of auto commerce deals.
While some companies in the space are using online marketplaces to replace traditional dealerships and car rental companies, many are also working with existing companies to simplify processes around purchasing inventory and managing customer relationships.
We define auto commerce companies as tech companies involved in the rental, selling, trading, and/or purchasing of cars and fleets. This category includes, but is not limited to:
online marketplaces for trading or selling new and used cars
dealership software companies
vehicle valuation and marketing services
online car rental services
vehicle auction services
auto financing companies
online classified advertising companies with a focus on auto
Excluded from this category are ride-hailing startups, transportation network companies, and auto insurance companies.
ANNUAL Financing trends 
Deal activity in the space has steadily increased over the last few years, from 26 deals in 2012 to 87 in 2016. This year to date, auto commerce startups have seen 90 deals totaling $2.3B in disclosed equity funding.
At the current pace, full-year funding is on track to grow 5% from 2016, while deal activity is poised to rise considerably from last year's high.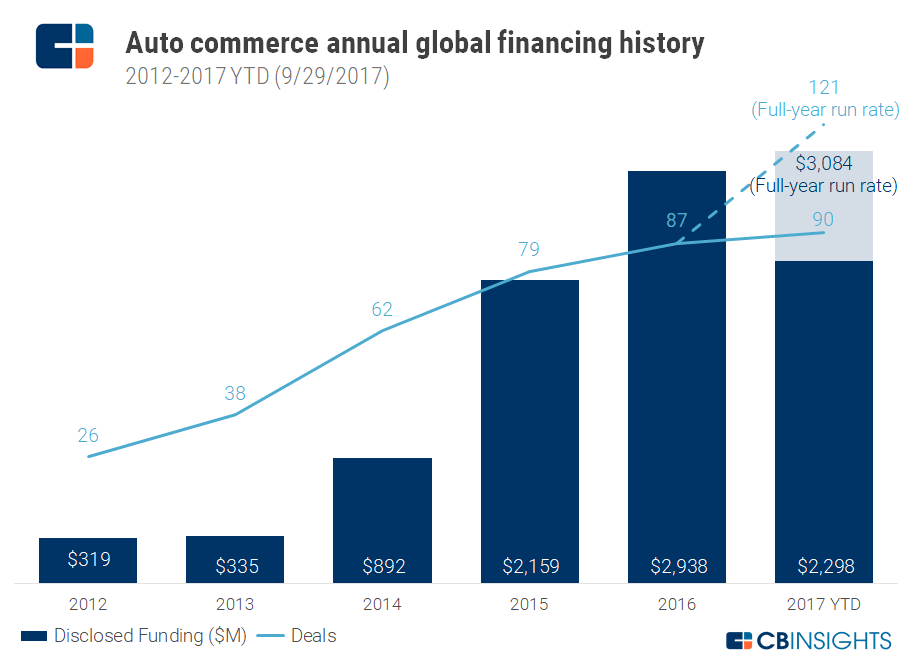 QUARTERLY FINANCING TRENDS
At a quarterly level, Q2'17 set a new record of 30 deals totaling $1.4B, representing a 52% uptick in funding quarter-over-quarter.
Notable deals in Q2'17 included a $400M Series B raised by Chinese used car trading platform Guazi and a $580M Series D by Chinese auto financing company Yixin Capital.
Earlier in the year, Chinese company Uxin Pai, which provides a platform for auctioning, selling, and financing used cars, raised $500M in private equity funding from Hillhouse Capital Management, Tiger Global Management, and Warburg Pincus, among others.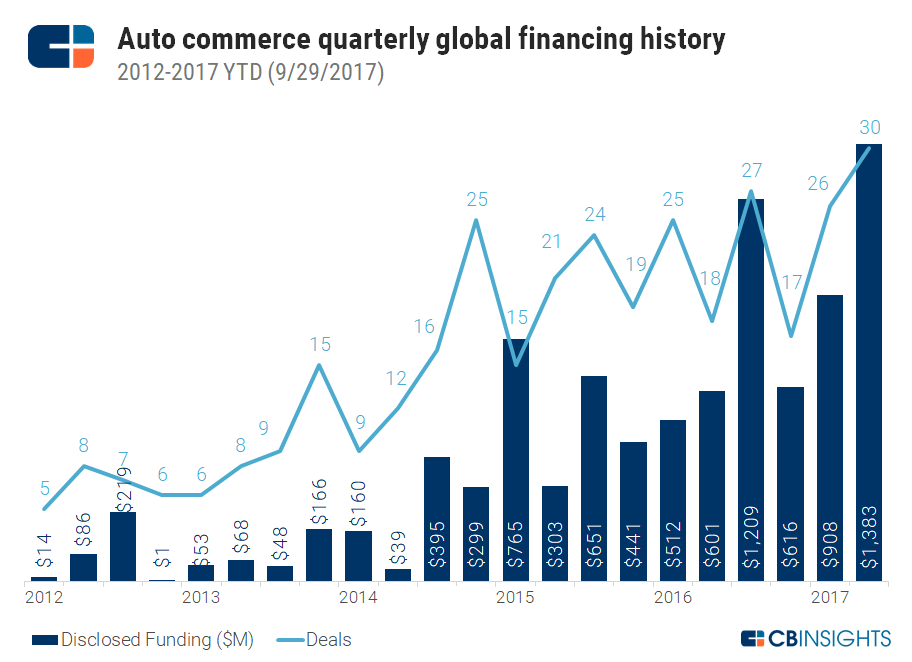 DEAL SHARE BY GEOGRAPHY
Looking at deal share by country since 2012, the US leads deal activity. Players like New York-based online car sales company Vroom (which has raised 2 rounds in 2017, totaling $81.8M) and California-based peer-to-peer used car marketplace Shift Technologies (which raised a $38M Series C in July) have contributed to this lead, with each company raising multiple rounds.
Second to the US, China accounts for nearly a quarter of all deals to auto commerce companies. Chinese car shopping and servicing platform Maihaoche and peer-to-peer used car platform Souche Holdings have raised 4 rounds each, contributing to China's large deal share.
India comes in third with 10% of global deal share, with companies like online used-car marketplace Droom Technology and online vehicle trading platform CarTrade both raising Series C rounds earlier this year.
Elsewhere in the world, UK-based new car comparison shopping service carwow and French peer-to-peer car-sharing platform Drivy have both raised 4 rounds to date.

If you aren't already a client, sign up for a free trial to learn more about our platform.